The Dawson Creek RCMP member who shot and killed James McIntyre after a disturbance at a Site C dam open house returned to active duty in December, Mounties have confirmed.
The officer was placed on administrative duties shortly after the shooting, which happened six months ago Saturday.
On Tuesday, RCMP spokesperson Cpl. Janelle Shoihet told the Alaska Highway News the officer was back on operational duty. The officer has not been identified.
"By operational duty, I mean that the member is able to meet any and all expectations of a regular member of the RCMP, with little or no restriction," Shoihet wrote in an email. 
McIntyre, 48, was shot July 16 outside a Dawson Creek restaurant where a Site C open house was taking place, after allegedly confronting officers with a knife. RCMP were called to the scene after a man flipped tables and tore up posters inside.
Several witnesses said McIntyre was wearing a Guy Fawkes mask, associated with the hacker group Anonymous. The Independent Investigations Office of BC (IIO) confirmed McIntyre wore a mask and carried a knife, but would not say specifically the type of mask. (In October, a senior director at the IIO was allegedly suspended after wearing a Guy Fawkes mask to a Halloween party, according to a report in the Province newspaper.)
Anonymous has vowed retribution, claiming to have leaked several secret federal government documents, while both the RCMP and city of Dawson Creek websites were temporarily brought down following denial of service attacks.
In September, Terry Hadland told the Globe and Mail he caused the disturbance at the Site C event, telling reporter Mark Hume "I thought 'I'm just going to push them a bit.'"
Hadland said he left the scene before the confrontation with McIntyre.
The Alaska Highway News was unable to reach Hadland for comment. His cousin, Arthur Hadland, a former regional district director recently arrested at a Site C protest, said his cousin has since "gone off the radar screen."
IIO investigation continues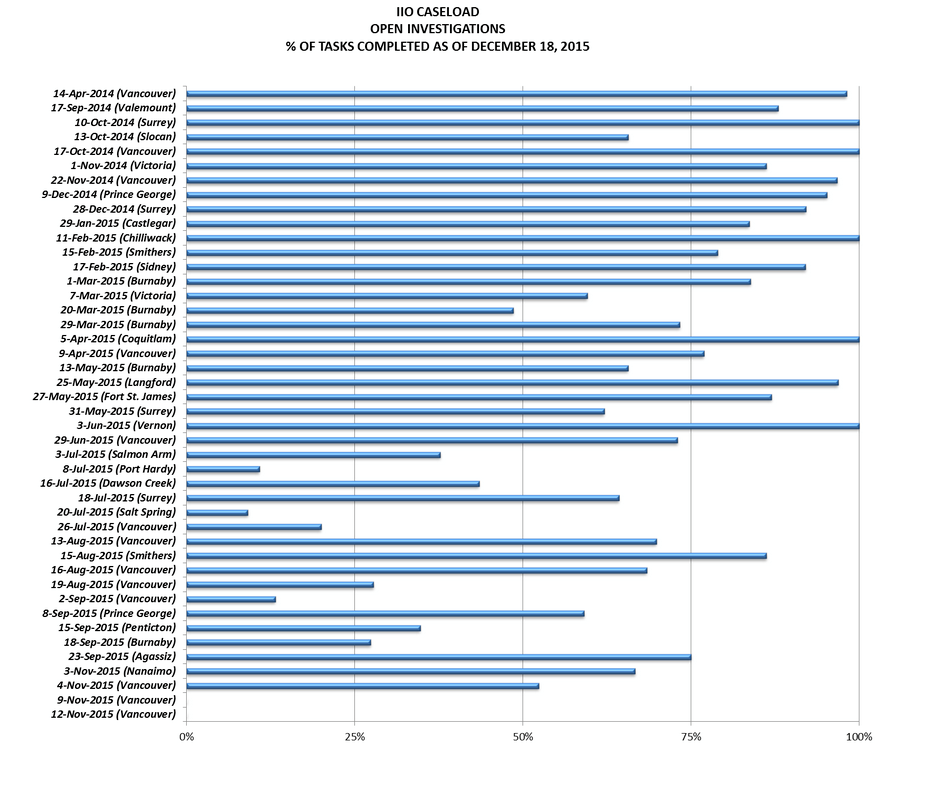 A day after the shooting, an IIO spokesperson said the McIntyre case is one of the most complex the office has dealt with since it was established in 2012.
According to the IIO, which will ultimately determine whether the officer was at fault, the investigation could take more than a year. The investigation itself is just under halfway done, according to an IIO chart tracking the 44 investigations currently underway.
However, when a report is complete, the IIO's chief civilian director is able to request additional details from investigators, meaning it could be longer before there is a decision on the officer's actions.
According to IIO data, the average investigation runs 165 days. The longest was 373 days.
If the IIO finds an officer was justified in killing or injuring a person, it will typically issue a report detailing what happened. If not, it will usually forward the file to Crown counsel, which determines whether to pursue charges.
As of July 29, 36 files had been sent to Crown. Six led to charges. One officer has been convicted since the creation of the IIO—a New Westminster cop found guilty of distracted driving that injured a 67-year-old motorist.
Hydro changes security procedures
BC Hydro has changed its security procedures for public events, after postponing three open houses following the shooting.
While spokesperson Dave Conway wouldn't comment directly on the new policies, he confirmed that security personnel attended a Peace River Regional District meeting in November.
A security guard, an employee of Saulteau Safety and Security, spoke with regional district staff and established entrances and exits to the boardroom ahead of a private meeting between the district and Site C staff. The guard spent the rest of the meeting outside in a parked vehicle.
"I can confirm that there (were) security personnel in place," Conway wrote in an email. "However, I can't speak specifically about our security measures."
Few details on McIntyre
McIntyre's mother has requested privacy, and said earlier the family will not be making a statement.
He worked at a Dawson Creek restaurant as a dishwasher. Before that, he worked in food service at Chances Dawson Creek.
He has been linked to an Anonymous-associated Twitter account, @jaymack9, which went silent the day of the shooting and has not been active since.
The Coroners Office also confirmed McIntyre was part Aboriginal. The IIO tracks this information because Aboriginal people are statistically more likely to be injured or killed in interactions with police.
reporter@dcdn.ca