The B.C. Criminal Justice Branch has appointed a special prosecutor after Peace River North MLA Pat Pimm was arrested for an alleged offence.
The branch announced the appointment Aug. 17. A search of court records did not show any charges against Pimm.
"In the late afternoon of August 16, 2016, the Assistant Deputy Attorney General for the Criminal Justice Branch appointed a Special Prosecutor in relation to a matter involving Pat Pimm—a current Member of British Columbia's Legislative Assembly," the branch wrote in an Aug. 17 release. "In light of Mr. Pimm's status as a MLA, the appointment of a Special Prosecutor is intended to avoid any potential for real or perceived improper influence in the administration of criminal justice."
Pimm stepped down from the B.C. Liberal Party earlier this week, after an "allegation" which required him to obtain legal counsel. Michael Klein, described as a "senior Vancouver lawyer in private practice," has been appointed as the Special Prosecutor.
The branch has not received a report to Crown counsel from police related to Pimm, and it is possible he will not be charged with any offence related to the arrest.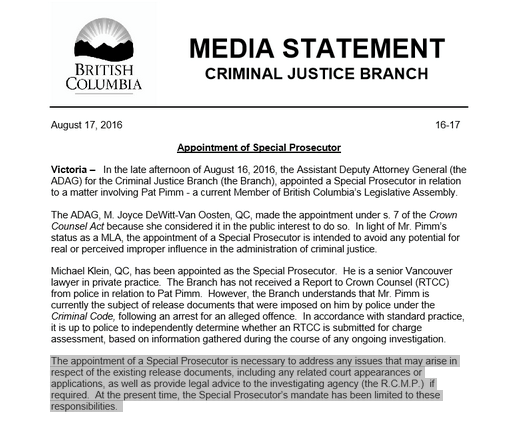 "The Branch understands that Mr. Pimm is currently the subject of release documents that were imposed on him by police under the Criminal Code, following an arrest for an alleged offence. In accordance with standard practice, it is up to police to independently determine whether (a report to Crown Counsel) is submitted for charge assessment, based on information gathered during the course of any ongoing investigation."
"The appointment of a Special Prosecutor is necessary to address any issues that may arise in respect of the existing release documents, including any related court appearances or applications, as well as provide legal advice to the investigating agency (the RCMP) if required. At the present time, the Special Prosecutor's mandate has been limited to these responsibilities."
Pimm announced he would not seek another term as MLA last November.
In 2011, he resigned from the B.C. Liberal caucus after a domestic dispute. He was later accused of interfering with the independent Agricultural Land Commission on behalf of a constituent seeking an exclusion to build a rodeo grounds.
reporter@dcdn.ca