The Canadian Centre for Policy Alternatives is calling for stricter limits on hydraulic fracturing near BC Hydro dams, after a freedom of information request revealed longstanding concerns over the potential for fracking-induced earthquakes to damage Peace River hydroelectric infrastructure.

On Aug. 16, the left-leaning think tank released a report based on internal communications between BC Hydro and the Oil and Gas Commission (OGC) dating back to 2009, when concerns arose over coal bed methane development and "induced" seismic events.

Ben Parfitt, a Resource Policy Analyst with the CCPA, said fracking-linked earthquakes have grown in intensity, topping out with a record-setting 4.6 quake linked to Progress Energy drilling last summer.

He said the research highlights the need for firm setbacks between fracking operations and dams. He characterized the existing regulations as unwritten "gentlemen's agreements" between the OGC and BC Hydro.

"Hydro was very clearly alarmed at the proposed plans (for coal bed methane development) at that time, which called for around 300 wells, some of them in fairly close proximity to its Peace Canyon dam," he said of emails received in response to an FOI request earlier this year. "The fear within Hydro was it was possible for an induced event from fracking activities to be more powerful than what their Peace Canyon dam was designed to withstand."

The OGC, however, says the concerns are overstated and that existing regulations adequately protect BC Hydro dams.

In a statement, OGC officials said a five-kilometre buffer zone has been set around the W.A.C. Bennett dam, the Peace Canyon dam and the Site C dam construction site. Neither of BC Hydro's two existing dams are in the Montney shale play, making future hydraulic fracturing unlikely in the area, the regulator said in an email.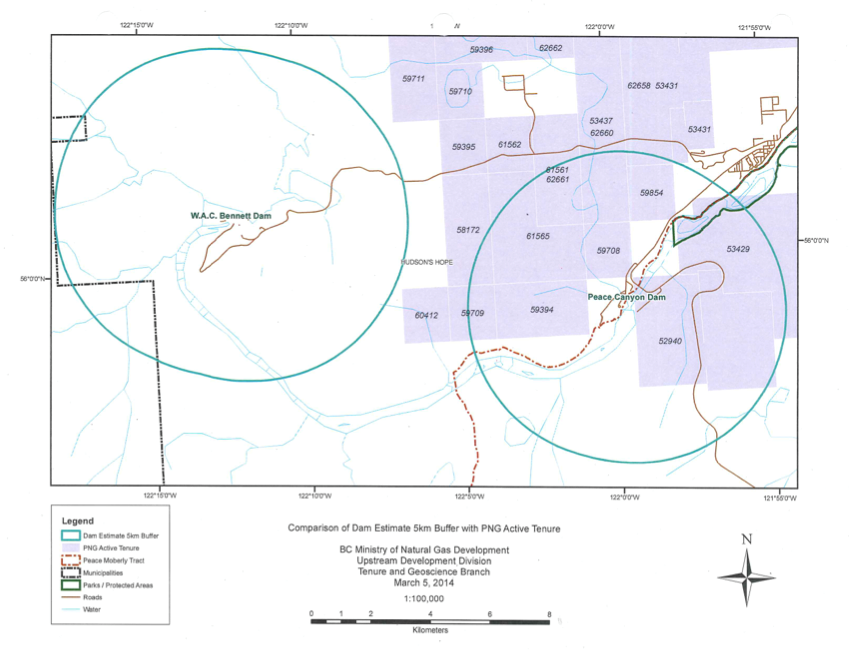 "There are no active hydraulic fracturing operations taking place within the 5 km buffer zone and no new requests for subsurface rights are being accepted within 5 km of the Site C construction area," the OGC wrote.

While there are drilling rights leases near Site C that predate the buffer, those permits "go through a strict review process."  

"The Site C location falls within the Montney play and will be built to a high seismic safety standard," the OGC said. "During (Site C) construction, permit conditions on a well in the Montney may be used to control the timing of hydraulic fracturing operations. All wells in the Montney are double-lined with cement and steel to a depth of 600 meters for further protection."

In a statement, BC Hydro Deputy CEO Chris O'Riley said that as far as the Crown corporation knows, there has never been fracking within five kilometres of a dam.
"That said, our dams are built to withstand much larger ground motions associated with higher magnitude events that are much longer in duration than fracking," he said. "All earth-fill dams are purposefully designed to have some seepage. Fracking does have the potential to increase the amount of natural seepage flow around and under these dams, which only poses an issue of increased costs due to maintenance and operation requirements—not a dam safety issue."

'New and emergent threat'

The earliest document released in the CCPA's freedom of information request was a Dec. 2009 letter from then-BC Hydro's chief safety, health and environment officer Ray Stewart to Comptroller of Water Rights Glen Davidson.

Stewart highlighted the "future potential risks to BC Hydro's reservoir, dam and power generation infrastructure" from coal bed methane development near Hudson's Hope.

Coal bed methane development in the area was eventually discontinued. The issue reemerged in March 2013, when Des Hartford, an engineering scientist in BC Hydro's department of dam safety, wrote to a colleague that fracking was a "new and emergent" threat to dam infrastructure after a cluster of fracking-induced earthquakes in the Hudson's Hope area.

A year later, the OGC released a report on fracking-triggered earthquake, which found 231 seismic events in the Montney between Aug. 2013 and Nov. 2014 triggered by oil and gas activity. Only 11 of those events were felt at the surface, while just two exceeded 3.5 magnitude.

In the CCPA report, BC Hydro director of dam safety Stephen Rigbey said there was "not a hope" of a fracking-induced earthquake causing a dam breach.

However, "would it do damage and cost me a lot of money? Absolutely," Rigbey is quoted as saying. "It would cost me a lot of time and a lot of money and that's what I don't want to occur."   

Despite that, Parfitt says the five-kilometre buffer zone remains a "unwritten" agreement between BC Hydro and the OGC. It also falls short of regulations in Alberta, he says. TransAlta, a private power company, has secured written restrictions against fracking within 5 km of its Alberta dams and reservoirs, as well as 10 km setbacks from certain dams.

"The responsible action on the part of a Crown corporation would to be to say 'look, we don't believe there's likely to be any serious impact on dams from this activity but there could be damage to our facilities,'" Parfitt said. "There could be costs incurred, there is a very remote possibility (earthquakes) could damage the (dam) structures to the point of a failure." 

The province should "assure the public that (they) are doing everything (they) can, by simply ruling this industrial activity out from these zones," he said.  

reporter@dcdn.ca
BC Hydro Select FOI Materials: BC Hydro dams and fracking-induced earthquakes by Jonny Wakefield on Scribd