Surging exports and a declining dependence on foreign oil are two trends the Canadian oil and gas industry would welcome—if they were happening here instead of next door.  
The U.S. Energy Information Administration's Annual Energy Outlook, released Jan. 5, instead presents a grim picture for Canadian oil and gas—one where producers are increasingly competing with their largest market.
The report, released Jan. 5, highlights declining foreign imports and steadily growing exports as two of the big trends in U.S. energy. A net importer of energy products since 1953, the U.S. is expected to become a net exporter of energy by 2026 thanks to a major ramp up in hydraulic fracturing. 
The amount of oil and gas U.S. customers pipe in from Western Canada is expected to decline through 2040, while Eastern Canada is expected to buy more American natural gas due to its close proximity to the Marcellus Shale. 
Meanwhile, U.S. liquified natural gas (LNG) exports are expected to surge to more than 10 billion cubic feet a day. The first shipload of American LNG landed in Japan earlier this month, raising more questions about whether B.C. LNG projects can be competitive in a flooded market.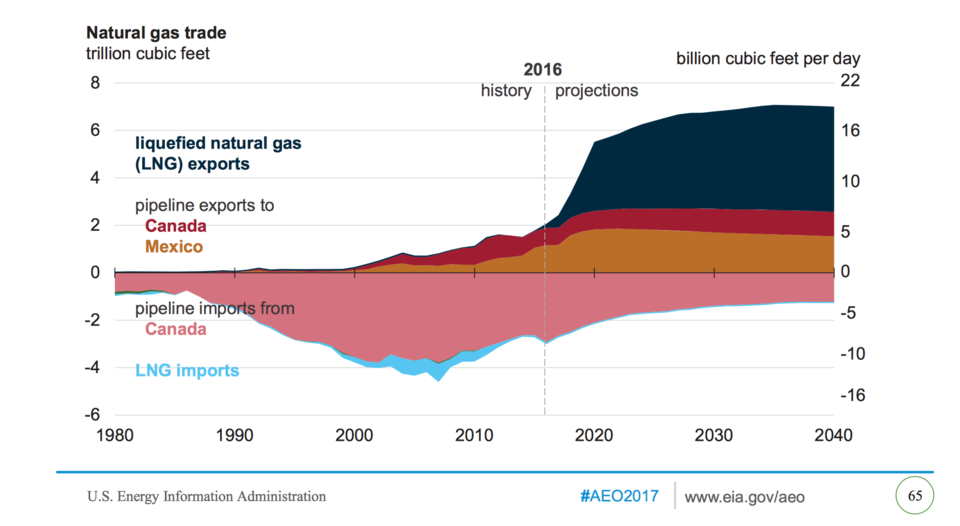 The report is troubling news for businesses in natural gas producing regions like Northeast B.C., Dawson Creek Chamber of Commerce Executive Director Kathleen Connolly said. 
"If the U.S. is our only customer, it's not looking very positive for us," she said. "If we see what they're talking about in terms of developing reserves in America, they're not going to need our natural gas."
Government should focus on promoting alternative natural gas products like petrochemicals and biofuels for use in domestic markets, Connolly said. As well, the report highlighted the need to get B.C.'s natural gas to non-American markets.   
Connolly also worried incoming U.S. President Donald Trump's plan to deregulate the oil and gas industry would hurt Canadian producers.
"If they strip any of their existing environmental regulations, that's really going to open up America as somewhere that's going to be overdeveloped," she said. "If we're over-regulated, and they're under-regulated, where would an investor naturally go?" 
Chelsie Klassen, a spokesperson with the Canadian Association of Petroleum Producers, said the report isn't all bad news for the Canadian energy industry. 
While the headlines have focused on the U.S. becoming a net exporter of energy, the country will still rely on Canadian crude oil to fuel its economy. 
"If you read through the details of the report, what you'll find is the U.S. will continue to be a net importer of crude oil at seven million barrels per day," she said. 
Klassen added the recent approvals of the Trans Mountain pipeline and Pacific NorthWest LNG would help diversify Canada's energy markets. 
reporter@dcdn.ca