The Blueberry River First Nation is eyeing new farming, housing, and cultural development as it winds down its treaty land entitlement negotiations with the provincial and federal governments.
The First Nation held a public open house in Fort St. John on Friday, January 25, highlighting its plans for 22,240 acres of land it has selected between Charlie Lake and Pink Mountain as part of an outstanding land debt still owed to the band from the signing of Treaty 8.
The open house was the first of many steps being taken to inform and consult with the public about Blueberry's plans for the lands, Chief Marvin Yahey said.
"We are willing as good neighbours to come out and let the public know about our plans," Yahey said.
"After all, our people have been here for thousands of years. These lands we showcase here today are part of our Dane-zaa history."
Doig River is one-half of the former Fort St. John Beaver Band, which was to be given 128 acres for each of its members as part of the provisions of Treaty 8 in 1900. The band was given 18,168 acres known as the Montney Reserve, which was surveyed in 1916, accommodating a population of 142.
But the band's membership proved to be significantly more than that, according to treaty annuity lists, and the size of the Montney Reserve was significantly smaller than it should have been — by roughly 100 members, or nearly 13,000 acres.
In 1945, the Fort St. John Beaver Band lost the Montney Reserve through a surrender to accommodate post-war settlement, and was relocated further north to Petersen's Crossing in Rose Prairie in 1950.
The band eventually split into the Blueberry River and Doig River First Nations in 1977, and relocated to the reserves where they are today, which total only 6,130 acres — nearly three times smaller than the original Montney reserve.
A "sweeping" community consultation process began in Blueberry in 2005 to identify lands with historical and cultural significance to include in negotiations with the government.
Blueberry River has selected parcels of land around Charlie Lake, Red Creek, its existing reserve, and Pink Mountain. It hopes the lands will open opportunities for new housing for elders, farming and grazing, and to gather and hunt, fish, dance, trap, and collect medicinal flowers and plants.
The settlement will end a long overdue process, and 50 years of mistreatment, Yahey said.
"We lost so many elders and people that were part of this process," he said. "Its been a long, tough negotiating process. Now, hopefully, we are nearing the end of it."
At the open house, the land selections were characterized as a "foundational restart" for the band and its future.
The Blueberry River community is growing, with half its population on reserve, and the other half living off of it, Yahey said. The development process for the lands is ongoing, and plans are still preliminary.
"Every time you want to develop something, it's going to take time and effort, and a buy-in from everybody, and potentially some people will want it and some people won't," Yahey said.
"We've selected these areas first, now we have it, what do we do?"
Yahey recognized the land selected at Charlie Lake and Red Creek come with development concerns from neighbouring residents, but said it's part of reconciliation efforts with society and government.
"We got to be able to live side by side and to agree to disagree on things," Yahey said.
"These areas were selected because of a historical value to our people — traditionally, culturally. These were our lands to begin with. We were pushed out."
Yahey noted the treaty land entitlement process would not have been started had the Beaver Band not lost the Montney Reserve. The band would likely still be there today, he said.
"We're only asking merely what was ours to begin with," Yahey said.
"We were put on the banks of a river; what can you do along the banks of the river? Each community. No opportunity for any farming or a proper ranch life, nothing."
Keeping the public educated about the TLE process and aware of Blueberry River's culture is key moving forward, Yahey said.
"We can be partners and good neighbours," he said.
"This is the first of many steps. This is just the beginning."
The land selections are summarized below, from handout materials:
I.R. 205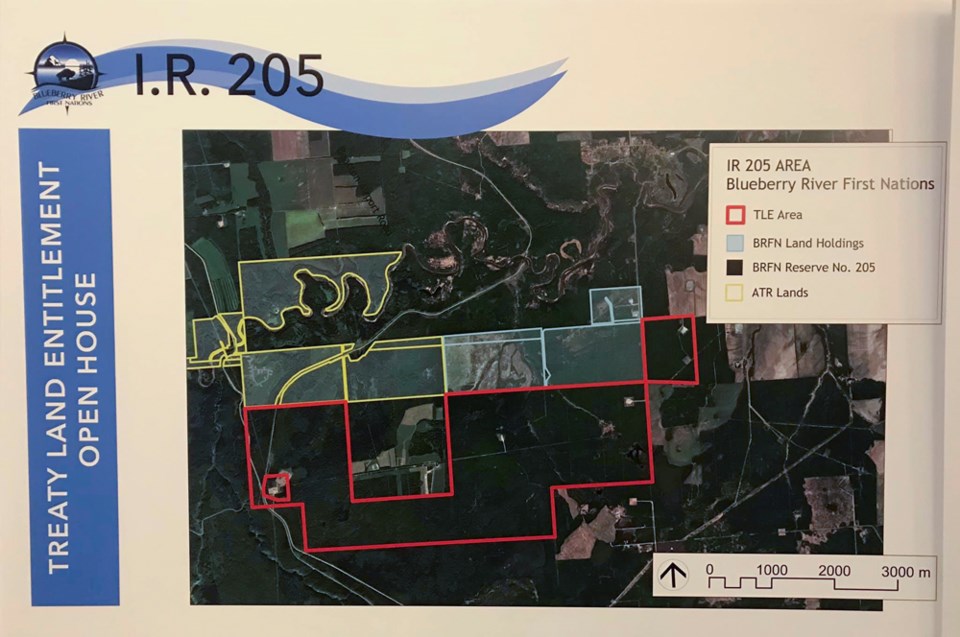 Land has been selected adjacent to I.R. 205, where the main Blueberry River First Nation community and band office are located.
In addition to ensuring members living in this area enjoy easy access to the existing facilities and services at I.R. 205, the selected lands allow for opportunities to expand those community amenities, and also provide BRFN with the opportunity to develop agricultural and grazing activities.
Much of the current reserve base is situated on the steep slopes of the Blueberry River, and is not suitable for such activities.
Red Creek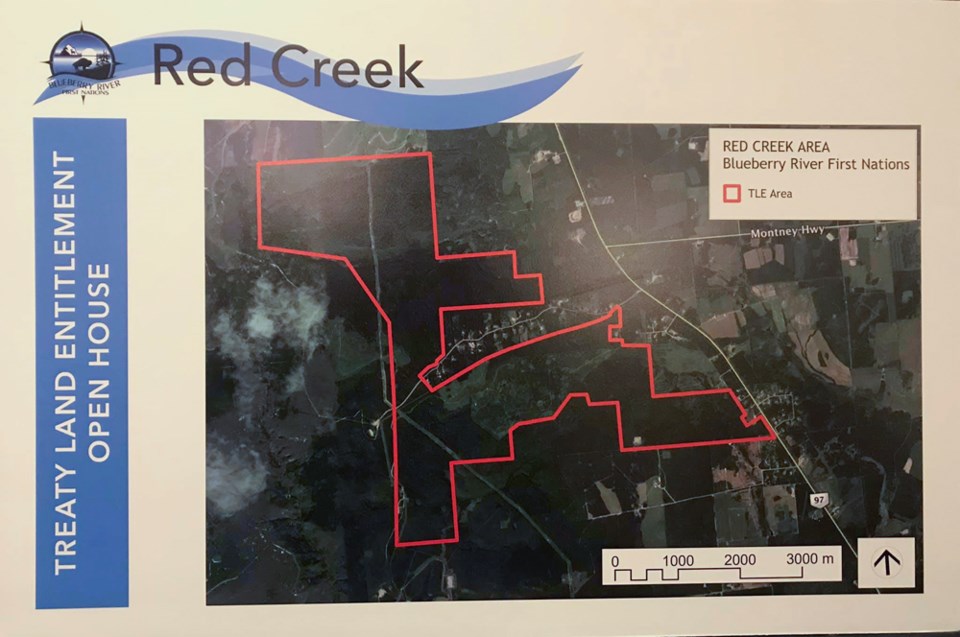 Red Creek is historically adn culturally important to BRFN as a meeting place, and its location relative to Fort St. John makes it ideal for members to access much needed services, and positive economic opportunities.
The land's profile and arability will also provide BRFN with an opportunity to develop agriculture and grazing activities. These lands will help ensure that BRFN can meet the modern needs of its members, and it is also well-suited for additional housing and community development.
Charlie Lake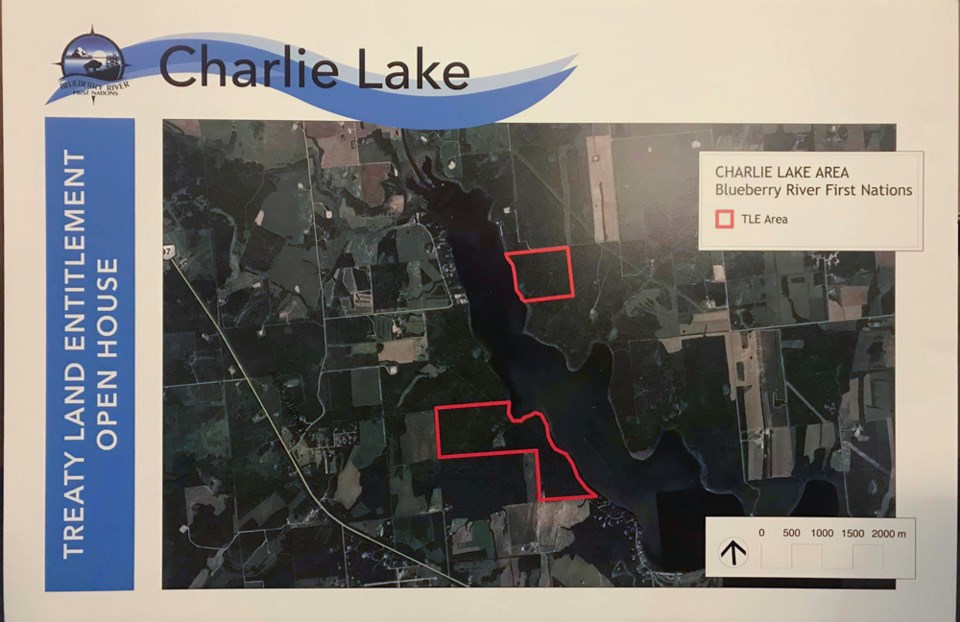 Charlie Lake is named after the Charlies, an important Dane-zaa family, beginning with a man named Charlie Alula in the 1800s. His son, Big Charlie, was the current Chief Yahey's great grandfather.
BRFN has long ancestral, cultural, spiritual, and economic connections to the lake. A location at the southern end of the lake has been identified by archaeologists as one of the oldest continually occupied sites in Canada, with evidence indicating that the Dane-zaa and their ancestors intentionally occupied this fish and game-rich area for 10,000 to 12,000 years.
Future use of these lands is intended to reflect its historical importance, and be a quiet place for elders to reside.
Pink Mountain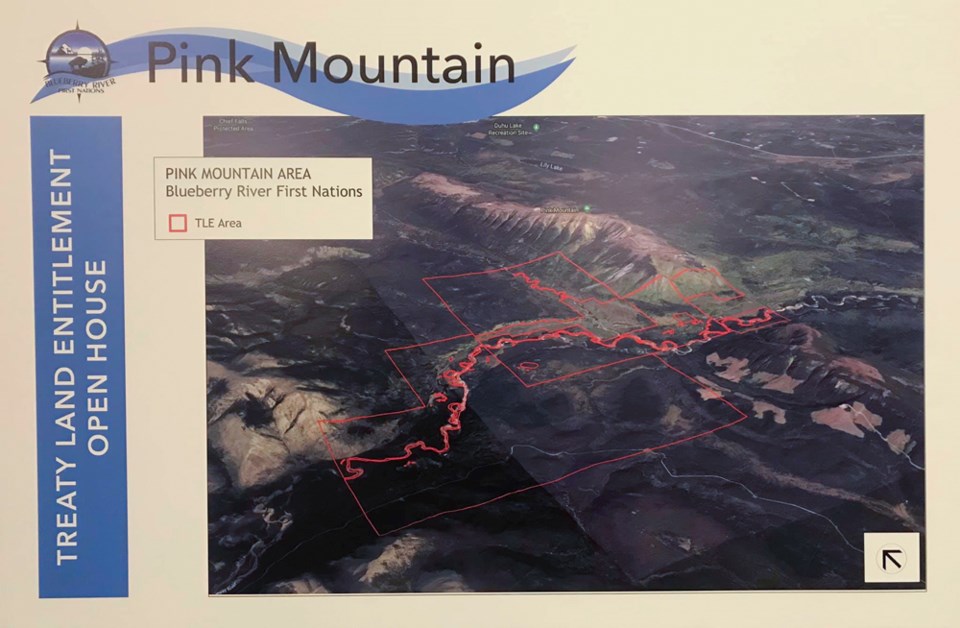 Pink Mountain is special for BRFN and provides a place to practice and teach children traditional ways of life.
It has been identified as a critical area for the community that is a "healthy place with clean air and good water," and "a place that is calm, peaceful, and safe."
This site has the ability to support traditional treaty activities, such as hunting, fishing, trapping, and collecting medicinal flowers and plants.
Dancing Grounds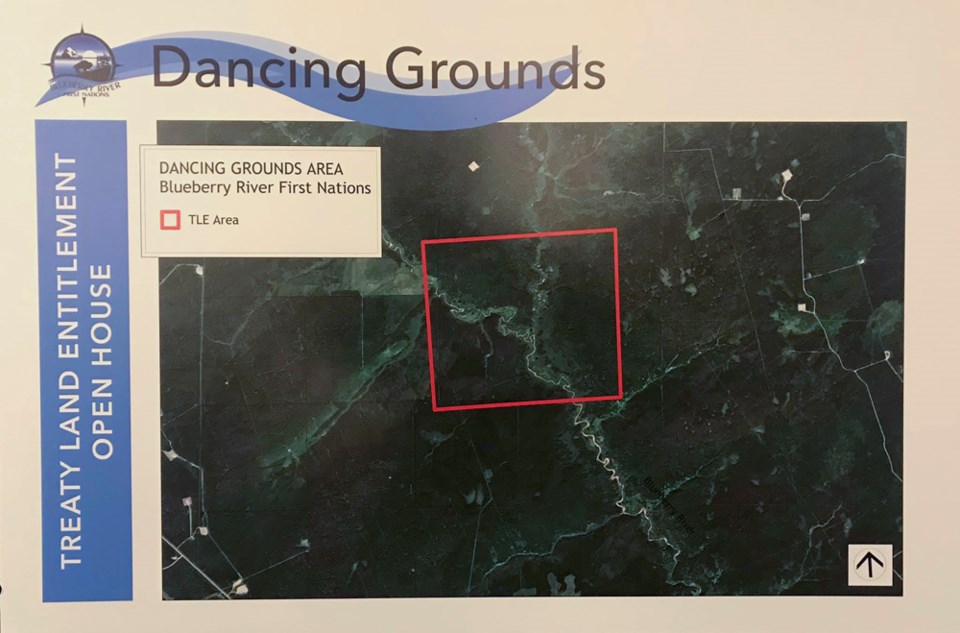 Dancing Grounds is a relatively small area selected for its significant traditional and cultural importance for various activities, particularly dancing. 
This site became significant after the loss of the Montney Reserve in 1945, when people were unable to return to the area that had been been particularly important for summer gatherings. 
Contemporary Blueberry River songkeepers desire to renew the tradition of holding summer gatherings here.
Email Managing Editor Matt Preprost at editor@ahnfsj.ca.