Moving Taylor's landmark giant golf ball has turned out to be too costly to justify. 
On Monday, the district's recreation committee opted to recommend that council authorize housing developer Taylor North Developments to dismantle and dispose of the monument, which stands in the way of the company's plans for more homes adjacent to the Lone Wolf Golf Course. 
The district issued a request for proposals in July to move the structure 125 metres east of its current location. But the bids placed the cost of the work north of $40,000, not including any refurbishments or annual costs.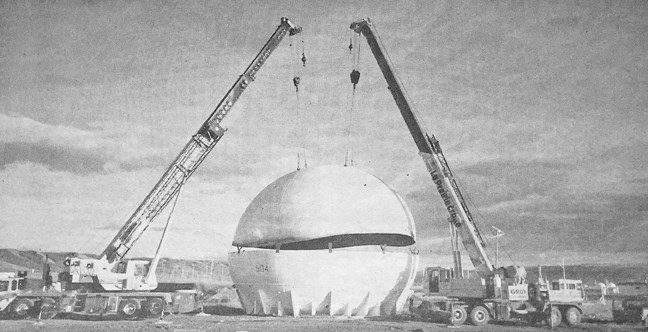 "I find the costs hard to justify," said Coun. Betty Ponto. "I always have that in the back of mind, Joe Q resident comes up and says, 'Why did you spend this much money on this?' … I have trouble being able to justify this amount of money for that project.
"There's so much other things we can spend that kind of money on that's really badly needed in the district rather than moving the golf ball," she said.
Coun. George Barber agreed, noting the district hadn't set aside money for the move in this year's budget and that other hidden costs could arise with the move.
"It gets to the point, to me, it's not worth it to save it," he said.
"Maybe to some people, but that money, we could get better visibility if we put that money into the canoe and the fire truck or something like that."
Council will consider the committee's recommendation at its Aug. 15 meeting. 
Taylor North Developments would be responsible for the costs associated with the dismantling, which it pegs around $4,000, according to a district report.
Both Ponto and Barber acknowledged the community's attachment and efforts to build the landmark in the 1990s, which, though not official, has been deemed the the largest golf ball in the world according to some provincial and national tourism websites.
According to the Taylor Times, Petro Canada donated one of its tanks to the district in 1994 when its refinery closed. Dennis Harker, along with volunteers, spearheaded the moving of the structure. 
When news of the possible move or dismantling was first reported by the Alaska Highway News in February, a discussion sparked online between council, residents, and Lone Wolf patrons of what to do with the structure.
"Historically in any community, if there's a huge attachment to something or huge interest in something, people will come forward, like they did to put (the golf ball) there," Ponto said.
"Because that was partially the district, but a huge community and industry effort."
Gordon Davies, Taylor's director of operations, said the timeline for the dismantling would depend on Taylor North's schedule and how quickly it proceeds with its development.
"(The golf ball) may be there another year," he said.
editor@ahnfsj.ca