When the Blueberry River First Nation launched its lawsuit on resource development and treaty rights in March, it included a map of its traditional territory.
The map is scattered with multi-coloured dots and lines representing pipelines, gas wells, disposal and water extraction sites and forestry cut blocks. Taken together, the dots form a blob that covers the entire northeast. 
An emerging field of research aims to determine the overall impacts of that blob on the people, animals and environment of the region as a whole. The field is known as cumulative impacts (or effects) research, and accounting for those impacts is drastically changing how resource projects are considered for approval.
The field dates back to the 1980s, but ramped up resource development and a changing climate have brought the issue to the fore.
"For whatever reason, it seems in the past five years the buzzword ... cumulative effects has taken hold," said Chris Buse, project lead with the University of Northern B.C.'s new Cumulative Impacts Research Consortium.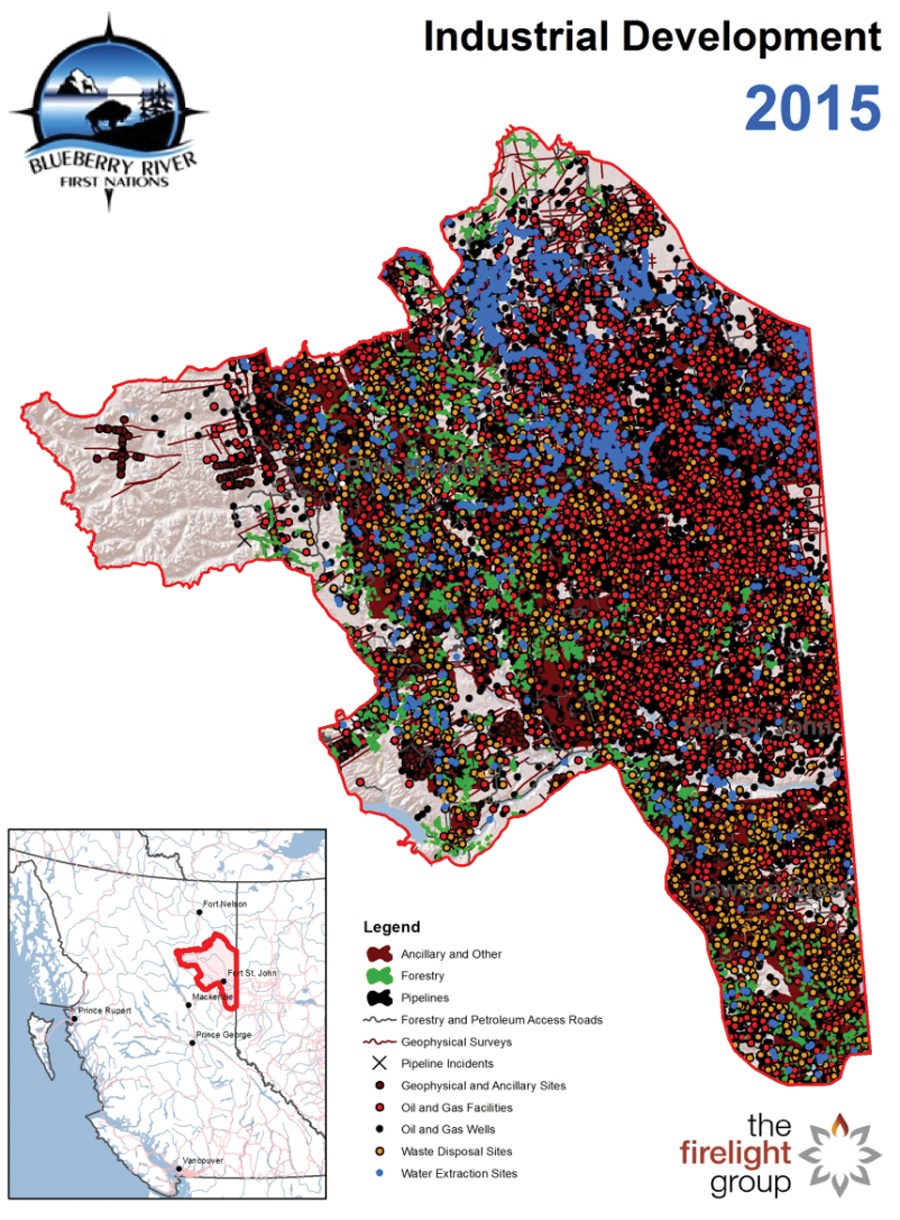 Buse was in Dawson Creek last week for a presentation to the regional board on the research group, which launches this fall. 
The basic idea behind cumulative effects is that the overall impact of resource extraction is "greater than the sum of its parts," Buse said.
Where current environmental assessments tend to focus on managing a project's risk to its immediate area, cumulative impacts assessments are much broader.  "
"To put it in layman's terms, we're interested in everything," Buse said. He gave the example of a gas well.
"We go out and say great, we've got this 200 metre by 200 metre square on the earth, and that's the area that's going to be impacted by this particular gas well."
While some environmental assessments stop there, cumulative impacts researchers go further.
"Sure, this 200-metre area is going to be disturbed and we want to know the impact on that immediate area, but the air quality of the airshed it occupies is certainly a lot bigger than that 200-metre square," he said.
"We've got a highway running to that well pad — is there going to be increased traffic on that?"
From there, the well pad's impacts spiral outward. 
"The whole idea of cumulative effects is trying to broaden the impact of that one well," Buse said. "That well might be sitting in the backyard of a hundred other wells, so what does the environmental assessment process have to say about (the overall impacts of) those other wells?"
That idea forms the crux of Blueberry River's lawsuit, a sweeping legal challenge claiming that decades of government-permitted resource development have undermined treaty rights in its traditional territory.
In a submission to the B.C. Supreme Court, the nation argues the province has "consistently made choices to undertake or allow land alienation, resource extraction and industrial activities in the traditional territories upon which the nation's culture, economy and treaty rights depend."
A lawyer for the First Nation said the case is in its very early stages, and no trial date has been set.
Cumulative impacts are already taken into account in some environmental assessments.
"Our contention is (cumulative impacts assessments) are not done well," Buse said. "Part of the reason they aren't done well is because we don't have the tools and the data to do it well, that moves beyond just environmental impacts."
In May, the B.C. Ministry of Forests Lands and Natural Resource Operations rolled out its cumulative effects framework, a revamped document governing environmental assessments. 
"Given the increased amount and diversity of resource development activity in recent years, government has recognized and is acting on the need to look at resource development projects on a regional basis, as opposed to a sector-by-sector or project-by-project basis," the ministry wrote in a press release.
The Peace River Regional District recently began considering similar impacts when reviewing applications for worker camps, asking applicants to submit a document known as a socio-economic effects management plan.
Buse acknowledges the criticism of cumulative impacts assessment — that projects will bog down in a sprawling regulatory process. But he doesn't see it that way, saying that fully accounting for a project's impacts will win over people skeptical about resource development.
"If industry is really in the business of doing due diligence ... if they want some sense of social licence from people in the communities supported by these resources, from my viewpoint, it's industry doing what it's supposed to be doing," he said.
reporter@dcdn.ca