The Doig River First Nation has submitted a proposal for federal funding to develop the K'ih tsaa?dze Tribal Park into an indigenous protected and conserved area.
Officials from the First Nation gave Fort St. John city council an overview of its proposed four-year work plan on April 8, noting its proposal to the Canada Nature Fund was submitted on March 29.
"(K'ih tsaa?dze) has been an important part of our nations, for generations," said Chief Trevor Makadahay. "We've seen a lot of development in that area, and we really need to look at protecting something, not only for our next generation, but for everybody."
K'ih tsaa?dze is pronounced "ki-tsaw-tsay" and means "old spruce" in the Dane-za language. Though the park was first declared in 2011, much work needs to be done to turn the park into an indigenous protected and conserved area. If approved for funding, a decision expected in May, Doig would need to carry out a number of technical and scientific studies over the next four years.
The park is currently 45,000 hectares, but the ultimate goal is to place more than 108,000 hectares of land in protection within four years to help steward its cultural, ecological, and economic potential, said Laureen Whyte of Arbutus Consulting, who is working with Doig on the project.
That includes mapping connectivity to the Chinchaga Wildland Park to the north and enhancing range habitat for a caribou herd in the region, investigating potential new resource management zones, establishing partnerships to reclaim orphan well sites, and engaging local communities, Whyte said. From there, the appropriate land protection "tools" would be applied for certain areas based on their needs. That could be include either Class A, B, or C park status, or conservancy, recreation area, or wild land statuses.
"You go through the research piece first. Once you've identified what protections are suitable, you choose the vehicles," Whyte said. "The last stage of the entire process is working with government on the legislative options available, and applying them as they make sense."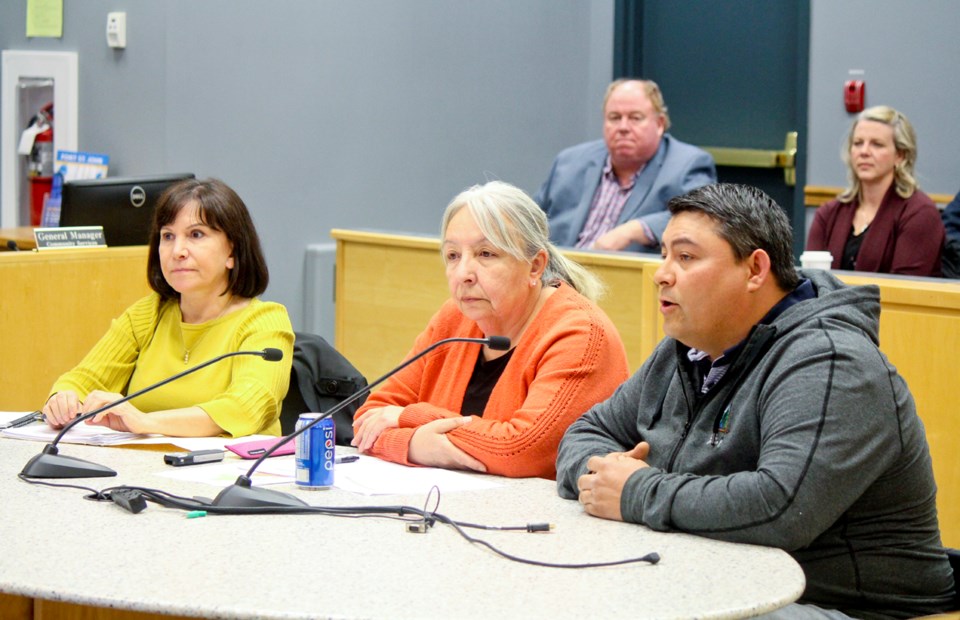 Co-management of the area is key to the project, and the federal government's reconciliation agenda, Whyte added.
"There are some objectives that the province will want to achieve, and we would want the K'ih tsaa?dze project to align with that," Whyte said. "One of the things Doig will have to explore is how will it manage that area together with other governments that manage jurisdiction in the area."
Doig is currently in treaty negotiations with B.C. and Canada to settle a land debt still owed from the signing of Treaty 8 more than a century ago. It has selected five parcels of Crown land covering around 4,900 acres at K'ih tsaa?dze near the Alberta border, and another 5,000-acre parcel in Alberta was selected to encompass the seasonal rounds of Doig River.
The band has had discussions with the Alberta government on protecting the Chinchaga caribou herd in Northwest Alberta. It will also be a part of future land use planning discussions for the entire Upper Peace regional area with the Alberta government.
Council was receptive of Doig's plan for the area, and at the meeting approved writing a letter in support of its application for funding.
However, council noted communication with government and industry stakeholders was key to moving forward. Coun. Byron Stewart called the rush to protect southern mountain caribou in the South Peace, and how that process has unfolded, as "chaotic."
"Having this conversation early allows us to have that open conversation about it," Mayor Lori Ackerman said. "The communities … have to be engaged."
The Chinchaga herd is a boreal caribou species, and separate from the plans being developed for the southern mountain caribou in the South Peace, said Cec Heron, lands manager for Doig. 
"We're not only looking at caribou; we're looking at moose and grizzly bear. We also recognize there's bison in the area as well," Heron said.
Doig has already done some studies of the the tribal park, but the work has been piecemeal, Heron said. If Doig is approved for funding, there will be four years of ongoing engagement with stakeholders and other First Nations in B.C. and Alberta, Heron noted.
"This funding gives the chance to do comprehensive studies in a specific timeframe," she said.
Ackerman noted the potential to bring the Trans Canada Trail through the area from Clear Hills, and even look connect it to the Global GeoPark in Tumbler Ridge.
"It may be beneficial to link the region together," she said.
Collaboration is key for Doig as it looks to balance the environment with industry, Makadahay said.
"Doig's been very positive in inclusivity and I don't really like the word stakeholders; we're all land users, this is our backyard," he said.
"There has to be a balance between industry and the environment. There's places we have to save for future generations to come. And if we don't do something now, I don't know what to say, it'll be too late.
"There needs to be collaboration between all of us to bring initiatives like this to a good and happy ending. I think if we do it all together it's something that we can all be proud of." 
Email Managing Editor Matt Preprost at editor@ahnfsj.ca.