Expanded cultural camps and tribal park, new housing and retail developments — they're all part of an ambitious legacy plan for Doig River First Nation as it winds down treaty land negotiations with the federal and provincial governments.
The nation held an open house in Fort St. John on Wednesday, highlighting its plans for some 20,000 acres of land it's selected as part of an outstanding land debt Canada still owes from the signing of Treaty 8.
It also showcased early concept plans for 20 acres it plans to develop inside the city of Fort St. John.
"It's a very exciting time for our nation," Chief Trevor Makadahay said.
Doig River is one-half of the former Fort St. John Beaver Band, which was to be given 128 acres for each of its members as part of the provisions of Treaty 8.
However, many members were out on seasonal rounds and were missed when land was allocated in 1914. The band, along with the Blueberry River First Nations, the other half of the Beaver Band, launched a claim in 1999 to settle the difference.
Kema, a place to find peace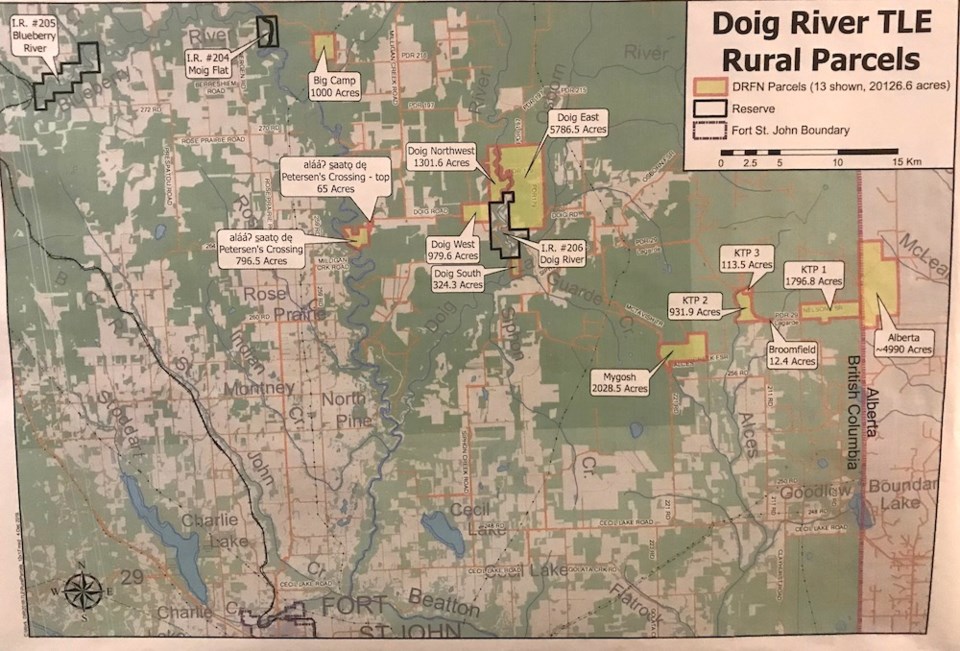 The land selections involve 13 rural parcels near the existing Doig River reserve, including 1,000 acres at Big Camp and 860 acres at Petersen's Crossing, culturally significant areas Doig River wants to preserve and enhance. A map for Big Camp proposes a new camp and day-use area with cabins, fire pits, and dry meat racks. A map for Petersen's Crossing calls for new homes and cabins.
Doig River has also selected five parcels covering around 4,900 acres at K'ih tsaa?dze near the Alberta border, which Doig River declared a tribal park in 2011. Another 5,000-acre parcel in Alberta was selected as part of that, and encompasses the seasonal rounds of Doig River.
"As settlers came in and fences were built, it pushed us back," Makadahay said. 
"That's pretty much the last of our seasonal round that we used to do, and we want to preserve some of those areas."
Makadahay calls these areas Kema (pronounced 'kay-ma'), places of peace the First Nation wants to keep pristine for generations to come. 
"Kema is a pure place in nature where, when you go to that place, you can ... feel that peace," he said.
"We're not opposed to development, but there has to be a balance between the environment and industry. There's many different ways to make something happen, but at the same time, our kids and our future children, they're not going to have any pristine places to go."
Doig River has selected another 8,400 acres in four parcels around its existing reserve to accommodate future growth. 
"Our community should have been larger in the beginning, it's not sustainable for our population," Makadahay said.
"We just really need that land base to make anything work for our people."
Fort St. John development plans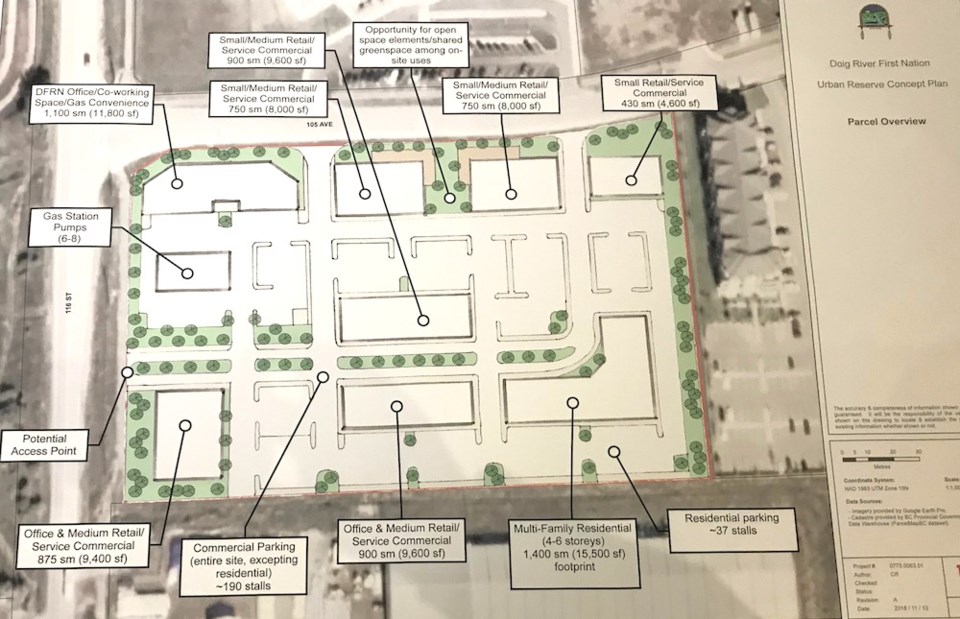 Doig River has another seven urban parcels in and around Fort St. John, including three covering 330 acres in the Old Fort area.
Most ambitious are plans to develop an eight-acre parcel across from Margaret 'Ma' Murray Community School into a mixed-use hub that could see a gas station, a handful of office and retail complexes, and even a new four- to six-storey apartment. 
Doig River also hopes to turn two three-acre parcels of light industrial laydown yards off the Old Fort Road into two new office buildings. 
"We just want to be part of the economy and have prosperity for our people," Makadahay said.
"We want to have something we can wave in Fort St. John as a legacy piece for our people because this is our original home. We're not just coming into town now, we're actually coming home. 
"It's a great opportunity for our people to become part of the economy, it's the biggest thing."
Doig River spent more than $10 million on its land purchases in and around the city as there was no Crown land available for its treaty land selections. The land will be converted to reserve status, and Doig River has completed a memorandum of understanding with the city on land-use planning and payments for services such as water, sewer, and fire and police protection in lieu of property taxes. 
Long, challenging process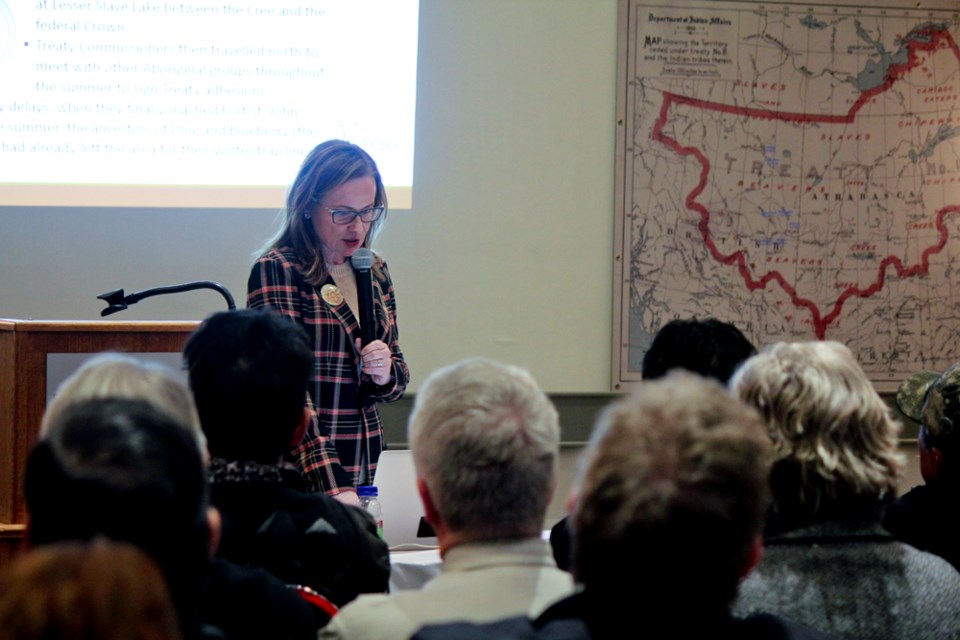 Land settlement negotiations are expected to be completed within the next year, and must be approved by Doig River band members.
It's been an exhaustive and uphill 15-year battle since negotiations began in earnest in 2004, Makadahay said.
"It means a promise that's going to be reconciled, a treaty promise, and we're very excited about it," Makadahay said.
Negotiations included a comprehensive genealogy report, where historical experts combed baptismal, death certificate, and trading post records to recreate a complete list of band members to compare to what Canada had thought at the time.
"With that report, we negotiated with Canada over the size of the shortfall," said Allisun Rana, the lawyer who has worked with Doig River on its claim.
Rana called the process long and challenging because most of B.C. is not covered by treaty. Work continues with the province to finalize the settlement and identify any third party interests on the land parcels that have been selected, the majority of it owned by the Crown.
"One thing we have working in our favour is that there is no existing oil and gas production on any of these lands," Rana said, noting the last well was shut-in in 2012.
There has also been no forestry harvesting on the parcels for nearly 30 years, Rana added.
The settlement is a great achievement that will have spinoff economic benefits for the region, Rana said, noting other Treaty 8 First Nations are also winding down their own negotiations.
"That is going to be a huge economic benefit for this region," Rana said, noting 95% of settlement monies get spent in the local economy, and multiplies from there. 
"These are significant claims, and there will be development and there will jobs, and there will be an injection into the local economy. It's exciting and something to celebrate."
Also on Wednesday, Doig River donated $20,000 to the South Peace Health Services Society and a housing project it has in the works for regional residents needing short-term medical stays.
Doig River also donated $2,500 to the Salvation Army's Christmas Hamper program.
Email Managing Editor Matt Preprost at editor@ahnfsj.ca.