Lyle Edwards moved from Manitoba to Dawson Creek in 1958 to work in construction. Frances Burnard moved from Saskatchewan to Pouce Coupe in 1957 and worked as a nurse in the Pouce Coupe Hospital.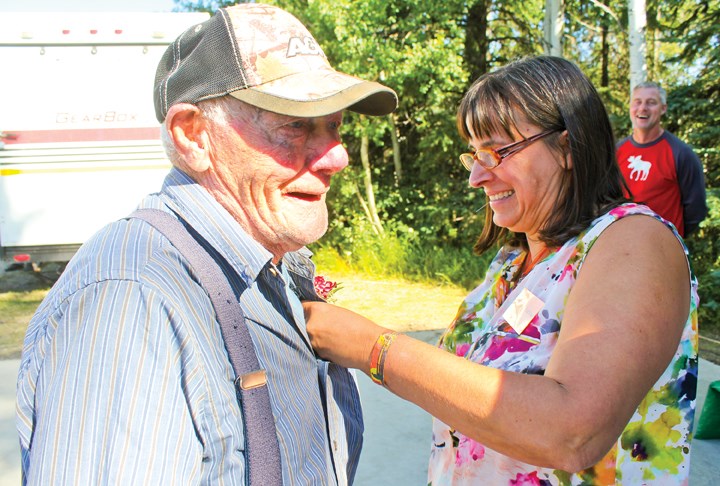 Lyle and Frances met at the Pouce Coupe Hospital in 195 and were married in 1960. They have five children, 12 grandchildren, and four great-grandsons.
Lyle and Frances bought a Hayes truck of their own and signed on with Tompkins Trucking for several years. They started their family living between Grande Haven and Fort Nelson.
In 1965, they bought land in Clearview. They began clearing and breaking that land where the Clearview School and Arena are to this day. In 1969, they moved their family from Grande Haven to the farm in Clearview, where they worked together to establish a successful grain and cattle farm. Lyle worked for Ardill Contracting and Pat Preston Contracting for many years, while Frances kept the farm, chores and children, growing with pride. Their son Gary and his family bought the family farm in 1999 and still farm it today. 
Lyle and Frances then moved to Fort St. John. With farming still in their blood, Frances still has a small garden in the backyard, while Lyle, with too much time and no hobbies, built a shop where he took up rebuilding antique Massey and International tractors with the help of friend George Prive. This is where his volunteering at the North Pine Fall Fair started, as what seems like his summer job.
Lyle and Frances now have five red tractors at the fair, four he uses in the tractor pull and one that uses to pull a covered wagon, which he built to give rides around the fair grounds. Their red tractors and covered wagon can also be seen in the Canada Day Parade with Lyle and family at the wheels.
The Twomeys
Tim Twomey came from Ireland around 1957 and managed to keep his accent all these years. He has remained in the Peace area most of his life except when work has called him away.
He volunteered to run the crosscut at the North Peace Fall Far for many years. He also ran outdoor and 4-H clubs throughout the years.
Patricia was born in Fort St. John and moved away once or twice, always returning to the Peace. She is a lifetime member of the Women's Institute. She has also ran 4-H and many volunteer positions. She ran the sheep show at the fall fair for many years.
Tim ran a commissary and worked in logging camps when he first came to Canada. He worked for the Eric Brekkaas camp for a few years.
He homesteaded some land across the Blueberry River and built a cabin there. He remained working out doing different jobs such as running heavy equipment for Tom Ardill.
He married Patricia (Copeland) in 1969 and bough a house in Fort St. John, but needed a larger house because Dale and Margi would invade. They kept their farm through the years. They sold in Fort St. John and moved to the Blueberry, where they farmed for quite a few years. In 19__, they sold their farm and bought in Rose Prairie. 
On the farm in Rose Prairie, they had a flock of more than 350 ewes. They were one of the bigger sheep farms in the area at the time.
Tim still worked out throughout the years. As farms go, Pay was responsible for the farm while he was away. 
In 1980, they received their first bundle of joy, Katherine, and Margi joined her in 1982. This would complete their family.
Tim remained working in the oil patch as a consultant, core man, and deep hole fisherman. He started getting transferred lots, so they sold the farm to have the family with him.
In 1992-93, they bought a farm in Cecil Lake, and while Tim remained deep hole fishing until he retired, they were back raising sheep. 
Tim and Pat have five beautiful grandchildren. Katy married Justin Bently in 2006 and they now have Mason, Emma, and Nate. Margi married Jason Meeks and they Grace and Lilly. 
—Contributed