School District 60 signed Monday a pair of local education agreements with the Doig River and Halfway River First Nations.
The school district says the agreements are a financial and educational agreement between the board and the First Nation to support and monitor the success of indigenous students.
"It has a shared vision that's been developed about what we want to have happen within our school system for each nation's children," said board chair Helen Gilbert.
"There are some things that are common to the agreements, but there's definitely a local flavour that's been developed and put into the agreements by each First Nation, and it will guide the work of our indigenous education department."
The agreements were developed through Carleen Andrews, the district's director of instruction, in conjunction with each community. An agreement is also being developed with Blueberry River.
Staff will be working with the bands through the summer to implement the agreements and develop local curriculum.
"We have the vision now, we have the framework," Andrews said. "The real work is getting this operationalized."
Doig River councillors Garry Oker and Brittany Brinkworth called the agreement a great opportunity for their youth.
"My grandparents always said education is such a powerful gift to have," Brinkworth said. "This agreement is a really good support for our community and our members. It's a really good step in the right direction."
Oker sees it as an opportunity to bridge ancient knowledge to today's technology — bringing Beaver and Dene history into the curriculum "from the Ice Age to the Digital Age," he said.
"It's to be able to make sure the younger people not only understand history but also have some skills to make a good living in this day and age," Oker said.
"Those are the challenges we always face: how do we keep up with technology, how do we use it effectively, and, at the same time, make sure that the people are recognized and honoured, the treaties, and what it means to live here."
Oker also sees the agreement as an opportunity for grow cross-cultural collaboration between students both in the classroom and in the community. 
He noted the popularity of the annual Doig Days, where students get a cool and unique hands-on experience preparing moose hides, learning aboriginal hand games, skinning beavers, digging for artefacts and more.
"It's a beautiful thing. Kids love it," Oker said.
"Imagine that say four times a year, major events like that where students have to learn and develop things for that big presentation."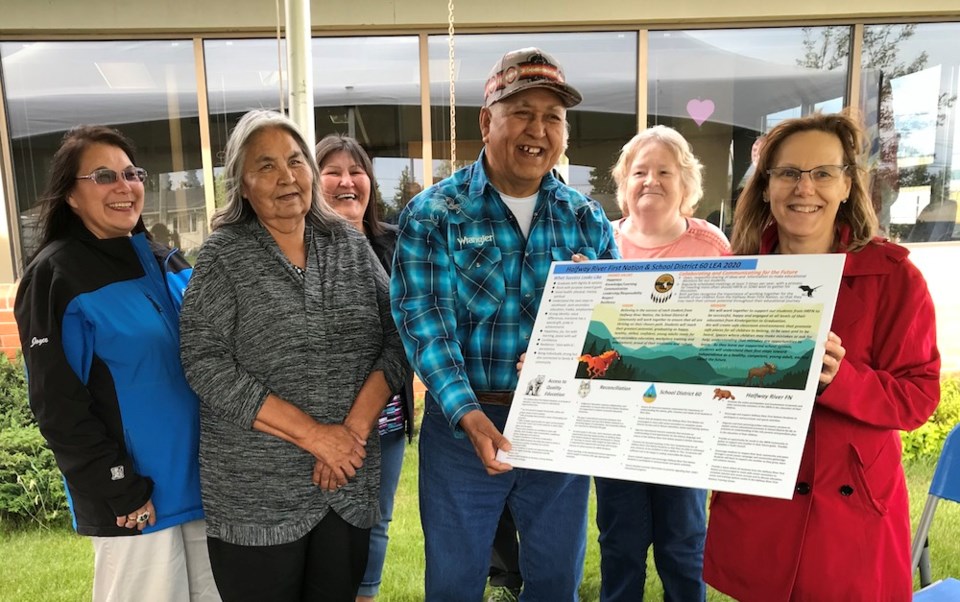 Email Managing Editor Matt Preprost at editor@ahnfsj.ca.