Hadley Bentham has long dreamed of competing in a beauty pageant, so when she saw an application to compete in Miss Teen B.C. back in September, she thought she might as well give it a shot. Little did she know that less than a year later she would be crowned Miss Teen Northern B.C. in her first-ever pageant. 
Bentham, 14, was in Vancouver July 4 and 5 for the 2020 pageant. Out of the 22 contestants, the top six were named and will advance to compete in Miss Teen Canada in Toronto this summer, August 24 to 29. The Fort Nelson resident was one of the six delegates chosen and finished second overall, earning her the title and representing the North. 
"It's always been my dream to do this. I wanted to show my small town you can focus on something and accomplish great things, and I get to do it using my passion for dance and exercise," Bentham said.
The process began with her submitting an application and then a photo portfolio in the fall, before passing the Zoom interview portion of the application process.
The actual competition was delayed due to COVID-19, but it was eventually held in person. Bentham was still judged on walking the stage; on her appearance in a suit, cocktail dress, gown and bikini; and on presenting her platform, without an audience of up to 300 people looking on.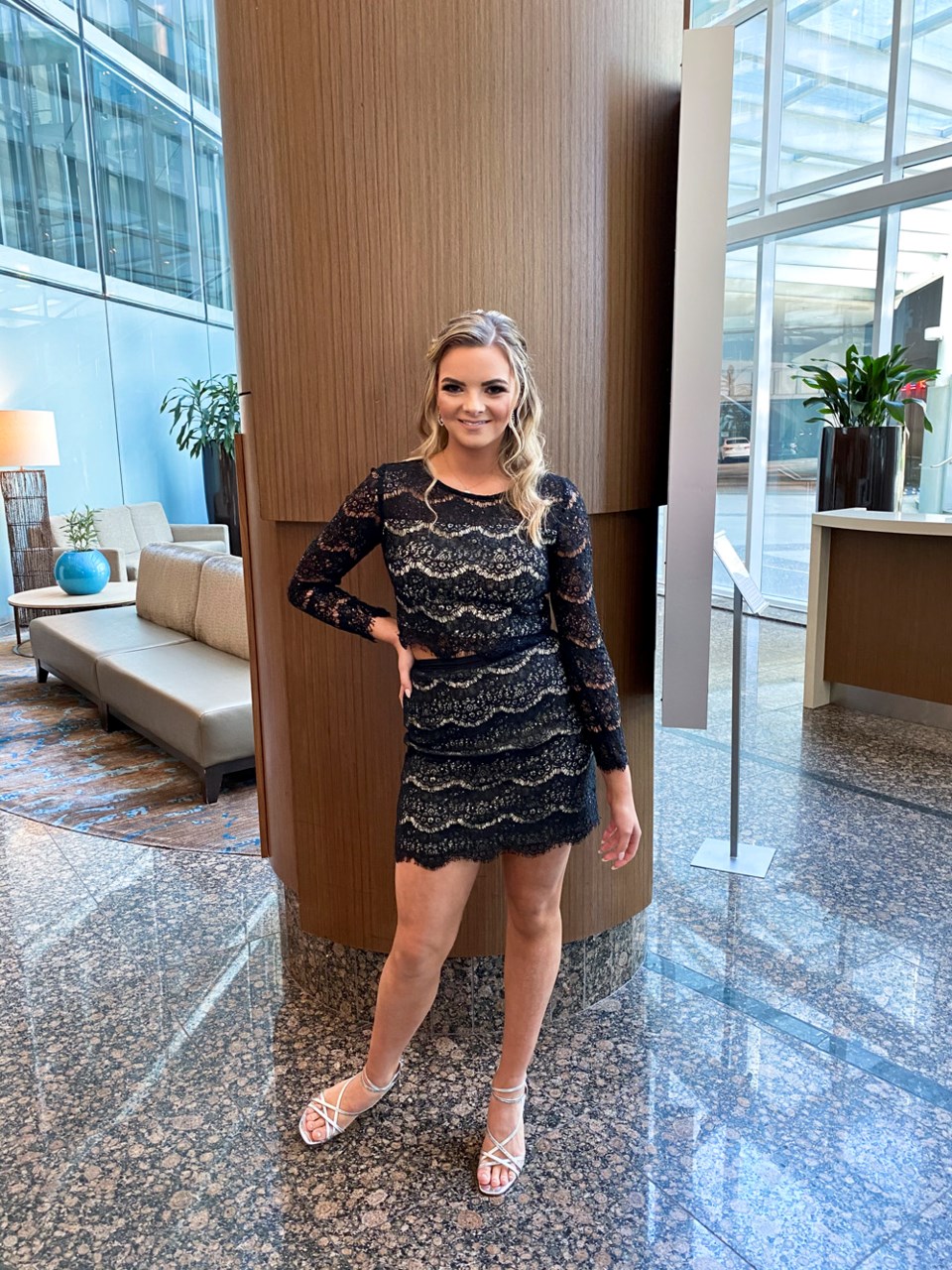 Bentham was surrounded mainly by the three judges and the other contestants, and her mom Chastity was on hand, as only one family member could attend as per the pandemic-related regulations. 
"I didn't get to watch the actual event, and so when they were counting down the top six names I was very happy and surprised to hear her name called," Chastity said. 
Hadley excelled at her platform. She has competed in jazz dance, ballet, and lyrical dance her whole life, and is passionate about dance as artform and of healthy eating. Volunteering with younger dancers and teaching them about the importance of healthy eating and living is something she already does, so it wasn't too hard to bring it into the competition. 
"My platform is inspiring young children to eat and to live an active and healthy lifestyle," said Bentham.
"I see kids eating surgary drinks before a class, and I want to show them the importance of eating healthy and developing that habit at a young age, because when you get older it's harder to stay away from junk food and keep the weight off.
"When you have something you are really passionate about and want to push like I am with dance, it's a huge help," she said.
Bentham's success was a pleasant surprise to both her and the judges, considering she had never done this before. She had been cautioned by many that she would be going up against some girls as old as 18 who have been doing this their whole lives. But many of the girls were also new, and Bentham said she fit right in and wasn't intimidated. 
"Everyone was so nice. I made new friends, and was able to really learn about the pageant world," Bentham said. "When I go to nationals, I'll be a bit more familiar with how everything works."
Still, the national event promises to be a whole other level of competition.
Bentham will be one of 50 girls competing, and the event will be held over six days instead of two. There will be more scrutiny, but Bentham is up for the challenge. 
"I am a bit more nervous because all of these girls have just won what I won. But I'm really excited to go compete in front of a bigger audience. I've been competing on stage with dance my whole life, and I'm confident in myself," she said. 
Regardless of what happens in Toronto and going forward, Bentham is happy to show people in northern B.C. and Fort Nelson what you can accomplish if you put your mind to it.
"I really want everyone to know that if they work really hard, they can accomplish anything in the world."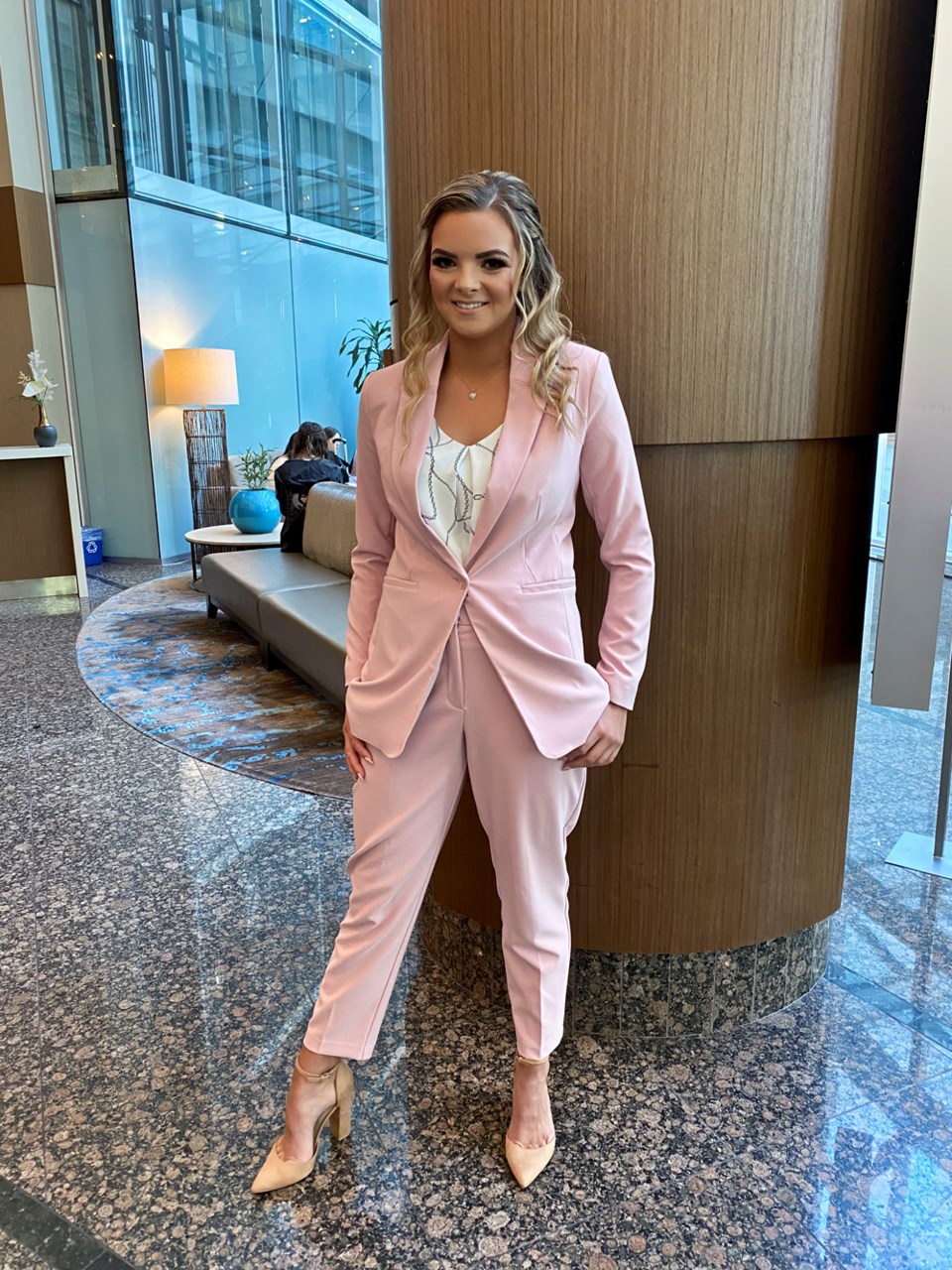 Email sports reporter Dillon Giancola at sports@ahnfsj.ca.