The Halfway River First Nation has entered a full lock down.
The March 26 announcement says residents will only be allowed to leave the community for health reasons, and those who otherwise disobey will not be allowed to re-enter unless agreeing to mandatory 14 days of self-isolation.
In a notice to members, band chief council said the decision was made due to the risk of the coronavirus disease COVID-19 "spreading like wildfire."
"Council wants to keep the community safe, especially our elders and the ones with weak immune systems," they wrote.
Chief and council says there will be security to monitor who leaves, and says there will be no access road by Marvin Fields place.
Elders will be checked on the ensure their needs are met, the notice says.
Chief Darlene Hunter declined further comment.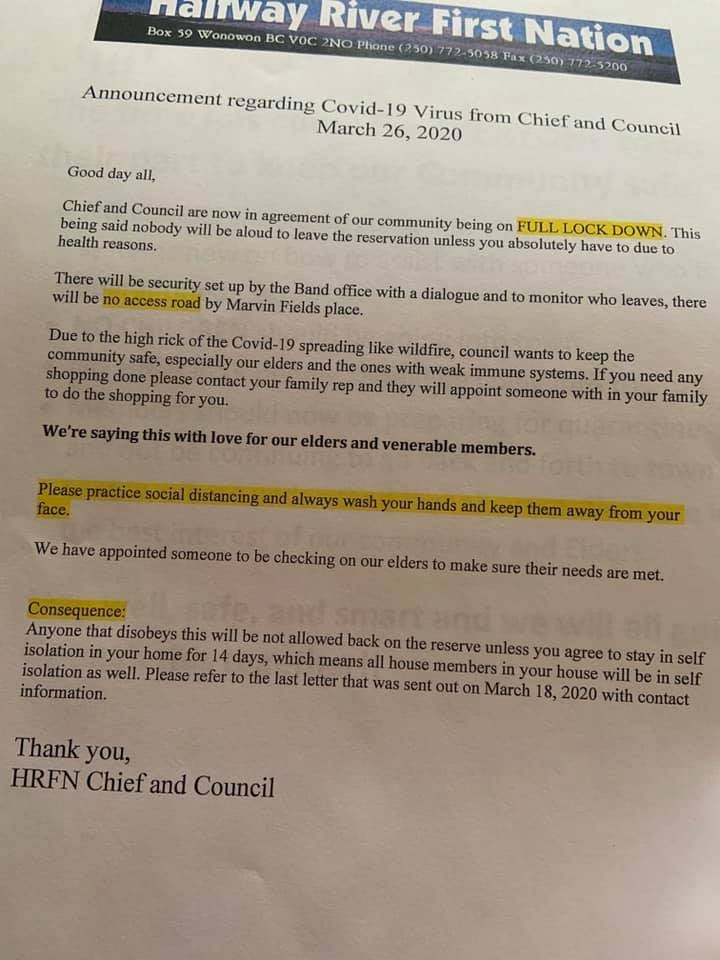 Halfway River closed its office on March 20, and until April 20. Because of the pandemic, it has also had to cancel a number of events, including the grand opening of a new elder's building on March 18.
Dr. Bonnie Henry reported Thursday five recoveries and two new confirmed cases of COVID-19 in the Northern Health region.
The total now sits at 11 throughout the region. Their precise locations are not being reported by the province, but Henry said the virus was contracted through a mix of both travel and a close-contact.
Five people have recovered in the region, Henry said. "That's good news," she said.
There are now 725 cases and 14 deaths in B.C. Sixty-six of those infected are in hospital, 26 of them in intensive care; another 186 people have recovered.
This is a developing story.