The West Coast Trail is a 75-kilometre hike from Bamfield to Port Renfrew on Vancouver Island.
Hikers camp in all their supplies, and 'leave no trace,' which means they carry out all garbage they bring in. With a tent, sleeping bag, walking poles, food and clothing, packs often weigh between 40 to 60 pounds.
Hikers camp on the beach, and cross difficult terrain, including surge channels, steep inclines, and a stretch of perilous boulders. Injuries are common on this hike. It's meant for experienced hikers.
In August, I had the opportunity to hike this trail with my significant other, Joe Moser, and our friend David Shipley.
It was an exhausting, exhilarating journey, one that I will surely go on again. Here is the breakdown of our adventure:
Day 1: A four-and-a-half hour bus ride that made half the passengers scramble for their Gravol and we finally arrived at the north end of the trail. A 2 p.m. orientation – safety tips and tidal information – meant we couldn't hit the path until 2:40 p.m.
The going was easy, despite the fact we carried heavy packs. Mine weighed 40 pounds. The guys' each weighed 50 pounds.
Midway through the day's trek, an eerie moaning, gargling sound echoed through the forest. I passed it off as the trees swaying and creaking, but the haunting sounds reminded me of Emily Carr's novel Klee Wyck, in which she recounts her experience of spending time among Native groups. She tells of the fearsome child snatcher spirit, known then to inhabit remote parts of the woods. That spirit would sing an eerie song before she struck, and children disappeared to the spirit world.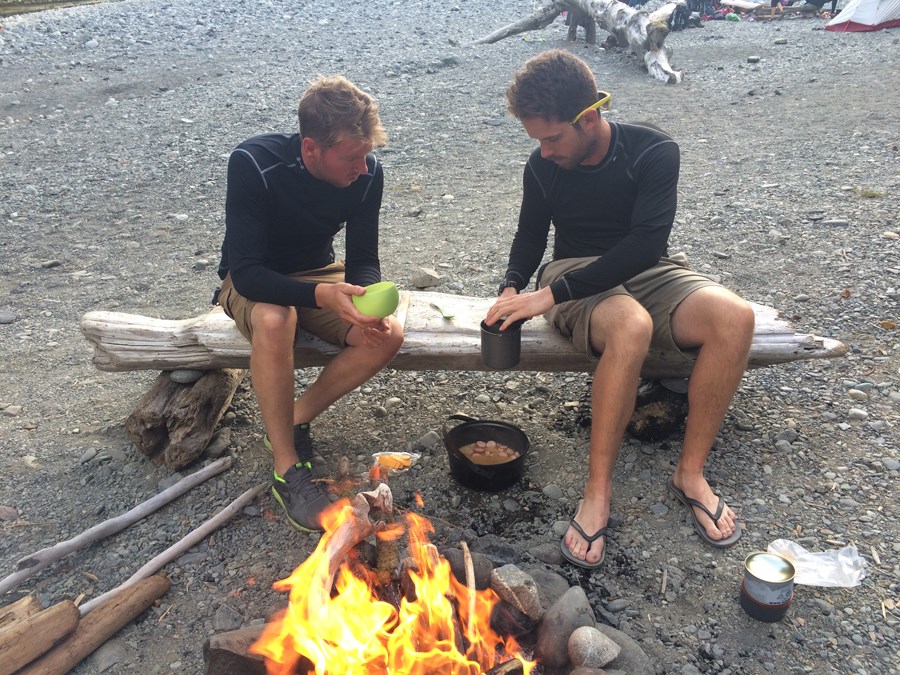 I wondered if that guttural chorus I heard was the progenitor of that myth. After following a side trail branching off of the main course, we discovered dozens of sea lions basking in the heat, carrying on that impressive, unending dialogue. Continuing our detour, we followed another turnoff that took us to a lighthouse.
The north end of the trail is the easy end, and we made it to camp with ample sunlight left in the day. We trekked down the beach another few clicks and set up our tents on the beach. Joe and our friend David Shipley – whom we affectionately call by his last name – built a sun and wind shield from the driftwood logs to shelter our tents. A strong wind threatened to spread our fire to the nearby wood, and we hastened to block the fast growing flames with a rock wall. We travelled 14 kilometres this day.
Day 2:Rise and shine. None of us had slept well the week prior, but on this night, after a long day of travelling by car, bus, and then on foot, we slept quickly, our easy rest helped along by the lulling, rolling waves coming in to shore. We slept long, and were the last at the camp when we woke up.
The first stretch of our day's journey was on the beach. Each step takes twice as much effort on rocks, or sand that gave way under our heavy weight. With the tide far out, we were able to hop across the wet, vegetation-covered rocks. I struggled most here, with my pack weighing nearly half my weight. I lost my balance once and fell, rolling first on my knees, to my elbows and then promptly on my back like a turtle under the weight of my pack.
This day's journey was harder than the last, with the first four kilometres on beach, and the day's remaining eight kilometres through forest, where we climbed both up and down steep ladders. We also took a cable car – that was an experience! Joe and I climbed in, and Shipley gave us a slight push. We rocketed over the water at an alarming rate.
Part way through the day's journey, we stopped to catch our breath and take in the ocean view. We saw a whale – we guessed it to be either a humpback or a grey whale – blow water into the air, and then leap up and flop to its side, its tail the last to disappear into the ocean. We didn't cover much ground on this day, and would have done more, but the next water source fit for drinking was 17 kilometres away.
We stayed the night at the beautiful Tsusiat Falls.
Day 3: Last night was a bad night. I'm not sure if I swallowed some bad water, or if it was the uncooked hot dogs we threw in our dinner of mac 'n' cheese, but I was up all night feeling nauseous and being sick. Needless to say, when I woke up, I didn't feel at all ready for the 21 kilometres that lay ahead – our biggest day so far. But the tides were in our favour, and we were able to kill some kilometres on the beach, at one point barely making it through an impressive, circular cave-like formation before the rising water soon made it impassible. We walked several kilometres on the beach before we had no choice but to move inland.
The terrain became more varied, with steep inclines and old, worn ladders. We learned in our orientation that the highest is seven storeys. What they didn't tell us is that some of the rungs pull clean off the side rails as you climb.
Halfway through our day's trek, and we arrived at a ferry crossing. A fishing boat came and picked us up, and took us across the Nitinat Narrows. On the other side there was a makeshift restaurant that sells fresh salmon, crab, and beer. It's expensive, but well worth your time. There's little that beats a hot meal and a cold bevvy after living in the bush for a few days.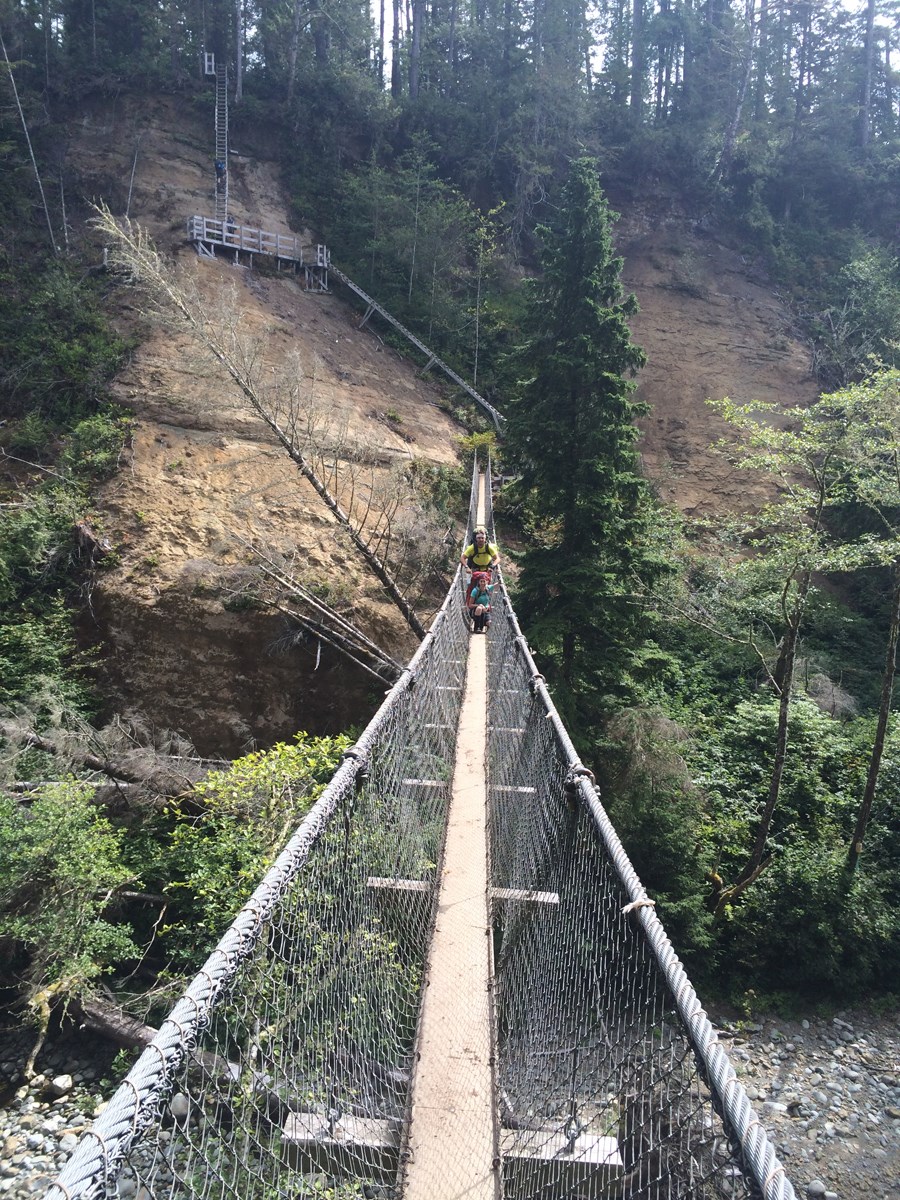 After a few more kilometres – and hours – through the forest, and we took a detour to see a lighthouse. We explored the site, and learned the lighthouse has been there since 1891. On display out front of it was a whale skeleton, piecemealed together from various bones having washed up over the years.
We returned to our packs – we'd left them at the side of the trail for our detour – and set out again, heading for the nearest campsite. Having reached it before our bodies were ready to collapse beneath the weight of our packs, we decided to forge ahead another few kilometres to the next site.
Lo and behold, just as we were fantasizing about cooking up whatever dehydrated food we'd brought for dinner, we came upon a burger hut. Surely these two restaurants – the only ones on the trail – are supposed to be enjoyed on different days, but our long hike meant we had two good meals in one day. Like the crab shack it's expensive, but so good! We stayed for hours playing poker with a group of 11 other hikers we saw often along the way.
Day 4:Once again, we woke late. The group of 11 had already set out, but they'd stayed out drinking late at the burger shack, and probably felt it. We soon passed them. The first five clicks of our day was spent on the beach. The rest was inland, where we were hopping over tall logs, and clambering under others. Although it was dry this entire week, there were whole sections of mud. Too often your shoe submerged in the thick of it. I would hate to have to endure this day in the rain. We travelled 16 kilometres this day.
Day 5:When we woke, it was still pitch black. 5 a.m. We had to get to Owen Point before the rising tide would make it impassible. The first leg of our day's journey, however, was in the forest. Equipped with our headlamps, we took to the woods. Owen Point is a cave formation with beautiful beach views. The going is difficult, however, and there are many surge channels and crevasses to cross. Some have driftwood logs propped up to walk across, but others don't. I would have preferred the inland route for this stretch, but I was outvoted. At one point, we had to toss our packs across and jump. This was terrifying, launching from one slippery surface to another with nothing but rocks metres below.
As we went on, we came upon another surge channel – a much bigger one. Precariously balanced was a driftwood log reaching from one side to the other. We again threw our packs to the other side, and scooted on our behinds across the log.
By now we were used to seeing whales whenever we cast our eyes to the water. But on this trek we also saw seals, sea otters, herons, and eagles.
Beyond this stretch of beauty lay thousands of boulders, which are fine to look at, but hell to cross. Joe and Shipley are much taller than me, and they had an easier time of stepping from one giant rock to another. My crossing was more of a scramble. I traversed this section on all fours. Many people injure themselves here.
We finally made it to Thrasher Cove, where we stopped for breakfast. From here on our route was inland, over roots and rocks, climbing up and up. We knew the south end would be harder, and it surely was.
We made it to the Gordon River access at 12:45 p.m., where we raised an orange buoy by rope to signal we were ready for the ferry to take us to the other side. We made it!
peacereporter@ahnfsj.ca