Tracy Paquette will never forget her 48th birthday.
It was April 22 and the same day she woke from a nearly three week coma while her body was fighting a pneumonia caused by the coronavirus disease COVID-19. She knew she had been rushed to hospital in Prince George, but thought she had been there for only a day.
"From that time period, I don't know what happened," Paquette says. "My birthday was a gift to everybody, a gift to myself."
It was a birthday estranged by isolation but still celebrated with two dozen family and friends over a phone screen.
Later, it was a sigh of relief for thousands who had joined in prayers for Paquette's recovery when her story made news as the first publicly-confirmed case of the disease in northeast B.C. That was compounded by worries that Paquette also worked at the Peace Villa care home.
Peace Villa and northeast B.C. escaped the first wave of the ongoing virus pandemic — there have been just 16 cases in the region to date, none since July 17, and Paquette continues her recovery with family in the Blueberry River First Nation.
She invited Alaska Highway News out to a dry meat camp near Blueberry River to share her story about the seriousness of COVID-19, and to help suppress its potential second wave.
"Something like this you don't keep hush hush. You have to let people know," Paquette said.
'It saved Fort St. John'
Paquette's symptoms began in the last week of March; minor, familiar, and escalating, as public health officials warn. The dry cough, the developing fever, the difficulty breathing.
Working in home care, Paquette knew the drill: stay home if you're sick. But her symptoms worsened, and she went to the Fort St. John hospital on April 3, where doctors first suspected she had a kidney stone. She returned two days later on April 5 — her fever had spiked above 100 F and she had trouble breathing.
"My body was cold, hot, cold, hot," Paquette said. "I didn't want to believe I had it, so I didn't want to go in. My mom forced me to go in. And if I didn't go in, I would have died at her house."
Doctors rushed Paquette into quarantined intensive care, where she was intubated and medevaced to Prince George on April 6. Testing confirmed she had contracted the coronavirus and Paquette was diagnosed with COVID-19 pneumonia.
She spent 17 days in a coma and on a ventilator, and one of the last things she remembers before waking up is seeing the nurses in Fort St. John staring at her in wide-eyed surprise through the glass windows.
The hospital wasn't ready for her, she said.
"As soon as I knew I was sick, I didn't go to work. That's what saved the elders there, and it saved Fort St. John," said Paquette. "It would have spread like wildfire here."
Symptoms of the coronavirus are often mild, and when it gets into the lungs it can cause serious damage. It can spread to other organs and damage them too. In Paquette's case, it also started to shut down her kidneys and liver.
"The nurse was telling me that they had to shock me twice to bring me back because I died twice," she said. "It's not a joke."
Paquette still feels the lingering effects of the virus. Her lungs are still inflamed, and she is seeing a physiotherapist to rebuild her strength; she can barely lift her young niece onto her lap. And she's also trying to overcome the depression brought on from the trauma of the disease and being isolated from her family through the ordeal.
"It's taken a toll on me. I cry when I think about dying because I was fighting for my life," Paquette said.
"You should have seen when I woke up on my birthday. The nurse told me, 'Do you know when you got here?' I said yes, yesterday. She said, 'Today is the 22nd.' I said, oh, it's my birthday.
"I was thinking about, not myself being in the hospital sick — I was thinking about my family at home, that they're probably worried about me. I was alone over there. It was terrifying, very terrifying."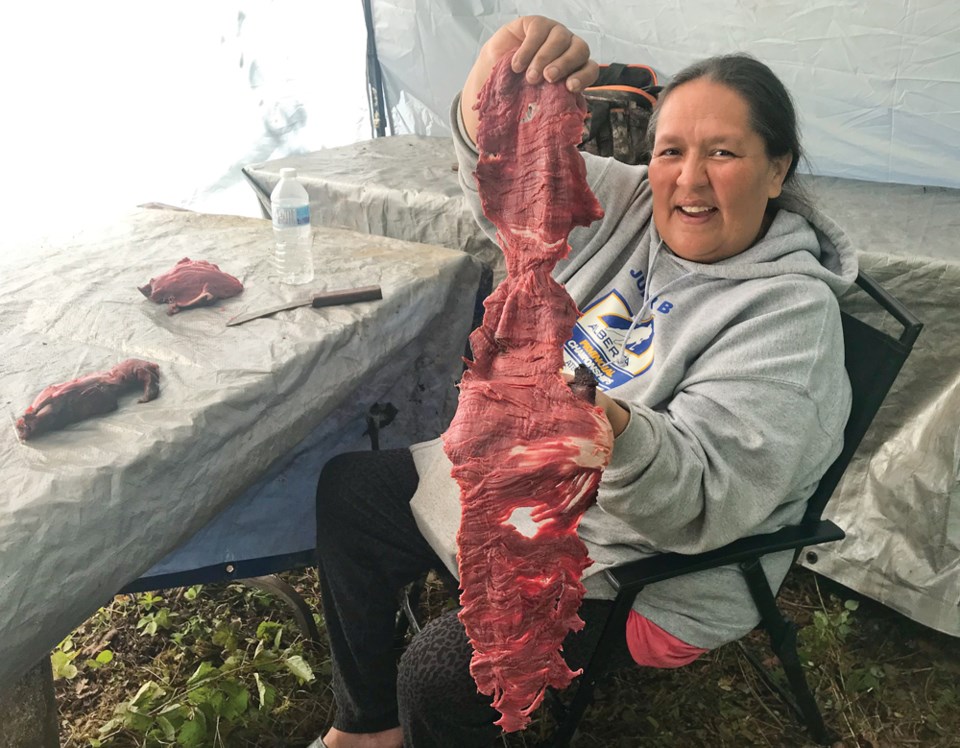 On mind and prayer
Paquette was transferred back to Fort St. John at the end of April, and spent another two weeks in hospital recovering before she was able to go home on May 11.
She credits and thanks her nurses and community support systems for her recovery. She has been spending her summer camping and getting back to one of her most favourite traditions — delicately slicing and drying moose meat to share with family and friends. It's calming, she says, and a testament to the power of the mind.
When Paquette woke from her coma, she had to learn how to eat and swallow and walk again. Nurses wanted her to use a wheelchair, but she was determined to walk on her own two feet instead.
"I was talking to that wheelchair everyday and said, 'I'm not going to sit in you. I'm not going to get lazy. I'm going to walk out the doors,'" Paquette said. "And I did."
More than 500 people joined an online prayer chain on Facebook, and Paquette's cousin Lynne Harvey says it was instrumental in keeping family, friends, strangers connected.
"It was a daily ritual we would do. When you say prayers together it's more powerful," Harvey said.
"In a weird way, Facebook was our only contact and that was what kept us together when we were so separated. When we got to see the video of her first walking out the doors, it was so emotional for everyone."
That gives hope to other families battling the disease that they too can pull through, Harvey said.
"Some people are lucky enough to have the support system to be able to fight the sickness off, to come back to their families," Harvey said. "Others were unfortunate, and we just don't want it to get to the unfortunate part."
Second wave worries
News of Paquette's illness broke April 9, nearly a month to the day after the global coronavirus pandemic was declared. As the first publicly confirmed case in the Peace region, news that felt a world away finally hit home. Two of Paquette's relatives later tested positive for the virus, while many others had to self-isolate.
"I'm glad it was put out there for other people to be safe," Harvey said. "The thing when you say Northern Health, people think Northern Health stops at Prince George, but we have so many other towns past Prince George. That was the scary part of just not knowing where (the virus was)."
Paquette doesn't know where she contracted the virus; likely somewhere in Fort St. John, but she doesn't believe it was at the Peace Villa care home. There were no infections reported there.
Paquette's daughter Shania helped Northern Health with its contact tracing. She called the experience unreal.
"I kept myself strong, tried to keep myself strong anyway," Shania said. "I didn't believe it."
After the news broke, the Blueberry River band council issued a travel directive to residents and setup road blocks and a 24-hour security checkpoint. Paquette says the community should have been locked down much sooner, not days after she was hospitalized.
"As soon as they found out this COVID was happening, they should have locked the reserve down, to protect elders, the ones with chronic illnesses, the kids," she said.
The checkpoint and road blocks came down in June when the community outbreak was declared over. But Paquette says they should still be up — Blueberry and Fort St. John need to keep their guards up, she said, noting the first confirmed case at Site C in July.
"They need to put the guard up again because it's coming again. I don't want to get sick again. I might not come back if I get it," she said.
After Paquette was diagnosed, her clothes were burned, and friends and family washed and repainted all of her walls. Her mom wrote a will.
"What COVID does is make you have to start everything new. They even threw my bed out," Paquette said. "It's OK. I can start all over."
Paquette hopes she can return to work this fall if her strength returns. But she fears catching the virus again, and spreading it to others.
"I'm scared to be in a crowd of a lot of people. I never used to be like that. I'm a people person," Paquette said.
"It's anywhere, any place, you don't know. I've been telling people just to be very careful," she said. "It's not safe at all. I'd rather be out here in the bush."
Email Managing Editor Matt Preprost at editor@ahnfsj.ca.