Wyatt Werner was scouring for rocks in a creek bed during a family picnic in the Peace Region three years ago when he was drawn to one in particular because of its shape and size.
As it turns out, the rock, about the size of adult fist, was actually a mammoth tooth.
Now, Werner's discovery will soon be preserved in the collections at the Peace Region Paleontology Research Centre (PRPRC), the Tumbler Ridge Museum Foundation announced Wednesday.
"This ... is an important addition to our collections as it adds to the small, but growing number of fossil vertebrate specimens known from the Pleistocene (ice age era) of the Peace Region," PRPRC Curator Rich McCrea said.
"There are many questions about our region during this time period," he added, including whether humans were around to witness this mammoth in the flesh.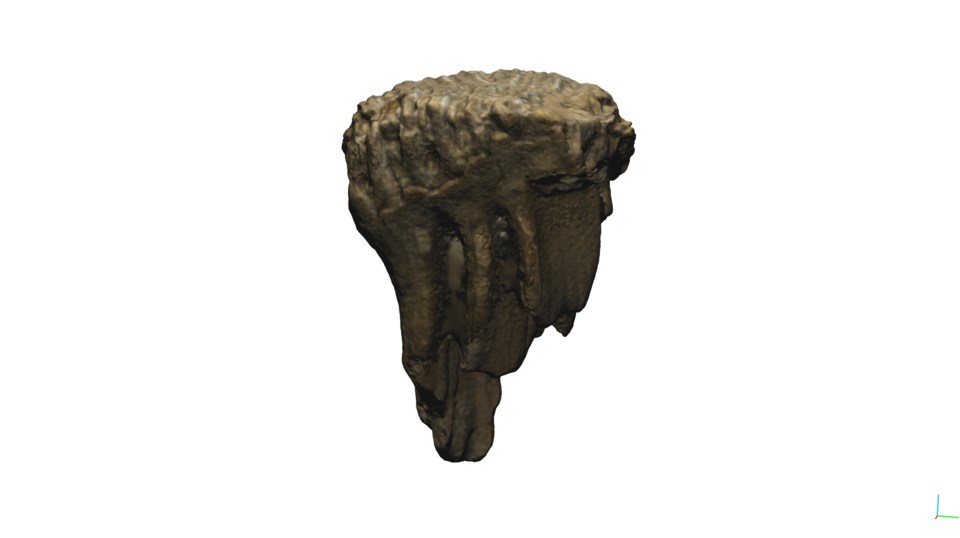 The tooth was  discovered in 2013 at an undisclosed location when Werner was seven years old. PRPRC paleontologists later identified it as a molar of an immature mammoth. A piece of the tooth will be carbon dated to determine its age.
"Wyatt and his family decided that such an important piece of our history deserved to be in a museum,"the foundation said in a statement.
The tooth will be on display at the Tumbler Ridge Dinosaur Discovery Gallery. Wyatt's name and the details of the discovery will be recorded. A 3-D digital model will also be available on the PRPRC website.
"Wyatt's discovery and donation are part of a remarkable history in the Peace Region of kids and young adults discovering important paleontological sites and specimens," the foundation said. 
"Some of the most impressive finds of the past 15 years have likewise been made by kids. This may be partly due to their being closer to the ground, partly to their innate curiosity and perhaps to kids' ability to discern interesting shapes better than adults."
It's not the only mammoth fossil to be discovered in the region.
In 2015, a 22,000-year-old mammoth tusk from the region was donated to the PRPRC. A 12,400-year-old bison skull was also returned to the collections from the Simon Fraser University that same year.
"The Peace Region is steadily fulfilling its potential as a treasure chest of ice age fossils, and Wyatt Werner's discovery is an important part of the picture that is emerging," the foundation said.
Staff at the PRPRC are encouraging anyone else who might come across a find like this of their own, to alert the paleontological staff "so that the finds can be formally studied and con contribute to out collective heritage."
dcreporter@dcdn.ca