There were 18 cases of COVID-19 reported in northeast B.C. from Aug. 14 to 27.
New data released by the BC Centre for Disease Control today shows 27 total cases across the Northern Health region during the same timeframe, including five in the northern interior, and four in the northwest.
There were 137 total cases in the Northern Health region as of Aug. 27, with four new cases reported Thursday. Of the caseload, 118 people have recovered, and one is currently in ICU. 
There have been 13,263 tests to date, and zero deaths linked to the disease in the region.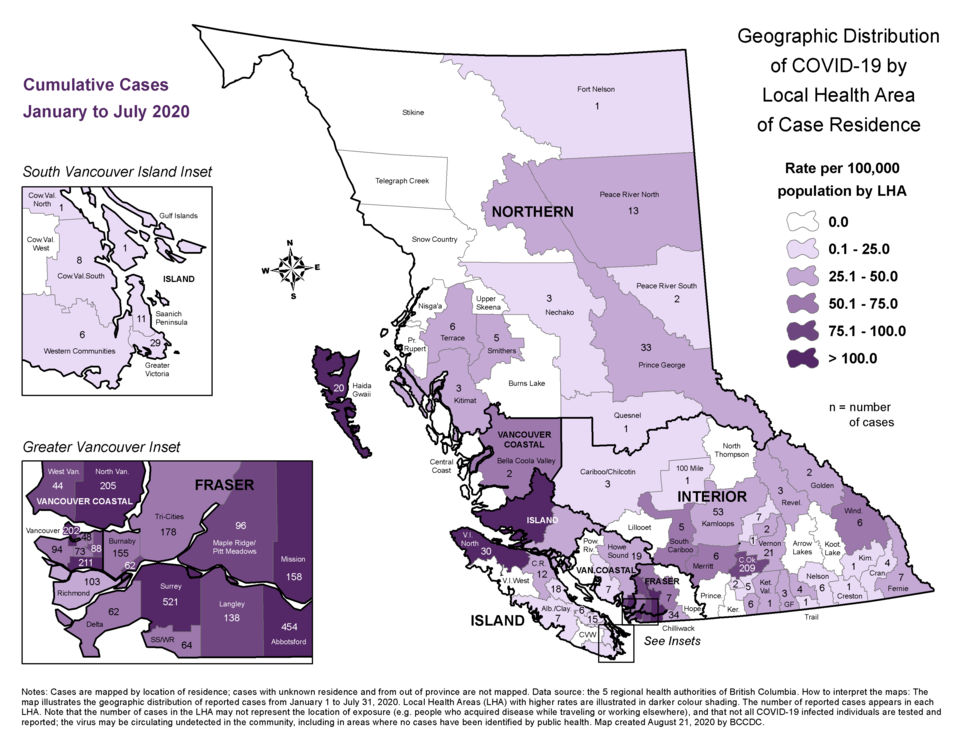 The coronavirus SARS-CoV-2 is a new respiratory virus first reported in Wuhan, China, on Dec. 31, 2019, and which causes a disease that has been named COVID-19.
The most common symptoms are dry cough, tiredness, and fever, but it can also develop into a severe and sometimes fatal pneumonia. Scientific research continues for an effective treatment and vaccine.
There have been 50 cases reported to date in northeast B.C. The majority of cases through the first seven months of 2020 were in Peace River North.
New data released also released by the BCCDC on Thursday shows the number of COVID-19 cases by Local Health Area from January to July.
Of the 16 cases reported in the northeast, 13 were in Peace River North; there were two cases in Peace River South, and one in the Fort Nelson region.
The map does not include data for August, which included a public exposure alert for the northeast after a religious gathering in Deadwood, Alta., over the August long weekend.
There were 24 cases linked to that event, 21 of which have recovered. Three cases remain active, and 14 people remain in self-isolation and under daily public health monitoring. 
The new Local Health Area map will be updated at the end of each month, the BCCDC says. The agency has been publishing its weekly case count maps by Health Service Delivery Area every Thursday.
"As we accumulated enough cases in the Health Service Delivery Areas, we released that information a few months ago to give people a better indication of where geographic areas were being most affected," said provincial health officer Dr. Bonnie Henry during today's press briefing.
"We're now at the point where we have sufficient number of cases via smaller geographic area, so it does give you a sense where people who have been affected with COVID, or have been diagnosed with COVID, live."
The BCCDC says regular and thorough hand washing with soap and water "is the single most effective way of reducing the spread of infection because soap actively destroys the surface of the virus."
Email Managing Editor Matt Preprost at editor@ahnfsj.ca.