The Northern Lights College Class of 2020 donned their gowns for the school's first-ever virtual convocation in Fort St. John on Friday.
There were more than 800 students who graduated from academic and vocational programs across northern B.C. Rupinder Kaur, a business management graduate specializing in health administration, was the class valedictorian. 
"Two years ago I came to this place with lots of mixed feelings. I was nervous, a little bit scared because this was a new place for me," Kaur said.
"My teachers, my fellow classmates, and seniors here all made me feel at home in a short period of time. We're like a big NLC family here, celebrating special moments, sharing our emotions, helping each other, and we finally made it to this day." 
Though grads were supposed to celebrate this day together, the COVID-19 pandemic made that impossible. Kaur wished her peers good spirits in a video address, and reminded them that determination and hard work were still the keys to their success.
"We're about to begin our journeys. We will be on different paths, our aims will be different, we will spread around the world achieving our goals," she said.
"Let us make sure that in any condition we shouldn't stop chasing our dreams. Hurdles may come around, there could be fallings, but we must all rise up again."
"This pandemic will go and life will be normal, and we will be enjoying good times," Kaur said.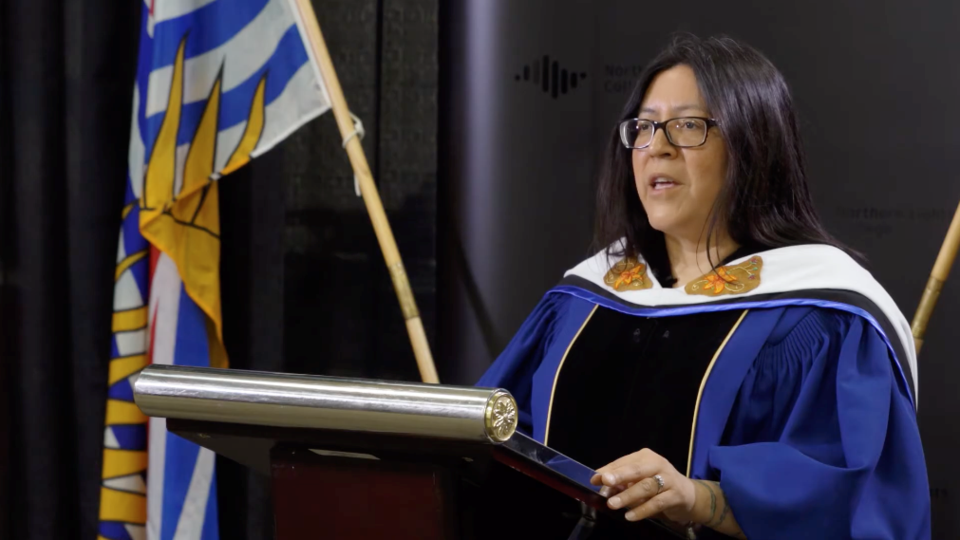 Indigenous advocate Connie Greyeyes of Fort St. John, and culture advocate and writer Donna Kane of Rolla were each recognized with an honorary associate of arts degree this year.
Greyeyes, the northern case manager for missing and murdered indigenous women and girls for the Indian Residential School Survivors Society, shared stories about growing up embarrassed of her heritage and hating the colour of her skin.
It wasn't until she became sober at 32 that Greyeyes said she embraced her heritage and said her education truly began. She thanked her parents, siblings, and friends for teaching her gratitude and grace and perseverance, which prepared her for a life's work of helping others.  
"To the graduating class of 2020 my advice to you is this: while formal education is important, it is equally important to acknowledge those lessons we have been taught throughout our lives by the many important people we have been blessed to know," said Greyeyes.
"I am here to say we all have the capability to come out of darkness into light with love and support. I have battled racism, all forms of abuse, addiction, self-doubt to become the person I am today. I love my beautiful brown skin and everything it means to be be an indigenous woman in this world. It is an honour to be able to do what I love and I've made the greatest friendships along the way."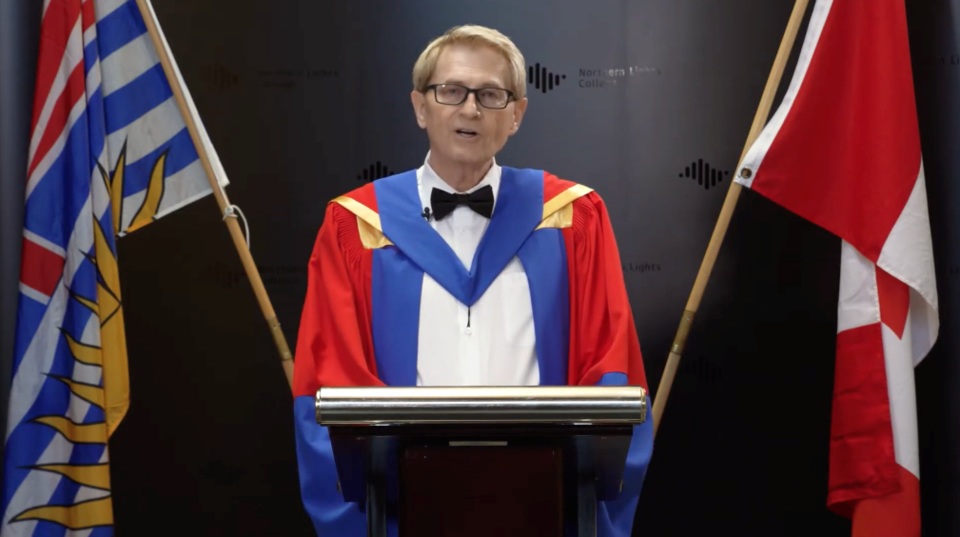 Jackelyn Metzger, an educational assistant graduate, was awarded the Governor General's Academic Medal for graduating with the school's the highest grade point average at 4.33, the highest possible total.
Tiffany Mearow, a social services graduate, was awarded the Lieutenant Governor's Medal for inclusion, democracy, and reconciliation for her advocacy on aboriginal issues, and introducing indigenous culture to international students through an art project that put the spotlight on missing and murdered women.
College president Dr. M. Bryn Kulmatycki noted this year's convocation was a break from tradition, but said students adapted and will have stories to share with their grandchildren about the unique experience. 
"You're not the same person you were when you started your journey, and that's a good thing," Kulmatycki said in his address.
"From here on out you will continue to grow and change because that's what life does to us. So embrace it." 
Email Managing Editor Matt Preprost at editor@ahnfsj.ca.