The British Columbia government and two north coast First Nations have reached agreements they say will open the door to liquefied natural gas development in and around Prince Rupert. 
On Feb. 15, Premier Christy Clark and elected officials from the Metlakatla and Lax Kw'alaams First Nations gathered in Victoria to announce details of LNG benefits agreements aimed at opening new markets for B.C. natural gas. The projects would provide an outlet for landlocked natural gas from Northeast B.C. via two pipelines. 
Five of the more than 20 LNG projects proposed in B.C. are located in or around Prince Rupert, in Metlakatla and Lax Kw'alaams' traditional territory. Petronas-led Pacific NorthWest LNG is considered the most likely to move ahead, though it remains to be seen whether any of the proposals will be built. 
Aboriginal Relations Minister John Rustad said the agreements—which include land, a trust fund and payments at various project milestones—cover all projects proposed in the Prince Rupert area. 
"These two nations are the ones located right in the Prince Rupert area, so any of the projects that go forward will certainly have interactions with these two nations," he said. "(These agreements are) designed specifically around trying to create that certainty."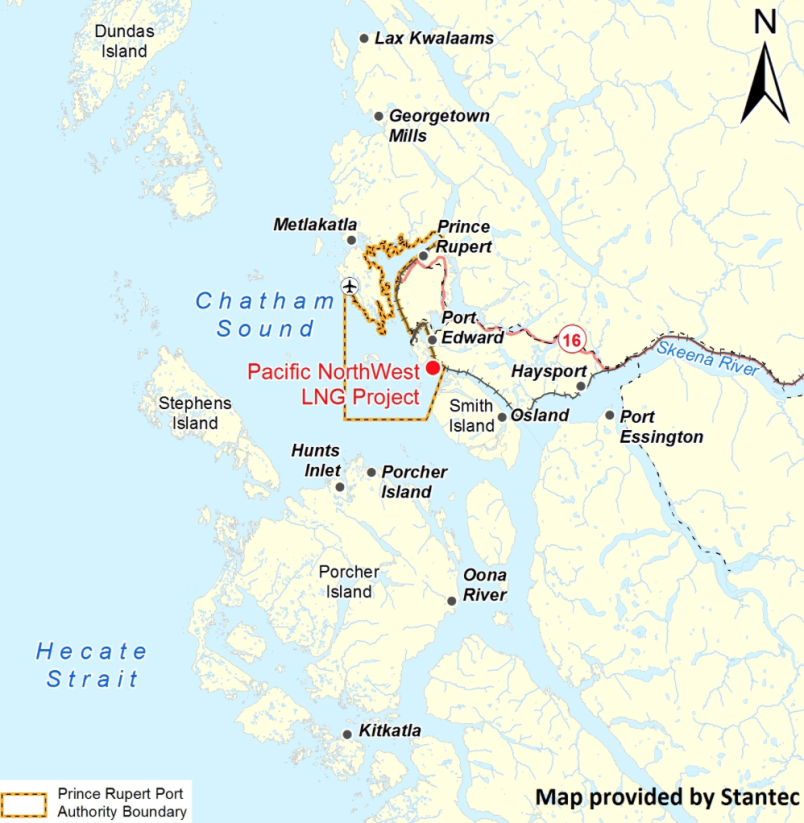 While project proponents still need to develop impact benefit agreements with First Nations in the area, "as a province we now have cleared off our commitment to these nations for LNG projects in that area," Rustad said.  
Pacific NorthWest LNG, an $11.4 billion project slated for Lelu Island in the District of Port Edward, received conditional approval from the federal govenrment in September.
With the exception of lands set to transfer ahead of final investment decisions, the agreements depend on the project. Whether that will happen remains in doubt.  
Petronas and other project proponents continue to face economic headwinds, as well as opposition from environmentalists and local First Nations groups, including hereditary leaders. A major concern is the impact of a suspension bridge over Flora Bank, an area off Lelu island crucial to Skeena River salmon development. Pacific NorthWest has proposed moving berthing stations to nearby Ridley Island, though it remains to be seen which design the company will choose. 
Rustad added similar negotiations are underway with two other Tsimshian nations. The province is also updating economic benefit agreements with First Nations in Northeast B.C. "to reflect the increased (gas extraction) that will be happening within the Treaty 8 territories," he said.     
reporter@dcdn.ca