Recent social media postings by Pouce Coupe Lorraine Michetti have drawn sharp rebukes across the Peace region.

"Don't want Pipeline's? They want to protect our land. Yeah ok," Michetti wrote in a post to Facebook Wednesday, followed by pictures of homes strewn with garbage. The post drew swift condemnation from the community and political leaders, which many called "racist and hateful" for its apparent depiction of First Nations housing stereotypes.

Pouce Coupe village council held an emergency special meeting Saturday, and voted unanimously to censure Michetti, removing her from all committee and board duties, including the Peace River Regional District. Michetti did not attend the meeting, and the council is also requesting her resignation. 
In a statement, the council apologized and said Michetti violated its code of conduct, which "demands the highest level of integrity and ethical conduct."
"We wish to state that the views of Lorraine Michetti do not in any way reflect the views or opinions of the Village of Pouce Coupe or members of council," Acting Chair Ken Drover and Couns. Barb Smith, Donna White, and Marlene Hebert said in a joint statement.
"The Village is comprised of both First Nations and those of non-indigenous background and council regards all of its citizens to be equally valuable to the culture of our community."
During the special meeting, Drover called the mayor's comment a black mark on the community. 
"We have offended many people. We do not condone racism in any form; subtle, spoken, or written," said Drover. "On behalf of this council I do wish to offer a sincere apology to all of those who have been offended by our mayor's comments."
Other elected officials across the Peace region quickly denounced Michetti and distanced themselves from the inflammatory comments.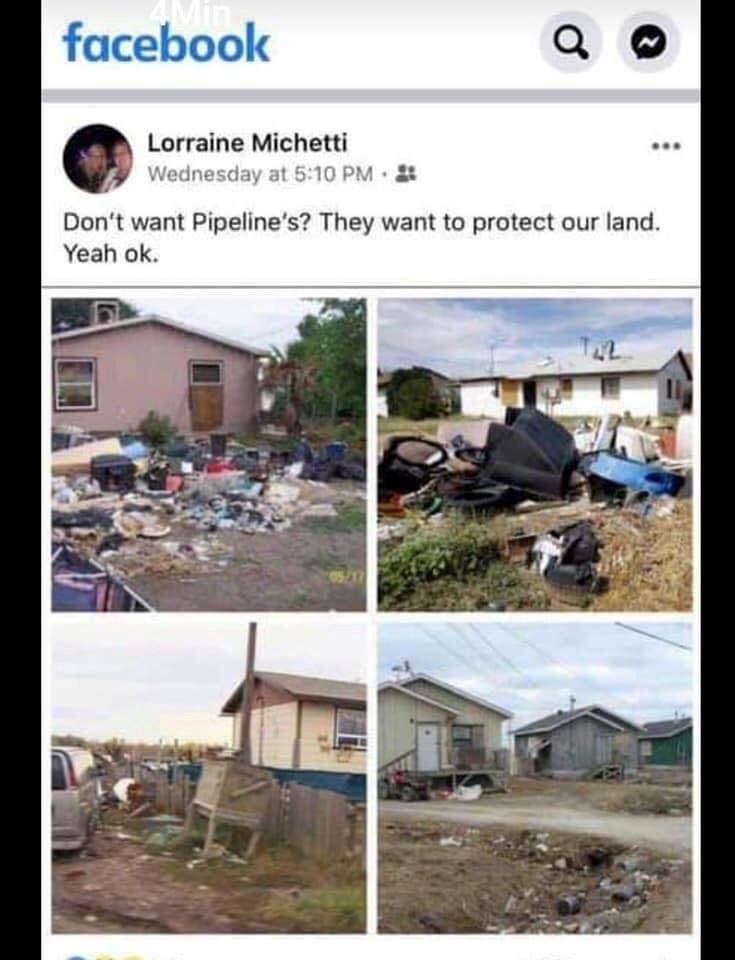 Said PRRD Board Chair Brad Sperling: "I wish to clearly state that we find the sentiment in the post deeply troubling. This was posted to a personal Facebook account. The post does not in any way reflect the views of the Peace River Regional District and we wholeheartedly reject the message contained in it," he said.
"Our anti-racism policy clearly and firmly commits the PRRD to conducting its business in an anti-discriminatory and anti-racist manner and environment. This policy applies to elected officials of the PRRD. This is a violation of that policy and once again, we reject in the strongest terms the sentiment expressed in this post."
Said Taylor Mayor Rob Fraser: "The comments that have arisen to do not represent the views of the District of Taylor. First Nations people and their governments have been working towards protecting our environment and the lands of the Peace for many years and they continue to do so today," he said.
"It is time for uninformed members of the general public to tone down their rhetoric and become more informed about the topics which are spoken of."
Said South Peace MLA Mike Bernier: "At a time when all levels of Governments are working hard to end racism and discrimination of any kind, we can not condone any comments that stereotype people or cultures and perpetuate racism."
In a public letter published in the Dawson Creek Mirror, Michetti said she shared the post more than a year ago.
"I have formally apologized for this post, and will continue to do so as we all move forward. I love serving Pouce Coupe, it's people and working with our neighbours," Michetti said. "This post does not change who I am, and for those that know me, have worked with me on council, or businesses and residents in the community who have become friends, know that my loyalty and dedication to serving them is unparalleled."
"In the last 24 hours while contemplating my plan moving forward, i would like to thank the hundreds of people who took time to message, call and share their thoughts and opinions with me. The meme I shared was insensitive, and I do not expect you to forgive me overnight, but i ask that you allow me to show you by moving forward, my absolute sincerity."
Michetti told CBC News she has been bullied and harrassed over her post. She called it "a spur of the moment thing" that was taken out of context.
"I'm an everyday person, too, and people make mistakes. And I made a mistake," she told CBC. "I'm not a polished politician. I live in a community that has roughly 735 in it. I've lived here for 36 years."
In a letter being attributed to Michetti on social media, she apologized for the offending depiction.
"It was directed to address an issue that was not of a Cultural nature, although it was taken that way, that photo was not an appropriate depiction of what the photo is and was taken as," it said. "I understand that the photo in question was and is a grave mischaracterization of who the First Nation and Metis peoples are and for that I apologize."
The statement said she would be "taking an awareness and learning program by a First Nations member of our community."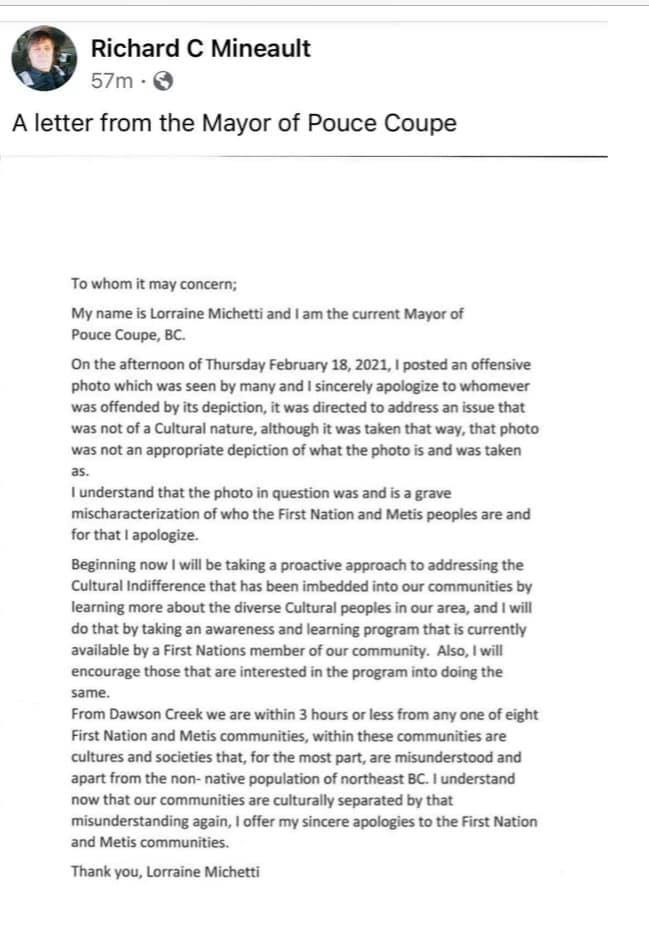 Fort St. John Mayor Lori Ackerman said the city values friendship and partnerships with its neighbouring First Nation communities.
"The Tsaa? Çhé ne Dane welcomed those who came to this region and in many cases helped those who first came this way to survive these winters. Learning about the history of the Dene-zaa did not happen overnight and we are still learning," she said.
"We do not and never will condone racism within our walls or our community. An egregious error was made by one of our colleagues. We will invite them to learn with us."
Said MLA Dan Davies: "As we work on building better relationships with our indigenous communities, we must all stand up against racism and stereotypes. It's extremely disappointing that comments like this are made." 
Email Managing Editor Matt Preprost at editor@ahnfsj.ca.
[Eds. note: Article updates with comments from Pouce Coupe council members, and Michetti public letter to Dawson Creek Mirror.]