Increasing housing density, protecting green space around Fish Creek, and adding tougher environmental rules for building work camps on private land are a few of the updates being proposed in the regional district's plan to control development in the fringe areas around Fort St. John and Charlie Lake.
The regional district has released a draft update of its North Peace Fringe Area Official Community Plan, first released in 2009 and which identifies intended uses for 96,500 hectares of land in electoral areas B through D around the two communities as well as Taylor. 
"There's been a boom and a bust," said Claire Negrin, planning services manager for the Peace River Regional District, at an open house in Fort St. John Jan. 12.
"Usually when those things happen, that's when the community feels the need to respond in their plan."
An open house continues Saturday, Jan. 13, at the Charlie Lake hall until 6 p.m.
The main goal of the update, in the works since early 2015, has been to accommodate a growing population in the outskirts of both Fort St. John and Charlie Lake without adding land for development or losing farm land, Negrin said.
To do that, the updated plan recommends redesignating a swath of land west of Charlie Lake from low to medium density residential, and open up more opportunities for developers and landowners looking to build new housing. 
At the same time, the plan recommends introducing a new service industrial land use near BC Hydro's 85th Avenue lands that will be used to mine materials for the Site C dam, as well as in Grandhaven, Charlie Lake, and along the Airport Road. The new designation would bridge the gap between highway commercial and light industrial zones, Negrin said.
"Our light industrial is actually quite heavy, there's quite a lot of uses happening in that designation that aren't necessarily best next to residential," Negrin said.
"So, we've created a service industrial buffer, which is intended to be industrial uses that act more commercial: there's people coming in and buying auto parts, very little outdoor storage, you're not welding outside.
"We want to create a clear delineation," she said.
No new park space is identified in the plan, however, the plan does call for a buffer along Fish Creek to support trail development from Charlie Lake through Fort St. John and down to Peace Island Park.
"I'm not saying it's going to happen tomorrow, but it's something that residents have certainly identified as a priority," Negrin said.
The plan also includes new policies that make it more difficult to subdivide and take farm land out of the agricultural land reserve. It also adds stringent rules for companies wanting to build work camps on private land, where the regional district has jurisdiction, from security measures to land reclamation requirements and other environmental controls.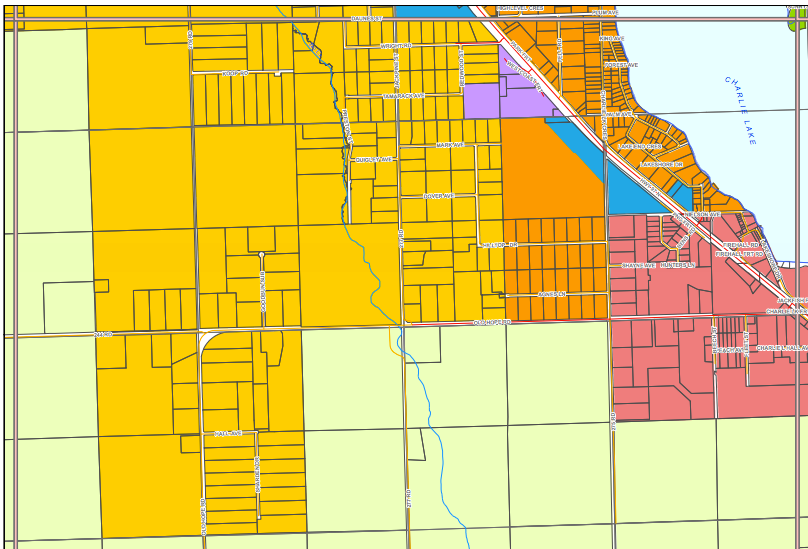 Karen Goodings, a regional district director for Area B, said the plan will help guide the board when making decisions about future development.
"We look at it as being fringe of Fort St. John and Charlie Lake," she said. "Those areas, in my estimation, we would expect to see growth, much more so than when you get away from the fringe."
Increasing housing density in Charlie Lake, for example, will make it easier for the regional district to service any future growth, she said.
"You try to keep your growth in an area that's more easily serviced. If you allow it to spread all over, it becomes a nightmare," she said.
Having tougher rules to eliminate farm land prevents the land base from being fragmented; new rules for work camps gives the regional district better control over planning for emergencies, as well as for sewer, garbage, and water systems, Goodings added.
"All of those services they know they're going to need, where are they going to get them?" she said.
"We want to make sure they understand that their rules around getting rid of sewage, or that you need to talk to the city if you plan on using city water. We need to work together on it. Not so much that we oppose it. We'd like to see them conform to making sure they fall within the parameters."
Feedback wanted
The plan is far from finalized, and both Negrin and Goodings said it's important for property owners to look at their land and compare it to what's been identified in the plan.
"It's really important for people to look at their land if it fits with their plans," Goodings said.
"We're always interested in hearing from the public."
The regional district has launched a survey to gather feedback, and is accepting responses until Feb. 12.
The plan will be go under further revisions as well as a legal review through the spring before public hearings in June, and formal adoption by the regional district board in July.
Complete the survey by clicking here.
editor@ahnfsj.ca