Lena Hanson is 78 years old and sometimes needs a walker to get around. But when the drums get going, she can still powwow with the best of them.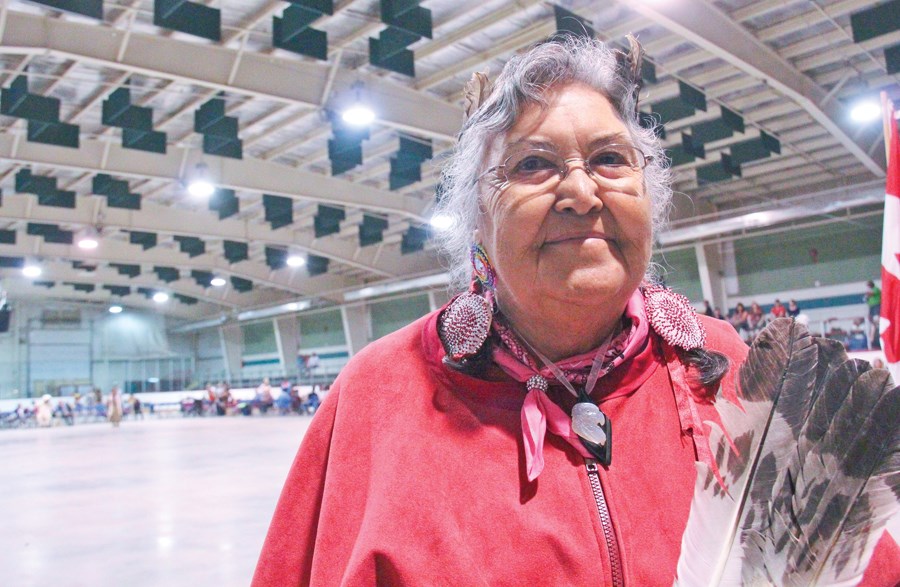 For the past decade, Hanson has been involved in powwow dancing in the North Peace. She was one of several hundred dancers, some from as far away as New Mexico, to Taylor over the weekend to dance at the Spirit of the Peace Pow Wow, see friends and celebrate being indigenous.
"I'll be 79 in September, but as long as I can walk, I'll be out here," Hanson said after Friday's opening procession.
Hanson's family, who are Métis, came to Fort St. John from northern Saskatchewan in 1966. She came to powwow later in life through her brother.
A little over a decade ago, she got involved in planning for a local powwow in the B.C. Peace Region, which didn't exist at the time. She's now danced in 10 out of 11 Spirit of the Peace Pow Wows.
Hanson is also the elder of the Spirit of the Peace Dancers, a School District 60 dance and culture program. While age has slowed her down somewhat, she still finds the dancing and spectacle of the powwow hard to resist.
The weekend before the this year's event, she was at another powwow in Peace River, Alta. She wasn't feeling well, and initially just planned on watching.
Then came the Grand Entry—the first event of the night, during which all the dancers form a procession into the dance circle.
"I never did care for competition, but I like the Grand Entry," she said. "In Peace River, I wish I could have got dressed. When that drum started and that Grand Entry came out, oh my goodness. I wanted to dance."
Young dancer initiated
On Sunday, 13-year old Trevor Penner, stood at the edge of the Taylor arena waiting. As a circle of drummers beat on one large drum, singing together, Josh Matwiy stood with him, ready to accompany Penner through his initiation into powwow.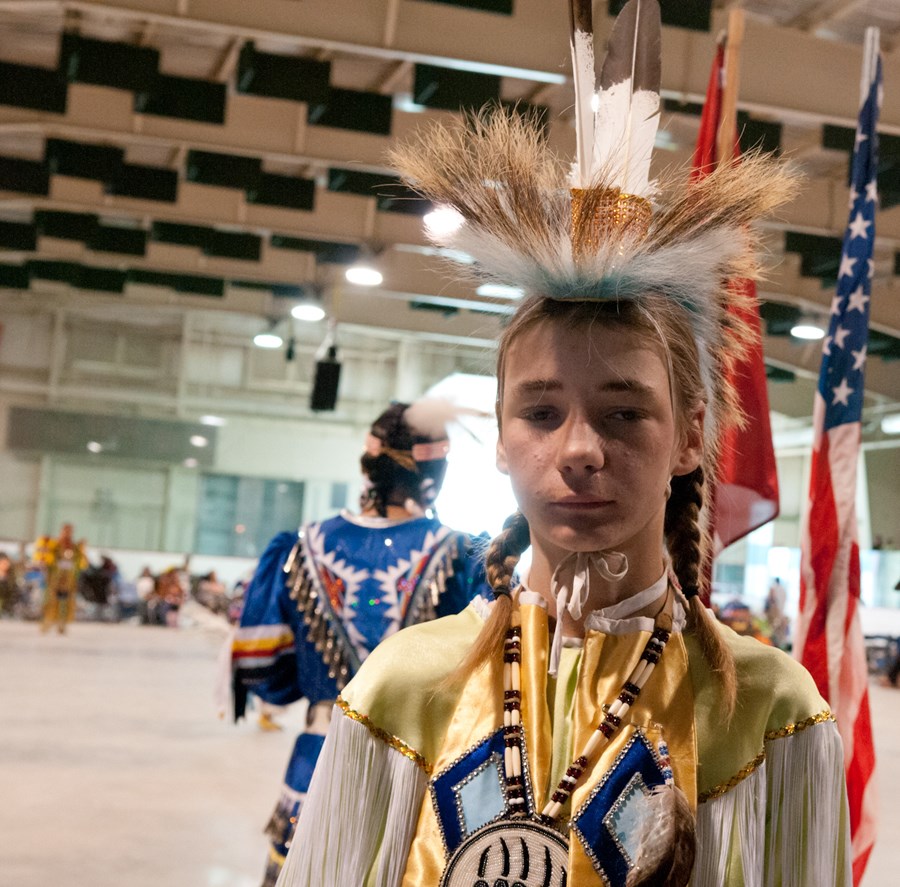 "It means a lot to me because I'll be recognized at powwow as a dancer," Penner said before the ceremony.
Being initiated into powwow means Penner will be welcome to attend other powwows as a dancer. He's been working towards this for two years, since his mom made him his own regalia.
The process of becoming a powwow dancer is more than just dancing. Penner recently brought his regalia to an elder, and presented them with a pouch of tobacco, a symbol of thanks and honour. Penner was given his spirit name, Bear Spirit, and blessed to become a dancer.
"He wasn't interested in dancing before, but when he put on his regalia, it was like his spirit soared," said Helen, Penner's mom.
Their family, from Fort St. John, started dancing five years ago, when Penner's sisters wanted to become more involved with their indigenous culture.
A long line of family and friends followed Penner and Matwiy as they walked around the dance circle, stopping when they reached two elders seated at the front. The elders prayed for Penner and blessed him, exhorting him to take on the spirit of powwow dancing and to carry it well. Penner's family handed out gifts to guests, thanking them for coming.
A new song began and Penner and Matwiy danced around the circle again. Partway through, Matwiy pushed Penner out in front where he danced alone.
The crowd burst into applause and shouts, celebrating their newest dancer.
Handmade regalia reminds dancer of his roots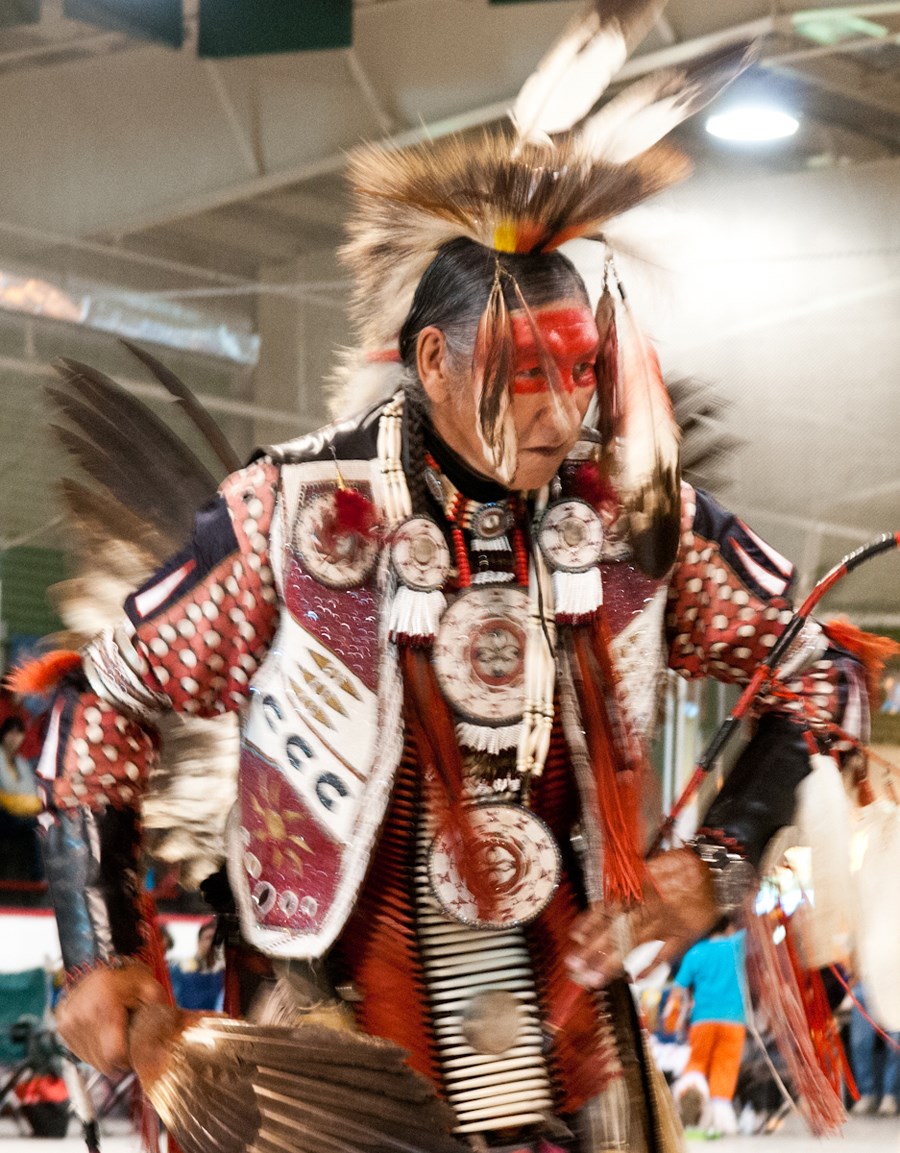 Clayton Chief's forehead was painted red, from temple to temple, his black hair tightly braided underneath a headpiece of feathers. Two beaded medallions hung from his neck on top of a quill breastplate, his vest completely covered with beadwork.
"There is no price for these. My daughter spent one-and-a-half years making them for me," he said.
"The four arrows are the four directions. There are 12 marks around the outside—they represent the 12 months. This represents the way the stars and moon were when I was born."
It's like his nation's version of a zodiac sign. The arrangement of the stars at his birth remind him where he comes from.
"It's the language I was born with, that tells me who I am," he said.
Chief is a dancer from Big Island Lake Cree Nation in Saskatchewan. He was at the Spirit of the Peace Pow Wow competition, as a dancer and drummer with the drumming group Echoing Thunder.
CORRECTION: An earlier version of this article incorrectly stated that Lena Hanson was involved in organizing the Spirit of the Peace Pow Wow. She is part of the SD 60 dancers, and does not sit on the powwow committee. We regret the error.