This week, I had the privilege of speaking with Lynette La Fontaine, a Métis, two-spirit, mixed-media visual artist who utilizes traditional and contemporary materials and knowledge in their work. Lynette will serve as a juror alongside painter Cara Guri for the Open Sky - Peace Liard Regional Art Exhibition, opening May 6 to 30 at the Tumbler Ridge Visitor Centre. Artists from across Northeast B.C. are invited to submit artwork of all forms; the deadline to register is April 22.
Lynette was born in Fraser Lake to a Michif father and settler mother, and lived in Fort St. James before pursuing a nursing degree at the University of Northern B.C. in Prince George. Lynette had a typical Métis childhood living closely with the land. However, traditional art forms such as beadwork and hide tanning were not present in their upbringing.
Seeking out their culture, Lynette fought to incorporate an intensive Michif language camp organized by Métis Nation BC into their nursing degree. The program brought together learners and fluent speakers from several generations for week-long camps from 2007 to 2010. Lynette attended the program all four years, while their children also participated for two.
---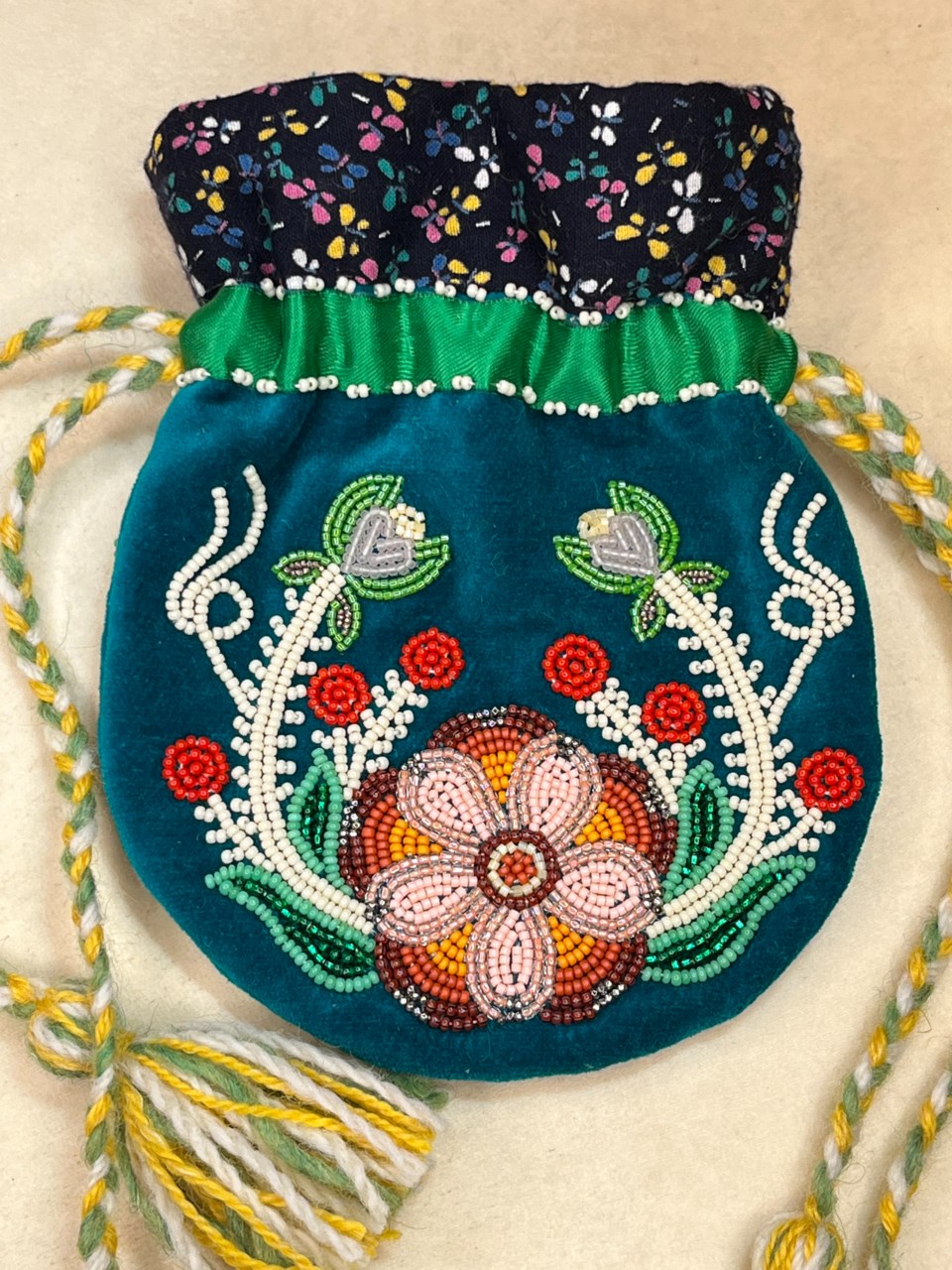 ---
Through the Michif language camps, Lynette began to volunteer with Métis elders, from whom they received a handout on beading by renowned Métis artist Jennine Krauchi. With the booklet, Lynette learned the two-needle method independently. They admit to feeling a tinge of shame for having to learn beadwork on their own. However, they now realize that this cultural loss results from generational trauma.
"I don't need to be ashamed that I had to learn this on my own. I didn't have someone in my family", says Lynette.
This stigma is a common hurdle for many Métis artists working to rekindle their traditions, making Lynette's story an inspiration to many.
Since 2007, they have cultivated their skills through independent study and mentorships with knowledge holders in many traditional practices, including moccasin making, whitefish scales, hide tanning, and tufting art.
"I am a lifelong learner," says La Fontaine, "I am always mentoring and being mentored. It is a reciprocal cycle."
Lynette has committed themselves to Métis cultural maintenance and actively builds capacity in others through mentorships so that they may pass on these teachings themselves. Lynette's generous reciprocity has bolstered Métis cultural awareness and vibrancy, and cemented their place as a leading artist in the Métis community.
---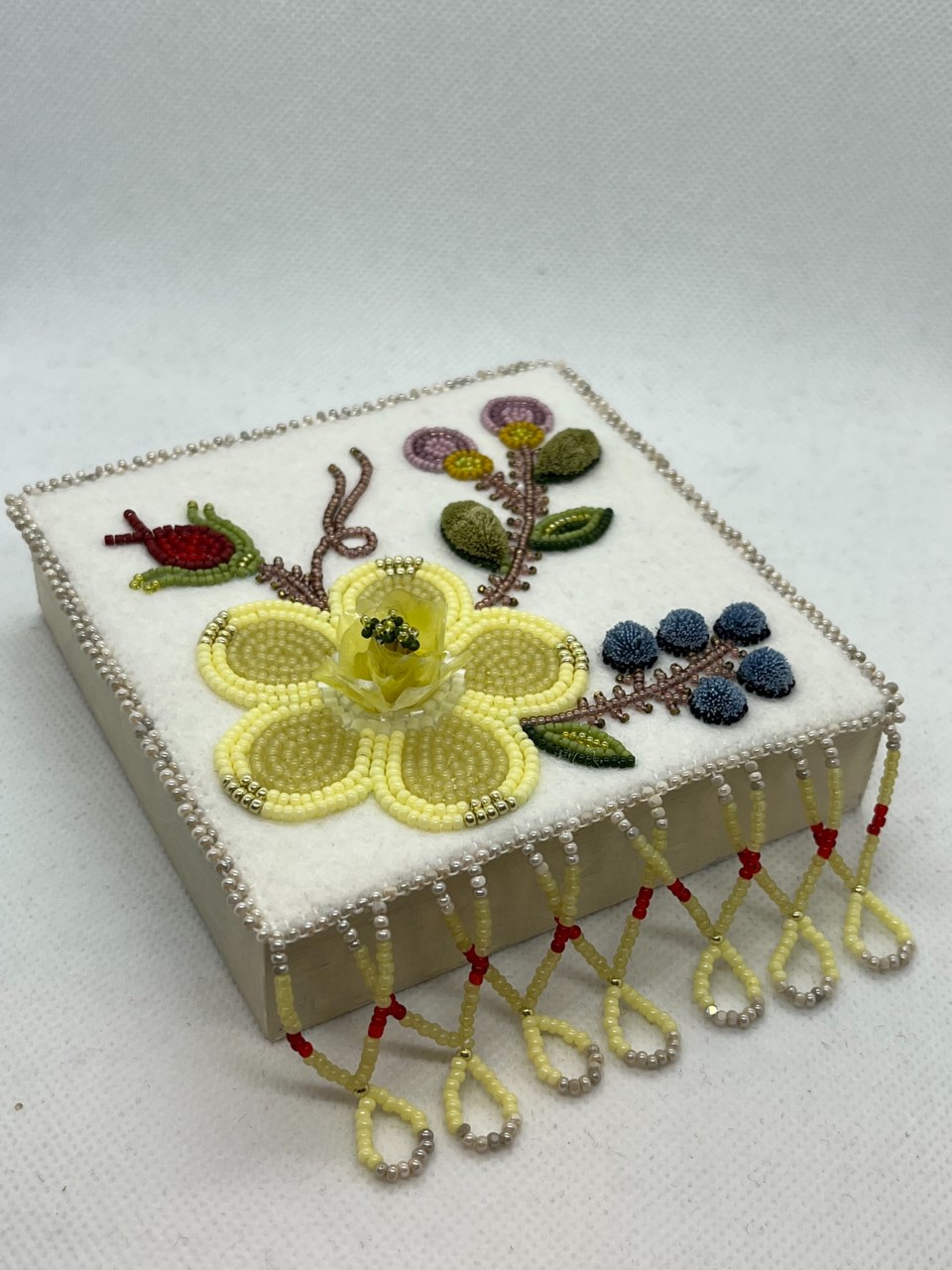 ---
For the artist, beadwork is a spiritual practice, guided by blood memory, that grounds them in the present while connecting them with ancestors and future relations.
"It's like reaching back and reaching forward," says Lynette.
Their practice is intuitive, and they are careful to approach their work in a good way and respect each piece's spirit. Reverence for the materials provided by animals, including moose hide, porcupine quills, caribou hair, and white fish scales, is evident in each piece's careful construction and considered composition. While a deep connection to the plants and the land they inhabit sings through their floral designs.
Today, Lynette lives and works on Tsartlip and WSÁNEĆ territory. Between beading sessions, they prep for the busy year ahead. In addition to jurying for the Open Sky Exhibition, Lynette will participate in the 'Ota nda yanaan - we are here,' a project with Michelle Smith and Jill Ratcliffe that celebrates Métis culture, language and lifeways.
Lynette is slated for a kitchen table talk at the Mawachihitotaak (Let's Get Together): Métis Symposium from May 3 to 6 online to share experiences speaking and learning Michif. Lynette will also feature in Indigenous Fashion Week Toronto and a Métis-focused exhibition at Remai Modern in Saskatoon, curated by Tarah Hogue.
Lynette has roots in northern Saskatchewan and the historic Métis communities of the Red River settlement and Norway House, making the show at Remai Modern a homecoming.
"It feels as though I have come full circle to have my work there," says Lynette.
You can learn more about Lynette's work from their artist talk, which will take place online on May 9 as a part of the Open Sky - Peace Liard Regional Art Exhibition.
---
Do you have an artistic endeavour you would like to promote? Is there a topic you would like me to discuss? I would love to hear from you! Please email me at programs@dcartgallery.ca.