Colleen Suhai could only stand and watch in disbelief as Dawson Creek—usually little more than a trickle through a trio of culverts—poured over 8th Street Thursday morning. 
"I've been around this area forever and this is unbelievable," said Suhai, one of around 100 people taking in the destruction. "This is a once in a hundred thousand years (storm)."
On June 16, the city of 11,000 awakened to a disaster that a month ago seemed unimaginable, as an aggressive weather front in Alberta surged west, dumping more than 10 centimetres of rain on the city in 48 hours.
Just one month prior, wildfires raged across B.C.'s northeast, making this week's destruction even more surreal. 
The waters overwhelmed the city's sewer system and flooded basements, and by early Thursday morning had overwashed or destroyed at least three bridges. As of 10 a.m., at least three dozen homes in the creekside Willowbrook area had been evacuated.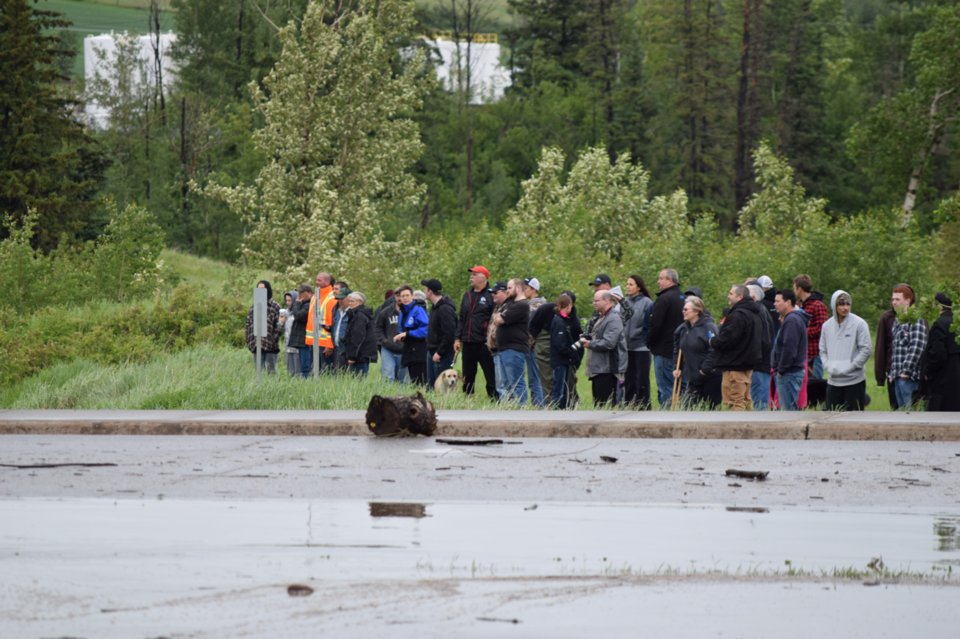 Residents had been advised of the heavy rains June 14, and while some remember the floods of 2011--which also overwhelmed infrastructure and caused widespread damage—few were prepared for worse. 
Trent Rudolph, a student at Northern Lights College, was watching the flood waters tear apart 15th Street Thursday morning.
"It's kind of shocking," he said. "The bridge is broken. It sucks. This is way, way worse (than 2011)." 
He had been on his way to take a final before learning his classes had been cancelled. 
Bonnie Anderson, who was watching the flood nearby, couldn't get to work at a local medical clinic north of the river. 
"It's incredible," she said. 
Tim, who asked his last name not be used, said his home in the Willowbrook Town Homes had been flooded the night before. 
Two years ago, he moved from Montreal to look for work in the oilpatch. Now, he said, a combination of economic slowdown, recent wildfires and floods had him worn thin.
"Everyone's unemployed. Everything sucks for everybody right now, and this doesn't help. I came here for the patch, and since then it's been pine beetles, fire, fire, no snow. It's been a disappointment after disappointment, but I'm trying to stay positive." 
By 11 a.m. the crowd around the 8th Street bridge—now a waterfall—had thinned. 
Suhai stood in the crowd for a few minutes, watching as a car caught in the flood teetered over a tangle of concrete, sewer lines and white water. 
"I've been up here since 1974," she said. "In 1975 there was a flood that went over the road. But it's never been this bad." 
reporter@dcdn.ca