This week's deluge of rain laying siege to the Peace Region has forced the evacuation of flooded homes in Dawson Creek and threatens to cut the city in half, officials with the city say.
According to the City of Dawson Creek, 8th Street, 10 Street, 15 Street and 17th Street are closed where they cross the creek. The Dangerous Goods Route is closed past 17th Street to the Co-op Cardlock gas bar near 8th Street, but remains open otherwise, meaning it was the only north—south connection in the city Thursday morning.
The Hart Highway is open, but the water is quite high over the road. Only high clearance vehicles will be able to make it through, city administrator Jim Chute said.
City officials are warning residents to stay aay from areas near the creek. "If you see a barricade, do not go near (it)," a post on the city's Facebook page read. "Stay away from the area. Do not go near to take pictures or video."
More than 3,500 are without power in the region, according to BC Hydro.
All schools in Dawson Creek and surrounding rural areas including Deveraux Elementary, Parkland Elementary, McLeod Elementary, Rolla Elementary and Pouce Coupe Elementary are closed today.
Nearly 40 homes have been evacuated from the Willowbrook area, where according to city officials, by about 3 a.m. the water was four or five feet high on the houses and town homes near the creek.
A reception centre for evacuees has been set up at the Dawson Creek Fire Department.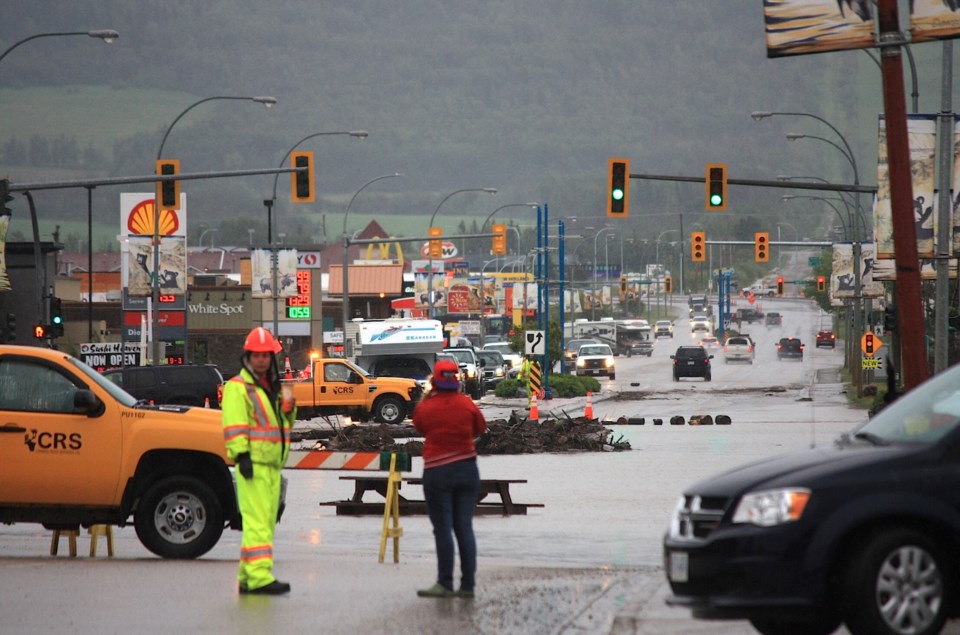 The city's fire department is continuing to evacuate people from the 102nd Street area by the Bergeron Funeral Home, near the intersection with 17 Street.
"One at a time we're pulling those people out," Chute said, adding that this flood is worse than the one in 2011 in terms of damage.
"In the early 90's there was an event that took out 8th and 15th Street so it's equivalent to that. But in terms of our last event which was 2011, this started out slowly, but it's now surpassed 2011 in terms of damage and disruption and it's now surpassed it not just here but regionally. A number of homes in the south end of the city have had sewer backup in their homes," Chute said. 
City buses are still running, but not on their regular routes.
"They're running (sort of) their regular routes on the northside to get people downtown if that is where they need to go," Chute said. There is no southside bus.
Waste management is continuing to collect garbage where they can although their routes are disrupted.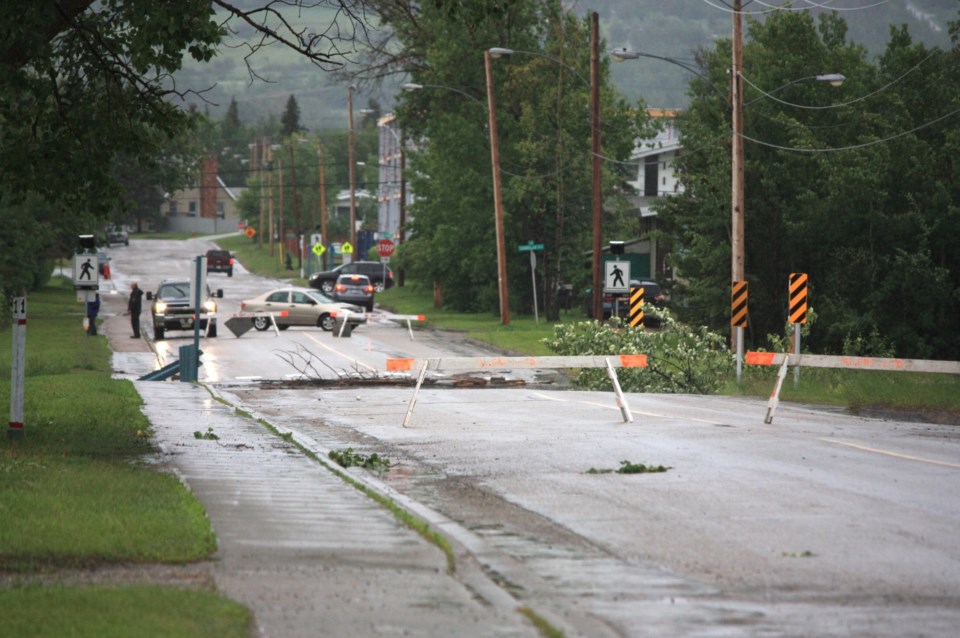 Officials are urging motorists to take caution, especially on the highways. "Just because there isn't a flag person or a barricade doesn't mean the road is safe," Chute said.
In a post to Facebook this morning, Mayor Dale Bumstead painted a dire picture as city infrastructure has struggled to keep up to the staggering 89.9 millimetres of rain the city received on Wednesday, according to Environment Canada.
"We are in a very serious situation this morning in our city," Bumstead wrote.
"The North side of town and south side are now separated and no way to connect easily. We believe we have lost the culverts etc on 15 St and possible 17 Street. The water on 8 Street is crossing the road and the culverts appear plugged so likely it may wash out which will completely cut off our city from south to north."
This is a developing story. More information will be posted as it becomes available.
If you have information, email reporter@dcdn.ca or dcreporter@dcdn.ca.