Fort St. John residents are getting a first look at the city's draft budgets for 2022, one that proposes to keep tax rates flat but also continues to be pinched by the economic impacts of the COVID-19 pandemic.
City CFO David Joy will present the operating and capital budgets to city councillors on Monday.
Here are five things you need to know:
Tax rates
An overall rise in property assessments this year means the city can keep tax rates "relatively flat," according to a Jan. 24 report to council, however, the city still plans to collect about $1.73 million in additional tax revenues.
The 2022 residential tax rate is proposed at $5.1557 per $1000 of assessed value, down about two pennies from 2021. Average residential property values jumped 7.22% this year, and for an average residential property of $323,796, "additional tax revenue generated would be almost $103 per property," the report states.
Average property values for major and light industry properties are down by 6.88% and 17.44%, respectively, this year. Average property values for commercial properties are up 7.05% this year.
The budget proposes no changes to the tax rates for those classes, nor for utility, business, recreation, or farm property this year.
"Even though most municipalities are experiencing significant increases in property assessment values, many of these local governments are increasing their tax rates," Joy writes in the report. "Fort St. John Administration is actually proposing to keep our tax rate flat while assessment values have increased by 6.67%."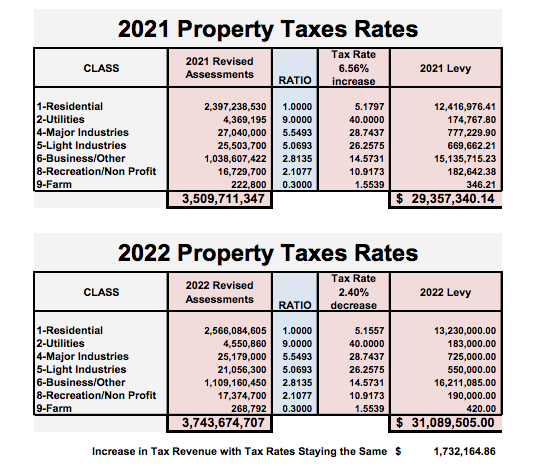 $72.9M capital budget
Facilities and roads comprise the majority of this year's $72.9-million capital plan, including $39.39 million on facilities and $22.6 million on roads.
Though the majority of capital projects are to "maintain or replace current assets," the 100 Street rebuild, new RCMP station, Toboggan Hill trail development, and upgrades for Kin and Surerus parks are slated as "community growth" projects.
The city is planning to spend money on a whole host of other projects too: a new visitor centre, city hall renovations, and public works expansion, as well as bus shelters, road upgrades, a new ice resurfacer and bulldozers, and a community wildfire protection plan.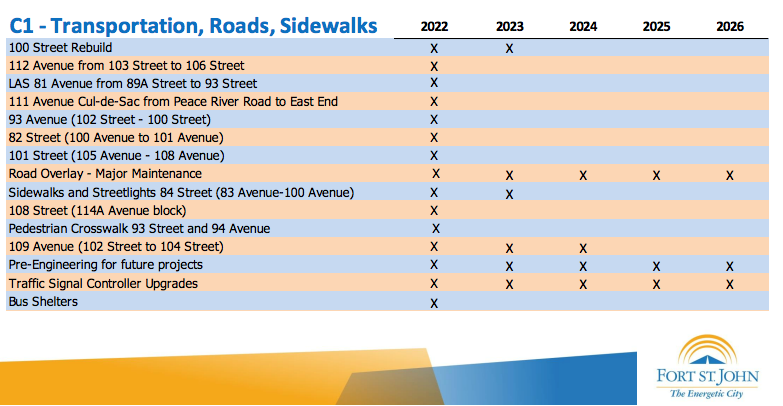 Residents will note, however, that the estimated costs for these individual projects, which have traditionally been included in the city's public budget documents, have been replaced and marked with Xs.
The city only recently decided to exclude these amounts from the budget as a matter of practice, and says many tender awards came in lower than budgeted in 2021. In a Sept. 13 report to council last year, Joy noted that by not including individual budgets in a public-facing document, "contractors who bid on these projects would not know the actual budget for each project, thereby ensuring that the bids would not be artificially set to be just under budget; truly competitive, and; that the general public can be assured of value for money on each project."
The 2022 capital budget proposes to spend $3.1 million on water and sewer projects, $6.1 million on equipment, and $1.7 million on special operating projects, such as the Resource Municipalities Coalition, land acquisitions and disposals, two new bylaw officers, and an arts and culture master plan, among others.
The majority of the capital budget, roughly 89% or $65 million, is proposed to be funded by provincial grant money through the Peace River Agreement, with the remaining coming from water and sewer reserves, as well as the federal gas tax.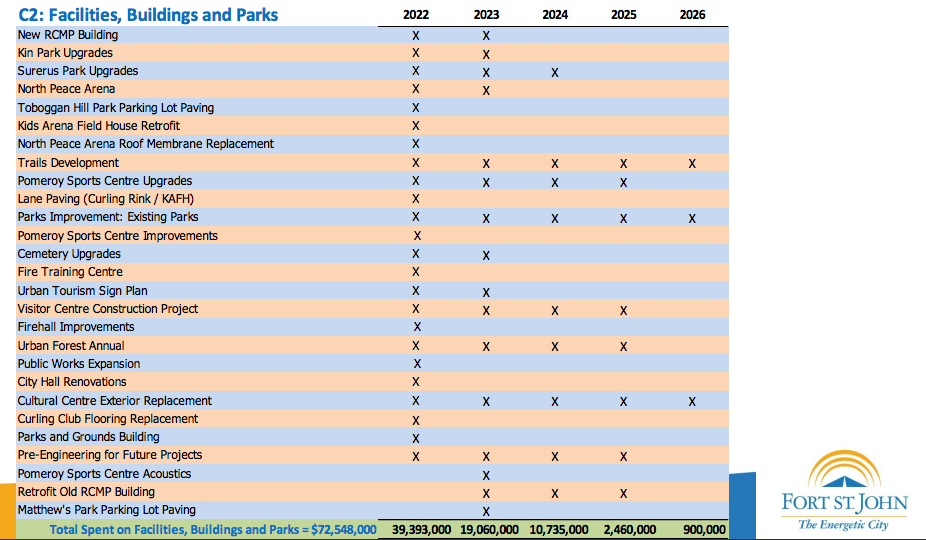 PRA helps balances the budget
The city plans to use $1.29 million of Peace River Agreement money to balance the operating budget. The report notes city council does have the option to draw on more if it wants to further reduce tax rates.
However, looking beyond 2022, "The City will have to continue to annually transfer 5% of PRA money to substantially offset operating costs plus continue to discount staffing by 5.0% for vacancies," Joy writes.
"Using PRA funds is justifiable due to the fact that we have had significant increases in capital infrastructure over the past 10 years and this has created significant staffing and operating/maintenance pressures."
The city posted a $360,000 deficit in 2019, and a $150,000 surplus in 2020, which Joy says "highlights the fact that there is really no fat in the City's operating budget."
The city drew $586,000 from contingency reserves to balance the 2021 budget. "The results for 2021 will not be known until April 2022 but may possibly show a modest operating surplus," Joy writes.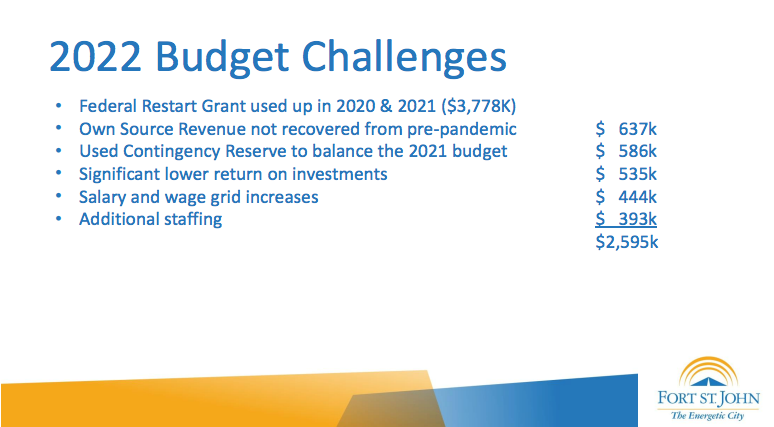 Rising staff, policing costs a key challenge
Among the challenges listed for this year's budget are $393,000 in additional staffing costs, as well as $444,000 in other salary and wage grid increases. The city has budgeted $27.07 million for employee salaries, wages, and benefits this year, up $1.4 million from $25.6 million budgeted in 2021.
Meanwhile, additional RCMP costs are pegged at $1.7 million as the force recently unionized. The report notes more RCMP costs are also expected when the new detachment comes online in 2023 due to staffing and contracting services needed to operate the building.
"Escalating RCMP costs will put further pressure on the operating budget," Joy writes.
Other challenges include a a significantly lower return on investments ($535,000), as well as $393,000 in additional transit costs, and $140,000 in additional insurance costs, according to the report.
Post-pandemic revenue recovery yet to happen
The city has already used up its $3.77-million restart grant from the federal government to offset losses from the COVID-19 pandemic, according to the report.
The report also notes that the city's own source revenues have yet to recover, down about $637,000 from pre-pandemic levels of roughly $10 million. Still, the city is budgeting $9.28 million in own source revenues this year, up from $8.5 million budgeted last year.
The "eventual recovery" of these revenues — "whenever that may be," Joy writes — will help to reduce budget pressures, according to the report.
"Holding the line on the expenses the City can control will be required for a number of years, combined with anticipated increases in assessment values," Joy writes.
If assessments do not increase, Joy notes city council could opt for moderate 1.5% to 2% increases in tax revenues in the coming years to keep pace with inflation, or opt to draw up to 10% of its revenues from the Peace River Agreement.
Read the full report to council and the city's budget analysis below:
City of Fort St. John - 2022 Operating and Capital Budgets by AlaskaHighwayNews on Scribd
---
— with files from Tom Summer
Email Managing Editor Matt Preprost at editor@ahnfsj.ca