The 75th anniversary of the North Peace Fall Fair proved to be in a class of its own last weekend. The weather was hot, the entry lists filled in record numbers, and the competition friendlier than ever before.
An estimated 5,000 to 5,500 people young and old came through the gates in North Pine Aug. 19 to 21, from families that have been coming to the fair over five generations since its founding, to several new exhibitors who came to take part in their first-ever fair showing this year.
"It exceeded my expectations, it really did," said fall fair society president Bruce Christensen. "The chairpeople all did a wonderful job and a lot their families were helping out as well."
"We were lucky to get a beautiful weekend in."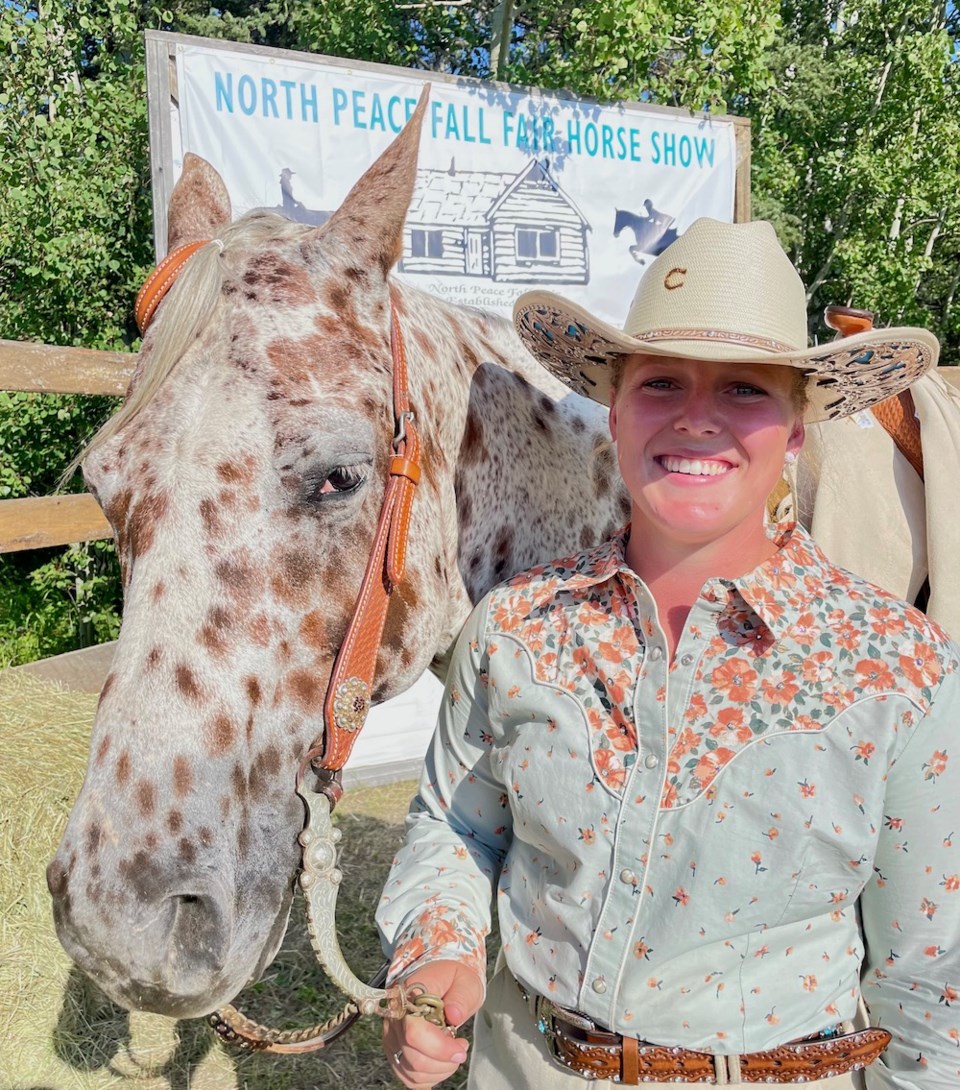 The highlights of the exhibition were many, among them young Molly Miller, 8, of Rose Prairie, who won a Grand Championship award for her three-year-old hair sheep, Red Tips, on the first day of the fair.
Miller said she halter broke Red Tips when she was just a little bottle baby, and spent two weeks getting ready for her first time taking part in the fair.
"They're a lot easier to raise," Miller said of sheep, as compared to cows and goats.
In the light horse ring, Tory Snider had a fine showing and won Grand Halter Champion honours with her beautiful, 16-year-old Appaloosa horse, Molly. Snider has been coming to the fair ever since her first costume class when she was two years old. Now 22, she and Molly have been riding partners for the last 11 years.
"We've done so much learning and growing together, having been riding for that long. She's made me a better rider, through many tears sometimes," Snider said. "The deal is she's got to stick around until I have kids that she can pack around at the fall fair, and just continue that tradition."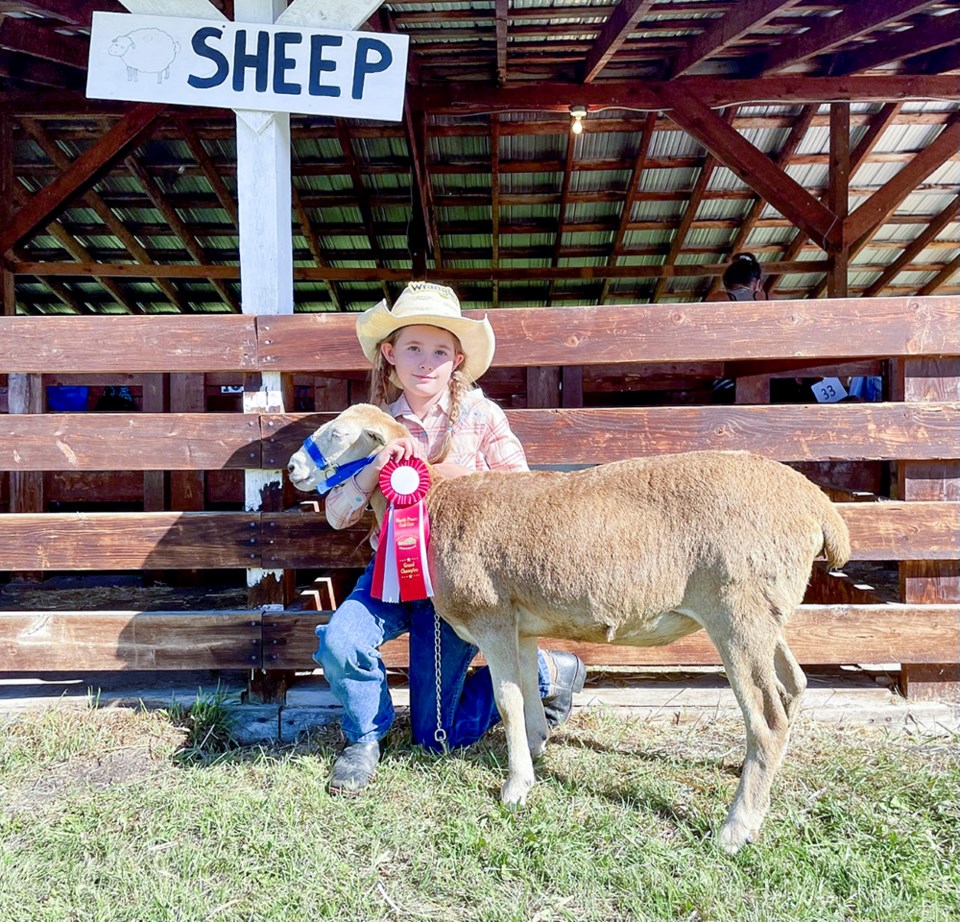 Five generations of the Snider family have been coming to the fall fair here since it started. Tory's mother, Jodi, says she still has the hooked rug her great-great grandma entered in the very first fair.
And she fondly remembers growing up at the fair when her parents were showing. Her great-grandparents and grandparents would bring along a picnic lunch of fried chicken, potato salad and homemade pie. The annual feast has carried on through the generations of her family for decades, and this year even included brisket.
"It's funny because people who have shown with me for a long time, they know. They're like, 'What day is fried chicken day?' And they come with plates and forks in hand," she said. The fair feels like home with many eagerly awaiting its arrival each August to show off their work to friends and family.
"For us, it is a very safe place to let your little kids run. You know, come back to the trailer eventually, check in with mom and dad, we'll be here. Before kids had cell phones, you kicked them free and they had a great day at the fair," she said.
"This fair is very important to our family, and a lot of families, especially farming families like us that grew up at the fair."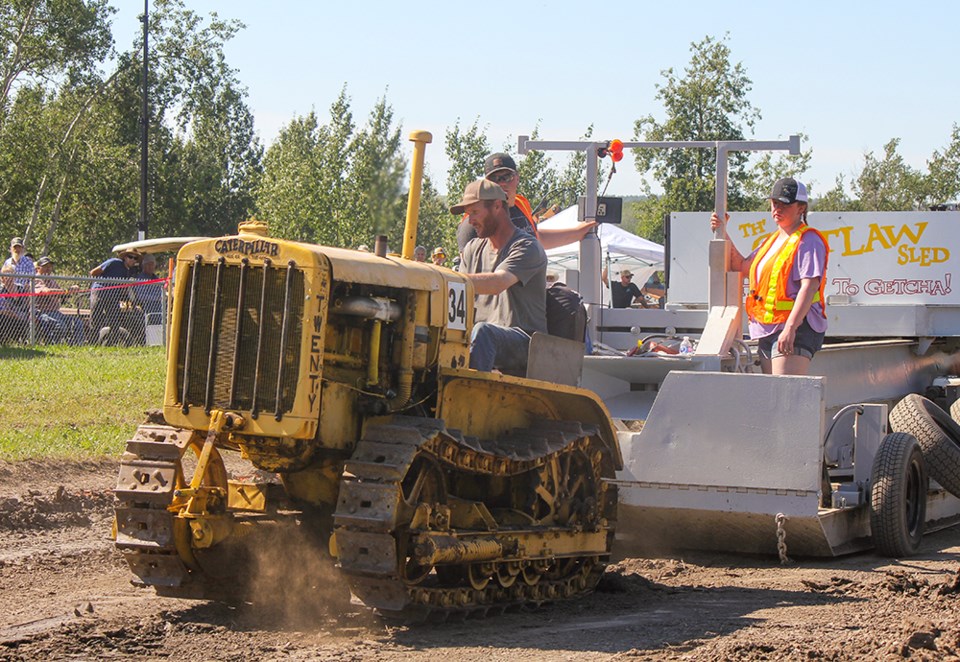 At the tractor pull, Paden Sheldon of Charlie Lake was turning heads with his Caterpillar Model 20, the company's first product after the merger of Holt & Best in the 1920s, he said. Only 8,000 of the tracked tractors were ever made, said Sheldon, who picked up the unique piece of machine history from an estate sale in Grimshaw earlier this year.
"For me it's just an incredible piece of history. I move dirt for a living and Caterpillar is one of the biggest names everybody knows," he said.
It was also Sheldon's first time coming to the fair and being in a tractor pull, encouraged by both his family and organizers to enter. The tractor was the 294th such machine off the line at the company's San Leandro plant in California, he said, and built to run off gasoline, kerosene, alcohol, and distillate.
"It was made to run off different fuels at the time. Gasoline might not have always been the most accessible thing…Obviously they were trying to make them as versatile in different environments as best they could," he said, adding the owner's manual features its own neat, if not unusual, set of various instructions, such as kick starting it in the winter by holding a kerosene-soaked torch to the bottom of the motor, or hoisting the radiator out with the help of a rope and a tree limb.
"The fact that the thing is still chugging along is a testament to the quality of its construction."
He plans to restore the machine to its original battleship grey and red trim colours, used before Cat's signature yellow standard created in the 1930s. He said he had a supportive and positive first experience at the fair, even if he didn't initially intend to come.
"I'm really glad I did, it's been a lot of fun," he said. "I was a little nervous because obviously it didn't fit the rest of the rubber tired tractors, but they were really supportive here and they've been great giving me a lot of positive input."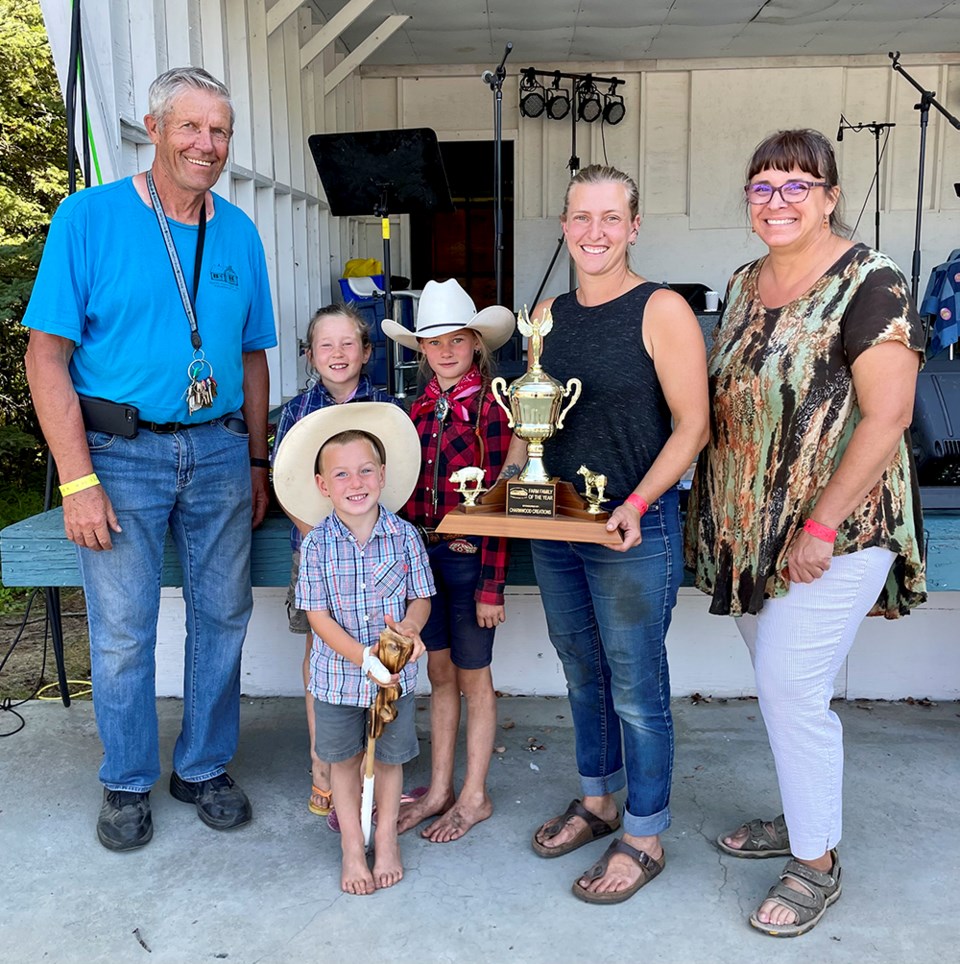 Ron and Noreen Kramer along with Gerald and Gail Peters won this year's Pioneer of the Year awards for their contributions to the North Peace agricultural community, as well as the fall fair.
The Benterud family were named the Farm Family of the Year, with 102 entries submitted. Priscilla Benterud said her husband Kurtis started entering 25 years ago, and she's been entering ever since they got married 14 years ago.
"We just love the fair. We've been coming for so long. It's a wonderful time. It's like an old time fair. It's a great time to get together with neighbours that you only see once a year, and it's just fun to exhibit," said Benterud, adding the fair is also a chance for their three children to show off their homeschool projects. They use their prize money to buy new craft supplies or halters for their animals, she said.
"My kids look forward to it all year. They will start tomorrow on crafts for next year," she said. "They love showing off for their grandparents who come, and all their neighbours. It's just a fun way to get together."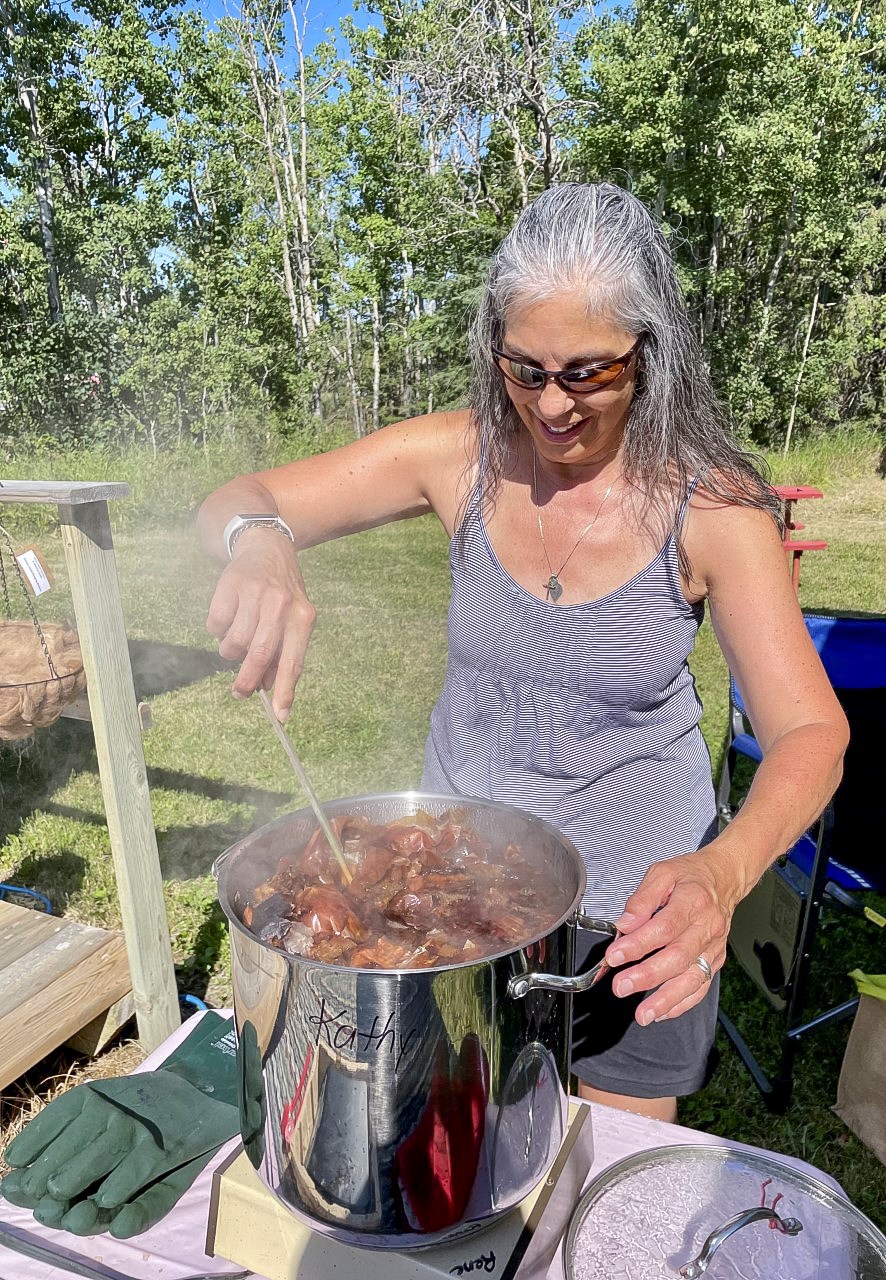 Show organizers reported entries were up across the board, from 96 competitors in the light horse show, to 75 tractors in the tractor pull, to more than 300 entries each in the home canning and fruits and vegetables shows. Judges there said just because a fruit or vegetable looks beautiful doesn't mean it wins best in show.
They were following industry standard horticultural guidelines when judging the finest flowers or fruits or baking. A beet, for example, judged on its shape, the richness of its red colour inside and out, and how it's been trimmed and presented on the plate.
Sharron Carlson had this year's Biggest Zuchhini and Ruby McBeth the best vegetable sculpture. Jodie and Susie Richter won the Highest Horticultural Award, Chris Zackodnik the Best in Show Fruit, and Del Alexander the Best in Show Vegetable. Dennis Davidson won for Best Cut Flower exhibited.
Julie Johnson was the Grand Aggregate winner of the home baking show, while Randa Braun won Grand Aggregate for her gluten-free entries. Sarah Truscott once again won Best in Show honours this year, for her 75th fair anniversary themed cookies.
"We enjoyed that people brought so many entries," said Katharina Keuth, who helped judge the baking competition.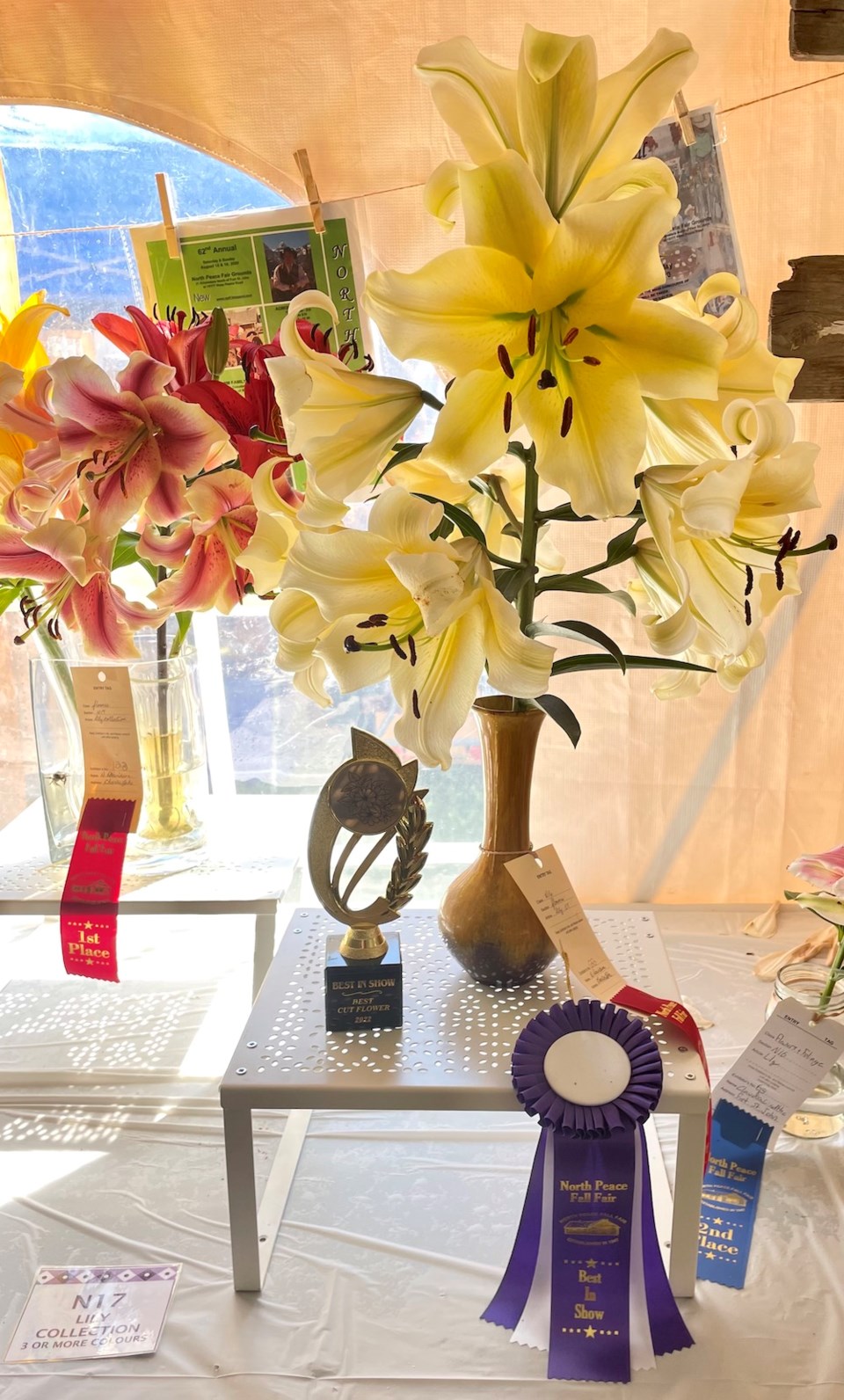 At Sunday afternoon's heavy horse show, Gord Mackenzie repeated as this year's champion, his team of Mike and Toby placing first after pulling 3,038 pounds above their team weight. He placed second with his team Barney and Jim pulling 2,265 pounds over their weight.
Also taking part in her first fall fair this year was Dianne Hunter, in the light horse show.
Hunter retired as city manager for the City of Fort St. John in 2020 with an eye toward continuing her international development work. That plan came to a halt with the Covid-19 pandemic and, looking for an alternative, she picked up riding lessons.
Though she had a horse she rode on occasion before retiring, Hunter said she really got into riding during the pandemic as an activity that fit well with the public health restrictions at the time.
"What I didn't think about was my fellow students came up to my knees. Apparently when you start riding you're five, and I was 65. They're jumping and I'm going can we just walk today? Can we just maybe trot?" she said with a laugh.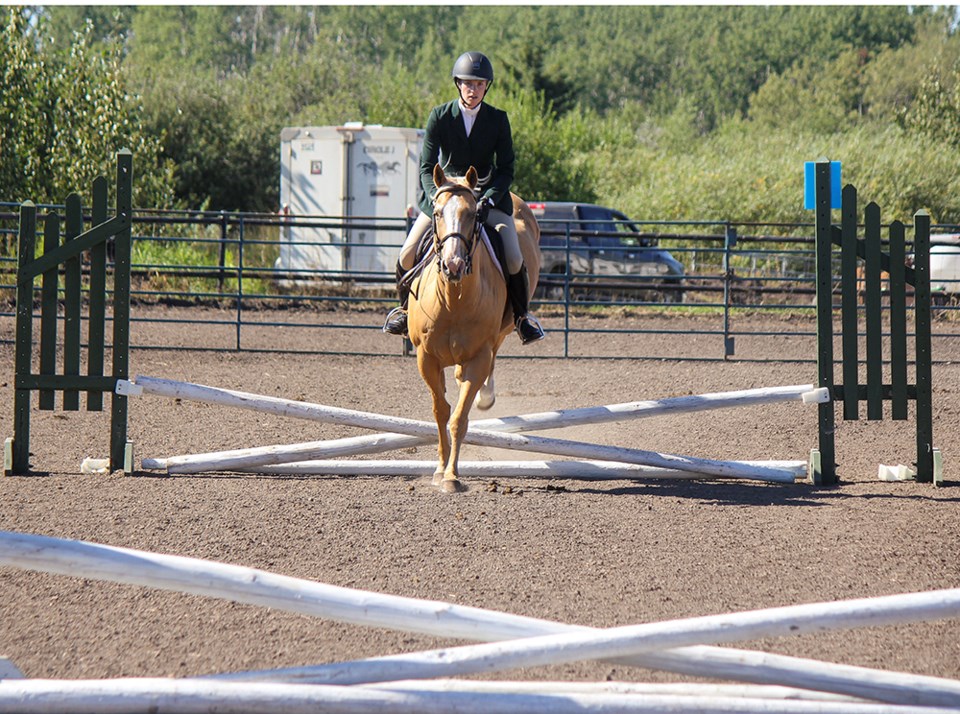 Hunter was soon off to her first horse show to put her walk and trot to the test, but not without her biggest cheerleaders along for the ride.
"I'm the kind of person that if I'm going to take lessons then I've got to be aiming for something," she said. "I'm doing my little shows and I've got these six little girls all on the fence going, 'Go, Dianne, go! You can do this!'
"They're my fan club, because they knew I was out there for my first time, nervous on my horse, doing something they had excelled at. It was really cool," Hunter said, adding that since she's started riding, her young peers have also encouraged their parents to join Hunter in the show ring.
"It's been fun because it's a new skill. It was all-consuming, it was terrifying at times, overcoming fears, and it was really a great community of people. Very encouraging."
Hunter has since qualified for Working Equitation nationals in Red Deer in September, and hopes to qualify a second horse at a show in Quesnel this weekend.
And though she admits at times she missed her work at the city, and was unsure what path retirement would take, Hunter has found a new social club and group of friends among her horse riding peers, cheering them on as much as they cheer for her.
"Sometimes we just need to trust that we're resilient and that we have multiple interests, and sometimes we don't know what those interests are yet because we haven't had the time to explore," she said. "It's just such a great group of people."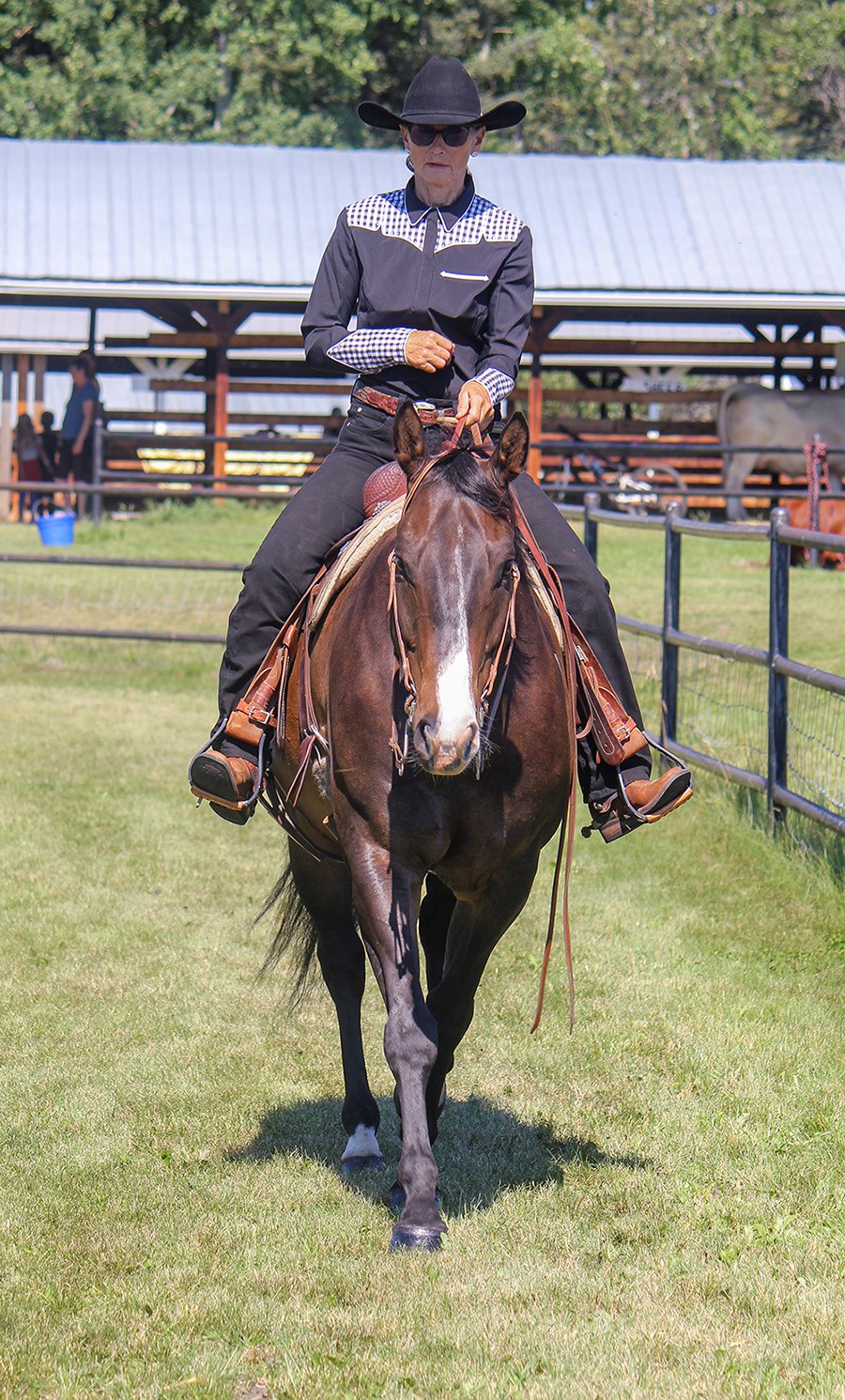 Expressing his appreciation for all the Fall Fair volunteers, Christensen said the event doesn't happen without them. Volunteers of all ages and abilities are needed to keep it going for another 75 years, he said.
An information session will be held Thursday, Sept. 22, at the fairgrounds in North Pine. A tour of the grounds starts at 5:30 p.m. followed by a potluck supper and meeting at 6 p.m.
Long-time volunteer Cliff Forster answered a similar call in the 1990s when the fair was in jeopardy due to a lack of volunteers. He later served on the board, was named volunteer of the year in 2004, and continues today to keep the grounds in shape and ready for opening.
"At the time when I decided to volunteer, I had no idea they were short volunteers out here. It had to be brought to my attention," he said. "I felt that if all it took was volunteers to keep it going, then I'll volunteer. If something's going to be cancelled because there's no volunteers, it's time for people to step up."
Christensen said he received a positive response and interest from attendees over the weekend.
"If everybody follows through we should be able to go for another 75 years," he said.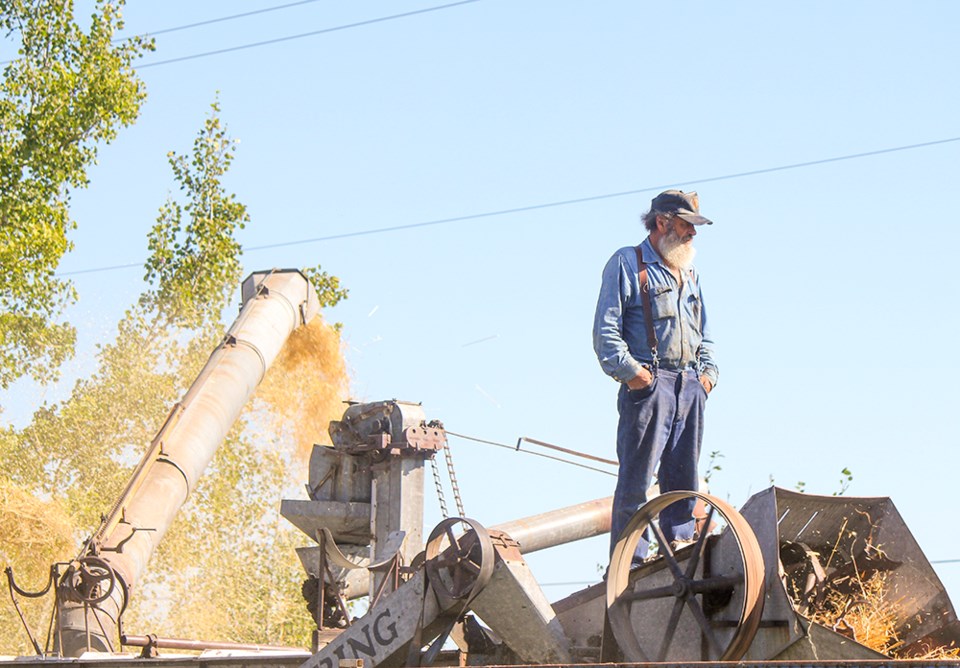 Read more:
---
Email your letters to editor@ahnfsj.ca