I am so glad that our summers here in the north have such amazing, long evenings.
The smells coming from the canola fields, the sweet clover and the profusion of gardens makes me very happy! I love how lush this summer has been. I have been eating strawberries fresh from the garden and have been watching my little cherry tomatoes getting fat and happy. What a pleasing time of year.
Nature Captured In Prints And Paint
A gorgeous display of local talent and skill. I am mesmerized.
Diana Hofman and Alison Newth are this month's artists. I have had the pleasure of getting to know both ladies and they are wonderful people as well as fabulous artists. We all know that a photo of a painting just does not do the painting justice, but to give you a peek at some samples of their work (the odd angle of the one photo was to try to avoid a reflection), have a look below: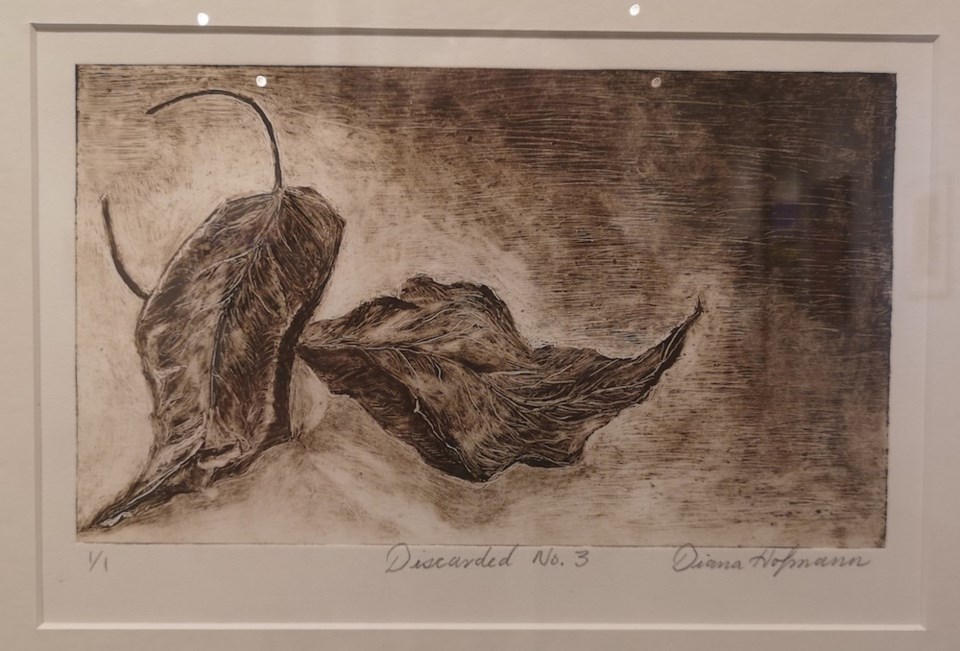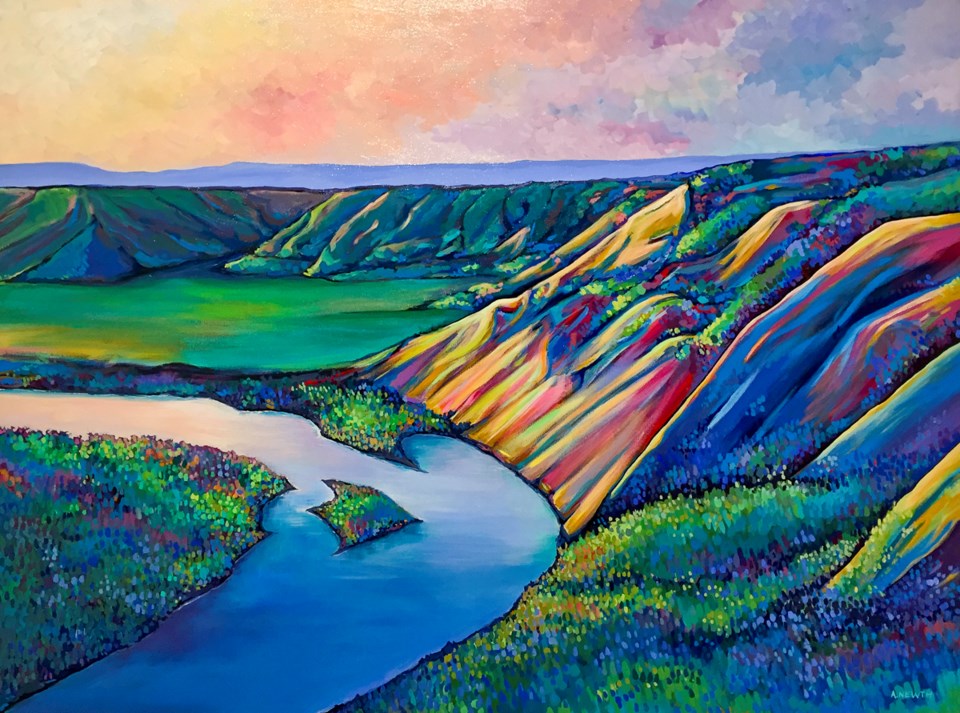 Diana's sensitive and delicate treatment of her subjects shows just how much she cares about what she does. Her prints are full of a subtle life that makes even her "Discarded" series, the monoprint of the leaves (the other two images in the Discarded series are an antler and pine cones), rich and bold yet finely, and beautifully, detailed. Diana's works are an almost-worshipful recreation of the beauty all around us in objects most of us would overlook or dismiss. She helps us see the world with fresh eyes and that new viewpoint enriches us in ways we lacked before.
Alison, in contrast, has kaleidoscopic, hypnotic colour in an explosive profusion of tamed rainbows. Her energetic, bold style is the perfect contrast to Diana's understated elegance. Alison's love of the Peace Region is amply evident in how she has portrayed the river valley, the lakes and trees of this area. Her sunsets play up the glorious skies we have in our Peace Region, unrivaled in their majestic display of hues. These paintings are a real treat and joyful in nature, like laughter and celebration set down in paint.
These two ladies have known one another for most of their lives and their individual artwork shows just how much they compliment one another on many levels. Diana's printed work is saved from too much monochromatic severity by perfectly placed touches of yellow, and other colours, but the strength in these dark tones anchors the butterfly-flight of Alison's paintings back down to earth while Alison's work, in contrast, surrounds Diana's more sober tones with a sea of colour, allowing for the creation of islands of calm amidst the riot.
This is a stunning exhibition and is not to be missed. Closing date is August 4, 2018.
August Exhibition
Our August Show, "Summer Salon" is a collection, a coalescence, of some of our existing artists' work. The Summer Salon doesn't focus too much on one or two individual artists, but rather, like the summer profusion of flowers and the fruits of the garden, is a rich harvest of the cream of the crop.
We will have pieces from Barb Daley, Sherry Petryshyn, Sandy Troudt, Irene Gut, Al Kalas, Karen Heathman, Leanna Carlson, Mike Kroecher, Lorna Penner, Diana Hofmann, and many more. Some new pieces, some much-loved pieces, big prints, small prints, pottery/clay items and even a brand new giclee print from Sandy Troudt that must be seen to be believed! It is a top-quality, canvas-printed reproduction created with the help of Don Pettit in Dawson Creek.
August will definitely be an interesting and varied combination this year! Exciting! The Summer Salon show will run from August 10th to September 1st, finishing just in time to get the Gallery ready for the pre-Auction show. There is no Opening Night planned for the Summer Salon show, but please feel free to come down and fill your soul with the beautiful things on display. And maybe even add to your own art collection! 
Art auction
Planning for PAGS Art Auction 35 is well underway! This year's auction will be held at the North Peace Cultural Centre on Sept. 29.
Our theme this year is: Une Nuit Des Temps: Past, Present and Future. We are excited to have French Chef Florence Plotnikow of the Northern Gourmet, catering our French inspired meal this year!
Tickets will be on sale soon at the Cultural Centre box office. Seating is limited so book your spot now before our seats run out!
PAGS Summer Camps for Kids
We have one week still available in August, from the 13-17th, for kids ages 6+. The program is facilitated by a School District 60 Art Teacher and is held at the North Peace Cultural Centre.
There is still time to sign kids up to the summer camps. Call the box office at 250-785-1992 to sign up. These camps are free.
The Loft
The hours for the self-directed artists' group meetings in The Loft have changed from 6:30 to 8:30 pm, first Thursday of each month. These meetings are open to everyone, but PAGS members get in free. Bring your own art supplies and projects! A community of like-minded folks sharing a creative space.
Bulletin Board
Fort St. John: September 15, 2018. Matt Preprost (Editor, Alaska Highway News), Audrey McKinnon (Artist and Associate Producer on Daybreak North CBC Radio), and the Gallery have decided on a date for our Street Art Workshop! This is a workshop that will explore how to work with spray paints and paint markers to create your own unique pieces of art. We are planning for it to be a one-day event from 8:30 am to 6:00 or 7:00 pm (depending on participants and whether or not we finish early) with a long lunch break. All materials will be provided for a reasonable workshop fee, fees to be announced. Stay tuned for upcoming information on fees and location in the next newsletter! If you have any questions, call me, Natalie, at the Gallery 250-787-0993 or email gallery@npcc.bc.ca. Please note: This is not the same as"tagging", the defacing type of graffiti. This is to learn spray paint techniques and composition for creating artwork. This workshop will be geared toward youth, ages 13 to 18, but will also be open to adults, should any adults wish to learn more about this edgy, new form of art. 
Arts Council Announcements
Aug. 17-19: FALL FAIR Welcoming all homemade pies (no cream ones please) for the Best Pies in the World at the North Pine Fall Fair. We have a friendly competition going with the NP Historical Society that sells pies and ice cream on Canada Day. We have to top their pies donations. Please help.
Sept. 6: Northern Lights College welcomes your group/display from 11:30-3pm at NLC to Orientation for NLC students to events and activities in the community. Contact snadeau@nlc.bc.ca to book a space.
Sept. 8: City of FSJ has One Stop Registration at the Totem Mall from 10am - 2pm. Contact recreation@fortstjohn.ca to book a table.
Sept. 21:  Next Arts Council meeting is at 7pm. It is the AGM. Memberships due $10 individual and $50 group. Please write up a short report of plans/events/dates for Sept to as far as you know. Guest Speaker: SD #60 Stephen Petrucci "Artists in Residence Program Looking for You"
Sept. 17: Pottery Classes start up again at North Peace Potters' Guild. To register for classes email Rosemary Landry at relandry63@telus.net. Classes fill up quick, so inquire soon about availability.
Natalie Brekkaas is gallery co-ordinator of Peace Gallery North.