The first Covid-19 vaccinations were given in Fort St. John on Monday.
Northern Health says the hospital has received its first shipment of the Moderna vaccine, and that 20 priority healthcare workers in acute care and caring for COVID-19 patients were vaccinated. Among the first to get vaccinated were ER physician Dr. Lukas Brand, and Dr. Erik Coatta, GP anaesthetist and Infectious Disease Unit physician.
So far, 24,139 people have been received their first shots in B.C., according to provincial health officer Dr. Bonnie Henry. 
In Northern Health, 2,650 doses of both the approved Pfizer and Moderna vaccine have been given since the first vaccination on Dec. 22.
This week, 975 more doses of the Moderna vaccines are heading to northern B.C. out of 16,575 coming to the province.
More clinics are scheduled in the city later this month, as supply is received, Northern Health said.
The health authority said it is working with the First Nations Health Authority on distribution to rural and remote communities, particularly those that have experienced clusters or outbreaks of the virus.
Also on Monday, Dr. Henry reported 169 new cases in Northern Health since last Thursday, bringing the region's total to 2,186. Of those 498 are listed as active.
There have been 1,649 recoveries and 30 deaths to date. There are 19 in hospital, 16 in critical care.
Earlier today, Northern Health said a 12th resident had died from Covid-19 at Prince George's Jubilee Lodge. An outbreak there has seen 60 infections since Dec. 12, including 48 residents and 12 staff.
Eight more cases were also reported among the outbreak in the Internal Medicine Unit at University Hospital of Northern BC in Prince George, bringing its total to 21, including 10 patients and 11 staff since Dec. 29.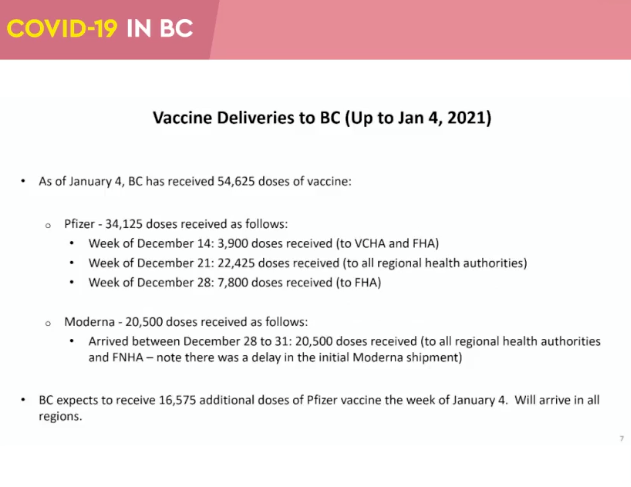 B.C. has so far received 54,625 doses of vaccine, including 34,125 doses of the Pfizer-BioNTech vaccine, and 20,500 doses of the Moderna vaccine.
Henry said she expects a total of 792,000 doses of vaccine – the Pfizer-BioNTech vaccine and the Moderna vaccine combined – to arrive by the end of March.
"Our plan is to provide at least 549,000, 550,000 people, their first dose, and some of those people will also receive their second dose," Henry said. "That's approximately 542,000 doses of Pfizer and 250,000 doses of the Moderna vaccine."
That schedule translates into around 4,300 people per day, which is more than the average of approximately 3,000 doses that have been given per day so far.
Henry said that the province has sufficient staff to administer those doses, and that the number of vaccines administered after March will ramp up further.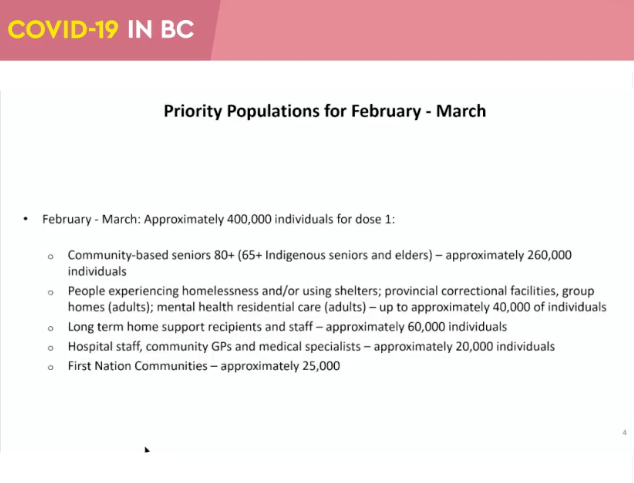 Both the Moderna vaccine and Pfizer-BioNTech vaccine require two doses, which Dr. Henry says will be given 35 days apart.
The aim for the end of January will be to get to about 70,000 staff and residents in long-term care, 13,000 people in assisted-living facilities, 2,000 people in hospital waiting to be placed in a long-term care home.
Other priority groups include elders in the community aged older than 80, homeless people, and those in remote and indigenous communities among others.  
Because the Moderna doses are easier to transport than the competing Pfizer vaccine, it's seen as critical in ensuring remote regions like Fort St. John have access to vaccinations.
Unlike the Pfizer vaccine, which must be maintained at temperatures as low as -80C, the Moderna needs to be maintained at just -20C.
Delivery of the Pfizer vaccine is currently the responsibility of the manufacturer due to the vaccine's sensitivity, while FedEx Express Canada Corp. and Innomar Strategies Inc. are handling Moderna's deliveries.
"These are not the usually fridge-stable vaccines we are used to handling. They are very delicate," Henry said, adding she's optimistic that more vaccines will be approved in the coming weeks and months.
Dr. Henry said Canada has seven contracts with other vaccine manufacturers.
On Monday, the U.K. became the first country to begin administering the AstraZeneca plc vaccine.
The vaccine, which has not yet been approved in Canada, does not require the same low levels of cooling as the Pfizer-BioNTech or Moderna vaccines.
— with files from Kyle Balzer/PrinceGeorgeMatters, Glen Korstrom and Tyler Orton/Business in Vancouver
Email Managing Editor Matt Preprost at editor@ahnfsj.ca.