Former Fort St. John mayor Jim Eglinski received the city's highest accolade on Saturday, the Freedom of the City.
Family, friends, and local dignitaries gathered at City Hall for a ceremony to honour Eglinski, who served as mayor from 2005 to 2008 after starting his career in municipal politics in 2002.
"It is a heck of an honour, you don't realize it until you start reading the names on the wall and see what it's all about," Eglinski said. "Public service has been my forte in life since I was in 19. I joined the best organizations in the world that fit me."
"It's a blessing in life to be able to serve your community, and give as much of you as you can, and help form that pattern."
Prior to his life in politics, Eglinski served 35 years with the RCMP, joining in April 1968. During his career, he had nine postings and five detachment commands, finishing his career in Fort St. John. He was later elected member of parliament for Yellowhead in Alberta in 2014, a position he held for five years before stepping down in 2019.
Eglinski, visibly moved during the ceremony, spoke about his time on city council and the importance of planning for the future, the results of which continue to be seen today.
"When you sit down and bring the community together and listen to the community and work with them, you can come up with some damn good plans," Eglinski said, making note of the city's new hospital, schools, and police station.
"We talked about this 10 to 12 years ago. All of us on city council were a part of that strategic planning. We saw a future for this community, and it's happened. There's so many communities out there that only look out for today — you have to look out for tomorrow."
He added: "The one thing I learned in all the communities I've served, you develop friendships. I always found that you got so much for them, you learned about your community by getting to know them."
---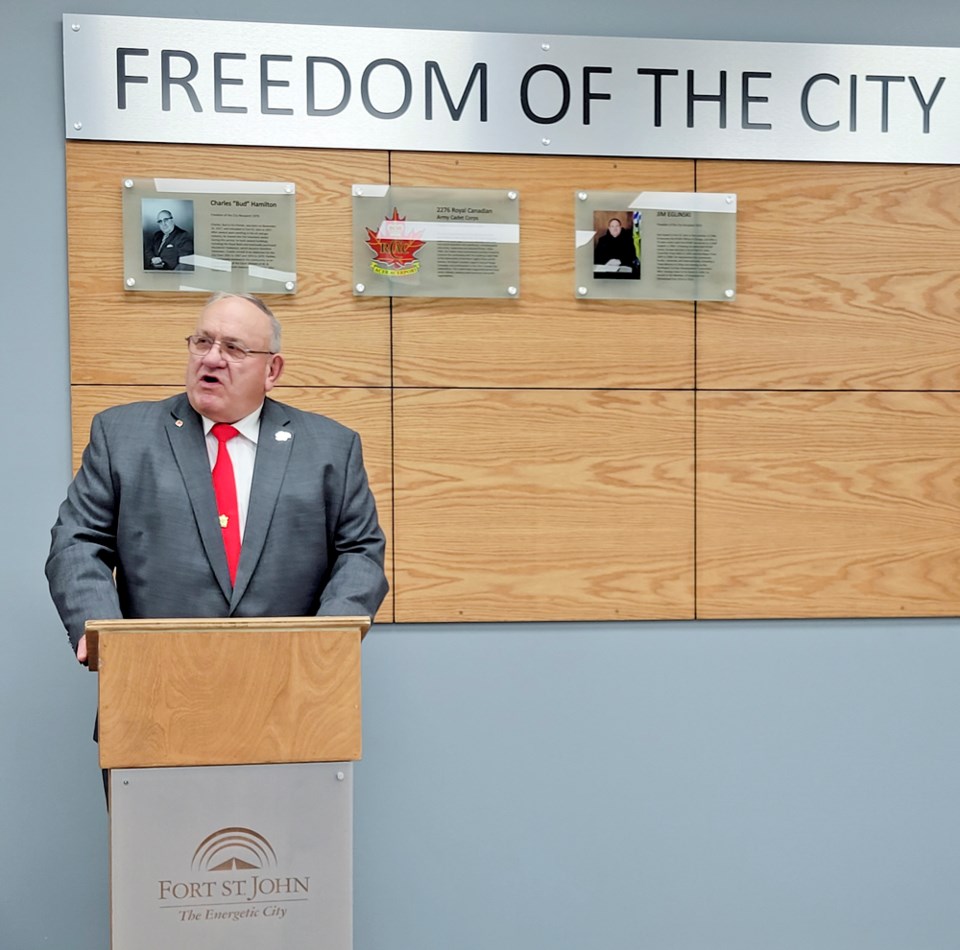 ---
Mayor Lori Ackerman and MLA Dan Davies paid tribute to Eglinski, and the value of his mentorship when they were new to city council.
"I remember popping into the office many times when I was a new councillor to catch up on what was going on, and understand what was going on behind the scenes, to understand the development department, and how it works, and the significant changes that had to be made," said Ackerman.
"You get from your community what you give to your community and not one iota more. That's how I was raised, and that's what Jim portrays."
Eglinski helped set the trajectory for where Fort St. John is today, Davies said, and laid the foundation for projects including the Pomeroy Sport Centre.
"I remember sitting on city council there was a lot of late nights and late discussions on that," Davies said. "And now people in the community can't even imagine not having that facility."
Past Freedom of the City recipients have included long-time alderman Charles "Bud" Hamilton in 1979, and the 2276 Royal Canadian Army Cadet Corps in 2006.
Freedom of the City was also awarded to Senator Richard Neufeld, and posthumously to seniors advocate Jean Leahy in 2019. Sue Popesku, arts and culture ambassador and community organizer, was also bestowed the award posthumously in 2020. Formal ceremonies for those individuals are still to come.
Eglinski recently served as mayor for Yellowhead County in Alberta, and will swear in his successor on Tuesday. Fort St. John will always be home, he said.
"I call Fort St. John home. I never lived in any place as long as I did here," Eglinski said. "Every time I come here, Nancy can say at the top of the Taylor Hill, 'There's the Peace River, we're home.'"
— with files from Dillon Giancola, Matt Preprost
---
Email Managing Editor Matt Preprost at editor@ahnfsj.ca