Former Fort St. John resident Doreen Gauvreau died in Calgary on Monday due to COVID-19 and underlying health issues, family is saddened to report.
Gauvreau was 81, and the 11th resident at the McKenzie Towne care home in Calgary to die from the disease. Her husband Sylvio, 89, has also contracted the virus. He is stable but still quite ill, family said Tuesday.
"Family is saddened to announce this news," said daughter Renee LaBoucane.
The McKenzie Towne care home is at the centre of an outbreak in Calgary; so far, 50 residents and at least 36 staff members have tested positive for COVID-19.
Sylvio was one of the first residents to contract the virus, LaBoucane said. Doreen had been diagnosed last week. LaBoucane's uncle, Lorne Vaughn, 81, has also contracted the virus. 
"We're supporting each other virtually. We're getting lots of support," LaBoucane said.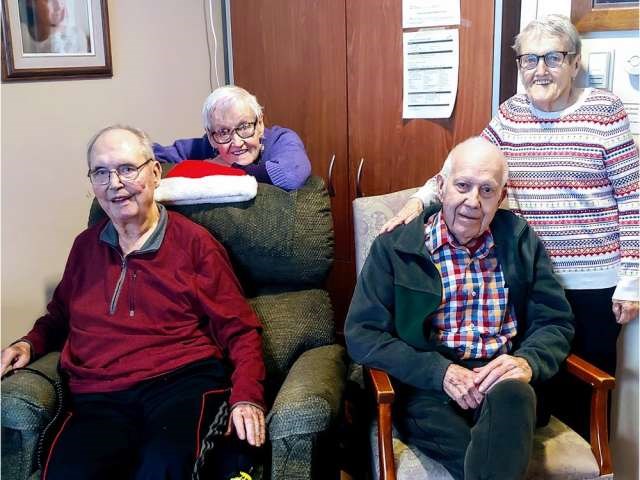 Doreen and Sylvio met in the Canadian Air Force, and moved to Fort St. John in 1963. They raised five kids here and called Fort St. John home until 2004 before moving to Cranbrook and ultimately retiring to Wetaskiwin to be closer to family.
Sylvio worked in oil and gas, and on the WAC Bennett Dam when it was being built on the Peace River outside Hudson's Hope. After Doreen raised the children, she went to work in retail, first at Zellers, and then at Shoppers Drug Mart, where she had a long career.
While Sylvio kept busy at the Legion, Doreen kept busy crafting and with all her friends in her knitting group, and she always made sure to enter her projects into the Fall Fair. 
"She was an amazing crafter and had skills in sewing, knitting, crotchet, and quilting and was always eager to try something new," family said. "She earned many awards for these skills and took pride in making gifts for others."
They lived in Fort St. John for more than 40 years, and were community builders who gave generously of their time, LaBoucane said.
Both moved to the McKenzie Towne Continuing Care Centre in November. Doreen had an underlying heart condition, LaBoucane said, adding her father is "still quite ill but seems to be recovering."
"The staff that are on the floor there, the front lines, are amazing. They all deserve medals for the work they do," LaBoucane said.
A service will be held once the COVID pandemic is over.
There are now 1,348 confirmed cases and 25 deaths in Alberta.
Email Managing Editor Matt Preprost at editor@ahnfsj.ca.