Fort St. John businesses began the process of reopening this week after months of lockdown restrictions were lifted.
It's day two of the province's economic reboot from the COVID-19 pandemic, following industry-specific WorkSafeBC guidelines for restaurants, cafes, pubs, salons, personal services, and retailers.
Totem Mall re-opened May 19, with limited hours, and businesses will be opening on a store by store basis.
"Things are good. We're just getting going today, but we're glad to be here," said Mustapha Elharda, who owns Leather Shop, and also runs Impact clothing and a phone kiosk.
Signs have been place around the mall to encourage physical distancing, and as with most other businesses in town, shops will have routine sanitization measures in place to keep them open and welcome to the public. Elharda says he's well equipped to keep surfaces clean and germ-free, with a bottle of Lysol wipes handy.
Crowds at the mall were small Wednesday morning, as many shops have yet to open their doors. Stores that are still closed have posted notices about their reopening plans.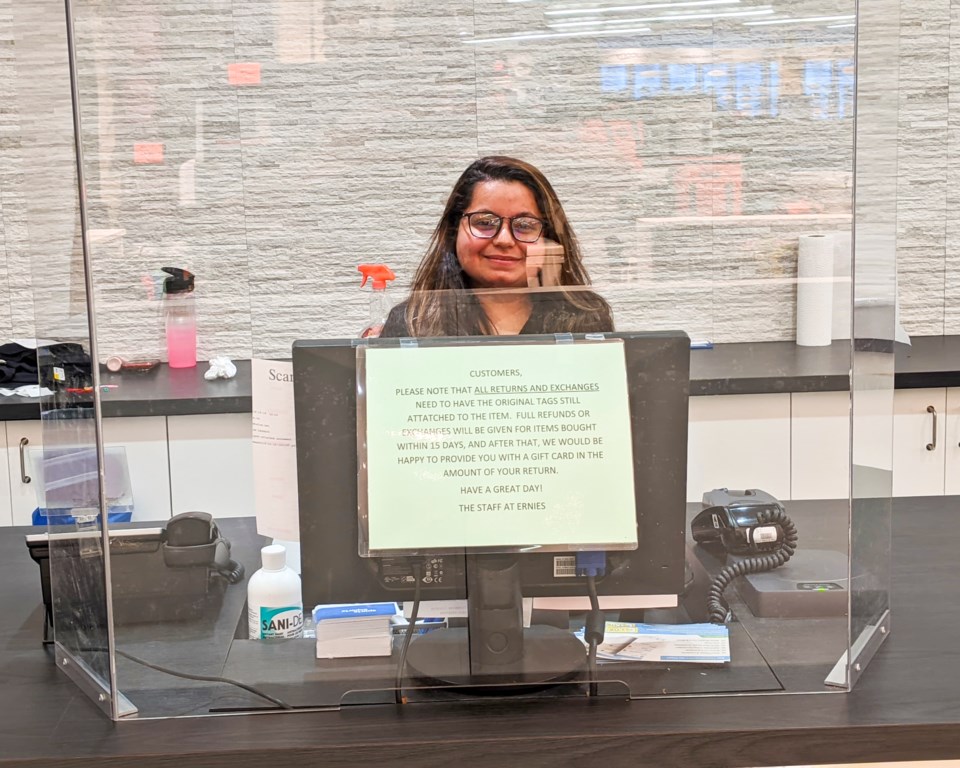 Ernie's sports store has been open with new limited hours since May 11. Previously, the store was open during the pandemic by appointment only.
"We're noticing with the customers that everyone is excited to be out and have a sense of normalcy," said owner Andrew Leriger. "Our customers have been amazing, they respect the social distancing. We have sanitizing stations, but we don't require customers to wear masks and gloves, as long as they follow the instructions in the store, but they are welcome to."
Interest in cycling and running has picked up, Leriger said.
"With no organized sports in town, biking is the new thing. We, and all over Canada, have been very busy in that area. Same with running shoes," Leriger said. 
Dining back in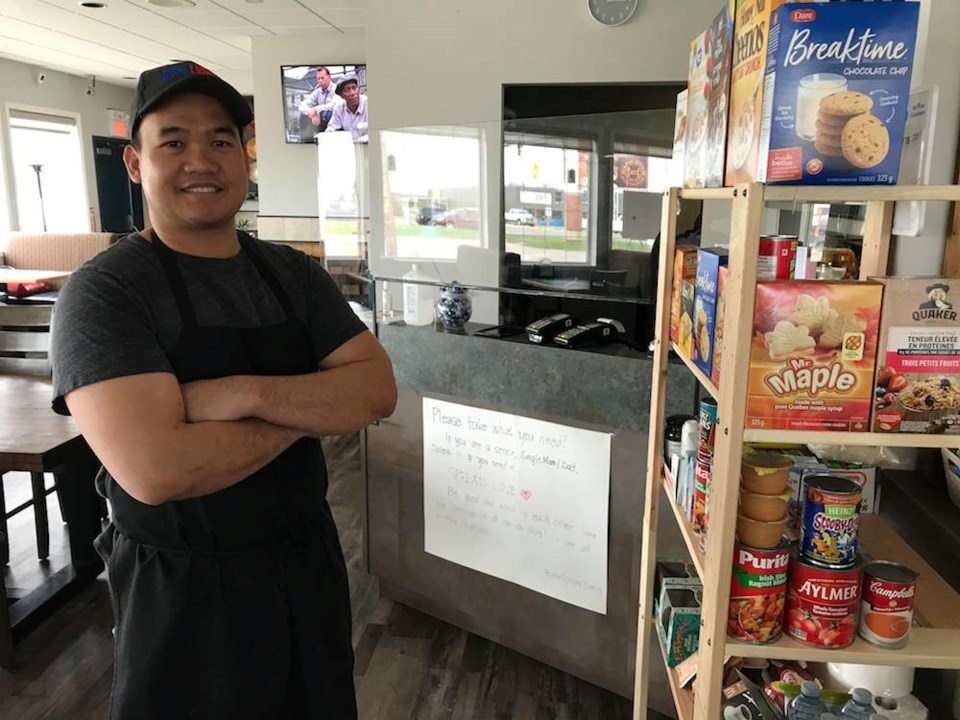 Audie Louie Banania opened his restaurant, Audielicious, for dine-in service on Tuesday. Capacity is limited to seven tables, and Banania says he has seven reservations so far for Wednesday night.
"Not bad for first day reopening, still slow, but tonight lots are in the line for on call reservation," Banania said.
As a precaution, lineups are being discouraged, and those with reservations are being asked to stay in their vehicles and will be called when their table is available. Diners can still visit without a reservation, but they must first call the restaurant before walking in to ensure there's a table available, Banania said.
Inside the restaurant, Banania said sanitizer is being provided to diners as they enter, and staff will be wearing PPE and keeping their distance while taking orders. Condiments will not be provided on the tables, and will be portioned to control the spread of bacteria, he said.
Business was sliced immediately in half when restaurants were ordered closed in March. And though Banania has been providing takeout and pickup services, business has varied day-to-day, he said.
"There are days it's OK, there are days it's not, up and down," Banania said. "Last week was crazy slow after the Mother's Day and before May long. But Mother's Day was busy."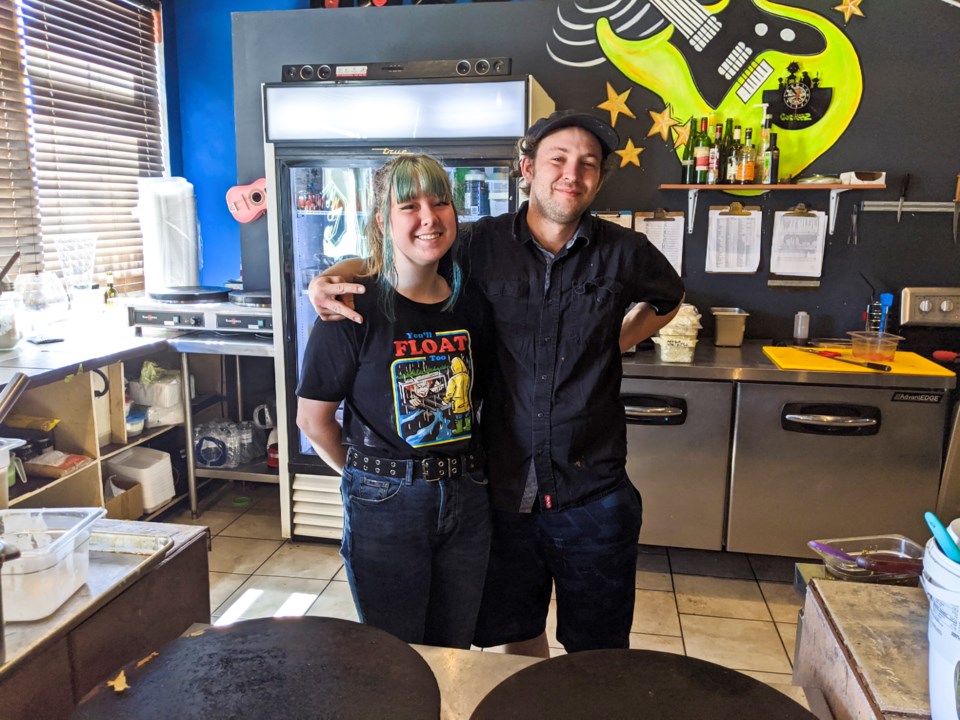 Over at Music Junkies Cafe and Crepes, owner Jordan Cramer-Girouard expects his doors will be open to customers by Friday, May 22, if not sooner.
"We're kind of relieved, half our menu isn't viable for take-out so it will be nice to actually cook again," he said. "We've had about an 89% sales-drop, it's been rough."
Customers have been eager to come in again and order a milkshake, he added.
"We are following all the requirements. We will have two metre spacing between everyone, sanitizing stations at the doors, and everything that is touched in the cafe will be fully sanitized and wiped down," Cramer-Girouard said.
Just a trim, or...?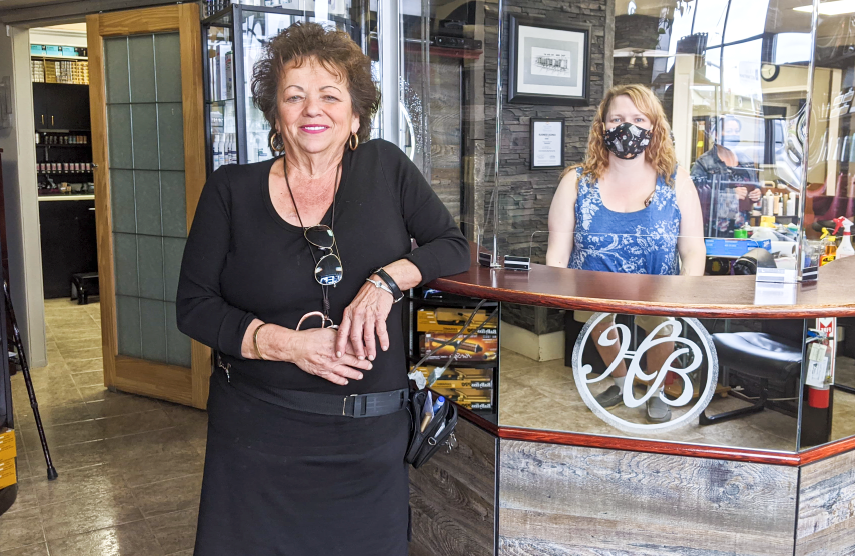 Hair stylists and barbers are preparing to open.
The Hair Bin salon and barbershop says it will open Monday, May 25, for regular hours, and is currently taking bookings.
"We've been in business 35 years and never expected to face this, the new normal will be a little inconvenient for the clients but the main thing we want to come across is that it's safety first for the clients," said Hair Bin owner Lorraine Isenbecker.
The men's barbershop will be open to walk-ins, however, the waiting room will be closed. Those wanting a haircut will need to provide their name and number, and wait until they are called from their vehicles. The numbers are also needed for contact tracing requirements.
All customers will need will be required to wear a mask and are encouraged to bring their own, and disposable masks will be available for those who don't.
The spa will have a later reopening date which will be announced soon.
Roberto's Barber Shop remains closed, with plans to reopen at the start of June.
"I'm just working out of my home for now, it's going to be too crowded," said Roberto Libris, adding anyone who needs a cut is welcome to arrange an appointment.
Aura Boras Hair Boutique says it is preparing for a soft opening for June 2, and is rebooking clients. There will be no walk-ins at this time, and the salon says it will be adding a half hour between guests to ensure proper sanitation.
A mask and gloves will also be given to clients, who will also have to sign a waiver and complete a self-screening questionnaire. 
Stay thrifty
The MCC Thrift Shop reopened Wednesday, and customers were lined up out the door this morning.
The store is limiting customers to 10 at a time, with two customers per household allowed in at one time. Change rooms and bathrooms are closed to the public.
The Salvation Army says it has a phased reopening plan across B.C., and will reopen its thrift store in early to mid-June.
The thrift store helps to support the food bank, which has seen 60 new families since March.
"We want to be cautious and we can afford to be with no rent/mortgage and a generous community keeping the food bank alive," said Executive Director Cameron Eggie. "It's business as usual in our other programs. We've put in large orders for meat and produce through the food bank with the help of grants."
With general donations and grants, the agency has collected $80,000 since March 1, Eggie said.
Roughly half of that comes from corporate grants and aid, including from Tourmaline Oil, which has paid the food bank's gas bill for the next couple months. Other companies including Canadian Tire and We Care Restoration have helped to supply sanitizer and PPE, while community donors and Stan's Custom Meat Cutting donated a cow, two pigs, and three turkeys that were made into sausage for the food bank.
"We have been very encouraged by the support of Fort St. John," Eggie said.
Still closed
Though many businesses will be reopening in the coming days and weeks, some businesses remain closed under the provincial health orders, with no fixed timeline for when they can reopen.
Those businesses includes bars and clubs, and large gatherings continue to be banned, meaning no rock concerts at the Lido, or live theatre and public dance recitals at the North Peace Cultural Centre anytime soon.
The province is currently in the second phase of it's so-called restart plan, which allows for retail businesses to reopen and for dentistry, chiropractic, physiotherapy, and in-person counselling to resume. It also allows for the Legislature and elective surgeries resume, and more voluntary in-person schooling for students.  
The province plans to move into a third phase June through September, when it's expected more parks will reopen and overnight camping will be allowed, and when film and TV production will resume, and movie theatres will reopen. Personal services like spas and non-medical massage services will also be allowed resume in phase three, the timing of which the province says will depend on whether transmission rates stay low and in decline.
Concerts and conventions will be allowed under the fourth and final phase, which the province says is conditional on either a vaccine or treatment being developed, or herd immunity.
This is a developing story.
— with files from Matt Preprost, Dillon Giancola, and Tom Summer
Email Managing Editor Matt Preprost at editor@ahnfsj.ca.