Veterans, community leaders, and residents paid their respects and reflected on the end of the Second World War during Remembrance Day services in Fort St. John on Wednesday.
"This year marks the 75th anniversary of the end of the Second World War, a war that saw over 1 million soldiers serve when Canada only had a population of 11 million people," said North Peace MLA and Major Dan Davies. "This is a true picture of who Canadians are and who were are today: brave, committed, proud and willing to help when needed."
The war for Canada began on Sept. 10, 1939, a week after England and France declared war against Germany. By the time it was over in 1945, more than 45,000 Canadian soldiers had died and another 55,000 were wounded, making the ultimate sacrifice in the name of freedom in such places as Normandy, Hong Kong, Italy, the Netherlands, and the Scheldt.
"Canada has always been a leader of the world stage to defend and protect those who suffer at the hands of tyranny, in the hopes that they may may enjoy the same rights and freedoms that we have," said Davies.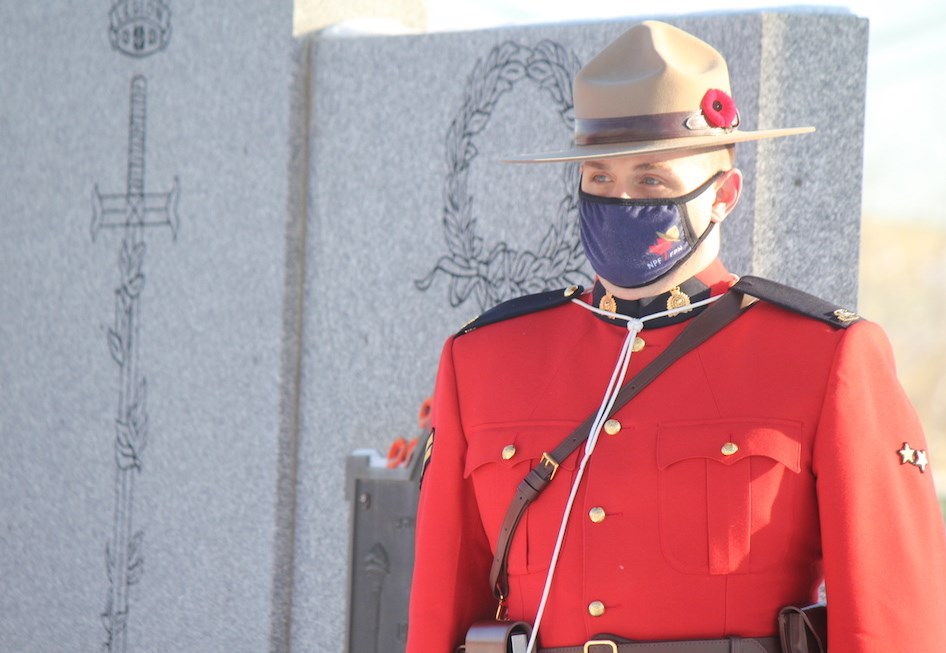 Traditional ceremonies were cancelled this year, including the parade, and the Royal Canadian Legion discouraged residents from attending ceremonies in person, asking them to watch online from home instead because of the pandemic.
Still, several dozen people gathered around the Legion cenotaph on Veteran's Way for the brief, socially-distanced service, that still included the traditional moment of silence, the playing of the Last Post, and the laying of wreaths.
For most, the Second World War is more than a lifetime ago — a lifetime of freedom of peace, said Gord Klassen, who served as padre and delivered an opening prayer. And the past several months of the pandemic has disrupted that sense peace and freedom for many, he said.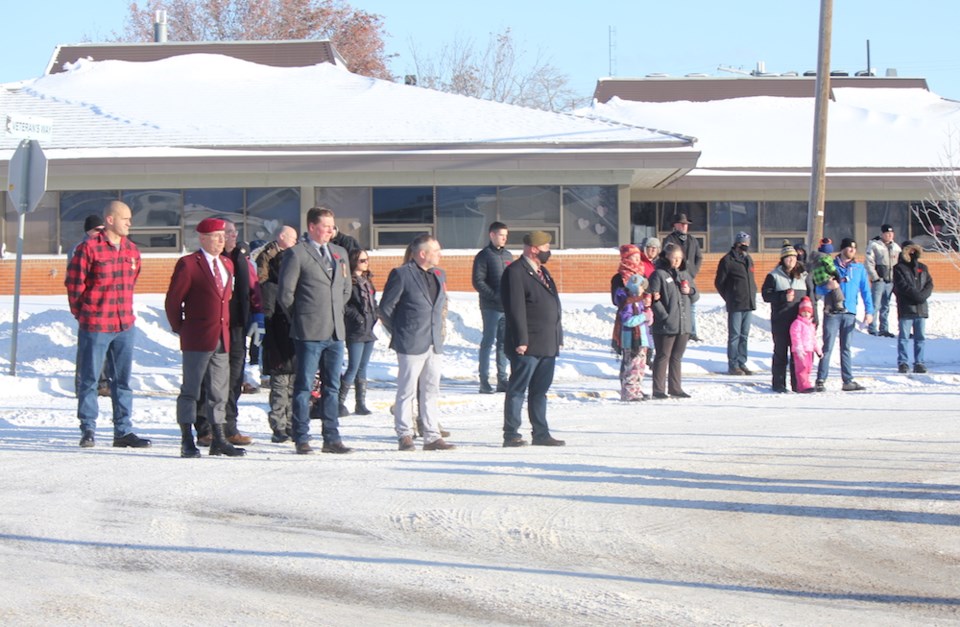 "I would never equate the inconveniences of these past few months to the freedoms that our brave service men and women have fought for and continue to fight for, nor would I ever compare the things that we have gone without to the sacrifices made by those who defend us with their very lives," Klassen said.
"But for many of us having enjoyed a lifetime of relative peace and freedom, these past months have been an uncomfortable adjustment to what life with a loss of personal freedom looks like. And for many this loss of freedom has brought uncertainty, fear, confusion, mistrust, loneliness, despair."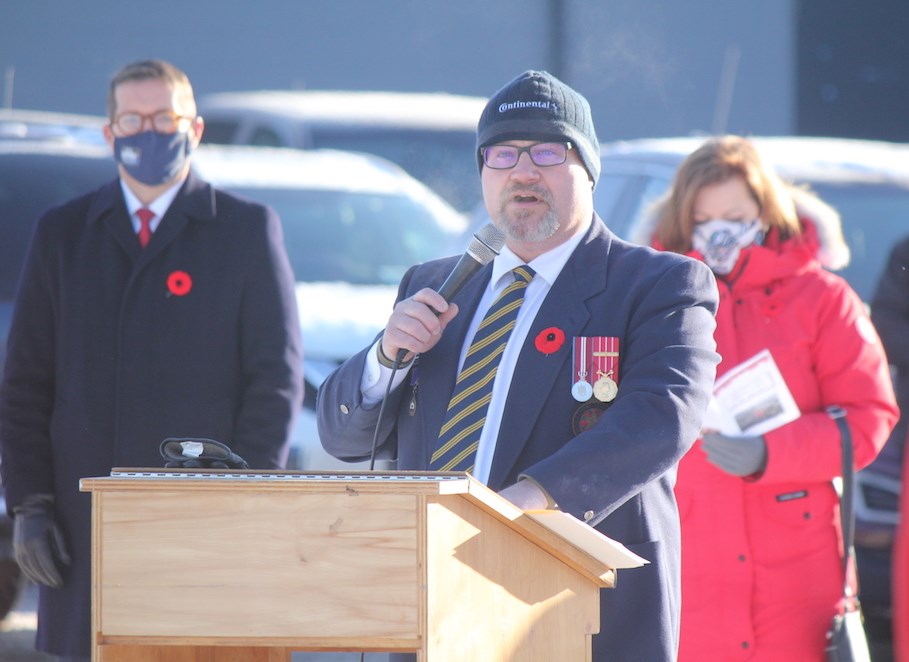 But the pandemic should not overshadow Remembrance Day, and the experience of those who fought in war, or of those who have totally lost their freedoms in other countries, Klassen said.
"Perhaps these past months has given us just a wee glimpse into what life would be look like if our freedom was taken from us," Klassen said.
"While it seems as though our current circumstances could easily overshadow this time of remembrance, I would suggest that this is a year where our understanding, our appreciation, our gratitude should be greater than ever."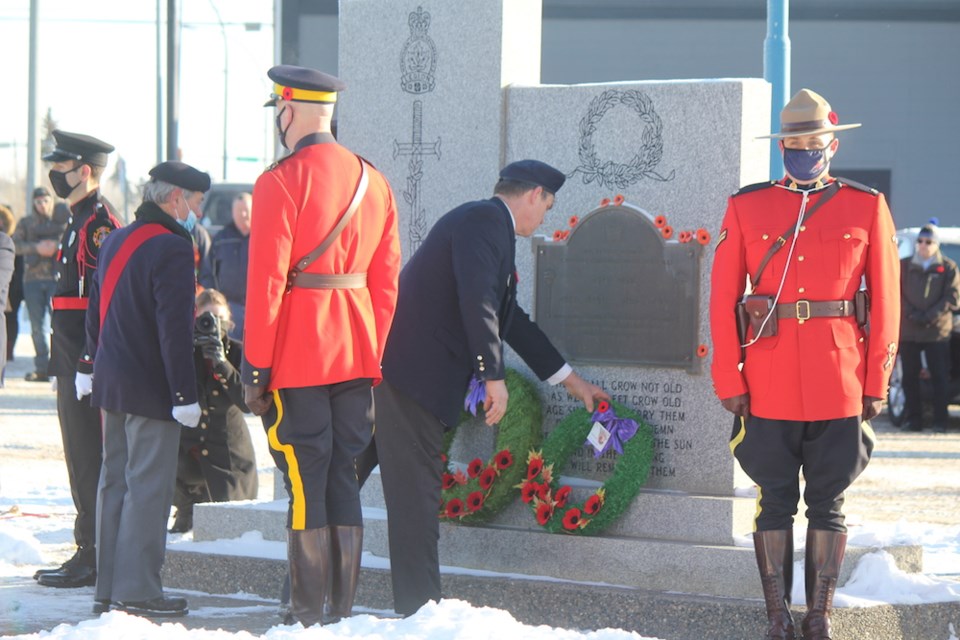 Mayor Lori Ackerman echoed those sentiments, and acknowledged the thousands of Aboriginal Canadians who volunteered to serve in the Second World War, an estimated 3,000, according to Veterans Affairs Canada.
"These difficult times open just a small window to the struggle that our veterans have, and continue to go through, so I suggest that we draw courage knowing that our veterans have done that," Ackerman said.
"As we gather in our homes remembering the selfless sacrifice of all the brave men and women, we hope that the future will bring peace and justice. Our veterans and our soldiers have helped to define our country, our values, and future. Today, we reflect on their sacrifice and continued service, and to honour our veterans."
Video from the service can be watched below:
Read more:
Veteran profile: Jack Huhn
Veteran profile: George William Clelland
Veteran profile: Ed Large
Veteran profile: Harry Sparr
Veteran profile: Lloyd Stanek
Veteran profile: Geoffrey Hart
Veteran profile: Joseph Vopicka
Veteran profile: Alan Herbert Burton
Columnists Charo Lloret and Kalpana Loganathan: Poppies inside out and outside in
— with files from The Canadian Press
Email Managing Editor Matt Preprost at editor@ahnfsj.ca.