A 50-unit affordable housing block, a potential new water supply, one new police officer, and $1 million a year for the city, with another $100,000 for area non-profits.
Those are some of the bigger items in a multi-million dollar draft agreement the City of Fort St. John is poised to sign with BC Hydro over the $8.8-billion Site C dam.
Fort St. John Mayor Lori Ackerman and council unveiled the details of the long-awaited community measures agreement with the Crown utility Wednesday evening at the Kids Arena Fieldhouse before a crowd of around 30 people.
Ackerman told the crowd in her opening remarks that city council's approach to negotiations with BC Hydro needed to be "pragmatic."
"We understood right from the get-go that our policies and our bylaws didn't supersede the project," she said.
"We needed to ensure that we were being proactive and looking to promote and protect our community because this project is only seven kilometres from our downtown."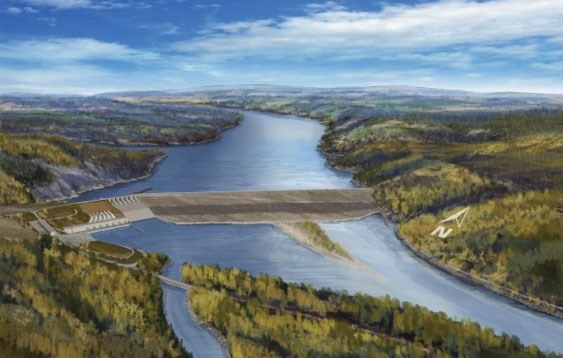 For the most part, much of the agreement is a reiteration of details first revealed in 2014 during public hearings on the dam. For example, BC Hydro's then-"final offer" of $1 million a year to city coffers during construction remains in place. However, BC Hydro will pay an additional 3.5 per cent compounded each year of construction, which is expected to take eight years.
The city plans to funnel that money straight into reserves for future capital infrastructure.
"We know that our RCMP building is going to need to be renovated, built anew, (or) added onto. There are sport facilities that people are asking for. When we started this conversation, a lot of these hadn't come up," Ackerman said.
Putting the money into reserves to help build new facilities will decrease future debt loads on taxpayers, Ackerman added.
The city will also see another $125 million over the next 70 years through BC Hydro's "legacy fund" for the Peace River Regional District, in which BC Hydro will pay the PRRD $2.4 million annually, indexed to inflation, for 70 years after the dam becomes operational.
Ackerman stressed the current council has not made any decisions on how to spend the $125 million, noting that will be for future councils to decide.
Meanwhile, BC Hydro will put $100,000 per year for eight years into a community fund for non-profit agencies in communities impacted by the dam. Details of that fund are still developing. BC Hydro will also give $75,000 to one or more charities agreed to by the city.
Hydro has already given $200,000 to the Salvation Army Northern Centre of Hope, and has committed $25,000 each to Sky's Place and the Meaope Transition House for women.
"We know there's going to be a social impact," Ackerman said.
RESERVOIR ACCESS
The city has secured access to the dam's reservoir for future domestic water needs.
As part of the deal, the city will be able to withdraw water from the reservoir at no charge, if it chooses to tap the reservoir as a new water supply source.
The city already sources its water from the Peace River through groundwater wells downstream of the where the dam is being built. However, a 50-year growth study for the city released last year warned of a water shortfall without facility upgrades or a new water source in place by 2018.
The city is already at capacity with its current supply, and has been drawing on reserve reservoirs to meet peak daily demands, according to the study.
While Charlie Lake has been tapped as an interim supply source, the study noted that the quantity and quality of the water only make the lake a short-term solution.
BC Hydro is currently paying to monitor the city's water for quality and quantity and will continue to do so.
"Water is important and we needed to make sure we were looking after our water," Ackerman said.
The city adds that it will hold BC Hydro to a commitment to develop a master plan for the reservoir.
"There are several aspects of this project that are still waiting for plans," Ackerman said.
85th AVENUE LANDS
BC Hydro is currently using 237 acres of land on 85th Avenue as a quarry to mine up to 4.8 million cubic metres of core material that will be used to build the earthen dam.
Hydro's takeover of the land, which the city had been eyeing for light industrial use in a boundary expansion, was estimated to cost the city $2.8 million in forgone tax revenue over the course of the dam's construction, public hearings were told in 2014.
Under the community measures agreement, the city says BC Hydro will support its application to bring the land into its borders post-construction. BC Hydro will provide a $50,000 grant to the local government responsible for the land post-construction to develop a site master plan.
"Once they pull all the aggregate out for the dam, it's going to need to be redeveloped," Ackerman said.
AFFORDABLE HOUSING
BC Hydro is working with BC Housing to build a 50-unit affordable housing project in the city.
During the dam's construction, 40 units will be used by BC Hydro for project managers working on the dam, while 10 units will be available for the city's use. The full 50 units will be turned over to a local non-profit when construction is complete.
A site for the project has yet to be chosen, but BC Hydro will work with the city to incorporate energy efficiency design and technologies into the project, similar to those seen in the city's existing Passive House on 94th Street.
ONLY ONE NEW COP
While details of an RCMP report on the dam's impact on crime and policing has yet to be publicly released, the agreement with city notes BC Hydro will be paying for the hiring of one additional officer during the dam's construction.
The city has not seen a boost to its provincial complement of officers for more than 20 years, and about 75 per cent of the city's current RCMP workforce is dedicated to enforcement inside city limits, council heard last summer.
OTHER HIGHLIGHTS FROM THE AGREEMENT:
• BC Hydro will pay the city $424,428 in recreation fees in exchange for four pool and four skating passes for each camp worker per year
• BC Hydro will inform local businesses of work opportunities and maintain its community consultation office downtown
• BC Hydro will provide the city with updates on workforce and camp population numbers annually, along with projections for the following year
• BC Hydro will monitor traffic volumes, and will discuss the needs of the city and the regional district if traffic volumes increase and need to be mitigated
• BC Hydro will track contractor and employee use of charter flights and provide updates to the North Peace Airport Society
• BC Hydro will provide camp workers with a shuttle service to the airport and the community
• BC Hydro will consider becoming a partner on an Energy Innovation Centre in the city
• BC Hydro has agreed to provide funding to the Northern Lights College Foundation over five years, targeting students who might not otherwise have access to post-secondary education
The deal will be officially signed in April.
In presentation materials, the city says it's been assessing the impacts of Site C on the community for decades. The agreement addresses 11 objectives that were identified through public consultations in 2011 and 2012, and delivered to BC Hydro in a position paper.
Once signed, the agreement will be a legally binding document, the city says.
"Anyone who remembers what's happened in the past with previous dams and the promises that were made, we were not going to spend this kind of time and effort on an agreement that was not legally binding," Ackerman said.

CITY DIDN'T GET EVERYTHING IT WANTED
Former Peace River Regional District director Arthur Hadland was on-hand for Wednesday's announcement, saying he believes the city did its best in negotiations but that BC Hydro is not showing sufficient commitment to the community. Communities like Hudson's Hope are "withering on the vine" due to previous BC Hydro development, he said.

"BC Hydro's a corporate monster," Hadland said.

Ackerman said there were some items the city addressed -- including the idea of a Peace River Basin Trust and a new bridge over the Peace River -- but acknowledged the city didn't get everything it wanted.

"We did do our darndest on this dam," she said. "There were definitely some areas we lost."

On the bridge, Ackerman said the idea was rejected by former provincial transportation minister Blair Lekstrom, as well as Dawson Creek and Hudson's Hope.

"Honestly, we tried, I don't know how many times we tried," Ackerman said, adding the idea of a toll bridge was floated as a possibility to industry.
A committee involving the city and BC Hydro will be struck, and will meet at least twice a year to manage issues arising from the agreement and construction of the dam. BC Hydro will provide the funding to support the committee, and has already provided the city with funds to cover consultation costs.
"BC Hydro appreciates the opportunity to work together with the City of Fort St. John to ensure a collaborative approach to mitigating impacts of the project and ensuring meaningful opportunities that benefit the residents of Fort St. John," BC Hydro CEO Jessica McDonald said in a statement.

editor@ahnfsj.ca