Gas prices might be back under $2 with plenty more room to fall but Fort St. John residents are still feeling the stiff arm of rampant inflation.
Inflation in B.C. exceeded the national rate for the second time in 2022, growing by 8% on an annual basis in July after showing signs of cooling a month earlier.
Canada as a whole saw inflation ease up, growing at a rate of 7.6% in July compared with 8.1% a month earlier, according to data released Tuesday by Statistics Canada.
B.C. has been on its own trajectory throughout much of the year, with inflation growing by 8.1% in May, 7.9% in June, and 8% last month.
Canadians, including Fort St. John residents, are feeling the effects of record inflation, from milk and gas to produce and meat.
Each week, we'll chart average local prices for common items found on grocery store shelves as part of our new shopping basket feature.
Gasoline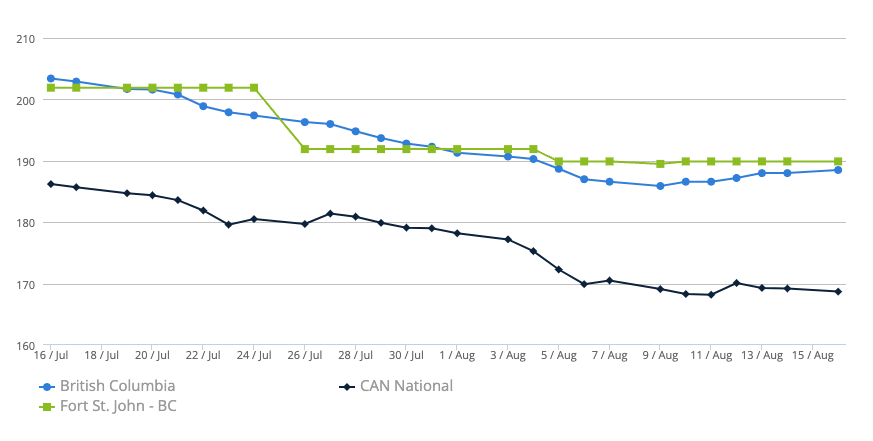 The price for a litre of regular fuel in Fort St. John is 189.9 cents, down 6% from 201.9 on July 16.
A litre of diesel is averaging 187.4 cents, down 12% from 212.9 in mid-July.
Nearby in Grande Prairie, gas prices are averaging 149.9 cents for regular fuel, and 156.5 for diesel.
Fort St. John prices are the eighth-most expensive in B.C., and 20 cents above the national average of 168.8 cents per litre.
The most expensive gas in B.C. will be found in Golden (199.9), Vancouver (194.5), and Squamish (193.9).
The cheapest gas can be found in Courtenay and Kelowna, where prices at stations were ranging between 176.9 and 177.9.
Nationally, gasoline prices came down for Canadians by 9.2% between June and July — the largest decline since April 2020 at the outset of the pandemic. But those decreases were offset by increases in airline tickets (+25.5%), hotels (+10.1%) and natural gas (+12.4%).
Stats-Can attributed the downward pressure on prices at the pump to a combination of factors, including ongoing concerns related to a slowing global economy, increased COVID-19-related public health restrictions in China, and slowing demand for gasoline in the United States.
"Inflation may be past the peak, but it's still pretty painful," BMO chief economist Douglas Porter said in a note.
"The early read on August is favourable with gasoline headed for roughly a 7 percent drop again this month, but there are plenty of other items that could frustrate a faster fall in overall inflation (we're looking at you, natural gas)."
Groceries
While gas prices declined, food prices at grocery stores rose at the fastest pace since August 1981, with prices up by 9.9% on a year-over-year basis compared with 9.4% the previous month.
Bakery goods are up 13.6% since last year amid higher input costs as the Russian invasion of Ukraine continues to put upward pressure on wheat prices. The prices of other food products also rose faster, including eggs, which are up 15.8%, and fresh fruit, up 11.7% since last year.
Our last shopping trip was Aug. 12, with the total cost of our basket just over $200. Average prices for a selection of items were:
Milk 2L: $4.31 skim / $4.52 homogenized
Butter: $7.14/lb
Eggs: $3.75/dozen
Oranges: $2.57/lb
Apple: $2.77/lb
Banana: $0.84/lb
Lettuce: $3.05/head
Carrots: $2.32/lb
Potato: $2.12/lb
Whole fresh chicken: $3.49/lb
Hamburger: $5.43/lb
White bread, loaf: $3.65
Whole wheat bread loaf: $3.71
Kraft singles: $5.49
Sugar, 4kg: $6.02
Robin Hood flour, 10 kg: $19.74
Nabob coffee, 300g: $7.49
Heinz brown beans: $2.09
Cheerios, family size: $5.50
Bick's dill pickles: $4.97
Cloverleaf tuna: $2.37
Cloverleaf sockeye salmon: $5.89
Tide 4.55L: $26.99
Dawn dish soap 1L: $4.73
Clorox bleach 3.57L: $6.86
Toilet paper, 12 roll: $10.65
Tu Nguyen, an economist with accounting and consultancy firm RSM Canada, said despite the decline in gas prices, the "pervasiveness" of inflation across the economy means there's still a ways to go before pressure on Canadians' finances eases substantially.
"It will be a while until households can breathe a sigh of relief. Wage growth continues to lag inflation, resulting in households losing purchasing power," Nguyen said in a note.
Weekly shopping basket
It's not cheap to eat good. You have to find ways to do that.
The items listed in our weekly Fort St. John shopping basket include a representative sample of commonly purchased brands, and items will change week-to-week as we benchmark the prices for staples in the average household diet.
In the coming weeks, we'll also be comparing house brands to name brands, highlighting local recipes, and sharing tips from experts on how to find savings in your food budget while maintaining a healthy diet.
If you have shopping tips or a favourite recipe to share, email editor@ahnfsj.ca
— with files from Business in Vancouver, The Canadian Press
---
Email your letters to editor@ahnfsj.ca