In case you missed it, there's still been plenty of good news in our community during these hard and uncertain times. The last month has seen residents step up to help others through the coronavirus pandemic, Good Samaritans make lifesaving roadside rescues, and our student athletes sign college deals and be recognized for their acts of charity.
Do you have a good news story to share, or a Good Samaritan that you'd like to see recognized? Email reporter Dillon Giancola at sports@ahnfsj.ca. 
Hope through arts and crafts
Cassandra Mervyn has been posting craft ideas and guided-draw video's on her Ms. Mervyn's ArtHouse Facebook page. The kindergarten teacher has been using this time to bring joy to kid's lives and some familiarity, through her art. 
She made and donated 50 art kits in March, collecting food for seniors, with 20 art kits going to the Women's Resource Society. 
"I want to keep doing whatever I can, and how to offer things for free. Doing art is a nice way to take your mind off everything, and it's good for kids to be able to see and connect with someone they know even while they are stuck at home," Mervyn said. 
Making the jump
Cousins Caden Brown and Ethan Semeniuk were both selected in the 2020 WHL Bantam Draft on Wednesday, April 22. Both players, who grew up playing minor hockey in Fort St. John, played for the Delta Hockey Academy in Vancouver this year. 
Brown was selected 17th overall in the first round by the Prince George Cougars, while Semeniuk was selected 56th overall in the third round by the Vancouver Giants. 
Birthday parade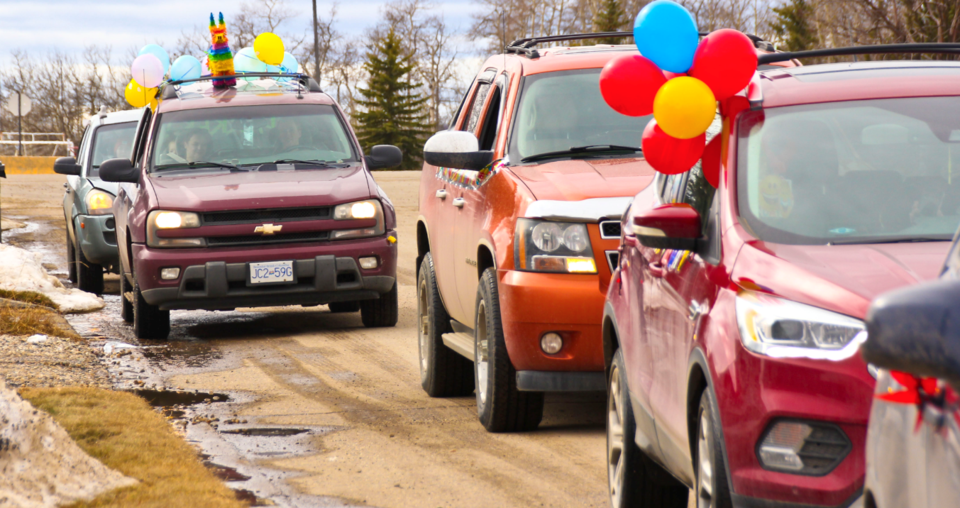 Birthday parades are happening more and more, and continue to put a smile on anyone's face who participates in a parade or sees one pass by. 
Michelle O'Laney donned a dinosaur costume and held a birthday parade for her son Parker Miller's third birthday, in place of his cancelled dinosaur egg hunt.
Seth Ryan's family held a parade for his 14th birthday in March. 
Road-side rescue
A driver travelling northbound on the Alaska Highway on April 14 lost control while passing another vehicle and rolled his vehicle into a water-filled ditch.
Two passing motorists and a local resident saw the submerged vehicle and were able to remove and revive the driver on the side of the road.
The driver was medevaced to Prince George in stable condition, and the Fort St. John RCMP commend and thank those who helped the driver, as their actions were lifesaving. 
Easter dinner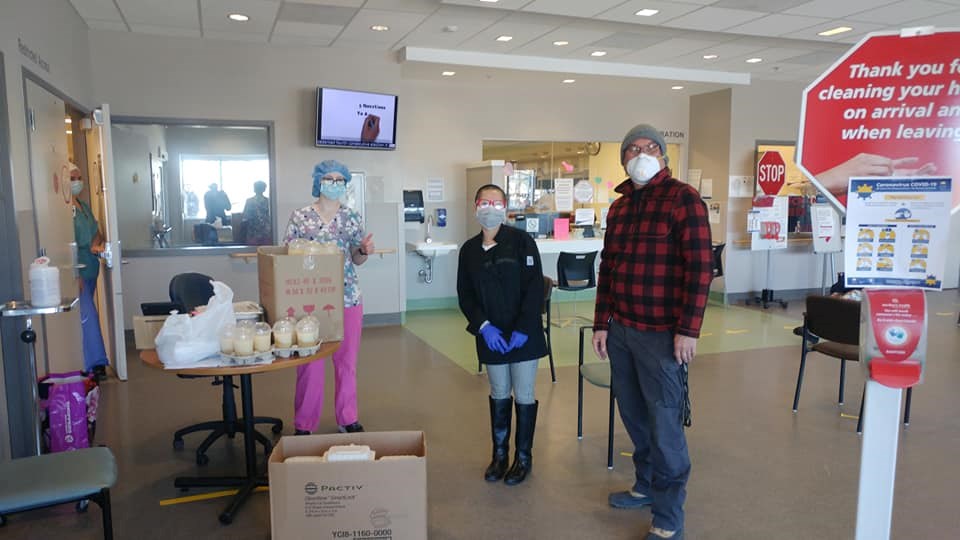 Fort St. John Caremongers Anna Chan and Alan Yu delivered 60 delicious Easter meals to staff at the Fort St. John Hospital on April 12, 2020. For lunch, they served beef and vegetable soup, Asian short ribs, shrimp rice, and a pearl milk tea drink. For dinner, they served Asian short rib salad, lobster and shrimp balls with chicken pho (noodle soup), and pearl milk tea.
Donations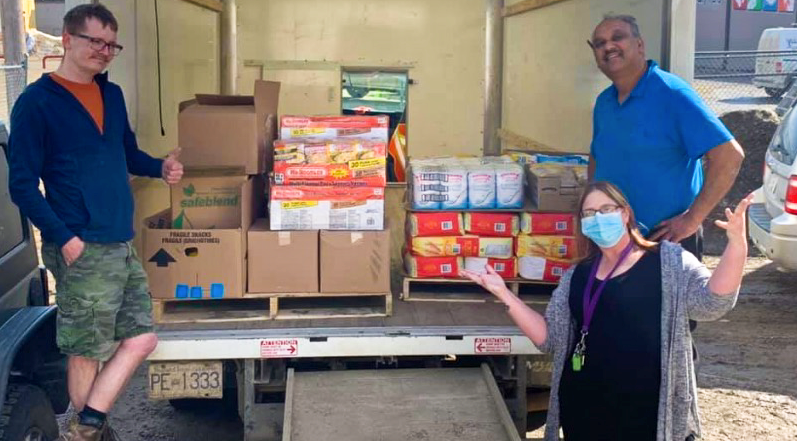 Those who are able have been giving to those in need, whether it's helping their neighbour with groceries or providing food and funds to charities. Kashmeer Aligour and KJA Ventures donated a truck-full of food and supplies to the Women's Resource Society on April 15. They have also donated care packages to the Abbeyfield House and Better at Home this week as well.
The Fort St. John Rotary Club held a drive-by food drive on April 11 for the Salvation Army Food Bank. In just four hours, the food drive collected $2,300 and 29 totes of food.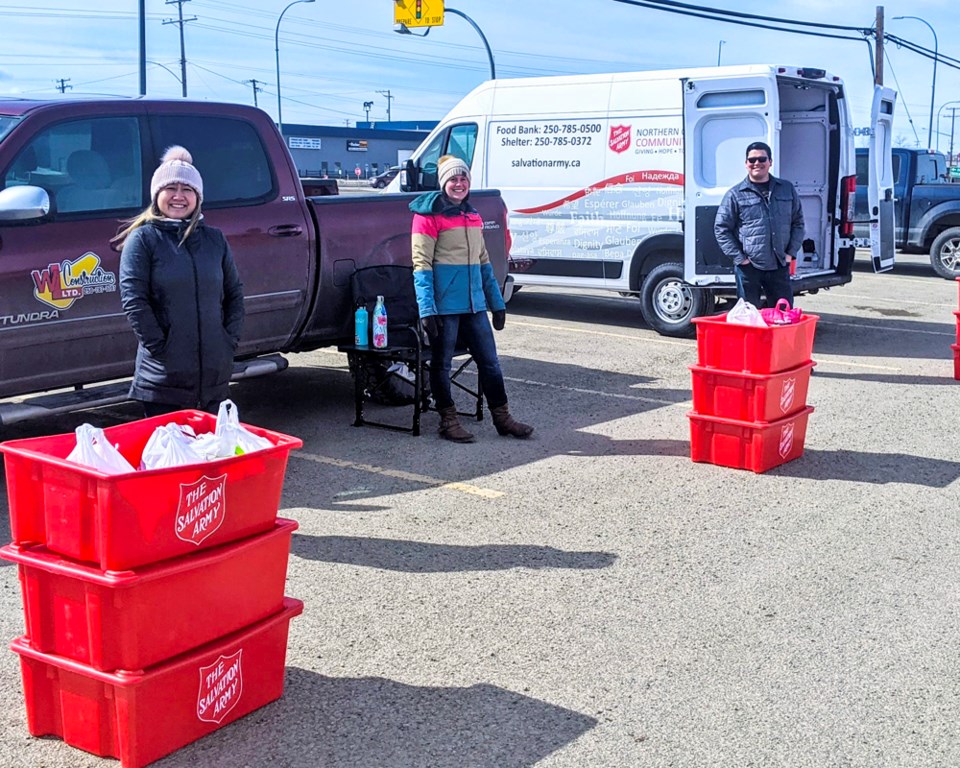 And the Northern Health region is getting significant donations to help it cope with the COVID-19, thanks to LNG development in B.C. LNG Canada has announced it will donate $500,000, with half of the money earmarked for Northern Health for procurement of equipment. Meanwhile, Coastal GasLink announced a $100,000 donation and partnership with United Way of Northern BC. Petronas also made a $50,000 donation to the agency.
Masks and scrub caps

For the last 30 days, people have been sewing masks and scrub caps at home and dropping them off at the Fort St. John Hospital, Peace Villa, and the MS Society, to name a few. These items have been greatly appreciated, and more are in need. 
"We are asking if sewers can please make more. Doctors, nursing and hospital staff honestly appreciate all of the help and support from everyone and they are completely blown away with everyone's support. Please keep them coming!" wrote Niki Hedges of the Fort St. John Hospital Foundation in a letter to the community. 
We can't forget to mention Koyne Kursteiner and Alpine Glass, which made an aerosol box for nurses at the hospital. The box is designed to enable physicians to intubate a patient while better shielding themselves from any aerosol particles that could be released from the patient's airway during the procedure.
And in March, Brogan Safety supplied and fitted doctors and nurses with face masks to ensure they don't contract the COVID-19 virus.
Rookie of the year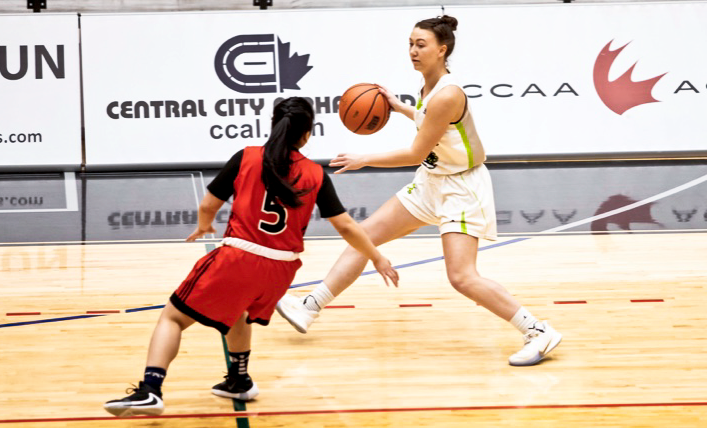 Celine Quigley was named Women's Basketball Rookie of the Year for her outstanding freshman season with the Red Deer College basketball team. 
"I was really excited and overwhelmed," Quigley said. "It was a really nice way to have some closure to the season."
Wishing seniors well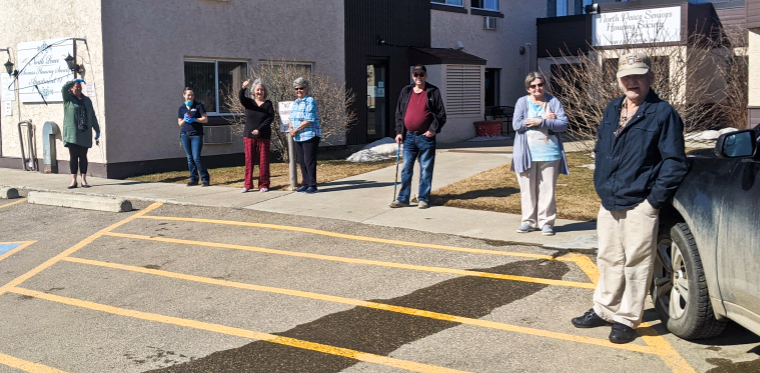 The first Seniors, We Wish You Well Parade went on April 15. Organized by Sabrina Trobak and Jodi Kramer, the parade saw more than 20 vehicles and families who drove around the North Peace Seniors Housing Society as residents and staff stood outside the building on the sunny day to take in the event and smiling faces. 
"We realized the tole that the COVID-19 situation is having on our mental health. Seniors are isolated in their rooms right now and not able to have visitors, so we thought this would be a helpful and fun thing for everyone to look forward to," Kramer said.
The parade will run every two weeks, with the next one set for April 22. 
Humanitarian of the Year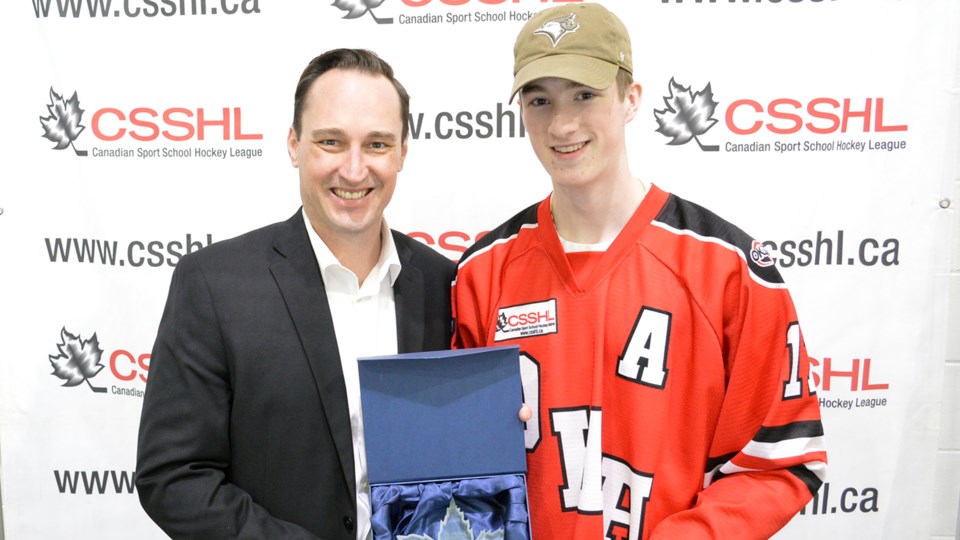 Tyler Musgrove was named the 2020 Canadian Sport School Hockey League Male Humanitarian of the Year.
Musgrove, who grew up in Fort St. John and played minor hockey with the Flyers, was recognized for his role in helping a single mother and her two sons during the 2019 Christmas season. 
Be a pen pal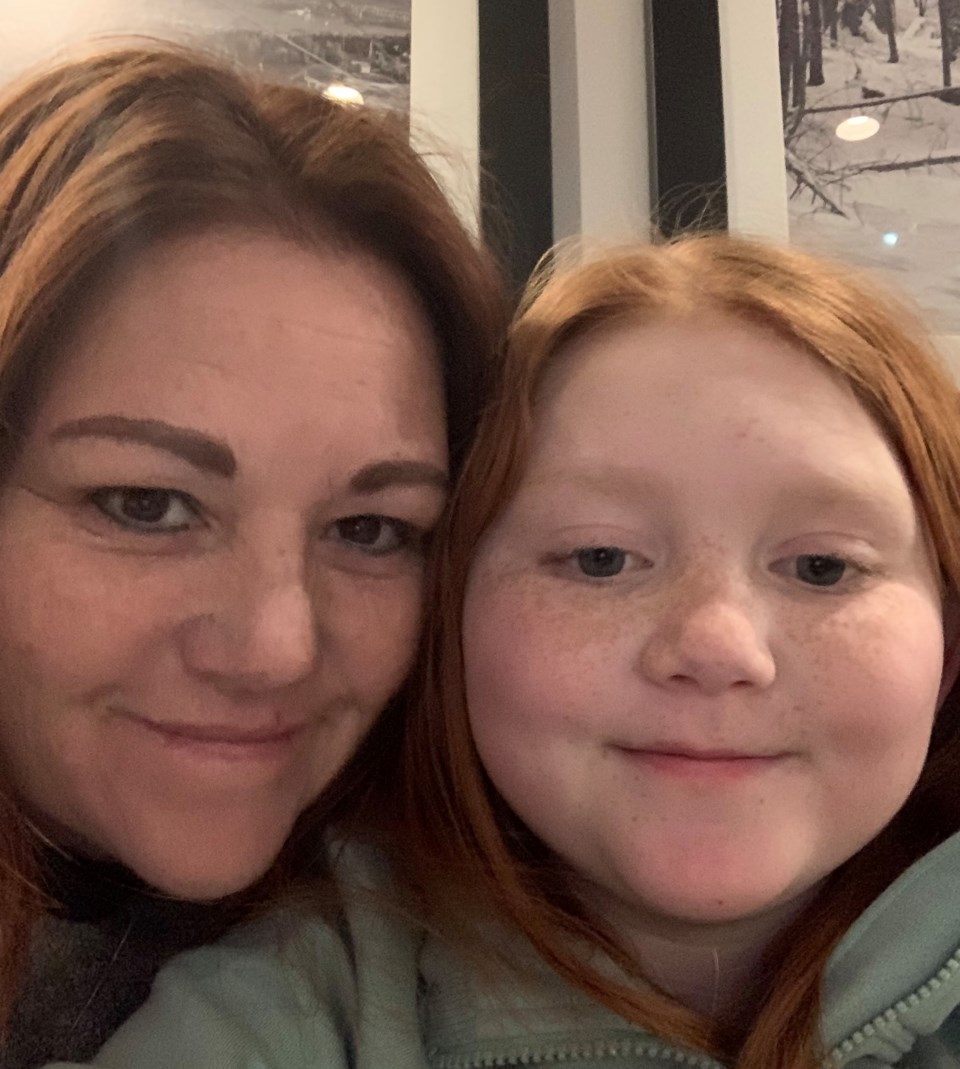 Friends and family of Adaura Cayford are putting together a pen pal campaign this week to bring her cheer as she continues her fight with cancer.
Starting on April 15, residents can drop off cards and letters in a bin outside the Canadian Grind coffee shop. They will be held in quarantine until they are safe to deliver.
Home of the Rockies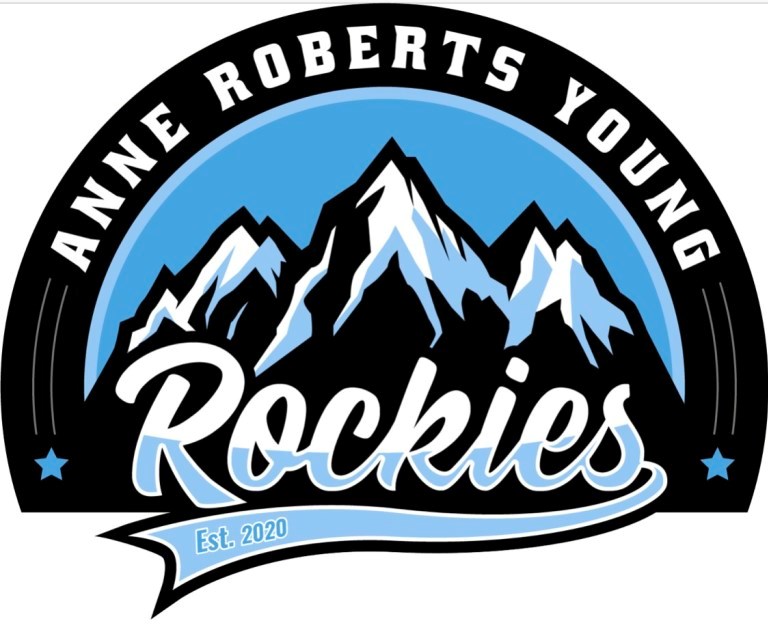 At the new Anne Roberts Young Elementary School, the school district is still aiming for summer completion and September startup, while education programming is full steam ahead. Principal Broyden Bennett and his future staff continue their preparations.
And the school now has an official team name and colours: the Anne Roberts Young Rockies and school colours are blue, black and silver.
Off to college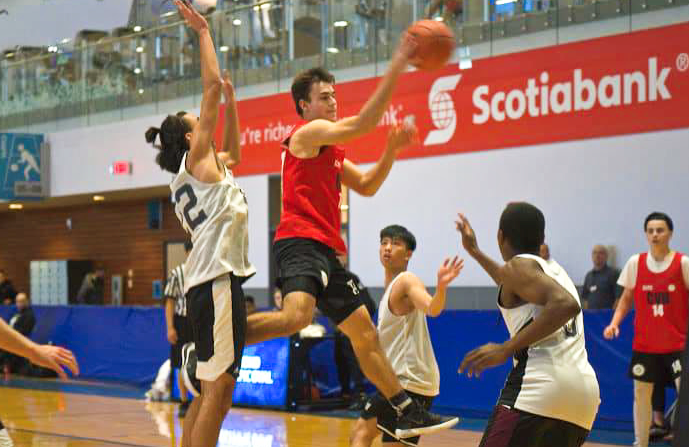 Liam Peterson has inked a deal to play for the Grande Prairie Regional College men's basketball team for the 2020-21 season.
Peterson will be studying business, and will begin the first year of his Bachelor of Commerce degree this fall.
League champs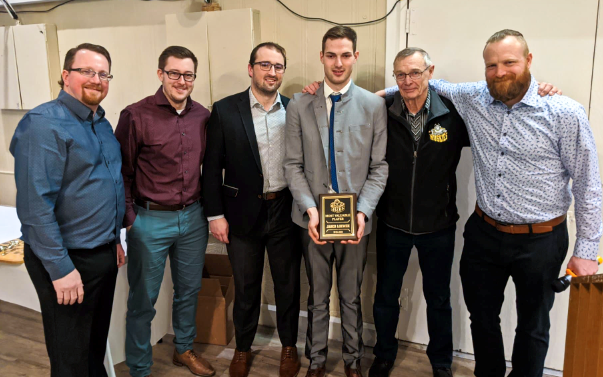 The Fort St. John Huskies were having their best season of the past 20 years, and were looking to win their third-straight NWJHL championship.
Though the team never got to play the series against the North Peace Navigators, the Huskies did take home the bulk of the league's annual awards. Jared Loewen won his second straight NWJHL Defenseman of the Year Award, and won his first league MVP award. Tyler McArthur won the Top Goaltender award, and Gary Loewen won the Top Scorer award.
Bright spark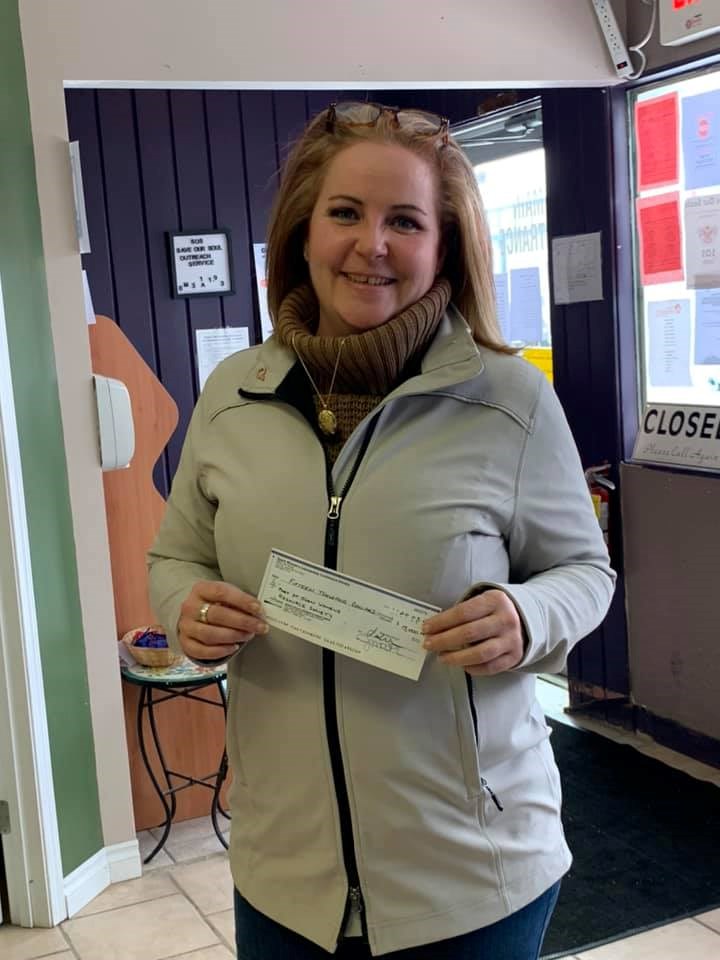 Plans for this year's Spark conference in Fort St. John may have been cancelled, but organizers still made sure to pay forward its continued support to the Women's Resource Society.
Conference Chair Jennifer Moore delivered a $15,000 cheque to the Society in March, a combination of its annual donation along with contributions from event sponsors Shell Canada and AltaGas.
Do you have a good news story to share, or a Good Samaritan that you'd like to see recognized? Email reporter Dillon Giancola at sports@ahnfsj.ca.