Around 300 people gathered in downtown Fort St. John on Tuesday to protest pandemic-related lockdowns and a World Economic Forum program known as "The Great Reset."
The crowd began to form outside MP Bob Zimmer's constituency office around 11 a.m., and reached its largest point around noon, when it culminated at 100 Street and 100 Avenue to listen to speakers.
One man, Monty Jones, spoke about one Toronto restaurant owner who made headlines last week for defying lockdown measures in Ontario, noting "he was taken away in handcuffs."
"The best way forward at this point for the interim is peaceful noncompliance," said Jones.
Fort St John RCMP detachment commander Insp. Tony Hanson said police monitored the protest through vehicle drivebys.
"We're just trying to find that fine line between public health orders and Charter rights," said Hanson, noting the crowd had dwindled to roughly 20 people by 1 p.m.
Said city spokesman Ryan Harvey, "Any enforcement would be related to Provincial or Federal laws, so the RCMP or Provincial authorized officers would handle them." 
A similar protest happened in Dawson Creek today.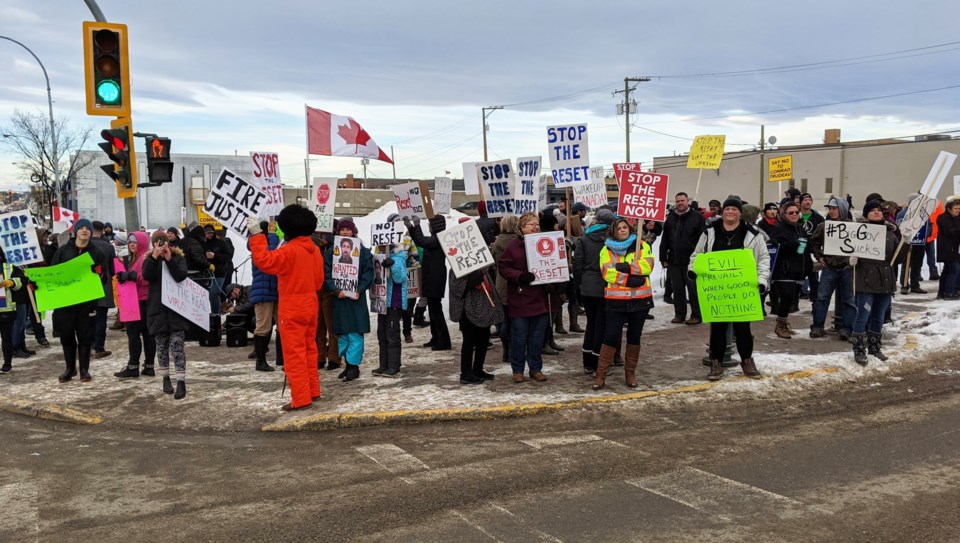 In recent weeks, Conservative MPs and commentators have seized upon remarks Prime Minister Justin Trudeau made earlier this year, calling the Covid-19 pandemic an "opportunity for a reset" during a speech to the United Nations.
Trudeau was referring to "The Great Reset," a World Economic Forum program that it says there is "an urgent need for global stakeholders to cooperate in simultaneously managing the direct consequences of the COVID-19 crisis."
Says the World Economic Forum: "As we enter a unique window of opportunity to shape the recovery, this initiative will offer insights to help inform all those determining the future state of global relations, the direction of national economies, the priorities of societies, the nature of business models and the management of a global commons."
To many, it suggests a plot to upend the current global order without meaningful consent from voters, and posts suggesting one is afoot have been gaining widespread traction online. 
Jones, who spoke at the Fort St. John rally, linked it to communism and technocracy, a political philosophy briefly popular during the Great Depression of the 1930s, but lost support to U.S. president Franklin D. Roosevelt's New Deal economic program.
"It's really important to understand what's driving it, and if it doesn't get stopped, where it's going to land us, as far as a society goes," said Jones.
MP Bob Zimmer criticized Trudeau's comments about an economic reset for Canada in a Nov. 25 op-ed, arguing that Canada's economy recovery should be focused on its natural resource industries.
"With so many Canadians struggling throughout the course of this pandemic, it is hard for me to believe that anyone would see it as an opportunity to reshape our entire economy. I also cannot believe that anyone would think this is the right time for an agenda that will create even more uncertainty," Zimmer wrote.
"It is becoming clear that the Prime Minister and the Liberals want to use the pandemic to implement a massive and risky experiment to remake the economy," Zimmer wrote.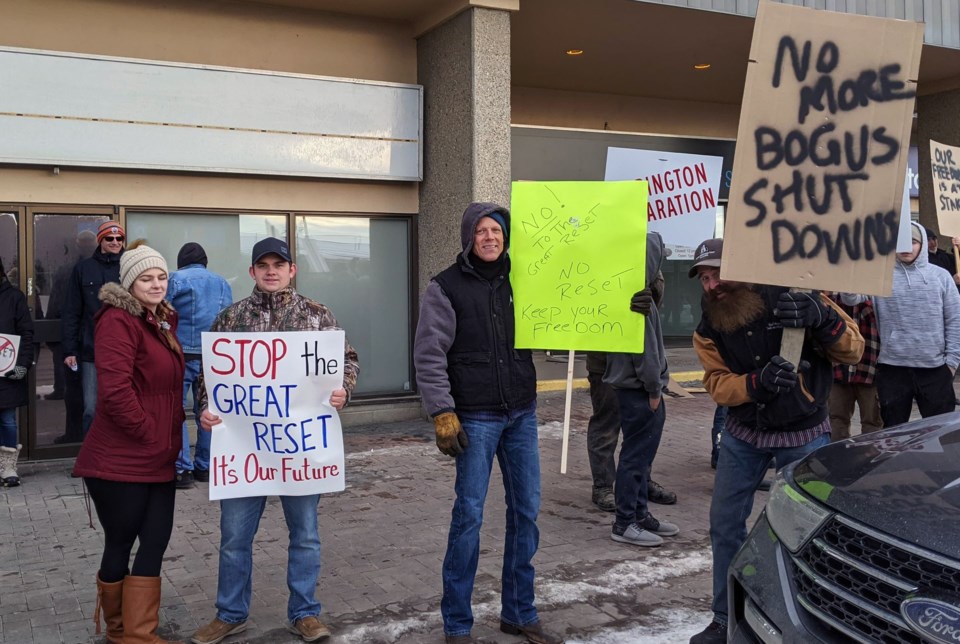 Trudeau has accused Conservatives of spreading misinformation and going down "rabbit holes" of conspiracy theories.
Trudeau says the pandemic is an opportunity to rethink how the most vulnerable in society are supported and to create better outcomes for all.
"I think we're in a time of anxiety where people are looking for reasons for things that are happening to them ... It's nice to be able to try and find someone to blame, something to point to, something to get mad at," he said.
"I think we're seeing a lot of people fall prey to disinformation and if Conservative MPs and others want to start talking about conspiracy theories, well that's their choice." 
— with files from Matt Preprost, Dillon Giancola, Tom Summer, The Canadian Press
Email Managing Editor Matt Preprost at editor@ahnfsj.ca.
[Eds. note: Updates comments from Jones, Zimmer, Trudeau, corrects typos.]