It's an honour of a lifetime for Gary Bath, standing guard over Canada's Tomb of the Unknown Soldier.
The Fort St. John resident began his duties in Ottawa earlier this month, one of about 18 military service members across Canada posted for the honourable service through the National Sentry Program.
A member of the 4th Canadian Ranger Patrol Group, Bath was eager to apply when the opportunity arose, writing about his family's military history as a reason why he felt he would be a good fit for sentry duty.
"I've had several family members in the military and several that fought in World War Two, and some that passed away during the war," Bath says. "It would be a great honour for me to represent Fort St. John and my family, Nathan Cirillo, and everyone else who's died in the duty of Canada."
"I was extremely excited when I got the email saying that I was chosen."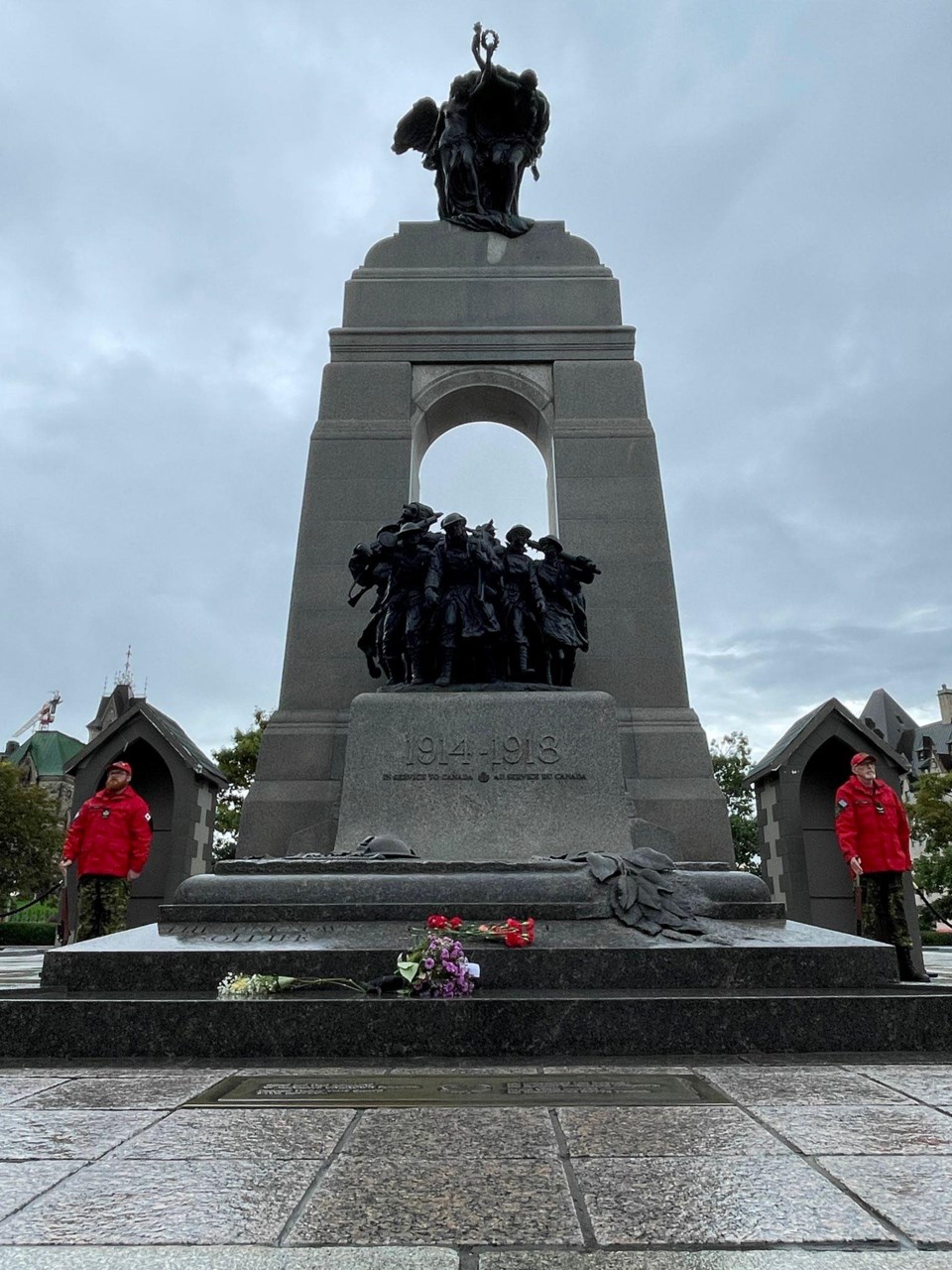 The tomb rests at the foot of the National War Memorial, a towering cenotaph featuring two sculptures representing goddesses of peace of loyalty. Beneath them, 22 soldiers march through a granite arch, dedicated to the memory of the Canadians who fought in the First World War, and to those who have served since.
The memorial was unveiled during a Royal visit by King George VI in May 1939. The tomb was added in 2000, a granite sarcophagus for the remains of an unknown Canadian soldier repatriated to Canada from a cemetery near Vimy Ridge in France.
Bath stands watch over the tomb for an hour a day, rotating guard and other public relations duties with fellow Rangers and Air Force members also taking part in the sentry program.
"Even though it's not really busy all the time, there's always somebody there to ask a question," says Bath. "People want to know about the monument, why we're there."
The Battle of Vimy Ridge during the First World War in 1917 saw more than 10,000 Canadians killed and wounded. Canada's victory in battle forged the nation's identity, and came to symbolize its independence from Great Britain.
"When they put his coffin in place there, they actually put soil from all the provinces and territories, and then they also put soil from the cemetery that he was repatriated from in Cabaret-Rouge, France," explains Bath.
"What we're doing is trying to keep people from climbing on it, which we've actually had to tell some people to get off it while we were standing guard," he adds.
"We assume that people just don't know there's an actual body there. While we might get a little upset about it we just keep in mind that they could be from another country, that they don't know that there's someone in there."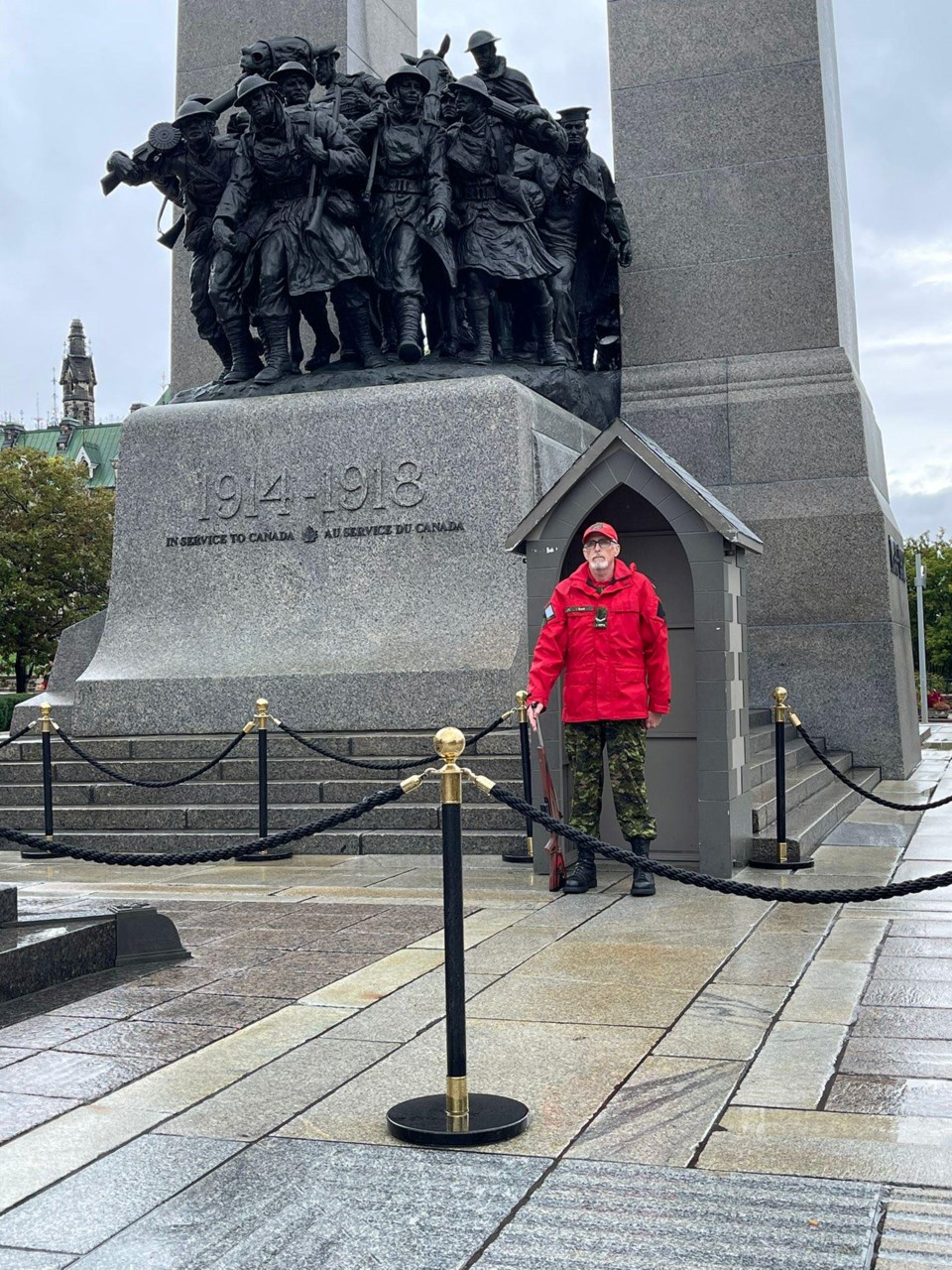 Bath will serve sentry duty until Oct. 22 and hopes to explore more of the nation's capital during his days off duty.
Standing guard before the sacred tomb and monument has been a humbling experience, he says, especially knowing the tragic story of Cpl. Nathan Cirillo, who was killed while on sentry duty in October 2014.
"It knocks you down a peg," Bath says. "It's very humbling. No matter how crappy you might think your day is, or how sore you are today, it doesn't compare to what they went through."
Friends for life
Many readers will remember Bath from when he made international headlines in November 2020, coming to the rescue of an American family stranded in a snow storm on the Alaska Highway.
Bath drove from Fort St. John to Pink Mountain to meet Lynn Marchessault and her children, and then drove them to the Yukon-Alaska border so they could be reunited with their husband and father.
Two years later, the friendships forged from that once-in-a-lifetime road trip continues.
"A lot of people ask if we're still in touch," says Bath. "She came up for my wife's birthday in April, spent the weekend with us and celebrated my wife's birthday."
---
Email your letters to editor@ahnfsj.ca