The streets were streaked with the colours of a rainbow Saturday afternoon as some 200 residents turned out at high noon to Fort St. John's first ever Pride Walk.
Young and old, two-legged and four-legged alike, marchers gathered at city hall before walking down 100 Street to honks and applause of support.
"Today we are making history in Fort St. John," said Tracy Nichols, one of the event's organizers. "Let that sink in.
"By being here today, you are showing the LGBT and two-spirited community that Fort St. John is a community where diversity and inclusion can thrive."
There was a moment of silence before the march began in honour of the 49 people killed and 53 others injured during a mass shooting at a gay nightclub in Orlando, Florida. 
"The fight for equal rights is not over," Nichols said.
"The horrendous tragedy that happened in Orlando is a reminder of why we are here today and why inclusivity, love and acceptance are important foundations for a peaceful community."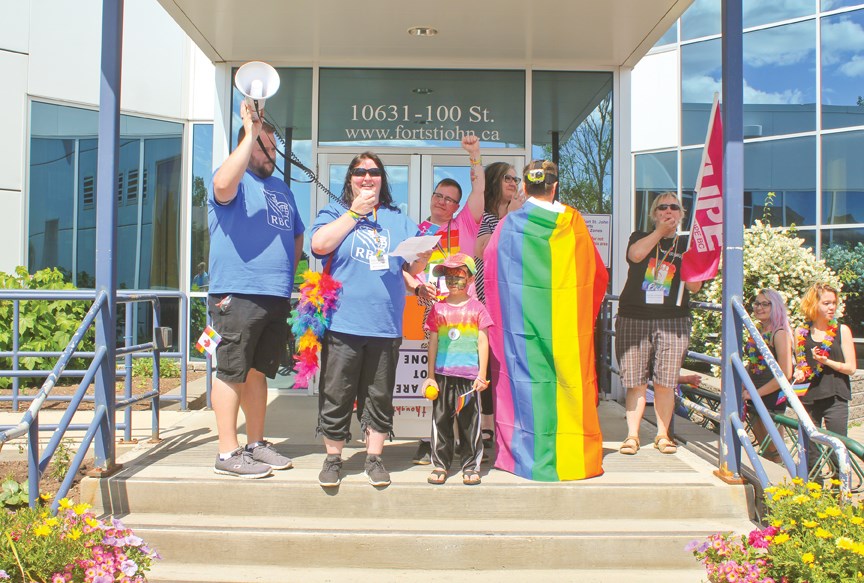 Lacey Keough was one of dozens of youth who turned out to the event. As an ally of the city's LGBT community, the 14-year-old said it was important to come out and support her LGBT friends.
"A lot of people, especially at a young age, are judged for being themselves," said Keough, who begins high school in the fall.
"A lot of people are closeting themselves or not wanting to express themselves fully because they're scared of judgemental people. It's kind of sad even after all this time, there's people out there who will go out of their way to put people down."
Keough acknowledged that not everybody supports LGBT communities or public displays of pride--something she said was OK, so long as it doesn't impede on the rights of others."
"It's fine if other people aren't supportive of this, but if they don't go out of their way to hurt anybody else it's fine. Everyone has the right to have their own opinion," she said.
"Everyone should be loved with equal rights. Love is love."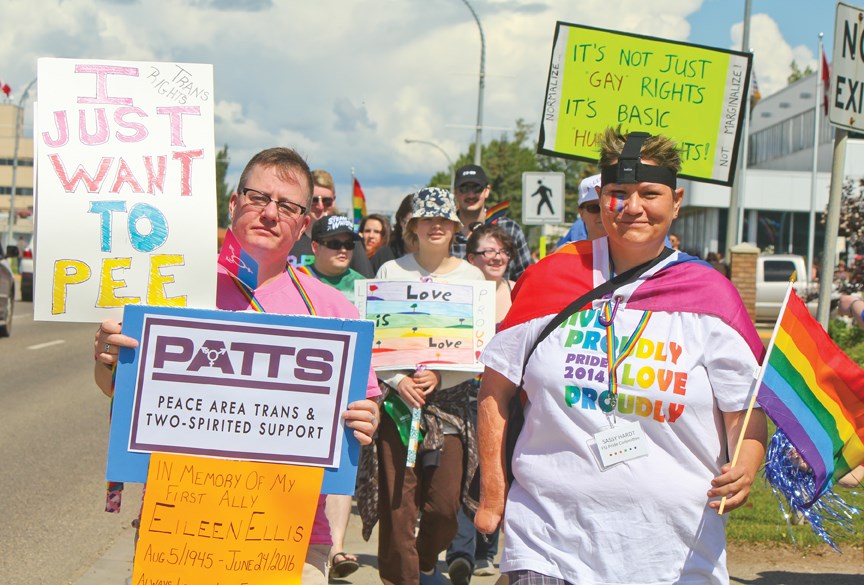 For  Celeste Joubert, who moved to Fort St. John three months ago, the large turnout was encouraging.
"It shows a sense of community and I think that it's a really good thing because often times people that are part of the LGBTQ+ community feel alone, but when I come to an event like this, it's like, there's other people who are having similar experiences, and it's really good," she said.
Her younger brother Reinhardt Joubert, 12, was by his sister's side, a rainbow painted on his face in a show of support.
Jennifer Fernandes, who attended with her partner and their two young boys, was amazed by the masses who congregated at city hall.
"It's good to see the whole community turn out, like it's really big numbers and it's really, it's just really awesome," she said.
"I feel good today to be a Fort St. John resident."
'They're both my moms'
The size and success of the parade, attracting around 200 people, most of them dressed up in rainbows and sparkles. surprised many.
"I was a bit nervous about getting involved. Fort St. John gets a reputation for being a bit of a redneck community," Heather Padderson.
"But seeing all these people here, and the support we've gotten, it's proof that this really really is a diverse town. I mean I've always felt accepted, but not everyone does." 
Her two sons, Jonah, 11, and Isaac, 5, were both decked out on Saturday with tie-died clothes that they did as a family, and rainbow painted faces. 
When asked why he came to the parade, Jonah said simply, "Because they're both my moms."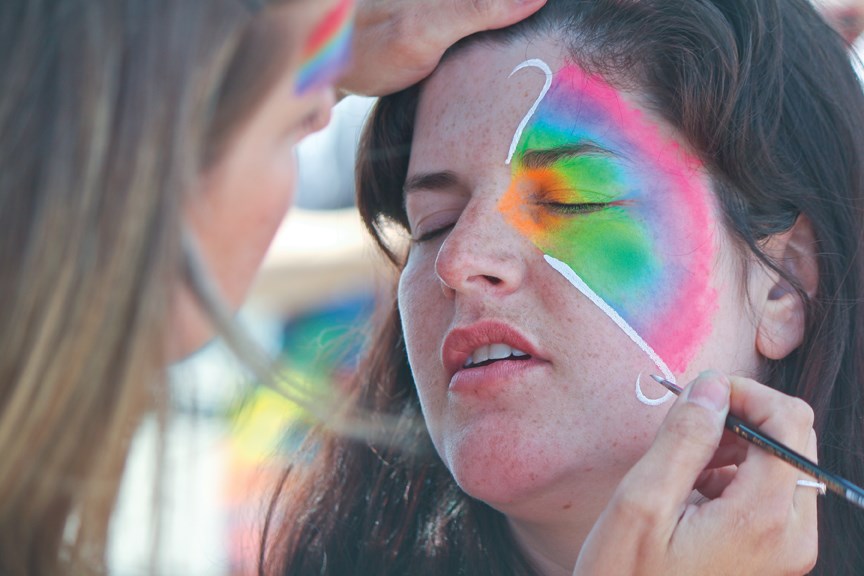 Padderson's wife Joan said, "It's a major thing. I never thought I'd see the day." 
Padderson used to co-ordinate movie nights and other events for the local LBGT community, but when she became pregnant with Jonah more than 11 years ago, the events sort of fizzled. Now she's on her way to completing a degree in social work, and plans to take up the role of co-ordinating and developing a resource centre for the community.
"The funding is there, there just needs to be someone to apply for it. So that's what I want to do," she said. "This is the start of a community. We hope to have a library, with resources and things. Vancouver has had this for 40 years. It's about time we did too."
Their sons have had no trouble at school when they tell their friends they have two moms. Kids might be a bit confused at first, but accept it easily. "We're raising a new generation of people who are aware and accepting," Padderson said. 
By the time the walk arrived at Centennial Park, it's ending point, organizer Trevor Johnson beamed with relief.
"I was terrified it would be really small," he said.
"It's amazing to see how many people came, and dressed up. I was worried no one would be able to tell it was a Pride parade, that it would just be 50 people walking."
Johnston was excited to see how many people, who he knows to be closeted, still walked in the parade and dressed up. 
"There's a lot of people here who are closeted, because they can lose their jobs," he said. "But I see people here who I know are majorly closeted, but they're still here, and they got dressed up."
Padderson is looking forward to making next year's event even better. "This year was a bit of a last minute thing. We're starting tomorrow to plan for next year," she said.
editor@ahnfsj.ca
reporter@ahnfsj.ca
peacereporter@ahnfsj.ca