Property sales in Fort St. John continue their red-hot rebound from the pandemic last year, with home sales up more than 60% and average prices still on the rise to a near five-year high.
According to the BC Northern Real Estate Board, there were 320 single family homes reported sold in the city at the end of September, for an average selling price of $391,808. That's up from 195 sales through the first nine months of 2020, and close to an average watermark price just above $400,000 last seen in 2016, according to data from the board.
"The economy in the north is recovering from the initial shock of COVID-19 while the construction of several large capital projects is once again underway," the board stated in a release, noting LNG Canada and the Coastal GasLink pipeline are now in year three of construction, while the Site C workforce is up nearly 10% year-over-year.
---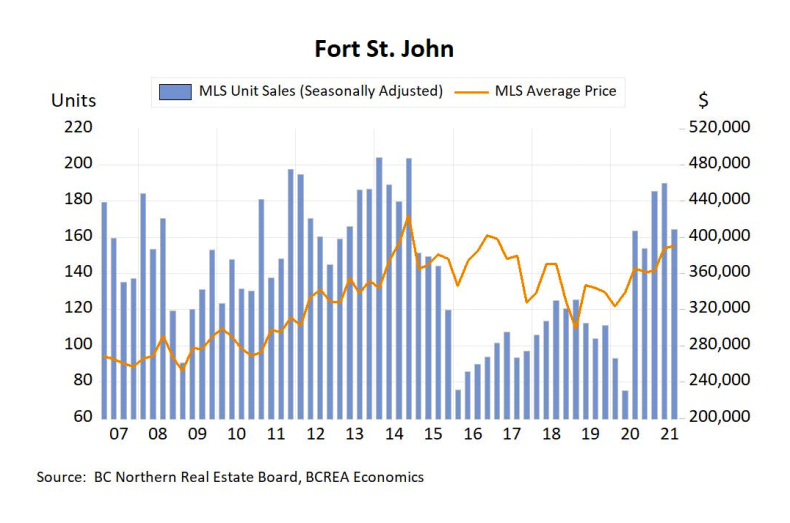 ---
In total, the board said 629 properties worth $242.4 million had been reported sold in Fort St. John through the end of September, up from 386 properties worth $137.7 million at the end of September 2020. That includes the sale of 60 half-duplexes, 92 manufactured homes in parks and on land, 70 homes on acreage, and 34 vacant lots this year, according to the board. Single family homes took an average 63 days to sell, with half selling for less than $370,000.
Northern B.C. as a whole is having a near banner year too, the board noted, with 5,300 properties worth $1.9 billion having sold so far. That's up from 3,709 properties worth $1.2 billion changing hands by the end of September 2020, and the board said sales are forecast to reach around 5,400, just shy of the North's all-time record of 5,564 sales in 2006.
Active listings continue to decline in the north while residential prices are up roughly 25% since the start of the pandemic, the board added, and up 3% from the second quarter to $394,310.
"The combination of near-record sales and record low inventory is driving prices to new records," the board stated. "With extremely low inventory of available homes and continued heightened demand, prices are likely to continue rising throughout the year."
---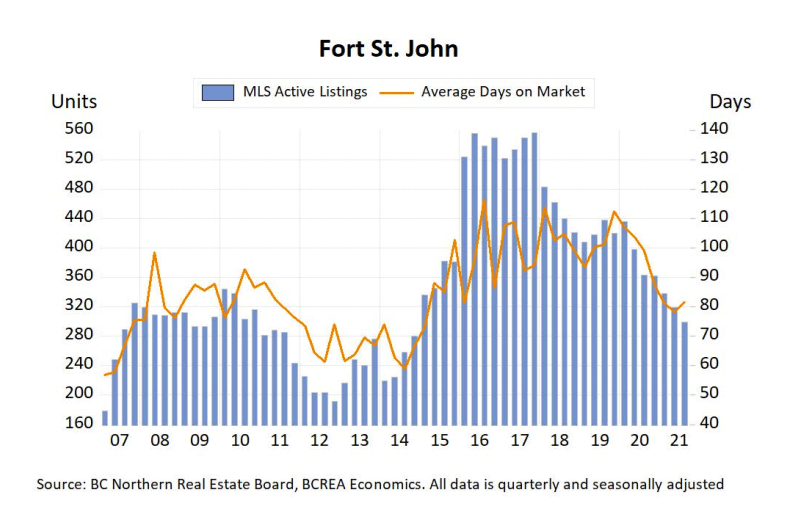 ---
The boon is being seen in Fort Nelson, where 71 properties worth $14.5 million have sold in the first nine months of 2021, compared to 58 properties worth $8.1 million at the end of September 2020, according to the board. Single family homes sold for an average of $202,983, up from $126,867 last year, and took an average 101 days to sell.
The board noted a positive economic outlook across the province, with preliminary forecasts from the BC Real Estate Association showing provincial GDP growth at 6.7% year-over-year in August, it said.
"BC retail sales are more than 10% above their pre-pandemic level, while housing starts are regularly hitting monthly records," the board stated. "Employment in the province is above the pre-pandemic period, although gains are concentrated among higher wage-earners."
---
Email Managing Editor Matt Preprost at editor@ahnfsj.ca