The century old Allen house from Baldonnel sure is looking good for its age these days.
The newly restored heritage home was unveiled Saturday, completing a years long preservation effort by the Fort St. John North Peace Museum.
Built in 1921 by local war veteran Bart Allen, the exhibit building tells the story of the changing lifestyle of a pioneering family after the First World War, and again in the mid-century 1950s and 60s.
"This is a good example of a second home you would have on the homestead; so rather than just your one room cabin this has three rooms downstairs: a kitchen, a bedroom, and a front room, and a bedroom upstairs for the children," said museum curator Heather Sjoblom after a grand opening tour.
"It gives you a better idea than some of our other buildings of what it was like to live here with a family."
---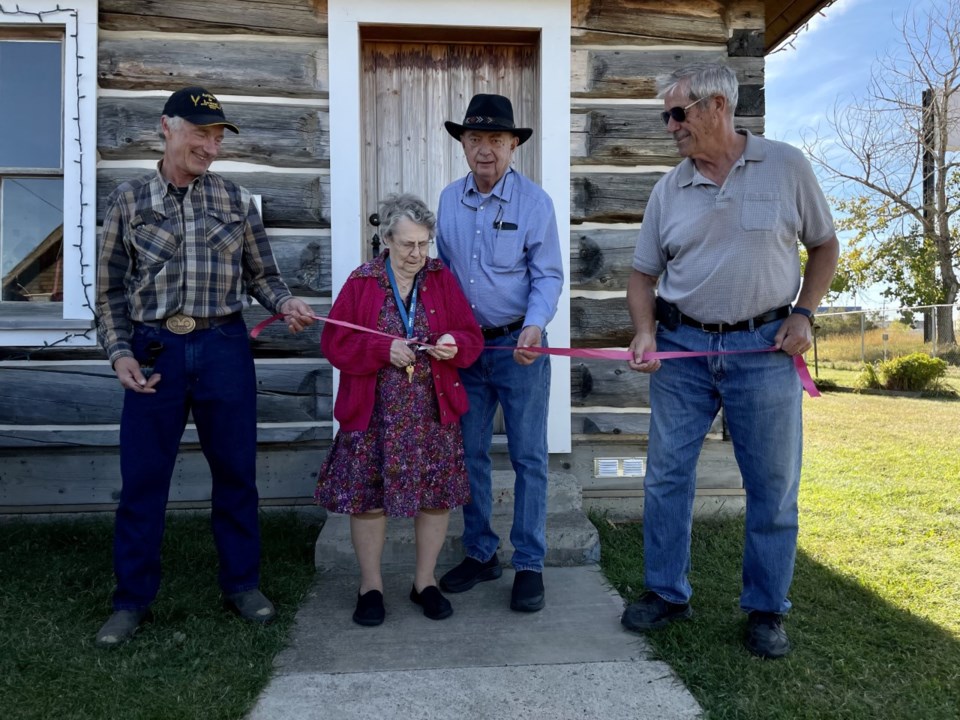 ---
The house is unique in that it features both the history of the early 1920s and 30s, as well as the 1950s when electricity was added.
"Although it never had running water, it's a big change of life. They now have a refrigerator," said Sjoblom.
The museum was first offered the Allen house in the 1980s, but couldn't commit to the project at the time. Ruth Large, Allen's daughter, approached the museum again in 2014, which took up the renewed opportunity.
The building was moved to the museum in December 2016, and the rest as they say was… well, a ribbon cutting.
"It's unbelievable. I didn't expect to see the house standing," said Large, who will be 88 this year, after taking a tour of what was first her childhood home, and later her own home in 1950s after she married and started her own family.
"There was no sense of it just sitting out on the farm and falling down if somebody could make use of it."
---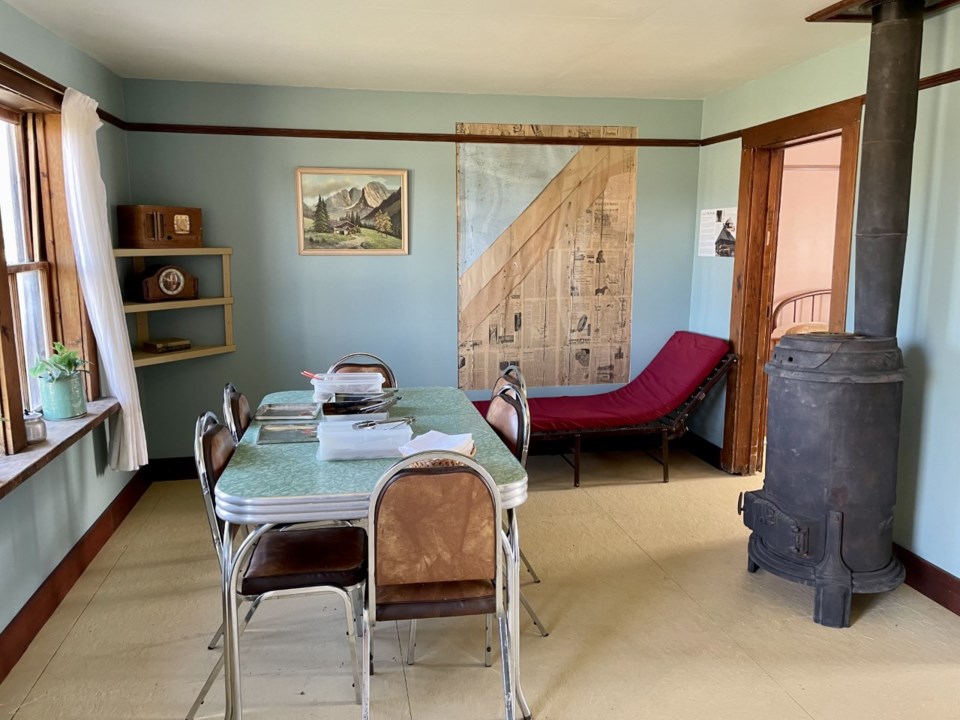 ---
Originally from Michigan, Allen acquired and registered the homestead in 1915. He fought in France with the No. 5th Battalion in No. 2 Brigade during the First World War, and applied for Canadian citizenship, returning to Baldonnel in 1920 with a soldier's grant of a second quarter section.
He bought a third section, and began building the log home in 1921. With his wife Winnifred and children Ruth and Floyd, they raised horses, cows, pigs, and chickens, while growing grain, potatoes, and other crops.
Ruth recalled a time her family played unexpected hosts to the local basketball team when it got stuck in a snow storm on the highway after a trip to Dawson Creek.
"They went for coffee instead of coming home and the road was blown full up to about our driveway," she said. "So we ended up with a few. There seemed to be a lot of them… they very well couldn't sit out in their cars."
---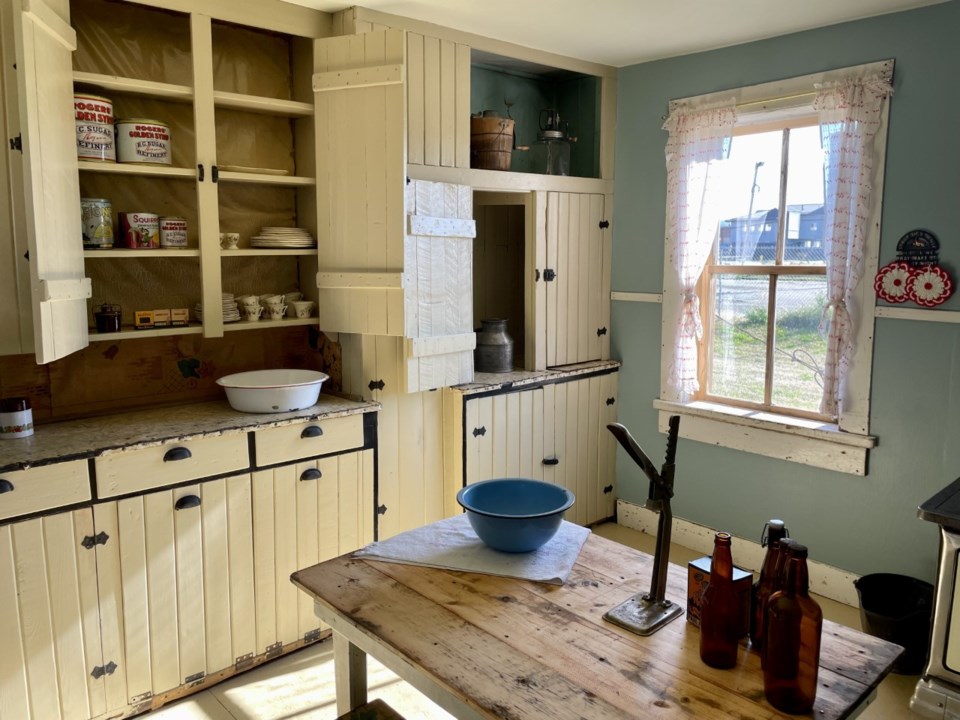 ---
The restoration cost around $80,000, supported in large part with grant funding from the Peace River Regional District. Sjoblom said the cost was kept low by contractors and by volunteers who put in thousands of hours of labour to replace logs, windows, roof, and doors, and to fix up the interior and develop exhibits.
"This is just not possible without their expertise and their time and skills," she said.
Ken Boon, who helped lead the restoration with Chris Paull, said the project came with a few more challenges than expected, as with any building being fixed up. But the final result was worth it, he said.
"To me this one is really special," said Boon. "I've restored a lot of different buildings both here at this museum and other museums, but this is something that our museum here didn't have."
---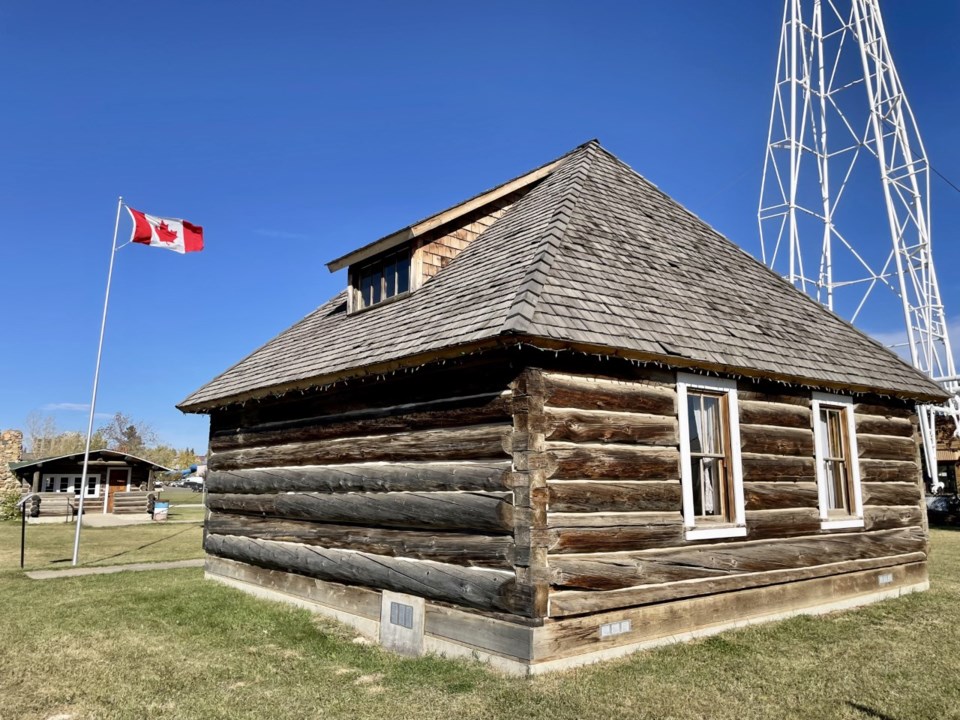 ---
"We're not trying to take whatever buildings we can. What we have tried to do is take in very special buildings such as the police barracks or the Paddy Carroll cabin or the chapel," Boon said.
"In this case, this was possibly the best example we could get of, not a quickly thrown-up type of homestead cabin for the winter, but a more higher quality, more permanent home once people got their feet on the ground and established, and had the time and the money and resources to poke away at a more permanent house."
Boon said the house is a good example of the transition from a basic log cabin to a log home with a framed interior complete with fancy finishings, cabinetry, and a stairwell to a second floor loft. Left exposed are panels of original 1928 newsprint insulation so visitors can read articles from that time.
---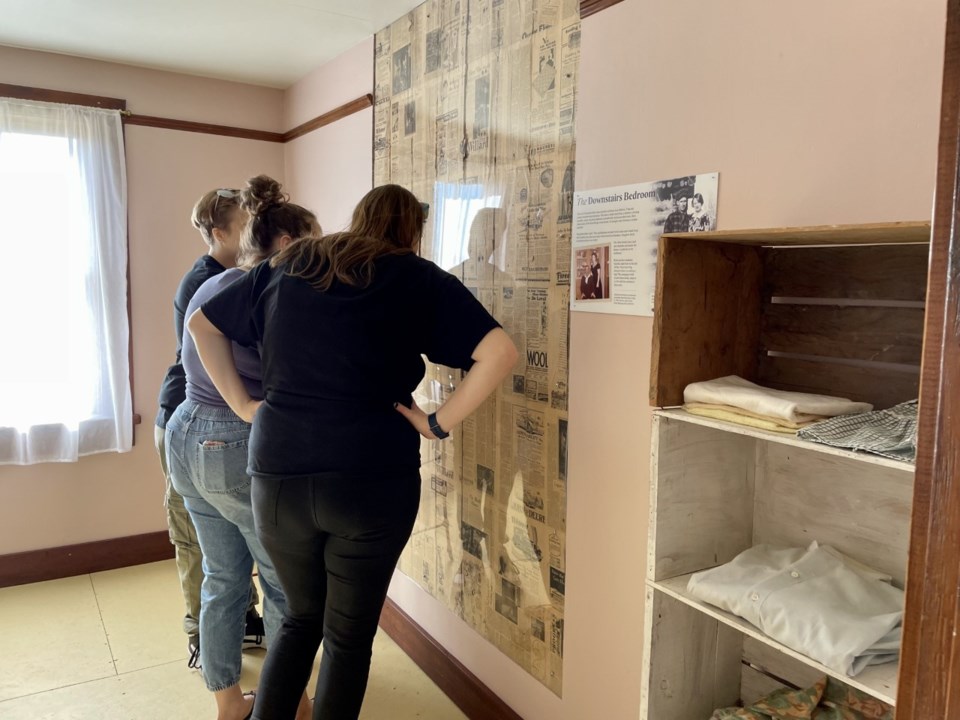 ---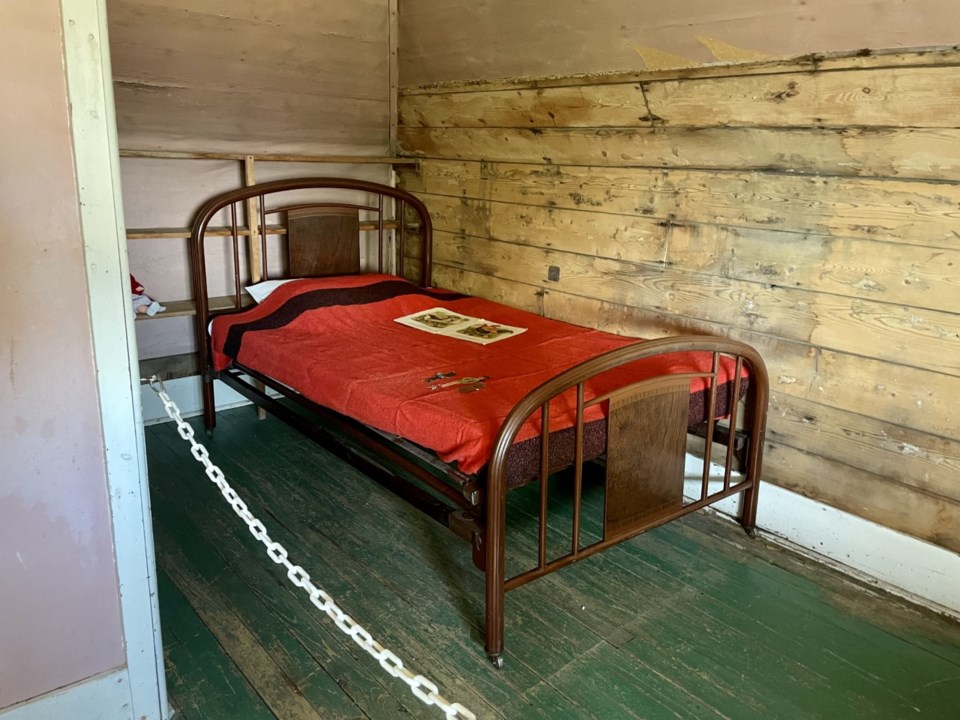 ---
And certainly for its time, Boon said, the Allen home was a really fancy, high quality house. "This is a real snapshot in time, a pretty amazing time in local history that we're not going to see again," he said.
Boon said the Allen family had found innovative ways to hide wiring when bringing power into the house, and that during the restoration process it was discovered just how close the home came to burning down at different times from fires.
"When we pulled the papering away from the walls in a couple places we seen in the vicinity of the stove pipes where they had just about lost it to a fire, especially in the stair case you can see that. We left that exposed," he said.
"These buildings to be here now, set up, and restored… this building literally had nine lives to get this stage and we're very fortunate that we have it here."
---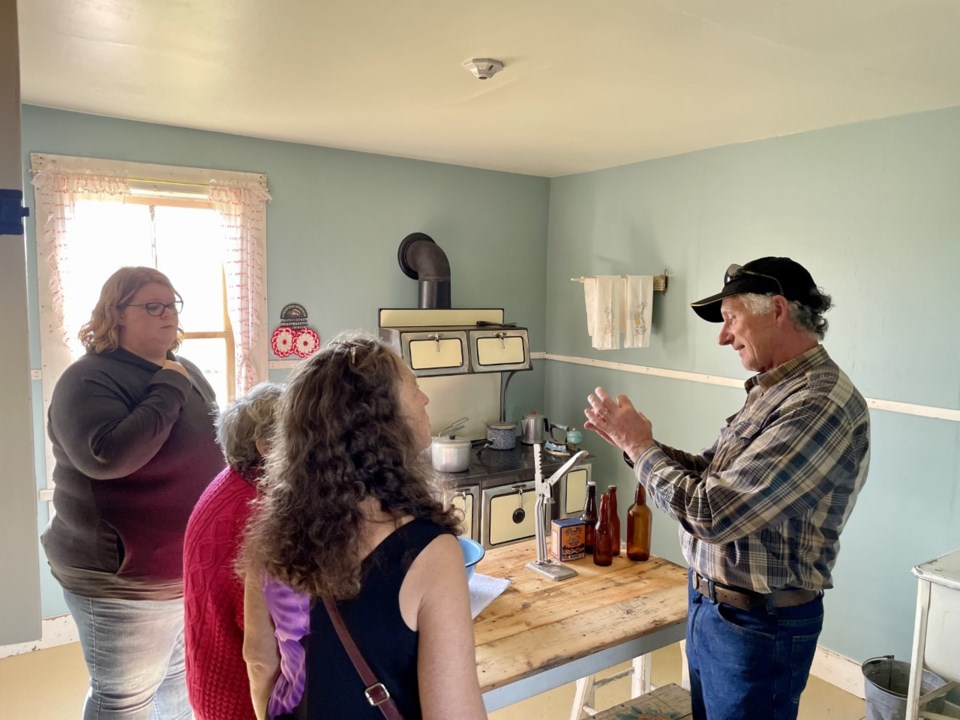 ---
The Allen house will be on display this week.
"It's amazing, it's been a long time coming," said Sjoblom. "It always takes a while to restore all the parts and have the funding and volunteer time to put a building together. It's fantastic to see it come to fruition and have the family here."
As for the museum's next building project, Sjoblom said that remains to be determined, though there are a few coveted heritage buildings in the region still out there worth preserving.
"It depends on what's offered: can it be afforded, how easy is it to move, and what kind of history does the building have," she said.
---
Email your letters to editor@ahnfsj.ca