The North Peace Fall Fair bestowed its annual pioneer of the year awards to four individuals on Sunday.
Ron and Noreen Kramer along with Gerald and Gail Peters won this year's recognition for their contributions to the North Peace agricultural community, as well as the fall fair.
Ron and Noreen Kramer
It is the Fair's 75th anniversary this year and Ron also turned 75 this year. They have been long time supporters, participants and volunteers. Noreen has pretty certainly been to every Fair in her 71 years!
Noreen was born and raised on the same land they farm and reside on today in Montney. Ron was born in Saskatchewan and moved with his family to this area when he was a very young boy. They both came from farming families and have ran their own ranching/farming operation their entire lives and continue to do so today.
The North Peace Fall fair has always been a huge part of their families summer plans. Noreen grew up entering many exhibits every year from baking, sewing, canning, vegetables, and horse classes. She has entered as many things in the fair each year as possible, and always encourages everyone around to do so as well.
For many years Noreen chaired the Llama show portion of the fair with her daughter Audra. Over the years they have helped with fundraisers and work bees. Ron and Noreen built the metal benches at the cattle ring. Together they also organized and ran the Beef on a Bun booth for a long time. They are second of four generations to support the fair in numerous ways.
More recently you can find Noreen in the antique tractor parade, driving her Dad's Case and even in the tractor pulls. And, of course, still bringing and entering her exhibits for the baking, canning, vegetables, fruit, eggs, sewing, etc. Ron and Noreen have been married for 52 years and have been going to the fair every year of their married life. Noreen has been to the fair every year of her life always entering different exhibits or animals.
Noreen's mother, Clara Mjogdal, was also a proud recipient of this Pioneer of the Year Award in 2001. What a great tradition and legacy in their family to have continued through the next generations. The family has said that some of their fondest memories together, come from time spent at the Fair.
Gerald and Gail Peters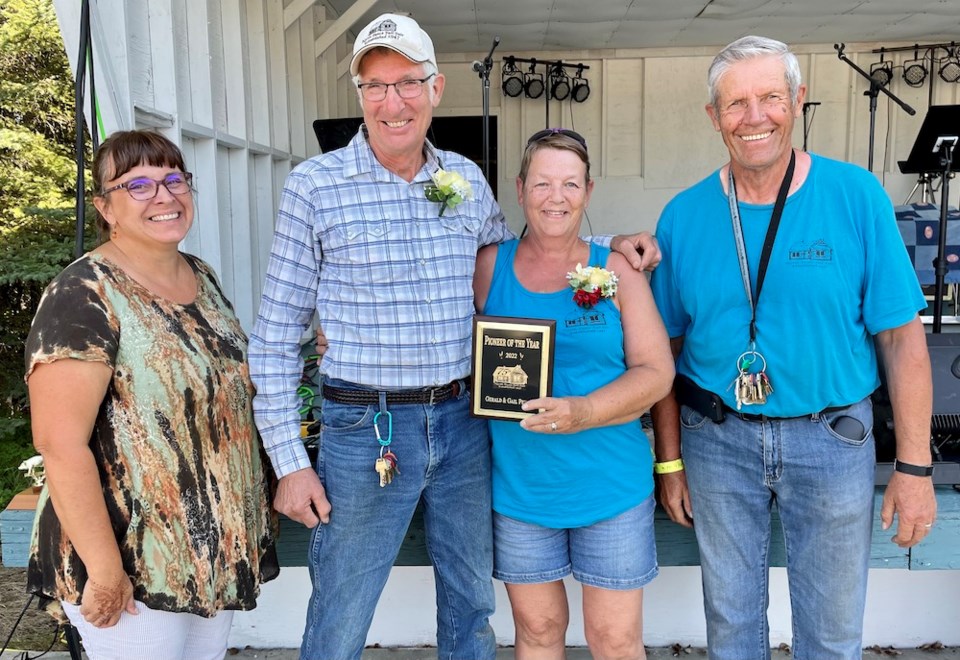 We're not exactly sure when they started volunteering with the Fair but we think it's around 25 to 30 years ago when they came in, giving of themselves and all their time.
They started off with being deeply involved in the Heavy Horse Pull. They spent countless hours making sure the Pull had something for everyone. There are many things to be done to run an event such as this and a lot of work to be done but Gail and Gerald always managed. When there were leaner years of volunteers, the Peters family always put together a great horse pull. When you're a volunteer, your family volunteers too. When they took a break from years of running the Heavy Horse Pull they went into even more volunteering with the Fair!
They have both held many positions on the Fair board Executive. Gerald has been past Vice-President and served as a director. Gail has been the Fair's secretary and Treasurer for many years now. One of Gail's unofficial positions was that of work bee cook and meal planner, an often unrecognized and vital position. Regardless of any position they have held, they have devoted an unreal amount of their time, equipment, fuel, and planning to make this Fair successful and possible.
Through the years there have been many projects big and small. For a number of years there was the construction of additional bleachers, lots of welding, building and moving about, road reconstruction, and the list goes on. There is constant fixing and maintenance of buildings and grounds every single year no matter what. There is not a bit of any building or space anywhere on the grounds that Gerald and Gail have not touched with their goal of improving it for others and for our community.
In more recent years, the drive to get the Adeline Kelly building constructed was spearheaded in large part by Gerald, who spent countless hours prepping the grounds, and arranging the gravel and dirt work. There are many things that need to be organized in the weeks leading up to the fair such as: bathrooms, light towers, garbage cans, and Gerald looks after many of these arrangements.
If there is a problem, or something broken or not working, Gerald is there trying to fix it, and if he can't, he knows who to call. The dedication and commitment shown to the fair by these two special people over the last few decades is immeasurable.
---
Email your letters to editor@ahnfsj.ca