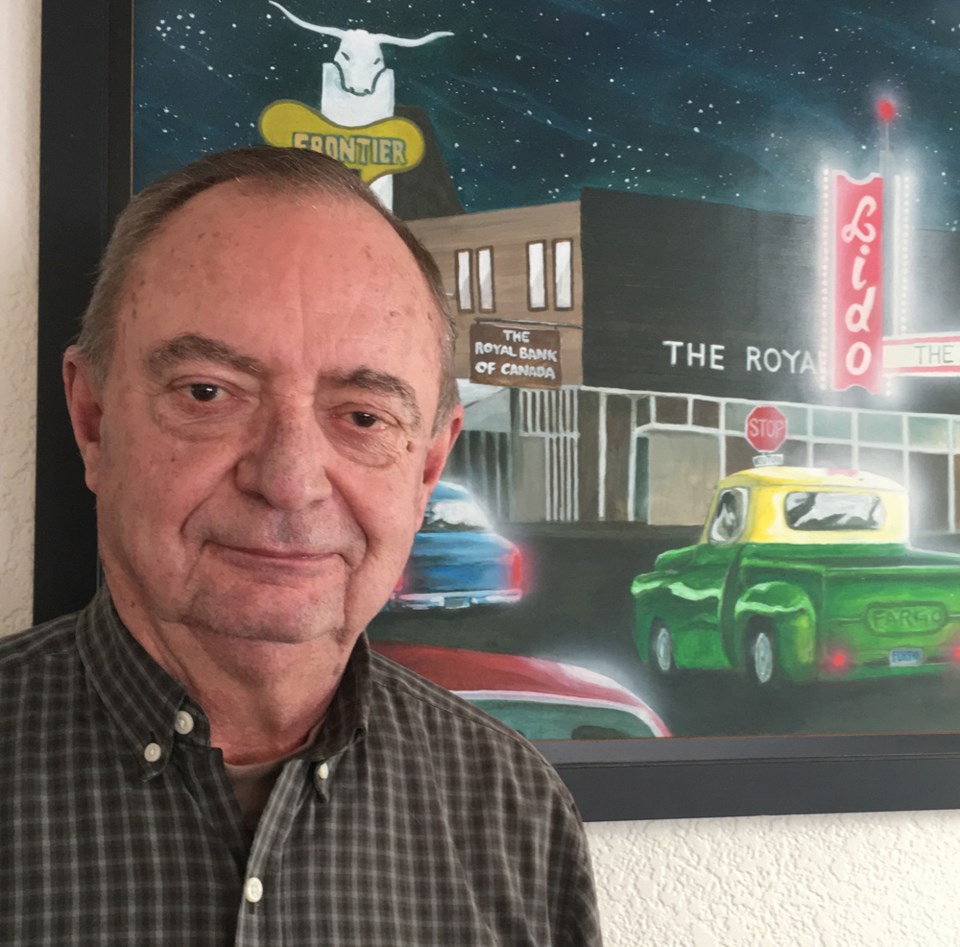 Playground season is upon us and Fort St. John is fortunate to have a multitude of playgrounds scattered throughout the City. They are well maintained and looked after by the City. I was happy to note recently that they have plans for improvements to Kin Park. I'm proud to say that I had a small part in this park as I was in Kinsmen when they started to develop it. It eventually became part of the City, and became one of the more popular parks and playgrounds we have.
There is a playground in the northwest area of Fort St. John called the Pickell Memorial Playground. To my knowledge it was the first playground, outside of schools, that was built in Fort St. John. In later years Pickell Playground was sponsored by the Lions Club but was eventually taken over by the City of Fort St. John.
The following story is about how the playground came to be and the man it was named for. This was in my neighbourhood and Kenny and I always liked to tell people we built it, which was more than a slight exaggeration, but we did have a part in bringing it into existence. When Mr. R.L. Pickell donated the land, it fell upon the citizens of Fort St. John to build the playground. The land had been cleared for farming so was just mostly covered with weeds. This is where Kenny and I came in, along with most of the other kids in the neighbourhood.
A lady by the name of Mrs. Helen Campbell organized all the kids in the neighbourhood for a work bee. We were asked to bring hoes, rakes shovels and grass whips. Kenny and I brought our Dads' grass whips, you could do more damage with them. One Saturday, us kids and a few adults, to keep us on track and make sure we didn't do any damage to each other, descended on the empty lot and cleaned it up. It became a hangout for all the kids in the neighbourhood and it wasn't very long until we had swings, teeter-totters as well as Kenny and my favourite — a maypole, courtesy of the good citizens of Fort St. John.
We weren't sure why it was called a maypole but it was fun. It was a tall steel pole embedded in cement with a flat iron plate on the top. From this plate hung a number of chains at various lengths with rings attached to them. The plate on the top spun around, you held on to a ring and had a big kid push you until you were spinning around about ten feet off the ground going a hundred miles an hour, or so it seemed.
Over the years the playground has seen many changes along with at least two or three generations of kids. At the time of construction of the playground the location was on the edge of Fort St. John. With the massive residential construction west of the playground it wasn't long before the new residents of Fort St. John discovered this little playground! So following is some information about the man that so generously left a legacy to the children of Fort St. John that has lasted many decades.
Robin "Leo" Pickell was born in Bolton Centre, Quebec, in 1878, and was 82 years old when he died on October 22, 1960, in Fort St. John. Mr. Pickell was a veteran of the Boer War, going overseas with the Canadian Mounted Rifles. He came west to work as a ticket agent for the CPR in Edmonton. In 1923, he was sent to Fort St. John as telegraph operator for the Government Telegraph Service. This was to relieve the telegraph operator for a few weeks, but he liked the Peace so much he never left!
During his long stay in the North Peace, Mr. Pickell was telegraph agent, postmaster, justice of the peace, magistrate, and one of the first commissioners for the Village of Fort St. John. He was a member of the Canadian Legion, the BPO Elks, and an enthusiastic curler.
Robin and wife Flora celebrated their 49th wedding anniversary a month prior to his passing. Mrs. Pickell, a colourful pioneer in her own right, was the great-granddaughter of Colin Fraser, twin brother of explorer Simon Fraser. Son Cecil had three daughters, Donna, Robin, and Carey Lea. Son Owen was killed in action with the RCAF in 1943. Son Bill was married to teacher Jessie Pickell, having two kids, Pat and Ted. Bill was killed in a car accident in 1957, the year after his riderless horse led the rodeo parade with boots turned backwards in the stirrups.
When Mr. Pickell first came to the Peace River country there was still considerable boat traffic on the river. He recalled the D.A. Thomas, one of the early river boats, was still making three to four trips each summer from Hudson's Hope to Peace River Landing in Alberta. When he came to the North Peace side he rode up the Peace aboard the Weenusk, a Hudson's Bay craft. There were practically no roads through the area then and what few there were weren't any better than pack trails. Mail for the North Peace came in by Rolla and Pouce Coupe. At that time there was no Dawson Creek.
Carrying mail in those days was a hazardous affair and being a postmaster had its ups and downs. He used to recall the narrow escape of Douglas Cadenhead, at that time bringing in sacks of letters from Rolla. Part of the route Cadenhead travelled lay over the ice of the Peace River. Carrying a load of Christmas mail of the district homesteaders, Cadenhead's team of horses plunged through the ice a few miles from Fort St. John. It was a rude welcome for the sole passenger. Making her first trip into the district was a girl from the coast, coming to teach a pioneer school. Although 40 below, the settlers were successful in salvaging the outfit and the cargo but the 40 bags of mail soon became 40 blocks of ice. It took two days to thaw out the bags and Mr. Pickell's cramped postal quarters were like a Finnish steam bath, festooned with hundreds of soaked envelopes with the glue coming apart and running ink making the addresses almost illegible.
Mr. Pickell lived to see his dreams come true and enjoyed every minute of the Pickell Subdivision development.
---
Larry Evans is a former fire chief, city councillor, and lifelong historian living in Fort St. John.