Louisiana Pacific says it will restart its Peace Valley OSB mill in Fort St. John this year.
In a 2020 earnings call with investors on Tuesday, the company said the restart will help meet "intense customer demand" in the U.S. housing market. The company plans to spend $10 to $12 million on the mill this year, with the earliest expectation for a first press load in the third quarter, said LP Chairman and CEO Brad Southern.
"It is clear our customers need additional volume. Looking further into the future, long-term demographic data, and a structural undersupply of housing suggest continued tailwinds for demand," Southern said. "As a result, we have begun the process to restart production of OSB at Peace Valley. Our goal is for Peace Valley to become a low cost leader in the industry."
The mill was curtailed in June 2019 due to a drop in U.S. housing starts and low commodity OSB prices. Nearly 200 mill workers and hundreds more contractors were put out of work.
In its update, Louisiana Pacific reported net sales increased by 21% to $2.8 billion in 2020, with a net income of $499 million, or $4.46 per diluted share.
OSB sales increased by $256 million to $428 million, of which $246 million was due to OSB prices, the company said. Meanwhile, single family housing starts in the U.S. were up 12% in 2020.
Southern told investors the consensus for 2021 housing starts has climbed over the last several months to 1.5 million units. Seasonally adjusted, December starts were 1.6 million and permits were 1.7 million, suggesting continued strength in residential construction, he said. 
Peace Valley has a production capacity of around 750 million square feet, and a ramp up to full production is expected by the second or third quarter of 2022.
Southern said the company has begun the necessary engineering, capital, and rehiring planning to support the restart. He said the company kept the Peace Valley mill ready to reopen for when it was confident there was sustainable market demand to absorb its capacity.
"We will continue to monitor the housing outlook, OSB demand, and channel inventories to gauge proper timing for the restart," Southern said.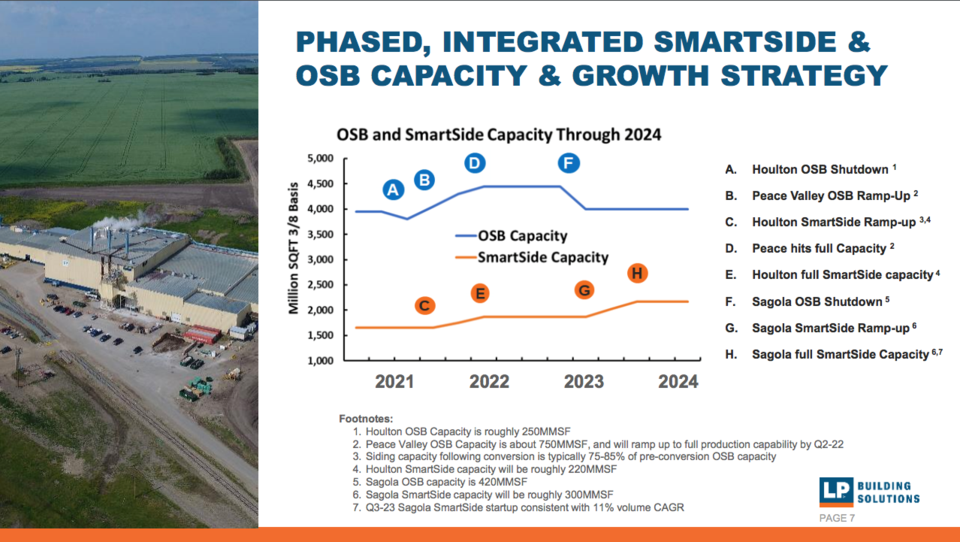 The mill is the city's largest taxpayer, and news of its restart was welcomed by the city's political and business leaders.
"Council is very pleased that LP Corp will be reopening the mill. This will provide both direct and indirect jobs in the region at a time when other areas are struggling," said Mayor Lori Ackerman. "We will work with their executive team to the extent that we can including ensuring that our moveuphere.ca documents are up to date and meeting with any prospective newcomers to the community to assist with onboarding."
Said Fort St. John Chamber President Chuck Fowler: "The news of the LP bring Peace Valley OSB back online is welcoming news to Fort St John and District Chamber of Commerce. Forestry is a integral part of our region's economy and keeps us diversified. The resulting direct hires and spin off job created with the mill opening is exciting news for the region."
MLA Dan Davies said he's been paying attention to recent activity at the mill.
"It's good to see one of their shining, top mills back up and running again," Davies said. "I expected this was coming. They've been hauling logs into the mill for the last couple of weeks."
Davies said the timing of the restart could also benefit from improved housing starts expected in Canada later this year, and as other major infrastructure projects ramp up after idling through the COVID-19 pandemic.
"As everybody is ramping up to get things done that they've been putting off, I worry where are the workers going to come from," Davies said. "The government needs to be paying very close attention to this. The jobs minister, the labour minister, should be working closely with advanced ed. Trades have always been short."
MP Bob Zimmer said the news shows LP's confidence in the sector and the region over the long-term.
"This is a good signal for our forest sector in the province and forest sector in the region, all the way from cutting the trees down in our forests to the mills that process them. It's great news," Zimmer said, noting the sector has seen high prices across the board, including for lumber and plywood. "It affects hundreds of local residents in a positive way of good jobs, long-term jobs."
Zimmer said rapid COVID testing and a successful vaccine rollout will be key to getting Canada's economy back to normal as quickly as it can this year. So too will be continued trade negotiations with the United States, he said.
"What I'm looking for in the future is with the new [Joe Biden] administration is the possibility of getting a new softwood lumber agreement signed, there's always hope for that. It's going to change our industry dramatically if that is to occur. We'll see if the administration is willing to negotiate. We've seen two previous administrations that haven't, but there's always hope," Zimmer said.
"It will just help our industry for the long-term. This is the timber basket of the province, we have it in the north, so it's going to be with us. I'm more than happy that it's being utilized today."
Email Managing Editor Matt Preprost at editor@ahnfsj.ca.