Not many of us get a chance to score a spot in a lucrative work experience program while climbing up the career and education ladder. Even fewer of us get the chance to score one that brings us overseas and up close to the wild of the African savanna.
But Brittney Hein got a chance to do just that for two weeks in late May and early June, where she put her animal health studies to work at a cheetah breeding and conservation facility in South Africa.
The 2017 North Peace Secondary grad is in her second year of studies at Thompson Rivers University, and was part of a group of 24 students brought abroad through Loop Abroad's Veterinary Service program. Hein spent two weeks at the Feracare Wildlife Centre, where she got a chance to learn from vets from the U.S. and local animal experts working to preserve and revive the big cat population.
"They're trying to bring the cheetah population up," Hein says, noting they're a popular target for poachers, and farmers trying to protect their livestock.
"They have a bunch of animals there that they've rescued from bad situations, and they're trying to educate the communities across South Africa about conservation. They try to keep them as wild as possible, they're not trying to make it a tourist attraction. They just need help."
At Feracare, students spent their days working: fixing and cleaning enclosures, feeding animals — from cheetahs to foxes to porcupines to African wild dogs and more — and helping out with routine medical examinations and genetic testing. Nights were spent at lectures where students learned about anatomy, animal behaviour, and conservation practices.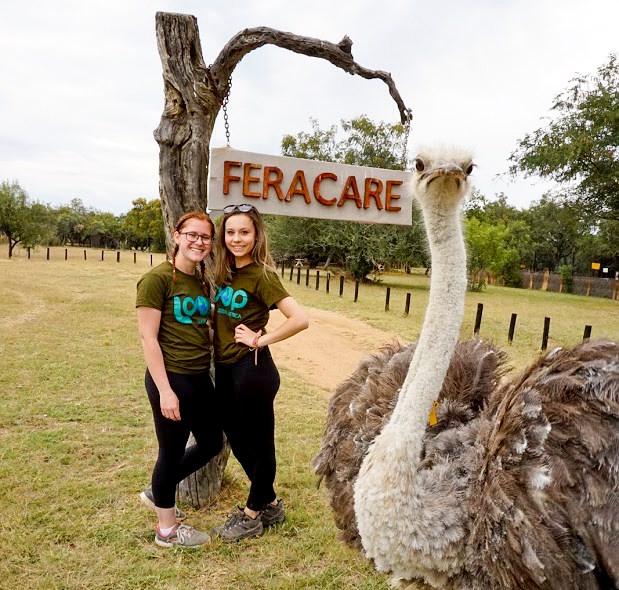 Students also travelled to Kruger National Park, one of the largest game reserves in Africa, to see zebras, elephants, giraffes, and other African wildlife. They also visited a nearby village to give a lesson about conservation. 
The hands-on learning and up-close encounters can't be beat, says Hein, who plans to one day become a veterinarian. The experience working with exotic animals will give her a well-rounded set of skills and knowledge, she says.
"I was really interested in some kind of medical field, and just working with animals seemed a lot more interesting," Hein says. 
"That's why I do the trips, just to get the experience. Eventually I'd like to be a mixed animal veterinarian and do trips on the side."
At 19, Hein's trip to South Africa was her second through Loop Abroad. Last summer, she took part in the program and went to Thailand to work at an elephant nature park and dog shelter. There, she made friends with another student, Bela, from the United States, and both stayed in touch with each other over the year before deciding to reunite in South Africa.
"You all stay in same house," Hein says of the students she met. "It's good. It teaches you how close people can get over two weeks. You're all spending time together and have the same passions."
The Loop Abroad program isn't cheap — tuition is up to $4,000 USD, plus airfare, if selected. Hein had to send in her transcript, write an admissions essay, and submit references.
Hein says she was able to afford the program this year by working two full-time jobs over the summer; her parents pitched in support when they could, and Hein took in all the recyclables she could for cash returns. She received a $500 scholarship from the Legion last year to support her trip to Thailand.
"Our students are some of the most amazing people I have ever met. They are kind, compassionate, dedicated, hard-working individuals who have big goals and want to make a big impact," says Jane Stine, the program's managing director.
"It's amazing to see how eager they are to learn and challenge themselves." 
Do you know a North Peace resident making an impact with their work or studies overseas? Email Managing Editor Matt Preprost at editor@ahnfsj.ca.