There have been many a great history books written about the B.C. Peace Country, and now there is one more.
Arthur Hadland has just released Our Hadland Heritage, a rich 700-page tome that chronicles his family's pioneering history and their move from depression-era Clattercote, England, at the end of the 19th Century, to Canada, and ultimately Baldonnel, and the community that sprung up around them.
"This captures a time that's gone by," says Hadland, quick to reminisce about social gatherings gone by at the old Baldonnel hall and days where there was no internet or social media, just people.
"There was an Anglican Church there, a couple stores, there was a restaurant, a blacksmith shop," he says. "It actually started off it was going to be the major community, and then when the war came along everything bypassed because they built a better road alignment, which by the way very closed aligned with the old native walking trail.
"I make note of it in there, and there's a couple places we have preserved on the farm," he says. "It goes back 10,000 years, this crazy trail."
Among the Hadland family's stories and recollections are maps, obituaries, photo journals, and a listing of Baldonnel's early settlers, taken from land registry records.
---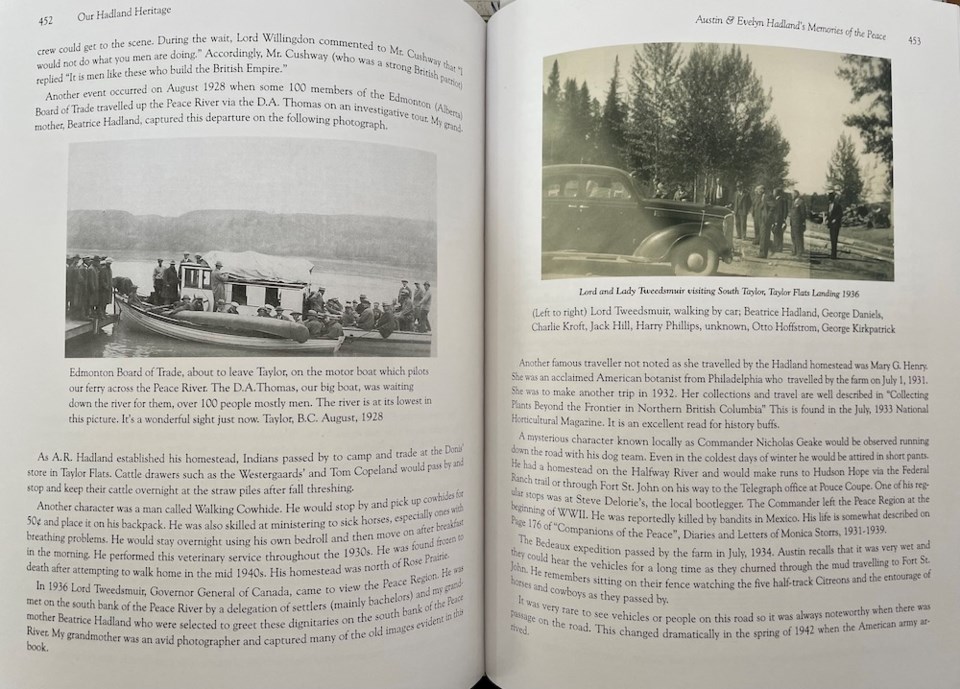 ---
Hadland has spent more than five years compiling information for his family's book, which also features the writings and research of his father, Austin G. Hadland, as well as Isabel Nelson, Don Siviter, and other relatives.
He says the book started off as a family project but became something more than that after he was diagnosed with a type of blood cancer called multiple myeloma. He says the quality of cancer research and treatment in B.C. is leading edge, and ultimately saved his life.
Copies of the book are available through the museum, though Hadland says he's happy to give a copy to anyone in exchange for a contribution to the BC Cancer Foundation, or the Fort St. John Hospital Foundation.
"I was doing it for my family and it just grew and grew and grew," he says, adding, "The only reason I was able to do it was because they saved my life with this cancer research in B.C."
"That's the reason I'm alive and the reason I'm doing this."
---
Have a story or opinion to share? Email your letters to editor@ahnfsj.ca