A health care worker at the Peace Villa long-term care home in Fort St. John has tested positive for COVID-19, her family says.
Tracy Paquette is in serious but stable condition in hospital in Prince George, and family and friends have been rallying for prayers of support online.
Paquette's brother, Sylvester Apsassin, said his sister had been sick the previous week with what doctors believed was a kidney and bladder infection.
But the infection spread to her lungs, and Paquette was medevaced from Fort St. John on Monday as her condition worsened. Family says they were told Wednesday she had tested positive for the coronavirus that causes COVID-19.
"She was fighting for her life there on Tuesday and Wednesday, and today she is stabilized," Apsassin said Thursday.
Paquette, in her late 40s, is from the Blueberry River First Nation and works at the Peace Villa care home in Fort St. John. Blueberry River has confirmed one of its members had tested positive, and has issued a mandatory travel directive for residents.
Northern Health said Thursday there were no facility outbreaks in the region, and provincial health officer Dr. Bonnie Henry reported no new outbreaks either at long-term care and assisted living facilities in B.C. Last week, Northern Health's Acting Chief Medical Health Officer Dr. Raina Fumerton said a single staff or resident case is considered an outbreak.
Paquette's last shift at Peace Villa was around two weeks ago. Northern Health officials would not speak about individual cases or specifics regarding testing throughout the region, citing privacy protection.
"Northern Health has a rigorous public health protocol in terms of contact tracing, testing, and monitoring in facilities for potential outbreak concerns," said spokesperson Eryn Collins. "Our focus is on doing everything we can to make long-term care facilities as safe as possible, to try and reduce the possibility of introduction into long-term care, and having a VERY low threshold for responding immediately should we have any concerns about illness. And we have strict infection control practices that follow provincial guidelines, which we adhere to, when an outbreak is declared."
The news of a positive diagnosis came as a shock to Paquette's family and friends. Apsassin says his family hasn't recently travelled. 
"How did she get it and where did she get it from? None of us left the Peace River country. How does one get it if they didn't leave anywhere?" Apsassin said.
Apsassin said he did not know who all may have been in contact with his sister and did not want to speculate.
"It's very serious," Apsassin said. "I don't know how my sister contracted that virus, I honestly don't know. Nobody knows. Right know, they're just doing an investigation on it and hopefully they can find out and track her movements."
Apsassin said his family has been told to self-isolate themselves. He says he and his wife are doing so in Blueberry River, which has now put up road blocks and set up security to control access in and out of the community. Non-residents are not allowed to enter, and travellers are ordered not to travel to the community. 
"Following the best available medical guidance, BRFN will take every measure possible to protect the community and prevent the spread of COVID-19 in the community and surrounding jurisdictions," Chief Marvin Yahey said in a release. "We have been deploying our Pandemic Plan for several weeks. We are now taking more restrictive measures in light on the case that was confirmed today. We will be working with provincial and federal health officals, the RCMP, neighbouring jurisdictions, as well as our internal team to take a unified and co-ordinated approach to this issue which threatens our uniquely vulnerable community."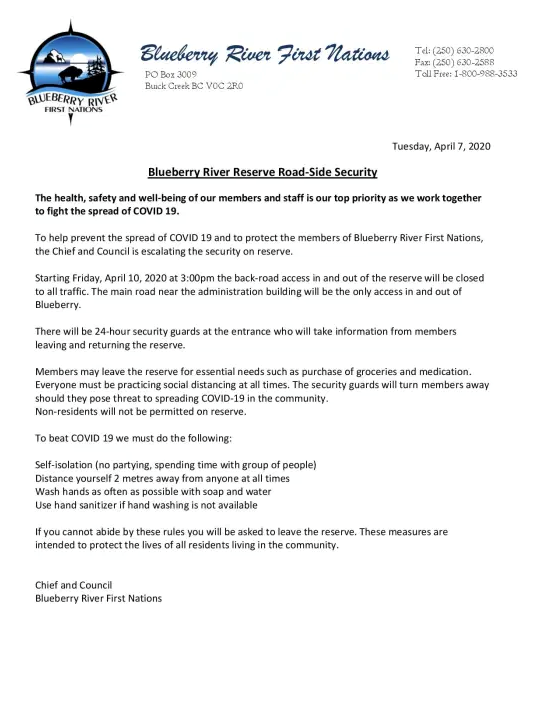 As of April 9, there were 24 lab-confirmed cases of COVID-19 reported in northern B.C. Their precise locations are not being released. Northern Health says it has recorded cases in all of its local health service areas, and in communities large and small. Acting MHO Dr. Fumerton says residents should assume COVID is anywhere.
Apsassin said it is important for residents in Fort St. John and the Peace region to understand the seriousness of this virus, and to follow public health orders to limit its spread throughout B.C.
"They're going to give her the best care they can, which is good, because she's one of them," Apsassin said. "The doctors are very optimistic that she's going to be OK. It just caught us off guard. Be extra cautious and take it serious. Take this serious. It is a very serious thing." 
Dr. Henry said Thursday there are 20 long-term care facilities in B.C. with an active outbreak of COVID-19. Another three have been declared over.
There have been 235 test-positive cases associated with long-term care and assisted living in B.C., infecting 143 residents and 92 staff to date.
"As you know, the vast majority of people who have died are seniors and residents of long-term care," Dr. Henry said.
"We recognize that residents of long-term care and assisted living are very vulnerable to COVID-19, and … what we are trying to do is make sure that the workers who provide the care and service to people in long-term care are able to work at a single facility."
Collins said Northern Health has put in measures at all of its long-term care facilities to protect the health of residents.
"These measures include visiting restrictions, suspension of volunteer work, and use of personal protective equipment by staff to protect residents – and all of these measures are in alignment with provincial directives from the Ministry of Health, and Provincial Health Officer," Collins said.
Northern Health is not releasing information about how many residents and staff at Peace Villa have been tested for the virus, nor how many hospital staff have been tested or whether any are self-isolating.
"Facility-level breakdowns of numbers of people tested in any given facility/community are not available for release," Collins said. "For any confirmed case, close contacts will be informed by public health, and supported in the actions they should take."
Seniors are among the most vulnerable to a serious health complication or death due to COVID-19. In B.C., the median age of those hospitalized is 68 years, and the median age of those who have died is 86. Nationally, roughly one-third of cases are 60 years or older.
Dr. Henry and Health Minister Adrian Dix have urged British Columbians not to travel and gather as a number of religious holidays draw near, including Passover, the Easter long weekend, and Ramadan.
"Now is our time that we need to pay special attention to our elders and seniors," Dr. Henry said. "Our elders hold our history, our language, and our traditions, and are a precious part of our communities around this province. Through these celebrations over the coming weeks, please keep that in mind so that we can maintain our safe distance to protect them."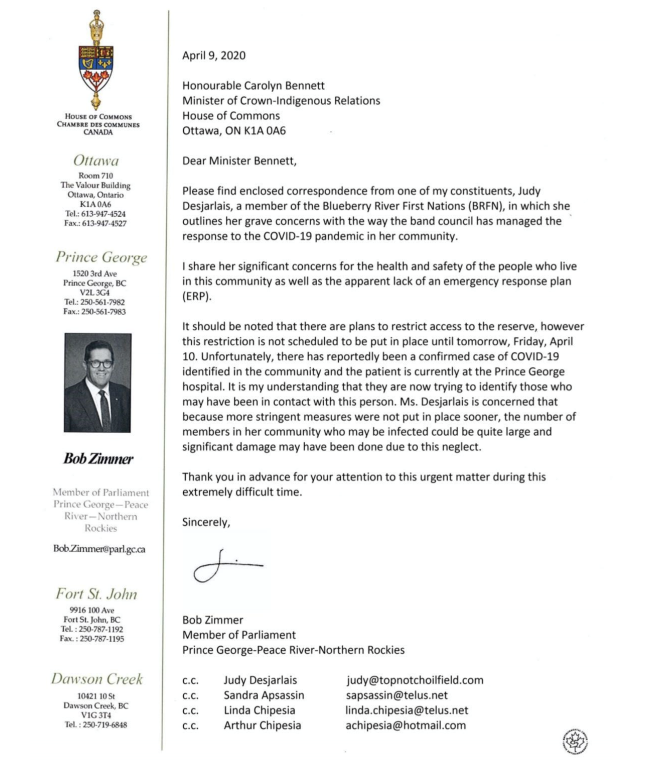 This is a developing story.
Email Managing Editor Matt Preprost at editor@ahnfsj.ca.