It was a Queen's honour for 18 local residents Wednesday, bestowed with a prestigious Platinum Jubilee medallion.
Awarded by MP Bob Zimmer to mark the 70-year reign of Queen Elizabeth II, the recipients were recognized for a range of service to the Fort St. John, North Peace, and Fort Nelson communities: Military, emergency first response, education, health care, sport, business, and disability inclusion.
They were treated to a High Tea lunch of sandwiches and dainties at Festival Plaza, and also received an ornamental tea cup with their awards.
"How many monarchs have served 70 years?" said Zimmer. "It's really an achievement in and of itself, and she's done so with poise and dignity and with respect, so we want to respect her today in what we do."
Among those honoured were: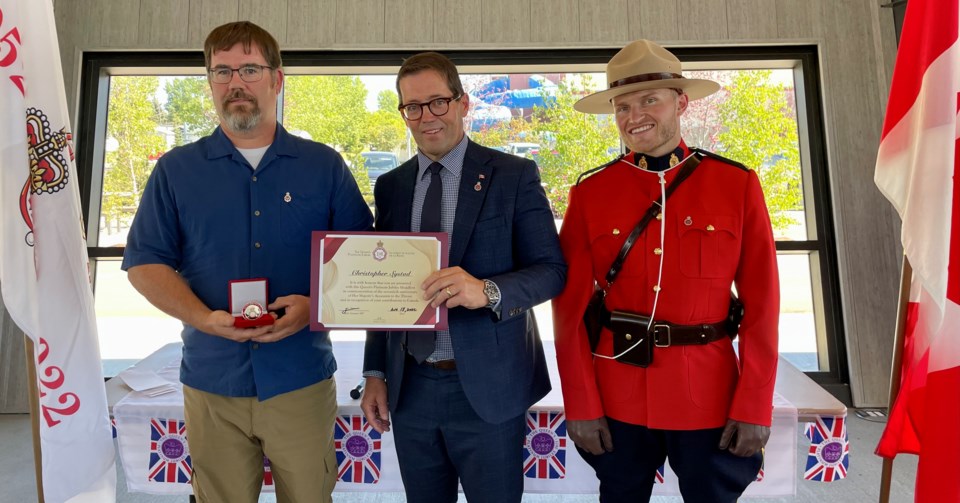 Christopher Systad, Military and First Responder: Patrol commander of the local Rangers in Fort Nelson; search and rescue volunteer; fought forest fires and rescued lost hunters from raging rivers; and served local First Nations during the Covid-19 pandemic.
"I do it because to me it's the right thing to do, help the community," said Systad, a member of the Rangers for the last eight years. "The Rangers have been a great experience...the training, it's given me the ability to help in ways I wasn't able to help before."
Systad said the Rangers responded to a request for assistance from Fort Nelson First Nation during the Covid-19 pandemic.
"They were worried about Covid spreading in their community and they needed some help," he said. "There was a group of us who said no problem, what do you need help with?"
The help was mostly for the elders, he said, delivering firewood, clearing paths to their moose camps, and delivering food from the local grocery store.
"It takes one question or one phone call... make the phone call if you got the time and availability," he said. "There's a lot of groups out there, whether it is the Rangers or search and rescue, or your local church group, there's always someone who needs a little bit of help."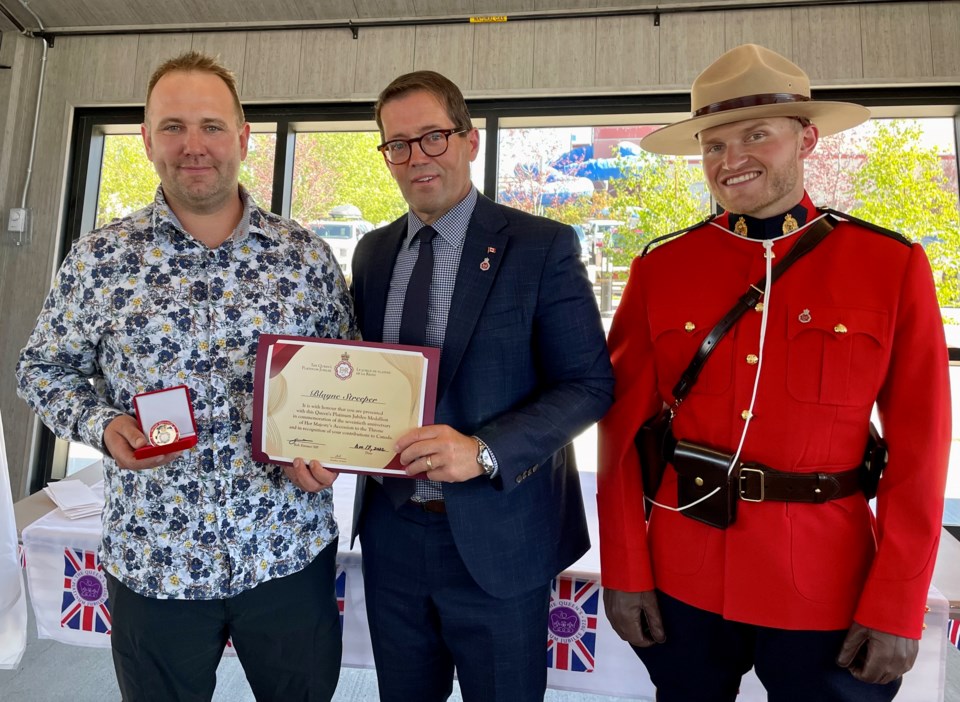 Blayne Streeper, Sport: Began dog sled racing at the age of 3 and won his first Canadian championship at age 16, and first World championship at age 21; keynote speaker at international dog athletic symposiums and training seminars globally; presents an annual presentation for youth and aspiring mushers at the Junior North American championship in North Pole, Alaska; acting member of the humanitarian mushing team "Mush with Pride", the international group dedicated to teaching responsible dog ownership.
Accepting his award, Streeper said he was honoured and privileged. He shared a story from last week where he helped a woman in dire need as she was travelling up the Alaska Highway with animals, and was having trouble with an axle on her trailer. He answered her phone call.
"I had other things on the go that day but just like everybody else in the north, that northern spirit that we have, and that community relationship that we're not scared of sharing, I stepped up and helped her out and got her travelling down the road that day," he said.
"Now I can take credit for it but really it was the mechanic, it was the shop owner, it was the parts service guy, it was several other mechanics, it was different people that stepped up at that time, just like the northern communities do."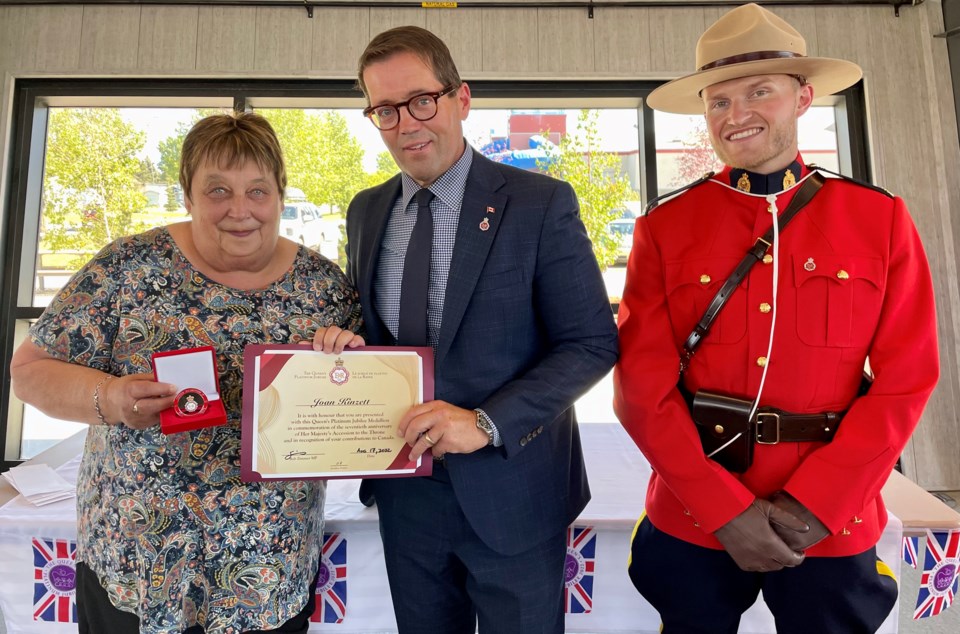 Joan Kinzett, Community Service: Executive director for the Northern Rockies Seniors Society, improving lives of seniors in Fort Nelson with programs like Meal on Wheels, bus service, and recreational opportunities; was instrumental in the establishment of the Northern Rockies Seniors Home; and retiring in September after many years with the Seniors Society.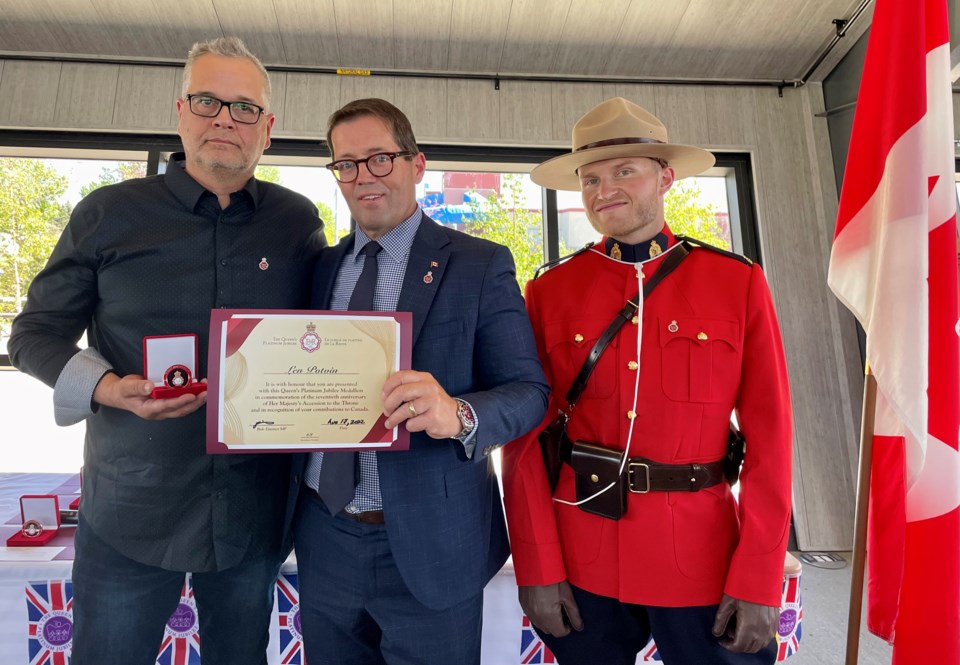 Len Potvin, Community Service/Sport: Coached boys hockey in Houston and was instrumental in ensuring girls hockey was established in Northeast B.C.; coached girls competitive hockey for the Northeast Predators.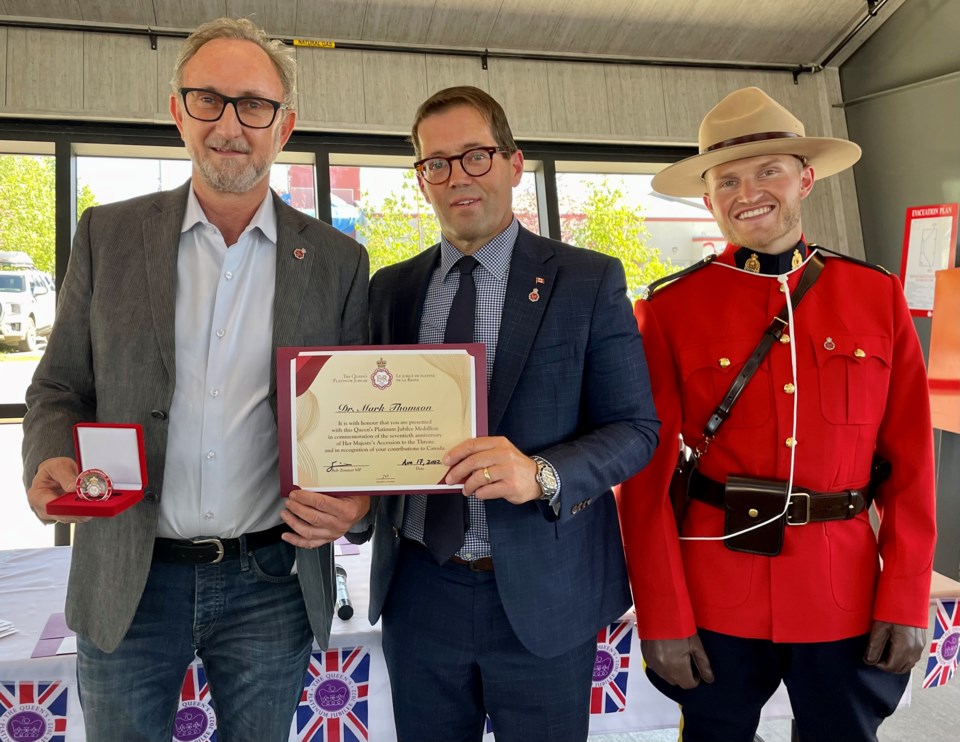 Dr. Mark Thomson, Health Care: Chief of Staff for Northern Health and a local physician in the community for 20 years who has helped thousands of residents over the last two decades.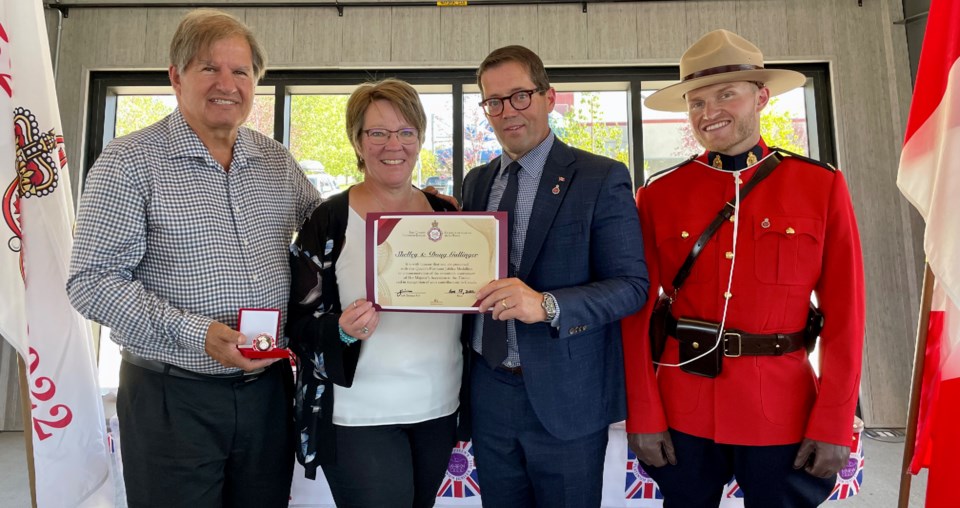 Doug and Shelley Gallinger, Community Service: Award-winning local business owners of Home Hardware, and strong supporter of local charities including the Fort St. John firefighters, girls hockey, Special Olympics, Hospital Foundation, North Peace Fall Fair and many others; Shelley is a nurse who serves part-time and Doug is a member of Sunrise Rotary.
Accepting their award, they thanked their staff as well as family and friends for supporting their efforts to give back to the community.
"We quite enjoy our city and we do whatever we can to support it," said Doug.
"We're very fortunate to live in a community that still has a lot of that small town feel where people are still welcome here, and people are helping out," added Shelley. "It's fantastic to be part of a community that does that."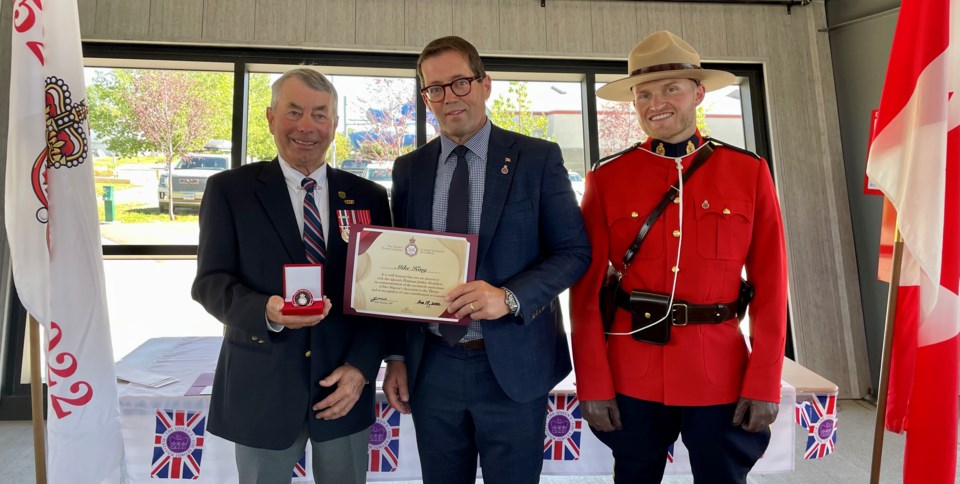 Mike King, Veteran: 25-plus year member of the Royal Canadian Legion, serving on the executive as Service Officer, First Vice, and currently Sgt. at Arms; 15 years with the Royal Canadian Army Cadet Corps 2276 as a volunteer and seven years as CIC Officer at Vernon Army Cadet Training Centre; eight years as a Ranger with the Hudson's Hope Patrol; awarded Special Service Medal with the Ranger Bar; awarded the Canadian Decorations for 12 years honourable service with the Canadian Armed Forces.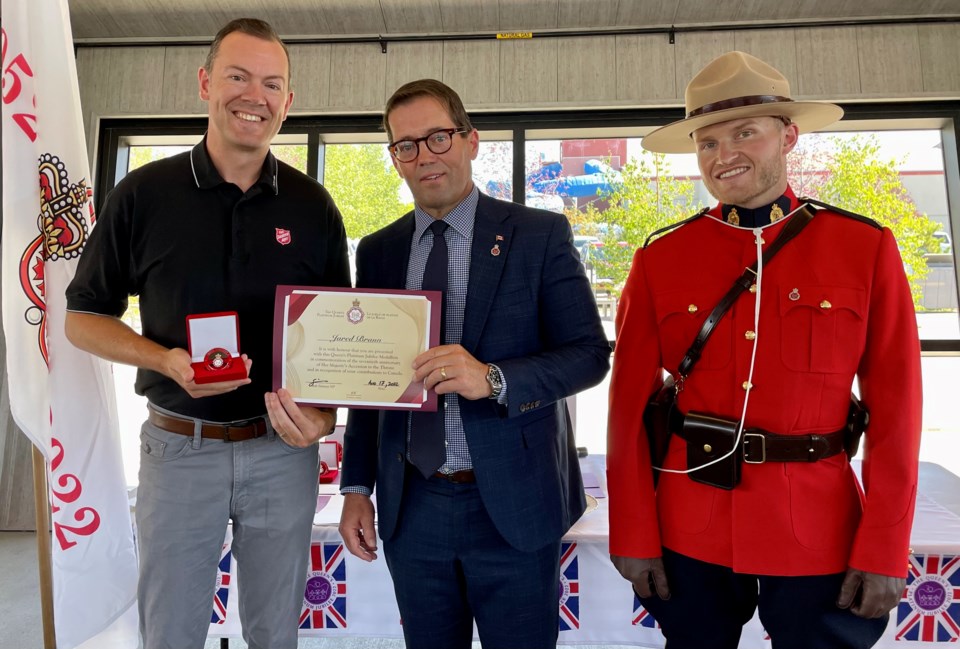 Jared Braun, Community Service: Executive director at the Salvation Army Fort St. John; former associate pastor of Charlie Lake Church; former program director for Blueberry Bible Camp; former youth group leader and soccer coach; board director for the Fort St. John Chamber of Commerce.
Accepting his award, Braun shared a memory from his youth with the friends and family who gathered for the ceremony.
"I feel blessed to have all the opportunities I have," said Braun. "At 17, I looked to God and said I want to serve you anywhere I am, and it's opened so many opportunities, including the Salvation Army.
"It's a privilege to serve in this community those who have the greatest needs," he said.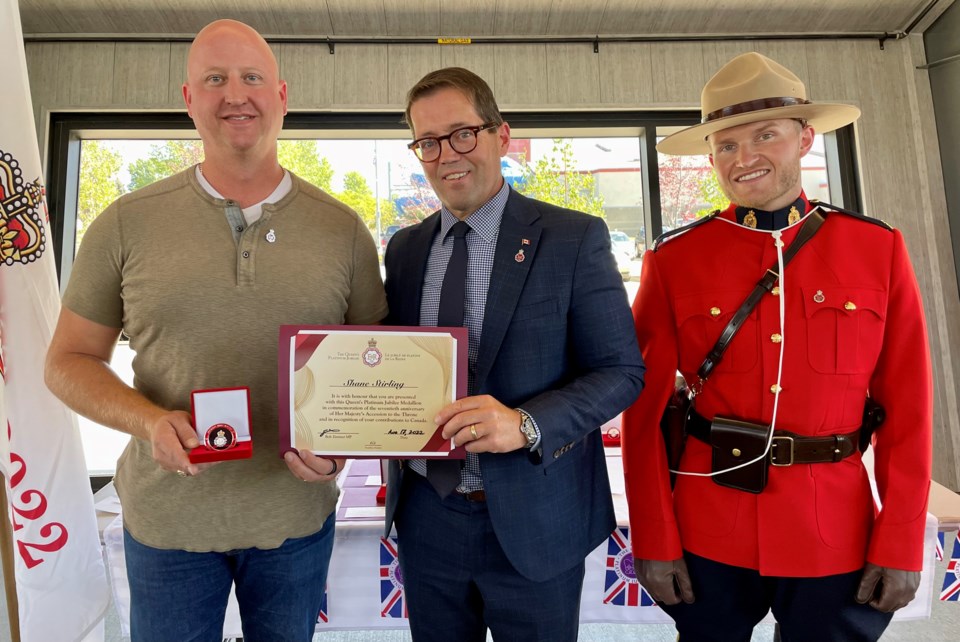 Shane Stirling, Community Service: President of Fort St. John Petroleum Association; former director Industry Training Authority; Institutional Program Advisor for three committees and Red Seal holder in four trades; member of the local Shriners; supporter of countless local charities.
Stirling said receiving a medallion was a surprising but great honour. Co-owner of Epscan Industries, his passion is trades development and growing the "learn in the north, stay in the north" educational model.
"To make sure our youth know there are multiple pathways for a career after high school," said Stirling, who's also involved with the local Shriners, Freemasons, and is the sitting president of the Oilmen's club.
He said community involvement was part of his upbringing thanks to his mom and dad.
"I've always believed if things were starting to look like they're going tough, or maybe the work environment is not too good, or maybe money's a little questionable, I've always believed that's the time to start giving more, and doing more. More effort, more involvement, more support, and stuff comes back to you. It's a giving and receiving mindset and it feels good."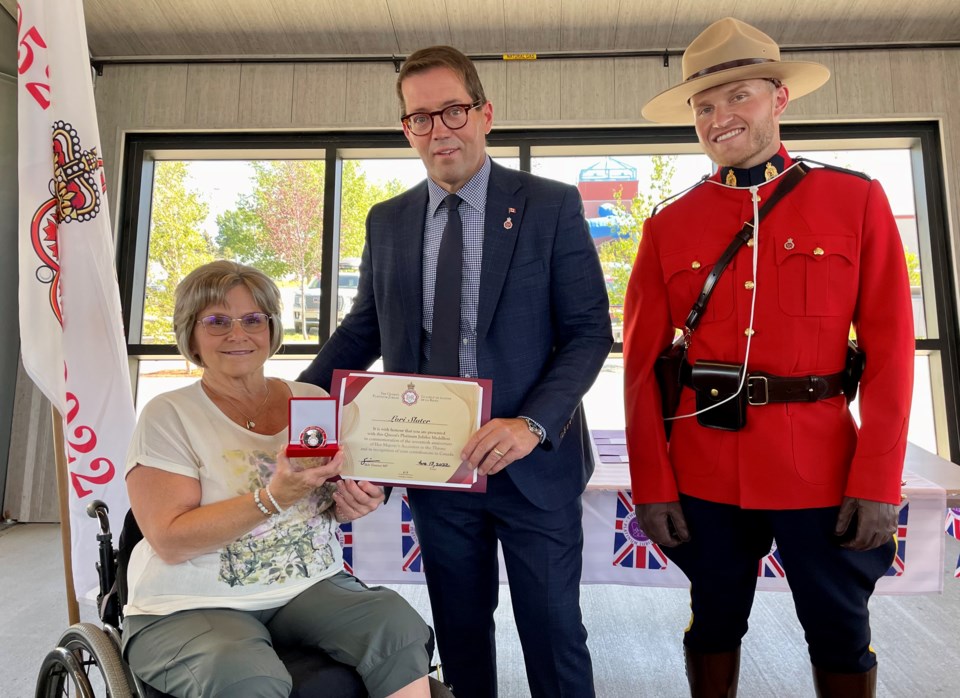 Lori Slater, Community Service: Former chair of Mayor's Disability Advisory Committee and a Rick Hanson Foundation ambassador; an Access and Inclusion team member for Access BC; peer co-ordinator for Spinal Cord Injury BC; volunteer with Toastmaster and BC Games; currently working with Northern BC Tourism as the Access and Inclusion liaison.
Indeed, all who were awarded during the hour-long ceremony were struck with awe of their beautiful new medallions, and humbled for being recognized by their peers through a community nomination process.
"The support that I have had in all of the years, all of the work that I have done, is just part of who I am," said Slater. "Having that lived experience and being able to support others in what they do means so much to me.
"I am so humbled because I don't do this alone. I've got my family, and a number of colleagues all over the province that support me in what I do."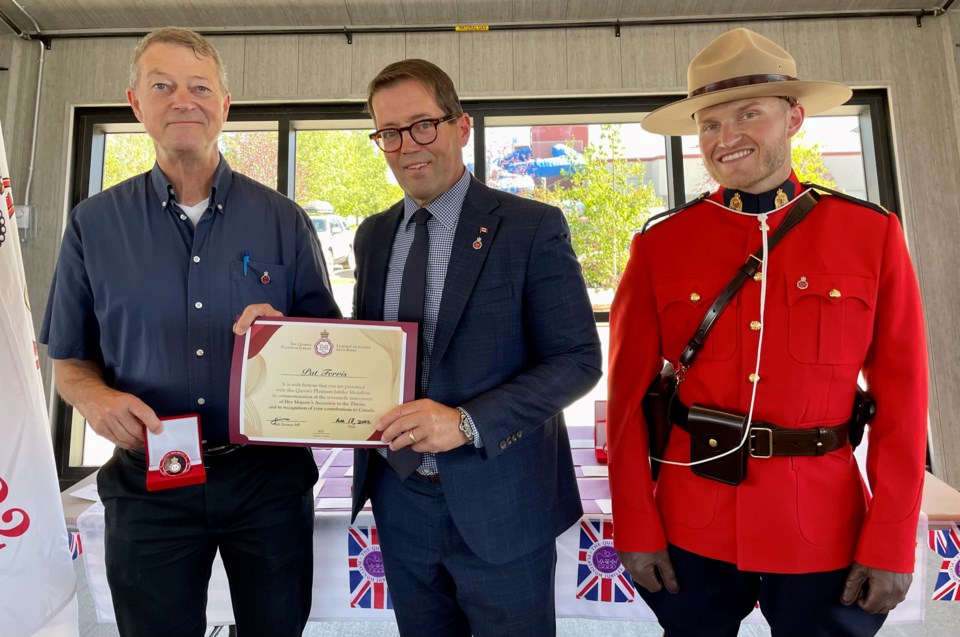 Pat Ferris, Community Service: Started the Blizzard Bike Club in 1982 and has promoted the sport of cycling in the Peace region; coach and mentor for many sports including speed skating and cycling; an advocate for sharing the history of the Peace country and local athletic accomplishments; published author of two book series and his short stories have appeared in compilations and print.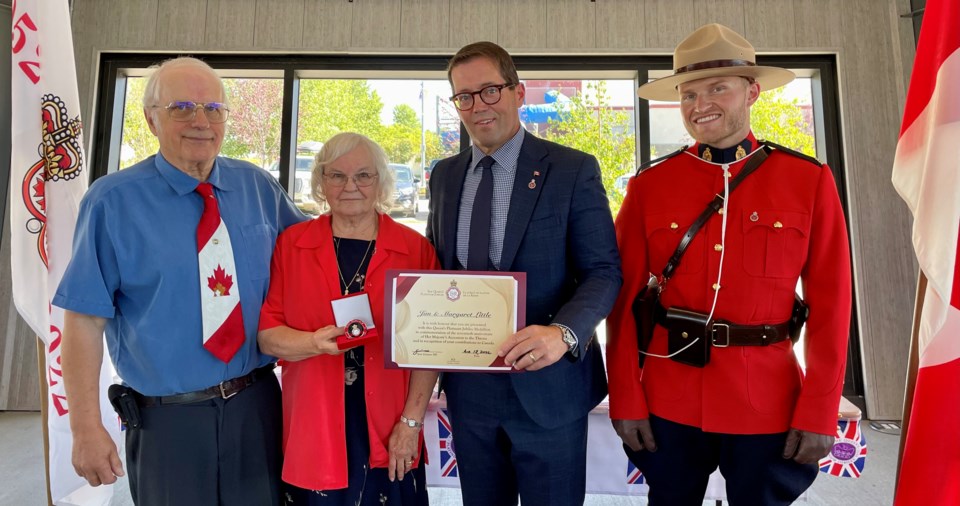 Jim and Margaret Little, Community Service and Conservation: Excellent mentors to younger colleagues in their respective fields; proved their dedication to conservation by donating Little-Levin Lake to the Nature Trust of B.C. for preservation; advocates for seniors in the region through Save Our Northern Seniors (SONS).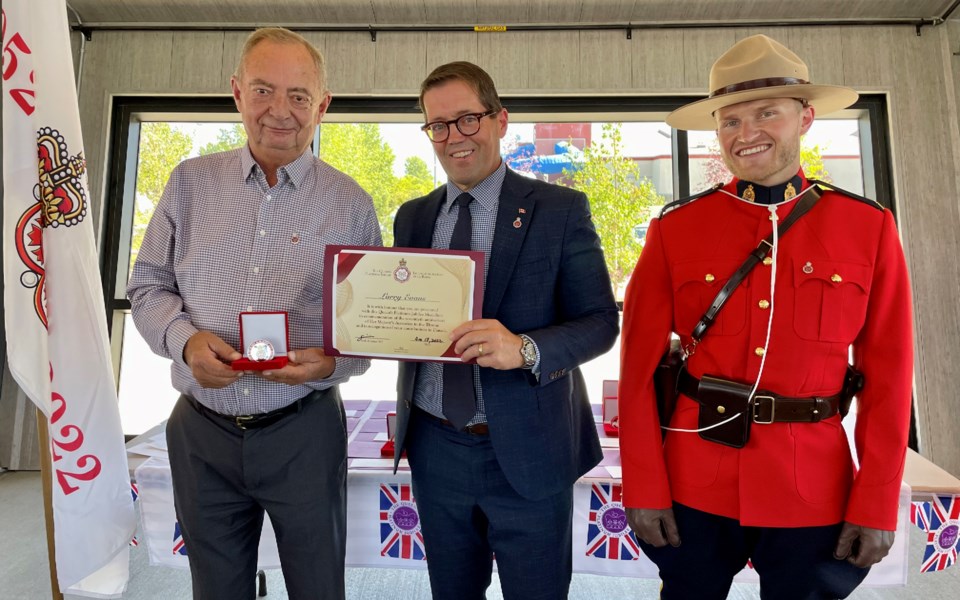 Larry Evans, First Responder and Community Service: Former fire chief for Fort St. John and former city councillor for many years; strong advocate and board director for the North Peace Historical Society and museum; former liaison between the city and the North Peace Fall Fair.
"I'm speechless...I feel honoured and grateful," said Evans, who served with the fire department for 31 years, the last five of them as fire chief before he retired.
Evans has been involved with the North Peace Historical Society and the local museum since 1992 — the community's history is his passion, but so is it's future.
"Fort St. John is the only community I've ever known. It sounds hackneyed but I love the community and I like to see it progress," he said. "I try to get involved as much as I can. The museum is first my love, of course, but all of Fort St. John and what's happening here every day I take pride in."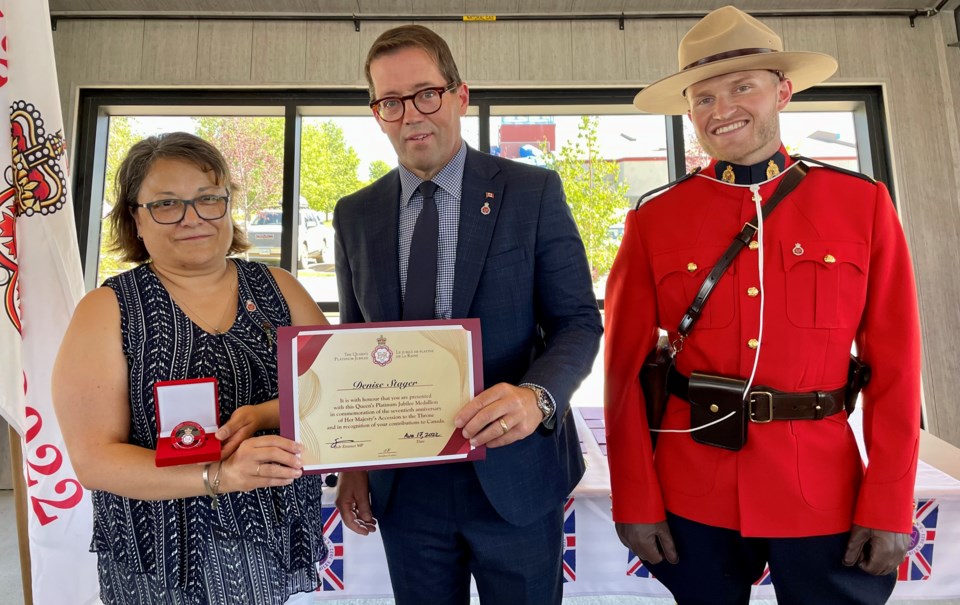 Denise Stager, Education: Aboriginal student navigator for Northern Lights College; worked extensively with the Gathering Place; attends most First Nations events to better understand cultural differences.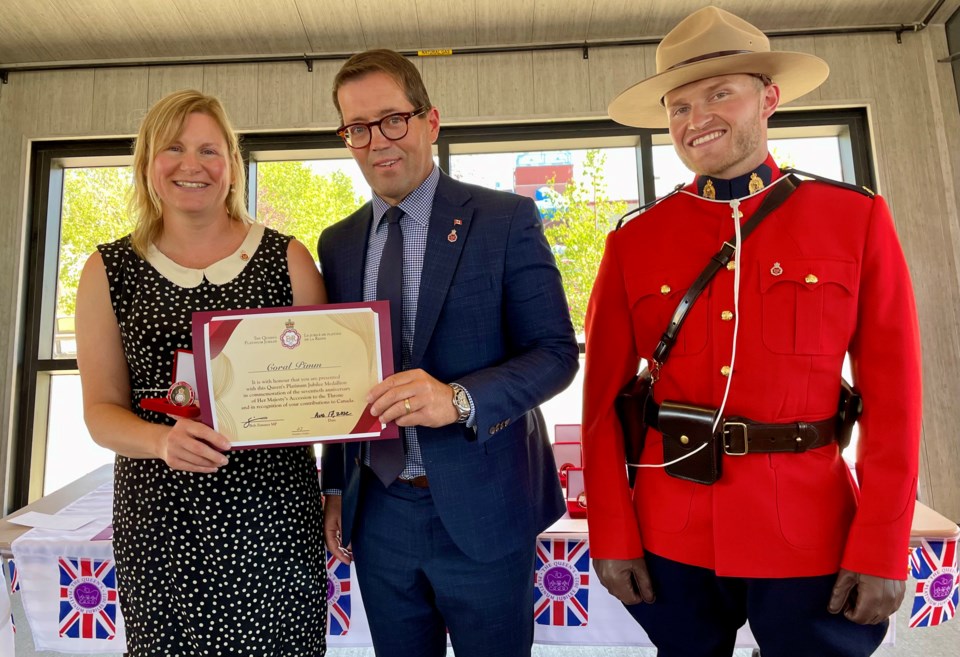 Coral Pimm, Community Service: Recognized for her fundraising efforts for special services for autistic youth for the Child Development Centre; advocate for autism awareness in the community and was part of the presentation to city council proclaiming April as Autism Awareness and Acceptance Month; volunteers for the Salvation Army and their Christmas kettle campaign.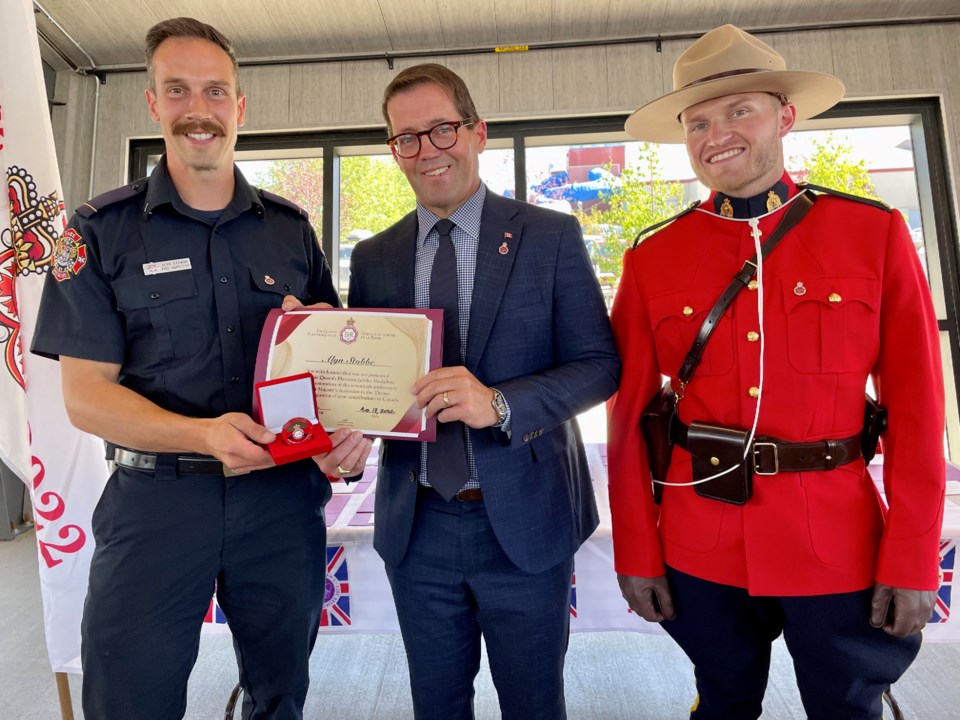 Alyn Stobbe, First Responder: Fort St. John firefighter serving the community as fire inspector and actively promotes fire safety and prevention; volunteers his time at church and encourages the lives of those around him.
In all, 70 citizens were recognized in the Prince George-Peace River-Northern Rockies region this week. Ceremonies were held in Prince George Monday, and Dawson Creek on Tuesday.
Zimmer says he held the ceremony after the federal and provincial governments decided not to issue medals this year to mark the Queen's historic 70th anniversary — unlike they did with the Diamond Jubilee to recognize her 60th in 2012.
"I thought we need to do something to honour the Queen, but most of all to honour our constituents who have stepped up," Zimmer said.
"The ones that we've been really looking for are the ones in those thankless jobs that maybe nobody thinks they notice what they're doing but just keep on doing what they do. We wanted to pull those people out and say we appreciate you."
---
Email your letters to editor@ahnfsj.ca