The first-ever assembly at Anne Roberts Young Elementary School was missing one important thing — its students. Staff, community dignitaries and invited guests celebrated the grand opening of the brand new school on Sept. 28 as students and teachers watched via video from their classrooms. 
It wasn't the full celebration that School District 60 anticipated when construction began in 2018, but it succeeded in honouring the two women its named after — Anne Roberts Young, Fort St. John's first nurse, and Heather Hannaford, the late and long-time school trustee, and namesake of the new Heather Hannaford Arts Space. 
"You are the first Rockies, and have important work to do as you establish what it means to be a Rocky. ," said SD60 Board Chair Helen Gilbert.
"School staff have developed a mission and vision for the school. In short form, it says they want to help students be critical thinkers, who are innovative, collaborative, resilient and kind."
The $31.1-million school opened two years after the Ma Murray Community School opened, and was made possible through a partnership between School District 60, the Ministry of Education, the Ministry of Children and Family Development, and Northern Health. Anne Roberts Young features state of the art design and architecture, with a similar layout and design to Ma Murray school.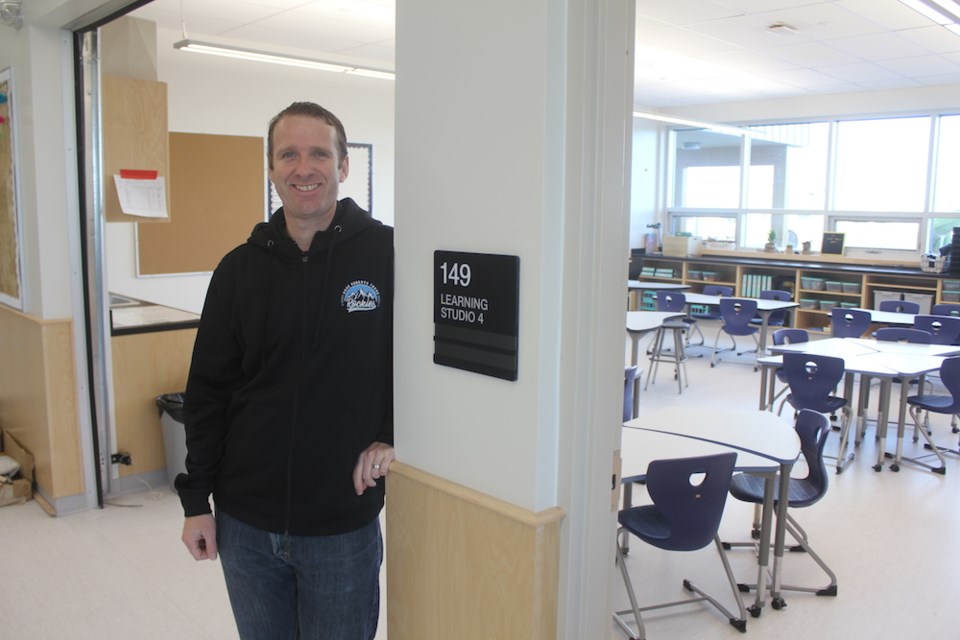 Roberts moved to Fort St. John from Bolton, England, in April 1930. She was the first medical worker in Fort St. John, where she worked at the Red Cross Outpost. There was no hospital or doctor when she arrived, and it's estimated she helped deliver more than 300 babies. 
She married Jim Young in 1931 at age 36, and the couple had three children. She suffered a stroke in 1969, but would live until 1973 at age 78.
Principal Broyden Bennett read a written statement by Dottie Young, Anne's daughter, about her mother and what she has meant for the community.
"We are truly proud and honoured that you have chosen to name this school in my mother's name," the statement read.
There were 10 members of Roberts Young's family in attendance, including her grandchildren Shane Snippa, Darla McAleney, and Sherri Young Huck, who unveiled the plaque that will be hung in the school in their grandmother's honour.
"My mother was truly a pioneer in every sense of the word," read Dottie's statement.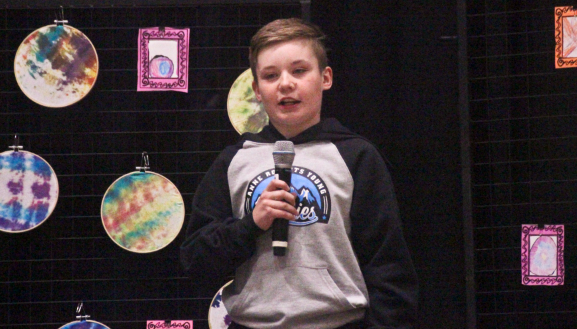 Though most of the students didn't get to attend, they still made their voices heard. Grade 6 students Graham Batten and Mika Brown spoke on behalf of all students about what made their school rock. 
"Some of the things I am most excited about here at Anne Roberts Young are the homework spaces. I also like that I'm getting to share this with a lot of my friends, and meet some new friends as well. This school rocks because of all the nice people that are here," said Batten. 
Batten and Brown introduced a video of students and teachers sharing why their school "rocked": the school's nice gym, the fact the school has two floors, the teachers are awesome, and the brand new library. 
School trustee Ida Campbell spoke about Heather Hannaford, her former friend and colleague. A trustee for 28 years, Hannaford was heavily involved in both the education and arts circles in Fort St. John, and always thought the two went hand in hand. 
"Heather was a talented artist, a friend, mentor, and confidant to many, including myself," said Campbell. "She always fought hard to keep the arts a part of education."
Hannaford opened and taught at many pottery studios in Fort St. John and Taylor, and taught pottery at Northern Lights College. Hannaford's daughters, Elizabeth and Jocelyn, were in attendance. Hannaford had five children in total.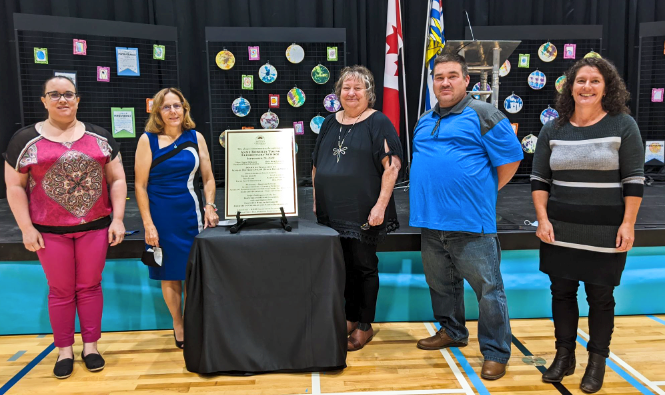 Throughout the hour-long ceremony, much was made of the resilience of the school's teachers, students, and staff in coming together to open a school during a global health pandemic, as well as the construction workers and others who made certain the school would open on time despite all the obstacles the summer provided. 
"This very special building has been built during extraordinary times. To bring the construction project in on time during a pandemic could not have happened without resiliency," said Gilbert. "Thank you for all to have your commitment to have the school ready to open in September, we know you adjusted along the way."
Bennett said the unusual path the school took towards opening was not the one most taken or smoothest, but has made everyone involved stronger. 
"It takes a special group to open a new school, and even more so in a pandemic," Bennett said. The teachers didn't even move into the building until Aug. 31, with students arriving on Sept. 10.
YMCA of Northern BC CEO Amanda Alexander was on hand to speak about the importance of early learning and quality childcare, and the 81 childcare spaces available at the new school for children up to 12 years.
"The children's learning will be supported through play, social connections, and physical activity, those being important building blocks in supporting children's successful entry into the school system," said Alexander. 
See more photos of the school below.
Email reporter Dillon Giancola at sports@ahnfsj.ca. 
[Eds. note: Article corrects to note Heather Hannaford taught pottery at Northern Lights College and studios in Fort St. John and Taylor, not poetry.]