It's been generating power since October, but Fort St. John officials and the president of BC Hydro cut the ribbon on the city's micro-hydro station Friday morning.
Built at a cost of $1.4 million using gas tax grants, the station in the Old Fort neighbourhood can generate up to 780 megawatt hours of power a year using treated wastewater from the city's lagoons, enough to power about 70 homes.
The city has been generating about 80 kilowatts of energy a day at the station since October, feeding the power into the BC Hydro grid. Officials estimate the station will generate between $75,000 to $80,000 a year for the city, helping to offset its cost of pumping Peace River water out of the valley to homes and businesses, the city's biggest electricity cost. 
"We saw an opportunity to put an turbine into a pipe that was already releasing effluent back into the environment," Mayor Lori Ackerman said.
"The return on the investment for this project is going to be remarkable, andIi think it showcases really what communities can do when they're innovative in their approach to leaving a lighter footprint and bringing some return back to the community."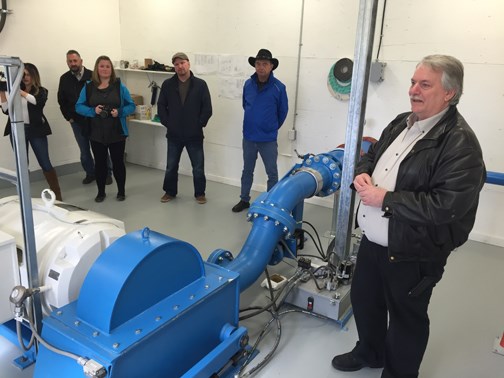 The city took advantage of Earth Day to highlight the project, taking BC Hydro President and CEO Jessica McDonald on a quick tour through the facility, a 588-square foot concrete building that houses a turbine, generator and control station.
McDonald said the city's project forced the Crown utility to look at its net metering program--which allows residents and businesses to generate their own power to feed into the provincial grid and make money--and raised the allowable generating capacity from 50 kilowatts to 100.
"It caused us take a look at the program and make it a little wider in scope so this kind of project can fit and really be a leader in showing what communities everywhere can do in helping us meet our energy demands by using what you've got here already as a resource," McDonald said.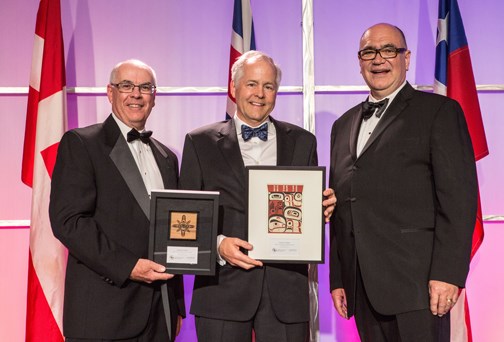 Urban Systems, which acted as the city's consultant on designing the station, won an Award of Merit for the project at the Association of Consulting Engineering Companies British Columbia's annual engineering excellence awards on April 9.
"This was born out of the city's vision," said project engineer Eric Sears.
McDonald is also in town to officially sign BC Hydro's Site C community measures agreement with the City of Fort St. John at the city's Passive House in the afternoon. McDonald took a tour of the Site C dam site on Thursday.